A reservation agent is a person who is responsible for responding to communications from travel agents, guests, & referral networks concerning reservations that arrive via fax, cable, telex, phone, mail, or a central reservation system. Anyway, it is very important to know about the reservation agent job description. So, this article will discuss it further.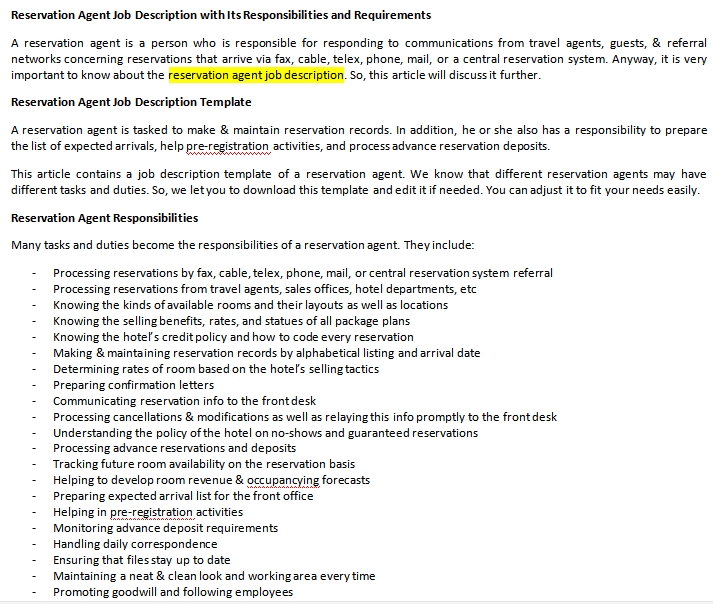 Reservation Agent Job Description Template
A reservation agent is tasked to make & maintain reservation records. In addition, he or she also has a responsibility to prepare the list of expected arrivals, help pre-registration activities, and process advance reservation deposits.
This article contains a job description template of a reservation agent. We know that different reservation agents may have different tasks and duties. So, we let you to download this template and edit it if needed. You can adjust it to fit your needs easily.
Reservation Agent Responsibilities
Many tasks and duties become the responsibilities of a reservation agent. They include:
Processing reservations by fax, cable, telex, phone, mail, or central reservation system referral
Processing reservations from travel agents, sales offices, hotel departments, etc
Knowing the kinds of available rooms and their layouts as well as locations
Knowing the selling benefits, rates, and statues of all package plans
Knowing the hotel's credit policy and how to code every reservation
Making & maintaining reservation records by alphabetical listing and arrival date
Determining rates of room based on the hotel's selling tactics
Preparing confirmation letters
Communicating reservation info to the front desk
Processing cancellations & modifications as well as relaying this info promptly to the front desk
Understanding the policy of the hotel on no-shows and guaranteed reservations
Processing advance reservations and deposits
Tracking future room availability on the reservation basis
Helping to develop room revenue & occupancying forecasts
Preparing expected arrival list for the front office
Helping in pre-registration activities
Monitoring advance deposit requirements
Handling daily correspondence
Ensuring that files stay up to date
Maintaining a neat & clean look and working area every time
Promoting goodwill and following employees
Reservation Agent Requirements
All the candidates have to meet the following required qualifications:
High school graduate
Fluent at the main language in the workplace
Experience of the relevant position
Experience in Hotel software
Reservation Agent FAQs
What does a reservation agent do?
There are many tasks and duties a reservation agent must do. However, the main responsibilities are to respond to communications from travel agents, guests, & referral networks concerning reservations that arrive.
Can I edit the posted reservation agent job description here?
If you want to recruit a reservation agent, you can use this template. If you need to customize it, just feel free to edit the template. In fact, it is an editable job description template.
Do you have interview questions for a reservation agent?
This web does not only contain the reservation agent job description but also a collection of interview questions you can use in recruiting a reservation agent.
Similar Posts: