Janitor is often needed in certain buildings such as hotels, offices, hospitals, and many other buildings. A janitor is responsible for cleaning building areas, performing routine inspection, and many more. If you want to hire a janitor, you have to know well about the janitor job description. In this article, we will give you a reference that talks further about it. So, you have to pay attention to the following article.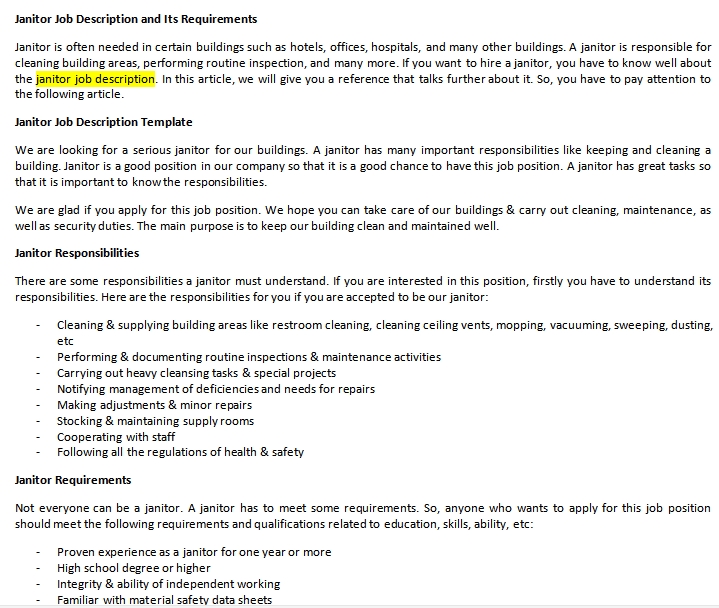 Janitor Job Description Template
We are looking for a serious janitor for our buildings. A janitor has many important responsibilities like keeping and cleaning a building. Janitor is a good position in our company so that it is a good chance to have this job position. A janitor has great tasks so that it is important to know the responsibilities.
We are glad if you apply for this job position. We hope you can take care of our buildings & carry out cleaning, maintenance, as well as security duties. The main purpose is to keep our building clean and maintained well.
Janitor Responsibilities
There are some responsibilities a janitor must understand. If you are interested in this position, firstly you have to understand its responsibilities. Here are the responsibilities for you if you are accepted to be our janitor:
Cleaning & supplying building areas like restroom cleaning, cleaning ceiling vents, mopping, vacuuming, sweeping, dusting, etc
Performing & documenting routine inspections & maintenance activities
Carrying out heavy cleansing tasks & special projects
Notifying management of deficiencies and needs for repairs
Making adjustments & minor repairs
Stocking & maintaining supply rooms
Cooperating with staff
Following all the regulations of health & safety
Janitor Requirements
Not everyone can be a janitor. A janitor has to meet some requirements. So, anyone who wants to apply for this job position should meet the following requirements and qualifications related to education, skills, ability, etc:
Proven experience as a janitor for one year or more
High school degree or higher
Integrity & ability of independent working
Familiar with material safety data sheets
Knowledge of cleaning supplies and chemicals
Ability of handling heavy machinery and equipment
Having a commitment to respect the contract
Janitor FAQs
What does a janitor do in a certain building?
Many things become the tasks of a janitor. However, a janitor has some main tasks. For example, a janitor should keep and handle a building well. In different buildings, janitors will also have different tasks. In fact, there are many kinds of buildings such as hospitals, warehouses, offices, houses, etc.
Can I edit the posted janitor job description?
Yes, you can. In recruiting a new janitor, you will need to write the appropriate details you need including the responsibilities and requirements. Editing this job description is allowed. After you download this, you can edit all the details to fit your needs.
Do you have interview questions for a janitor?
This web does not only provide the janitor job description. On this web, you can also find some samples of interview questions for those who apply for a janitor.
Description: Janitor job description should be explained well. This page provides the detailed job descriptions of a janitor including its responsibilities and requirements.
Similar Posts: