Electrician Resume
If you want to be an electrician, there are specific requirements and qualifications that you have to meet. Then, you have to be able to show those qualifications in the form of a professional resume. Therefore, one solution for you is to use a template that fits your purpose well. That template will help you to write an electrical resume that you will need to prove that you are the best candidate among other job seekers.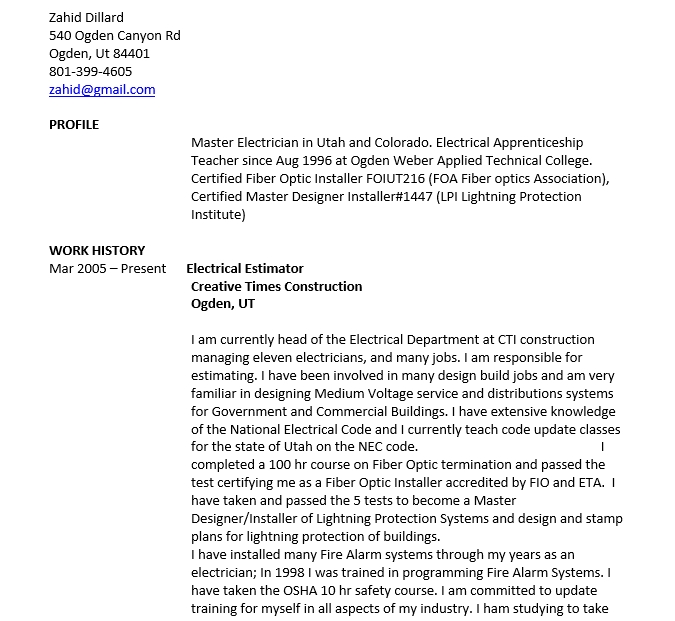 Electricians usually undergo a lot of professional training before working. So, if you are already trained and looking for a position as an electrician, you need to write a professional resume that covers your experiences, knowledge and skills. Your resume must be clear and concise. Avoid any ambiguity and grammatical errors. You can edit your resume multiple times to make sure that your resume is error-free.
You can take a look at the maintenance electrician resume available on this website. The provided templates are also very easy to be modified to fit your personal details.
Sample of Electrician Resume
Take a look at the sample of electrician resume below to get better ideas on how to write a professional resume of an electrician.
John Doe
Personal Info
Phone: (555) 105-105-105
Email: john.doe@gmail.com
Summary
A detail-oriented and dependable electrician with 6+ years experience in residential and constructions electrical installations. I am knowledgeable with things related to circuit management and power distribution. In 2 years in a row, I was an employee of the year because I was able to consistently increase the customers' satisfaction.
Experience
Maintenance Electrician at Electra Company
2018-2021
Maintaining electrical work on high and low voltage equipment
Maintaining and repairing switchboards, electric equipments and circuits
Carrying out preventive maintenance on machinery and electrical circuits
Maintenance Electrician at Light Company
2014-2018
Repairing various security systems, fire alarm devices and two-wire alarm circuits
Installing energy saving devices that could reduce clients' electricity consumption costs by 20%
Education
Associate of Science – Electrical Technology at HIJ University, 2014
GPA: 3.88
Relevant Coursework: physics, math, digital electronics, engineering principles.
Graduation: 2014
Membership: a member of Electrical Association
Key Skills
Analyzing blueprints
Risk evaluation
Processes evaluation
Repairing electrical systems
Safety regulations knowledge
National electrical code
Programmable logic controllers
Industrial control systems
Certifications
Certified Electrical Inspector
Certified Entertainment Electrician
Language
How to Write an Electrician Resume
The following are things you can consider to include on your electrician resume.
List your professional working experience related to the position you are applying for
Write down your apprenticeship or volunteer work you have done as an electrician
Highlight your hard skills and soft skills
Add information about your responsibilities during your employment, apprenticeship and volunteer work
Explain about your other related experience
Relevant Electrician Skills to be Included on a Resume
Below are some skills that should be possessed by an electrician. You can consider listing the following skills on your resume.
Practical skills
Being confident with power tools
Able to analyze technical drawings
Paying attention to details
Able to focus in long periods of time
Able to follow instructions
Using methodical approach in working
Tips to Write an Electrician Resume
Take a look at the following tips to write a professional electrician resume.
You have to make sure that the experience you include are relevant with the position you are applying for
You must be familiar with the skills that are needed to be an electrician and do not forget to include them on your resume
List your relevant achievements
Highlight your unique but relevant qualities
Kinds of Electrician Resume
There are several kinds of electrician resume that you can consider to be familiar with. You can choose the template that suits your needs.
Resume Template for Electrician
This simple and interesting template is the best choice for professional electricians with several employment histories. Write down your contact information, career objective, educational background, training experience, skills, hobbies and reference in the available sections. There is also a space for you to put your recent photo.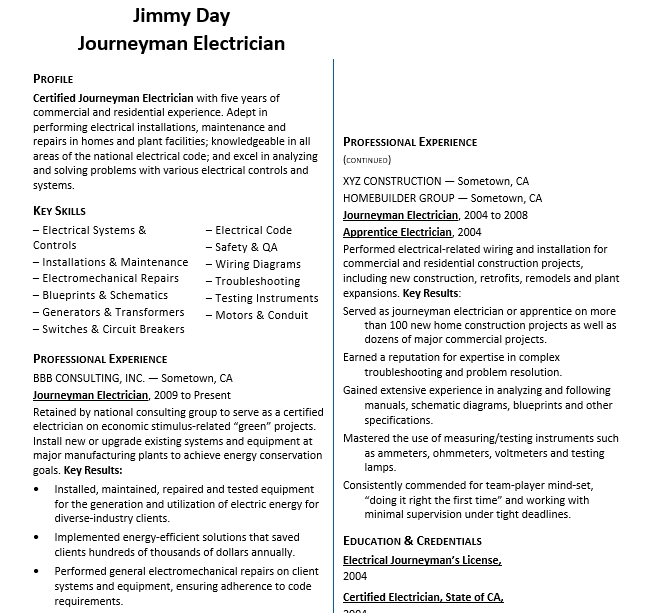 Resume Template for Electronic Technician
If you already have some working experience, this template will be suitable for you. There are spaces available for you to explain your career objective, personal information, educational background, working experience, language and hobbies.
Resume Template for Journeyman Electrician
Comes in MS Word format, this template is suitable for electricians who want to modify the contents of the template easily. In the provided spaces you can write down your profile, key skills, professional experience, credentials and educational background.
Resume Template for Apprentice Electrician
When you want to be an apprentice to an electrician, this template will serve your purpose. Here, you can write down your personal details, knowledge, skills and highlight your working history.
Resume Template for Industrial Electrician
Working as an industrial electrician is very challenging. If you think that you are the right person to work as an industrial electrician, you will be interested in this template. This template will cover your personal information, areas of expertise, credentials, licences and your professional experiences.
Resume Template for Master Electrician
This position is reserved for an experienced electrician, so, you need to prove that you are a professional in this field. You can highlight your professional working experience using this template. Write down your contact information, profile and your working history in the available spaces.
Resume Template for Maintenance Electrician
This useful and practical template will guide you in writing a professional resume. Write about your personal information, expertise, credentials, licences and professional working experience in the provided sections.
Resume Sample for Offshore Electrician
If you are planning on working as an offshore electrician, this template might be a good choice for you. Include your personal contact information, professional summary, core qualifications, key skills, employment history, training experience and educational background on your resume.
Resume Template for Entry-Level Electrician
When you are searching for a new position, you will need to use this template to guide you in writing your professional resume. Prove that you are eligible for the position by using this template.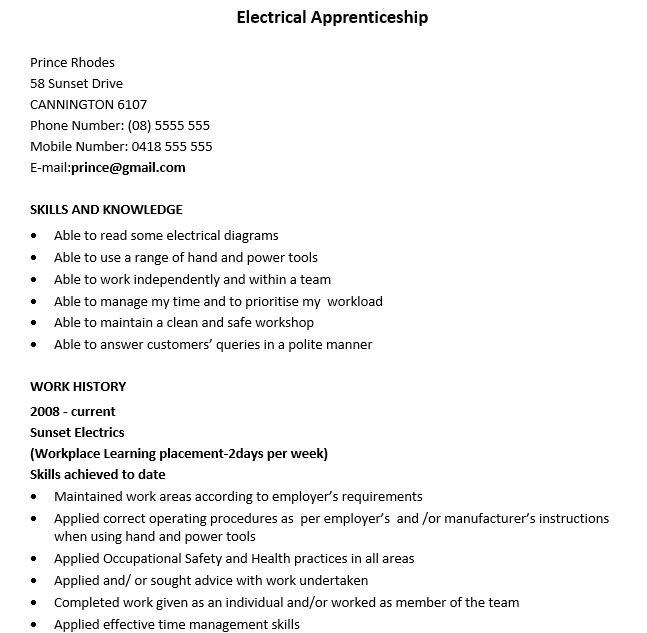 Similar Posts: