CEO Resume Template
If you are aiming to work as a CEO, you need to show your skills and qualifications through a professional resume. You must be able to prove that you are eligible for the position compared to other candidates. One solution for you is to use the CEO resume template.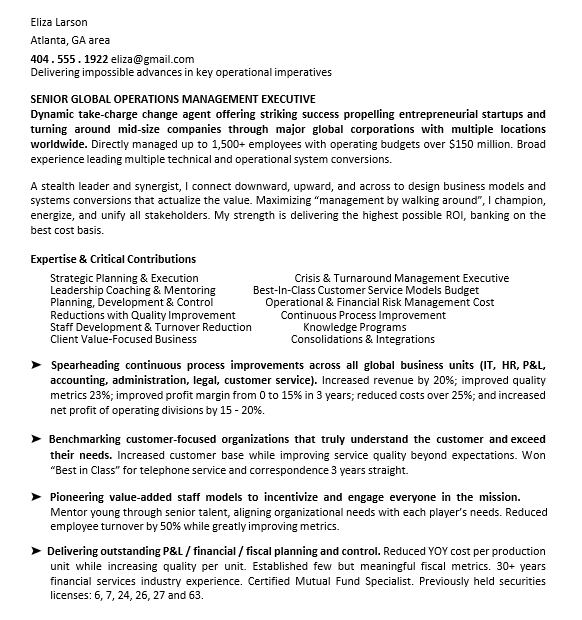 Writing a CEO resume for the first time may feel challenging for you. Take a look at the first time CEO resume on this website so that you will get some ideas on how to write a proper and professional resume in order to successfully get to the position that you want. You only need to do some adjustments so that it will be relevant with your personal information.
CEO Resume Sample
Take a look at the following CEO resume sample in order to give you inspiration on how to write a professional CEO resume.
Jack Andrew
Personal Info
Phone: (555) 145-224-457
Email: jack.andrew@gmail.com
Summary
A chief executive officer that always focuses on results with over 3 years experience in increasing growth and leading small to medium business. I was able to increase the company's revenue in about 80% over a year. I am seeking to grow and lead as the next CEO.
Experience
CEO at WOU company
2019-present
Managing a team of over 90 employees effectively.
Developing ambitious and intensive business strategies, long-term objective and short-term goals.
Reducing stagnation and increasing growth and productivity.
Fostering changes in company culture to be more transparent, accountable and open.
Head Manager at ZHOU company
2017-2019
Leading a team of 40 employees effectively.
Meeting with team leaders.
Implementing Machine Learning and Artificial Intelligence in order to aid larger analysis tasks.
Ensure that the company was meeting local regulations and all legal requirements.
Encouraging the general staff and management team to have constant growth.
Education
Master of Business Administration at Yoshire University, 2014
Bachelor of Science at Smith University, 2010
GPA: 3.80
Relevant Coursework: Financial Accounting, Microeconomics, Corporate Finance, Business Strategy, Marketing Analysis, Management Communication, Legal Studies and Business Ethics.
Key Skills
Calculated Risk Management
Business Operation and Strategy
Effective Communication and Delegation
Management & Leadership
Forward Thinking
Adaptability and Determination
Achievements and Certifications
Monthly CEO Awards, 2020
40 under 40 award, 2019
Certified CEO,  The Institute of CEO, 2019
Certified Manager, The Institute of Professional Manager, 2017
Languages
How to Write a CEO Resume
Consider the following things when you write a CEO resume.
Choose the best CEO resume format. The resume must be neat, easy-to-read, and in order.
Write down a professional CEO resume objective. Highlight your management skills, impressive achievements, leadership background and executive experience in several sentences.
List your working experience. Start with the most recent one.
Write your educational background. List the highest degree first.
Highlight your skills, especially your leadership abilities and managerial skills.
Writing a CEO statement
Follow the steps below to create a CEO statement.
Write down a clear message
It must be concise and simple
You must address real issues
Showcase your leadership abilities
Things to include on CEO resume
Consider to include the following things on your professional CEO resume.
Write down a chief executive officer statement
Highlight your achievements which are included in management field
When listing your skills, do not forget to use keywords
List your CEO skills and managerial skills
The responsibilities and job description of a CEO
CEO duties include: leading the company's long-term and short-term strategy development, implementing the company's vision and mission, and communicating with government entities, shareholders and the public.
Kinds of CEO Resumes
There are various kinds of CEO resumes that you can find online. Choose the one that best serves your purpose.
Resume Example for CEO
This amazing template is very suitable for an experienced CEO. There are spaces available to write down your personal summary, profile and value, career brand, areas of impact, areas of expertise, personal skills, personal details, professional working experience or career summary, core competencies, qualifications, critical contributions, executive leadership achievements, functional skill areas and key skills.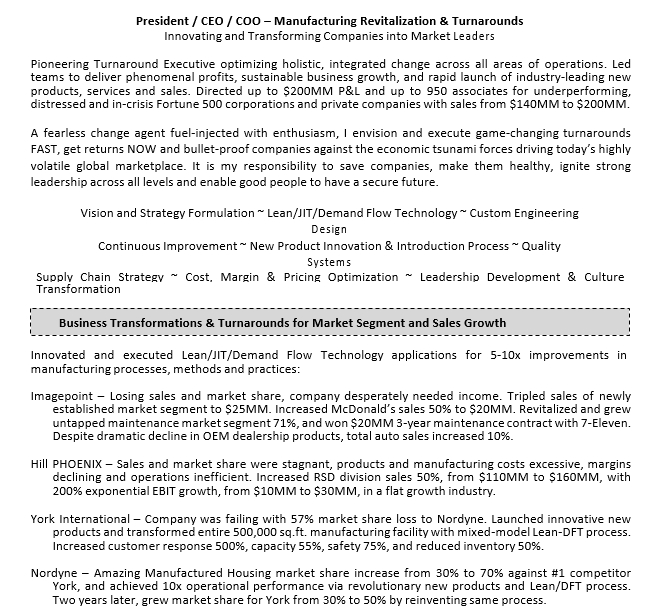 Resume Template for first time CEO
If it is the first time you are applying for the position of CEO, this template may be your best choice. This template focuses on your personal details, career summary, expertise, functional skill area and areas of impact.
Resume Template for CEO and Executive
This template focuses on your impact and achievements. Prove that you are eligible to be a CEO and Executive by using this template.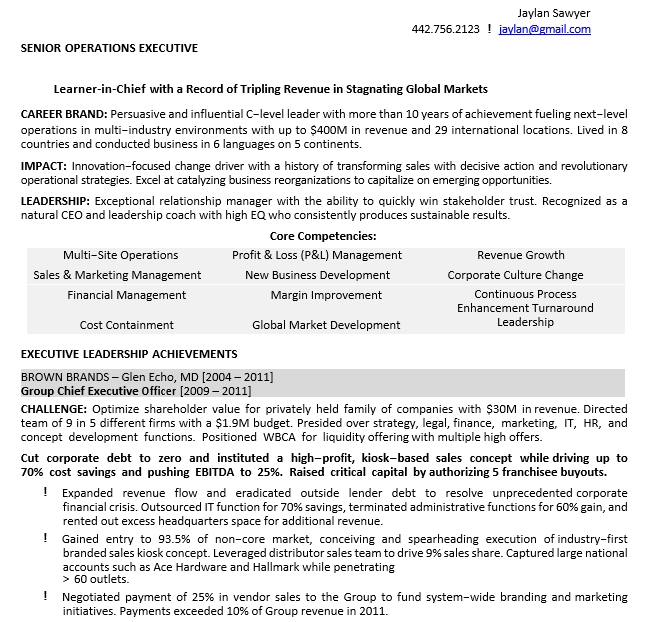 CEO Position Sample Resume
This sample resume focuses on your experiences in business transformations and sales growth. There is also specific space for you to explain your experience in leadership and manufacturing transformation.
Resume Sample for Senior Executive
If you are interested in working as a senior executive, this template might work out best for you. You can highlight your skills, achievements and professional experiences in the available sections.
Free Download Resume Template for CEO
When you want to emphasize your professional working experience, you might be interested in using this template. Write down your career objective, educational background and working experiences in the provided spaces. You just need to download this template and do some modification to fit your personal information.
Free Resume Templates for CEO
If you already have many experiences in this field, this template is the best choice for you. Prove that you are a valuable candidate by explaining about your critical contributions and expertise, also your previous working experiences. The templates can be downloaded for free so you only need to adjust the contents so that it will be suitable with your personal details.
Resume Template for Bank CEO
When you want to apply for a position as a Bank CEO, this template is made for you. You can write down your executive summary, leadership, integrity, commitment, areas of expertise, professional working experiences and achievements in the provided spaces.
Resume Templates for Construction Chief Executive Officer
If you want to apply for a job as a construction chief executive officer, you can choose to use this template. This template offers sections for you to write your personal contact, executive summary, core qualifications and professional experiences. Using this template you can highlight your accomplishments.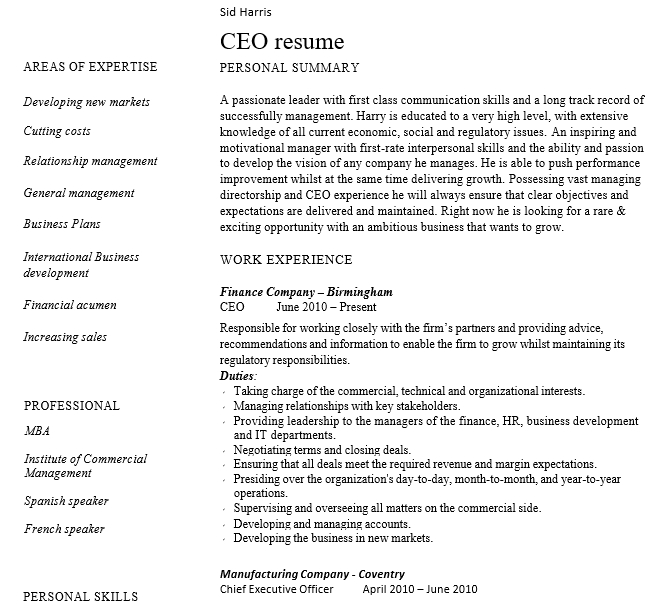 Similar Posts: