HR Recruiter Resume
All companies and organizations must have a Human Resources Department, or usually called HR. Its responsibility is to do recruiting plans and to find the best employee candidate for the company. They have a list of qualifications that applicants have to meet before deciding whether someone deserves the position or not.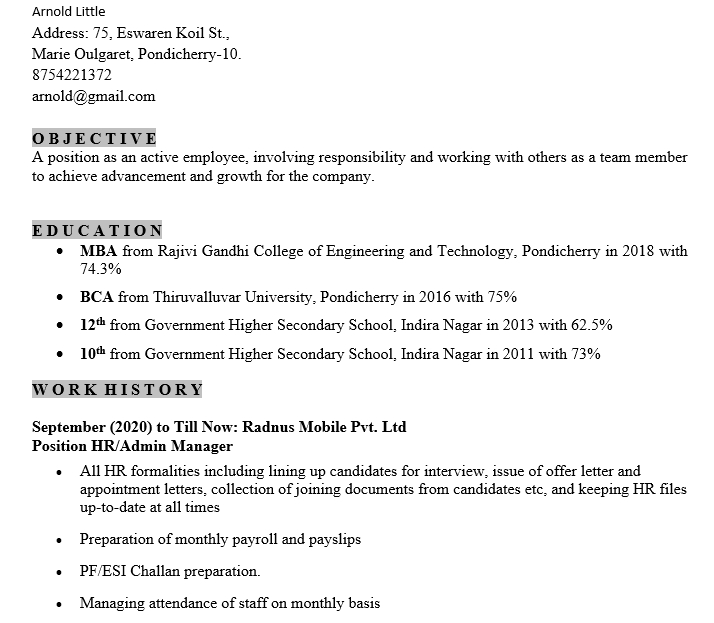 To be an HR recruiter, someone has to write down a comprehensive HR recruiter resume to show their relevant skills to the employers. If you prove that you deserve the position, they will pass the resume screening and may eventually land the job. In this article, we will provide you the most important starting phase which is preparing a resume for an HR recruiter job.
Senior HR Recruiter Resume Sample
We provide a resume sample for the HR recruiter position for those who are interested in knowing how it looks like.
Scarlett Thompson
Personal Info
Phone: (555) 123-123-123
Email: scarlett_thompson@email.com
Summary
A talented and professional Human Resources Recruiter with 5 years of experience in performing employee recruitment procedures based on the employment hiring standards. Comprehensive in employment knowledge and industry practices, I successfully developed effective HR plans to contribute to the company's growth and benefits. Seeking a career opportunity to fill in the position of HR Manager at XYZ Company to provide the best recruitment procedures.
Experience
HR Recruiter at ABC Organization
2018 – 2020
Preparing the job opportunities and its detailed information to fill in the position needed by the organization
Preparing various interview questions for the recruitment candidates
Assessing candidates' applications and develop pre-screening procedures for the recruitment procedures
Coordinating and reporting to the manager regarding the recruitment process
Performing human resource guidance and consultation that are beneficial to the final decision made by the manager regarding the recruitment procedures
Communicating the recruitment results to the candidates
Successfully conducted full-cycle recruitment procedures for two years in a row and improved employees' performance by 35% from the recruitment
Achieved the Best Employee of the Month for several months in 2018 and 2019
HR Recruiter at Hopkins Communications
2015 – 2018
Communicating with the manager about the new position offered to fill in
Communicating with manager and HR staff about the candidate requirements and qualifications
Developing recruitment plans based on the company policy and employment industry practice
Conducting pre-screening candidates and other related recruitment procedures
Preparing interview questions for the candidates
Communicating with the manager about the final stage in recruitment procedures
Education 
Bachelor of Arts – Human Resources Development at Caroline University, 2011-2015
GPA: 3.92 (The Top 3% of the Program)
Relevant Coursework: Seminar on Employment Best Practice and Laws, training on How to Recruit Potential Employee for Company, Human Resources Management Intensive Training
Graduation: 2015
Membership: HR Assistant Community, HR Recruiter Association
Key Skills
Excellent communications skills
Business writing
Good understanding of recruitment procedures
Good understanding of employment practice and laws
Detailed-oriented
Multitasking
Achievements and Certifications
Certified Human Resources of Management
Best Employee of the Month, 2018 and 2019
Language
How to Write an HR Recruiter Resume Professionally
You can't just download any resume template available online and use it to fill in the HR recruiter position. It has to be personalized to your needs to ensure that the employers truly read your potentials through your resume. So, here we collect several tips in writing a professional HR recruiter resume.
Ensure you read the job description well. It includes the information of the position, job responsibilities, skills needed, to qualifications
Write down a reversed-chronological resume format to highlight your professional experience
Add persuasive profile summary but don't make it too long
Include relevant key skills of an HR recruiter. It has to be in the scope of technical skills and soft-skills
Inform your academic qualifications
List your work achievements in previous work that relate to an HR recruiter
Crucial Skills to Write on HR Recruiter Resume
In writing an HR recruiter resume, several relevant skills have to be included to show your capabilities. These are among the skills you can write.
Exceptional communication skills. It applies to both spoken communication or business writing communication
Time management skills
Confidence
Detailed-oriented and curiosity
Multitasking skills
Knowledgeable and approachable
Up-to-date to technology
Kinds of HR Recruiter Resume Templates
Let's be honest, sometimes we don't have much time to prepare everything for the HR recruiter hiring process, from making the resume to the interview preparation. So, here we give you several template samples for HR Recruiter resumes that you can use to save your time.
Outsourcing Recruiter Resume Template
This resume template is suitable for an outsourcing recruiter who wants to pass the first resume screening. The list of professional experience is dominant and it is supported with relevant academic qualifications and skills.
Contract Recruiter Resume Template
For those who want to be a contract recruiter, this resume will open a career opportunity for you. It is written professionally and it creates an elegant design with navy and white dominant colors that will be pleasing to the readers.
HR Recruiter Resume Template
This resume template becomes the main go-to sample if you want to apply for an HR recruiter in a company. A persuasive career summary, relevant skills, and a list of qualifications show the employer that you deserve the job.
Job Recruiter Resume Template
If you look for a simple resume format, this can be your choice. It is written in black and white; the information sections are structured professionally with a reversed chronological format.
Agency Recruiter Resume Template
This resume template is designed for an agency HR recruiter. It applies a modern and colorful design with neat information sections that will balance the design. It is eye-catching with a white dominant color and dark green for the font.
Corporate Recruiter Resume Template
To fill in the position as a corporate recruiter, this resume template can be the first thing you download. It's free and it takes the importance of how you present the information by applying a well-structured resume format.
Campus Recruiter Resume Template
Sometimes, a company is recruiting students from campus, and to have the position, you need this resume template. Relevant skills become the main highlight here, which is added with the strong academical background.
Field Recruiter Resume Template
This resume template is designed specifically for a field recruiter. It has a spacious professional summary section where you can explain what you've done in previous work completed and a long list of relevant qualifications.
Sample HR Recruiter Resume
This resume template applies a basic resume format with a chronological style that can be used for professionals. Beginners can use it too with some edits to highlight the skills of the applicants.
Senior HR Recruiter Resume
If you have been in the industry for a long time, it's time for career advancement to be a senior HR recruiter. This resume template provides you a comprehensive professional summary with a list of relevant skills to prove that you deserve the position.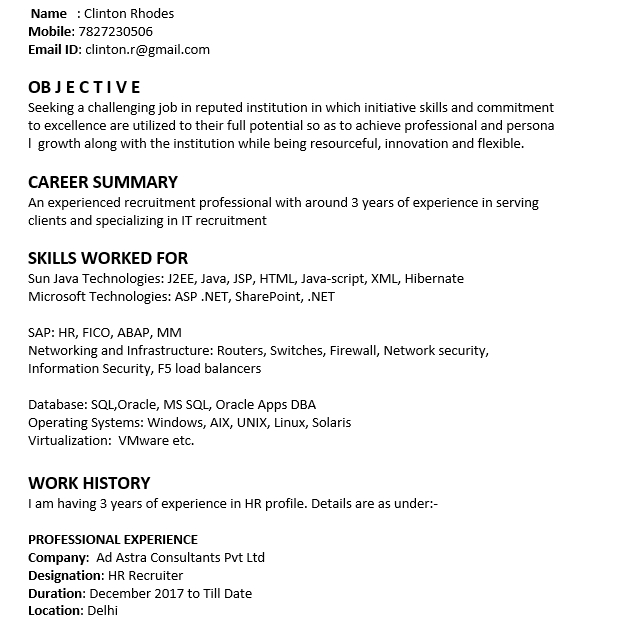 Similar Posts: