A bar back is a junior role for a person who wants to work as a bartender, barista, or bar manager in the future. Usually, a bar back undertakes simple tasks. Mainly, he or she supports the more experienced staff in the bar before they can take orders, mix beverages, and serve customers without supervision. Now, let's see the following detailed bar back job description.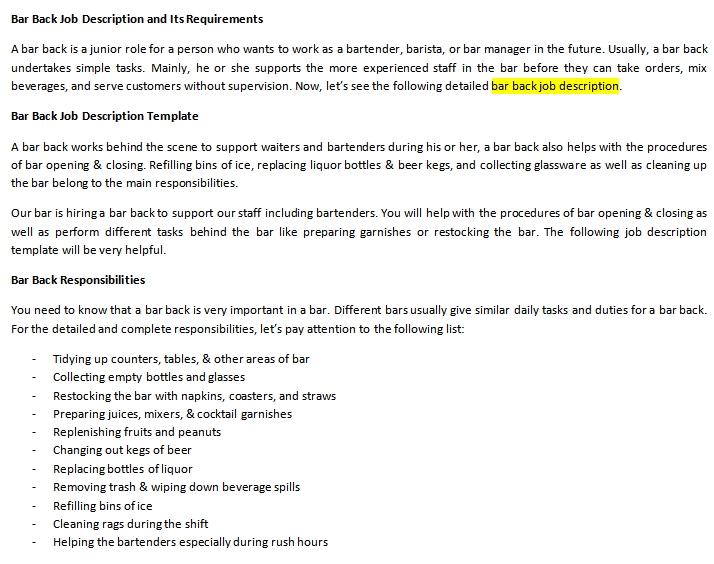 Bar Back Job Description Template
A bar back works behind the scene to support waiters and bartenders during his or her, a bar back also helps with the procedures of bar opening & closing. Refilling bins of ice, replacing liquor bottles & beer kegs, and collecting glassware as well as cleaning up the bar belong to the main responsibilities.
Our bar is hiring a bar back to support our staff including bartenders. You will help with the procedures of bar opening & closing as well as perform different tasks behind the bar like preparing garnishes or restocking the bar. The following job description template will be very helpful.
Bar Back Responsibilities
You need to know that a bar back is very important in a bar. Different bars usually give similar daily tasks and duties for a bar back. For the detailed and complete responsibilities, let's pay attention to the following list:
Tidying up counters, tables, & other areas of bar
Collecting empty bottles and glasses
Restocking the bar with napkins, coasters, and straws
Preparing juices, mixers, & cocktail garnishes
Replenishing fruits and peanuts
Changing out kegs of beer
Replacing bottles of liquor
Removing trash & wiping down beverage spills
Refilling bins of ice
Cleaning rags during the shift
Helping the bartenders especially during rush hours
Bar Back Requirements
There are some qualifications to meet. Different bars may require different qualifications. However, they are usually same. Here are the requirements all the candidates have to meet:
Minimum age for serving alcohol
Interest in hospitality industry
Previous experience in a restaurant or bar is a plus
Ability for working in a fast-paced environment
Team spirit
Basic knowledge of menu items & recipes of bar such as various kinds of beers & mixed drinks
Physical ability for lifting beer kegs, standing during the shift, and holding glassware & bottle trays
Flexibility for working during public holidays, weekends, and evenings
High school diploma
Additional certification in hospitality or mix logy is an advantage
Bar Back FAQs
What does a bar back do in a bar?
A bar back has a simple main task. It is to supports the more experienced staff in the bar.
Can I edit the posted bar back job description template here?
Of course, you can. Everyone is allowed to download, edit, and use the job description template above. So, just feel free to edit it to fit your needs.
Do you have interview questions for a bar back?
We do not only provide the bar back job description but also a few samples of interview questions for a bar back.
Similar Posts: