Welder Resume
Your welder resume is the most important thing in a job application. Your qualification and experience won't matter when you don't present them in a well-written resume. Whether you are a freelance welder or an industrial one, a good welder resume will determine your professional work in the first place. Check how to write a welder objective, experience, educational background, etc on this page.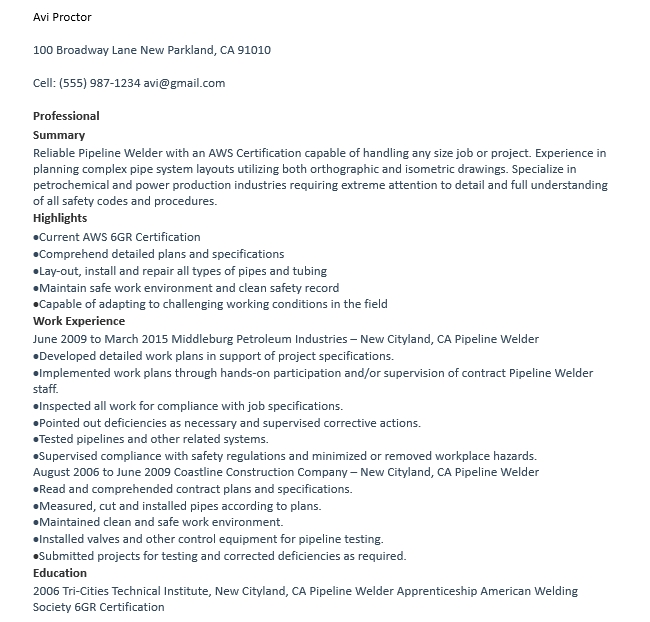 Jennie Sue
Personal Info
Phone: (765)545-563-245
Email: jennie.sue@gmail.com
Summary
Experienced welder with 6+ years of experience in the welding industry. A welding certificate course graduate with a 2017 Welding Award. Seeking a new challenge in Yanchow Holding Industry to expand my skills in FTAW, GMAW, SMAW.
Experience
Welder
ABC-Brass, Stainless, Bronze
May 2018 – present
The Bronx, New York City, NY
Conducting various welding works with SMAW, GMAW, FCAW, and GTAW.
Maintained welding equipment and repaired any errors.
Welded girders, columns, and joints based on the orde
Fabricated metal structures with necessary equipment such as shapers, cutters, welders, etc.
Welder
Kalingo Welder
May 2015 – April 2018
Bronx, New York, NY
Maintained welding machines, metal equipment, structures, and also frameworks
Interpreted diagrams, sketches, blueprints, and plans from various projects
Implementing company's safety and standard requirements
Education
Certificate in Combination Welding Technology
ABC Technical School, Bronx City, NY
Completed: 2015
GPA: 3.6
Relevant coursework: Blueprint Reading and Fabrication, Gas Metal Arc welding, Oxyacetylene Welding
Key Skills
Leadership
Gas Welding
Interpreting frameworks
MIG, Stick and TIG Welding
Plasma ARc Welding
Teamwork
Time Management
Awards
2017 Excellent Welding Awards – Individual Category
Languages
English
French
Spanish
Mandarin
How Is A Good Welding Resume?
It is just like a regular resume that you need to write in a professional writing tone. Avoid unnecessary information such as your hobbies. No one cares about that. Well, some might do, but this is not the point.
A good resume should contain information such as your experience, skills, your specification in welding, educational background, and certification. This is important because the employer will see this part. The most important thing is your resume objectives. Usually, a hiring manager has no time in reading the resume one by one. Now, this how a resume objective plays an important role. The employer often reads the resume objective only and then will skip the resume when they don't find things related to the job listing.
How To Write A Good Resume Objective?
A good resume objective should cover the information in your resume. Pick the ones that you think the best. Such as your experience, skills, educational background, and awards. One thing to note is you have to make sure that every piece of detail you put in the resume objective matches with the job listing.
What Are Skills To Have As A Welder?
In writing the skills on the resume, make sure this is a combination of soft skills and hard skills. Another thing to underline is focusing more on the hard skills. The welding job is something related to the machine so this is important. Some of the most required skills are as follows:
Gas, MIG, Stick, TIG, Plasma Arc, Electron Beam, and Laser welding.
Effective communication
Creative thinking
Decision making
Time management
Teamwork
Project management
Kinds Of Welding Resume Template
Pipe Welder Resume Sample
This is a professional template for a welder that you can download for free. This template offers an excellent structure with important details such as resume summary, highlights, work experience, educational backgrounds, and skills. If you are an experienced welder and thinking about changing the career, this one is the best choice.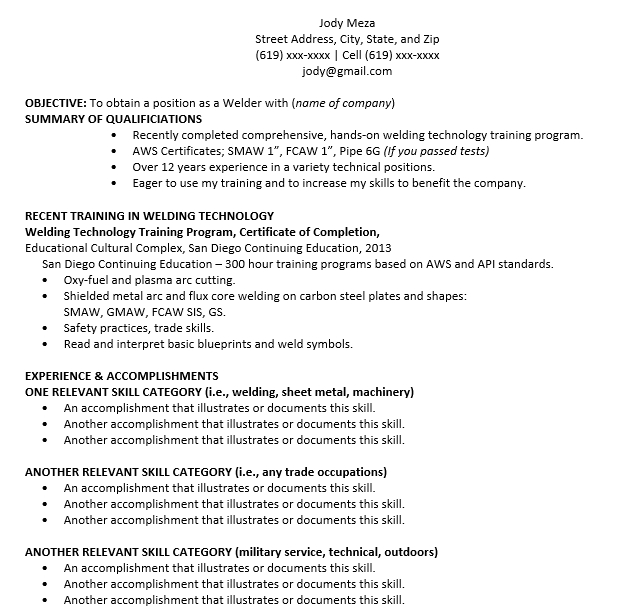 Entry Level Welder Resume Example
For the entry-level applicants, beating the competitor can be very tricky when you don't have strategies. One of the best ways is choosing the right resume template. This one is one of the best that you can download. It helps you highlight your best qualifications. One trick to winning the job listing competition is focusing on your projects, skills, and certification. If you have volunteer work, this will leverage your resume.
Structure Welder Resume Sample
This is an in-depth style template that can highlight your expertise and experience. You can focus on your core competencies which most companies are looking for them. This is a great way to win your competition and get hired soon.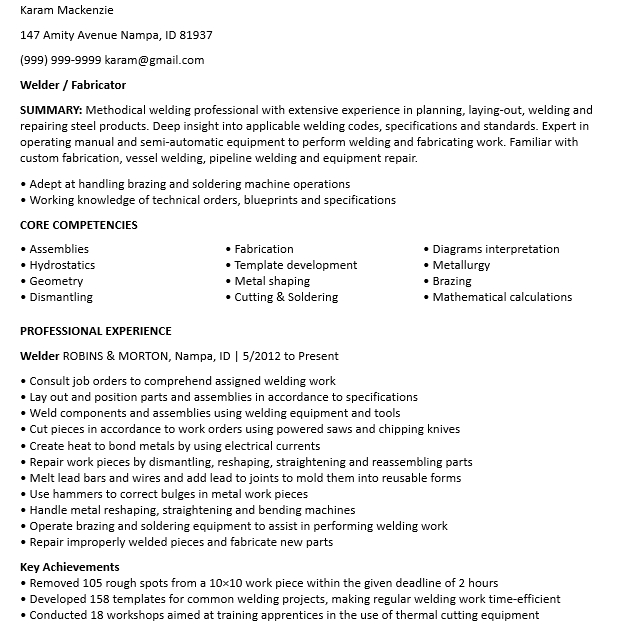 Welder Fabricator Resume Template
Another template that you might like is this one. This is specified in the fabricating job. So, if you are passionate about this field, it is better to download this template. This template is easier to use and you can point specific details about yourself in a professional manner.
Sample Welder Resume Template
This is a ready-made template that comes with the detail sections. Editing a resume is not painful anymore and you can focus on another thing to prepare for your best hiring journey. This template has sections such as relevant accomplishments, experience, and many more.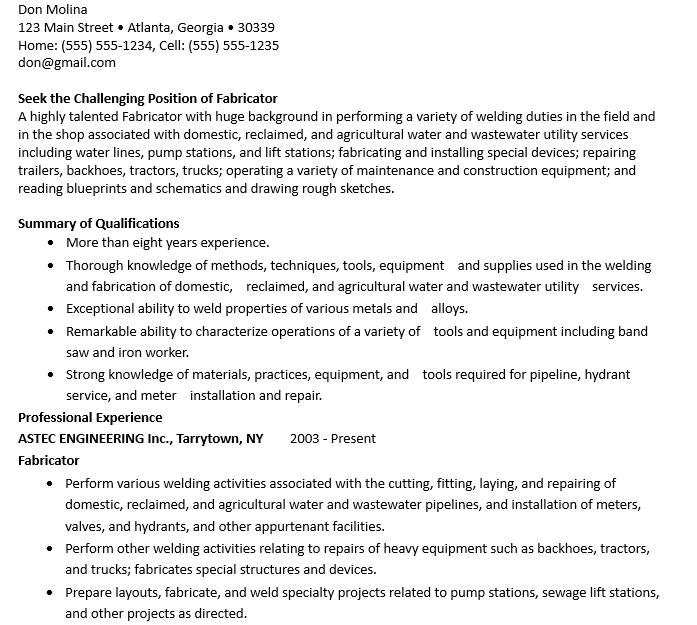 Editable Welding Resume Sample
If you are looking for an editable sample, this template is the best choice that you can pick. This contains the original contents so you can learn from it while editing it with your version. Writing a resume has never been this easy.
Welder Resume Templates Free Download
It is difficult to find a good template with a premium feature. But this one is different with its example and complete section. Whether you are applying for an entry- or professional level, this template is the most versatile one.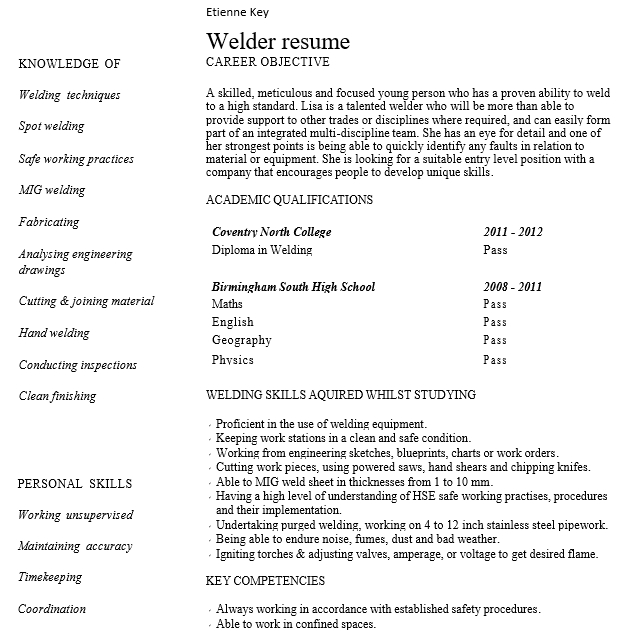 ARC Welder Resume Template
If you are focusing on arc welding, this is a good template choice to download. You can edit the template with your style using MS. Word. The best thing about this template is the design that makes it look noticeable. There is a resume summary part in which you can effectively summarize your qualifications. Now, with this template, you can save your time and focus more on another thing. Don't forget to emphasize your hard skills because this job is related to the field.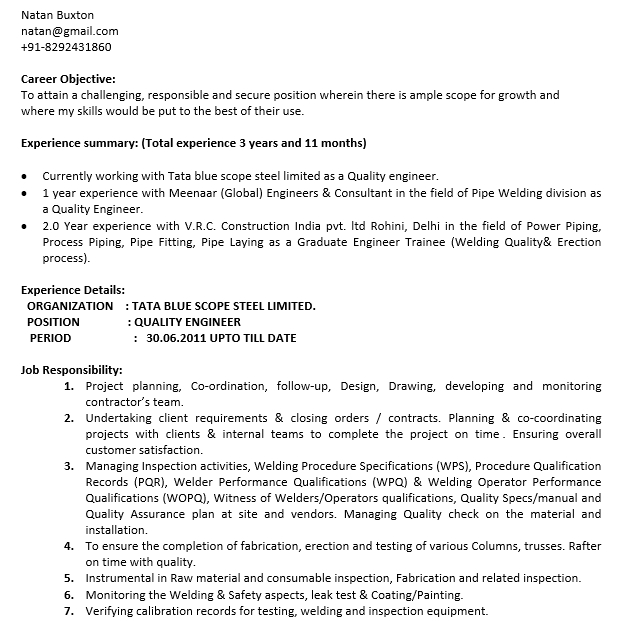 Similar Posts: