Coach Resume
If you are interested in becoming a coach, you need to have the skills and  qualifications needed for this job. Prove that you can perform the duties of a coach well through a professional resume. You can read some coach resumes to get an inspiration on how to write a proper coach resume.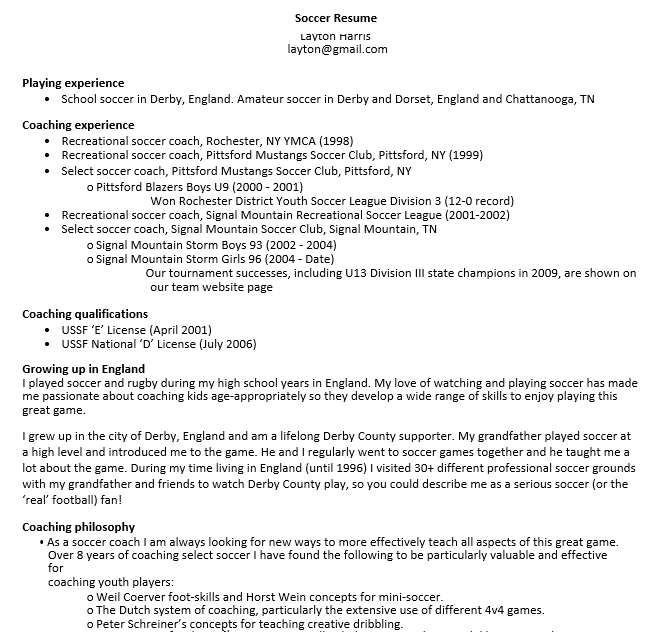 When this is your first experience of writing a resume, you can take a look at a soccer coach resume sample that you can find on this website. Among the various coach resume samples, choose the one that suits you best.
Sample of Coach Resume
The following is an example of a coach resume that can give you guidance in writing a professional coach resume.
Jack Miller
Personal Info
Phone: (555) 333-333-333
Email: jack.miller@gmail.com
Summary
An effective soccer coach with more than 4 years of experience, skilled in goal-setting and communication. I am looking for a position in which I can raise the winning percentage 20% through good practice drill plans, active listening, and improved use of zone and  man-to-man plays. I was able to ensure that individual team members hit their personal goals for academics and athletics with a 90% success rate.
Experience
Soccer Coach at Oakland High School
2019-2021
Organizing 10 away games and 15 home games.
Brought team to national championship thrice.
Worked with players, teachers and parents to attain academic targets.
Ensure all players maintain a B score or higher.
Raised winning percentage of 20% by using better man-to-man and zone plays.
Used active listening in understanding players' challenges and assisted in making personal goals for every player. Players met the goals with 90% success rate.
Assistant Soccer Coach at Bruce High School
2017-2019
Assisting in organizing drinks, snacks, transportation and supplies for 15 away games
Ordered all supplies and saved $1000 each year compared to previous years.
Gave attention to lagging players, brought last-place players to starting level after 6 weeks.
Education
Bachelor's degree – Physical Education at Louis University, 2017
GPA: 3.68
Relevant Coursework: exercise and sport science, physiology, sport medicine, fitness and nutrition, kinesiology
Graduation: 2017
Membership: a member of Soccer Coach Academy, Soccer Coaches United, Professional Soccer Coach
Key Skills
Goal setting
Giving feedback
First aid
Inspiring confidence
knowledge of soccer
zone defense
creating practice drills
managing attendance
working with teachers
creating plays and game plans
Certifications and Achievements
Soccer Coaching Certification
Maintaining safe and healthy environment for players
Language
How to Write a Coach Resume
You can include the following things on your coach resume.
Open your resume with a summary showing that you are interested in the position.
Write down your profile in details
Highlight your professional working experience
Explain about your educational background and the trainings you have participated in
You can describe your coaching philosophy
If you have experience as a player, you can mention about your playing experience
Add some additional information to express more about your abilities and skills
Relevant Coaching Skills to Include on a Resume
Below are some coaching skills that you can mention on your professional coach resume
Mentoring and coaching skills
Soccer analytics
Good leadership skills
Team management skills
Strong work ethic
Collaboration skills
The Responsibilities of Soccer Coaches
You need to know the responsibilities of a soccer coach in order to write your resume summary. Show that you are familiar with these responsibilities.
Lead soccer practices for players to improve their performance
Make strategies for players' positions
Develop on-field strategies
Make substitutions during games
Help players to stay fit during offseason
Kinds of Coach Resumes
There are various kinds of coach resumes that you can get familiar with. Choose a resume that can serve your purpose well.
Resume Template for Assistant Baseball Coach
If you want to focus on highlighting your professional experience,  this template will work out best for you. This simple template provides spaces for your personal information, job objective and employment history. It is also available in MS Word format so it will not be that difficult for you to adjust its content to fit your situation.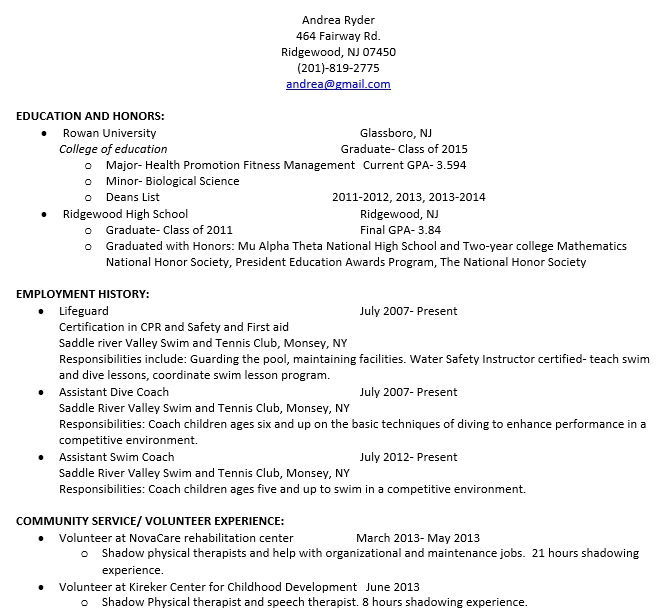 Resume Template for College Football Coach
Being an experienced person in this field, this template is surely made for you. You can write down your contacts information, career objective and working experience in the available sections. This template is also written in MS Word format so all you need to do is do some simple modification to its contents.
Resume Template for College Basketball Coach
This easily editable template which comes in MS Word format can make a great impression on your recruiter. Choose this template and prove that you are the right person for the position.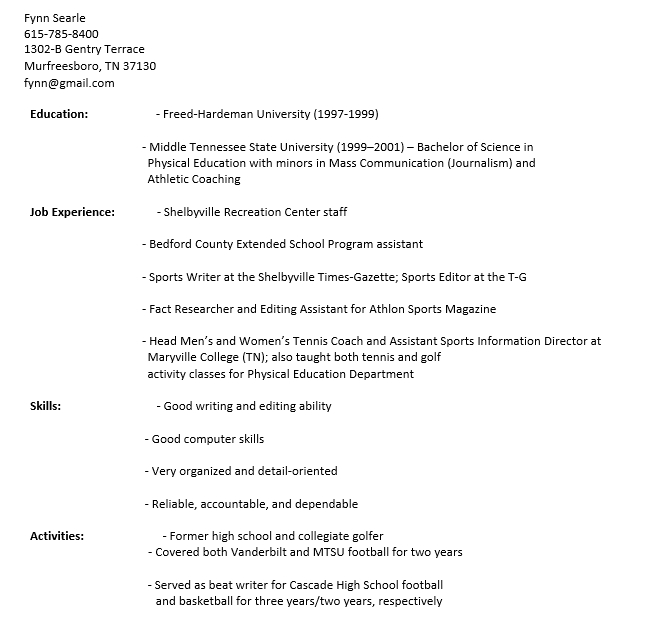 Resume Template for Basketball Coach
In this professional resume template you can add your professional summary, working experience, core qualifications, address and name in the available spaces. This template can be used to apply for a position in colleges as well as schools.
Resume Template for Soccer Coach
You can add details about your playing experience, coaching experience, coaching qualifications as well as your coaching philosophy in sections provided by this template. You can use this template to apply for a job in schools and universities.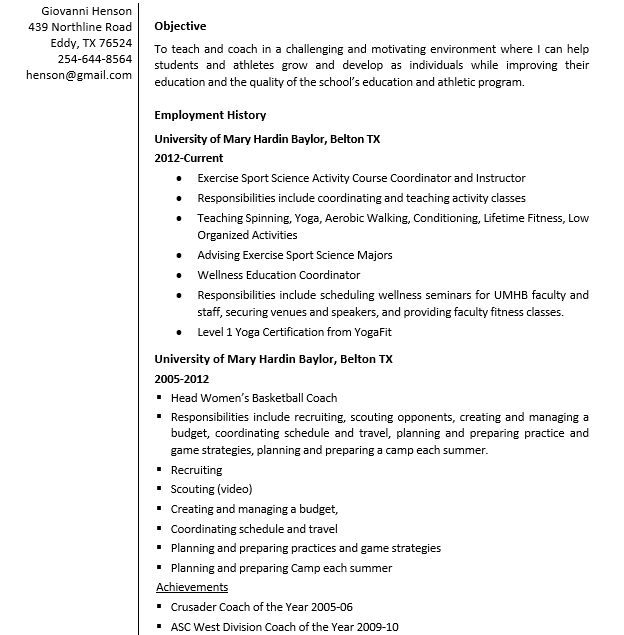 Resume Template for Baseball Coach
This template is designed for you who want to apply as a baseball coach. Add your resume summary, core competencies as well as your professional experience in the available sections.
Resume Template for Volleyball Coach
If you are looking for a template designed for a volleyball coach position, this template is your correct choice. It contains sections for your resume objective, team achievement, address, name, educational background, employment history and other details.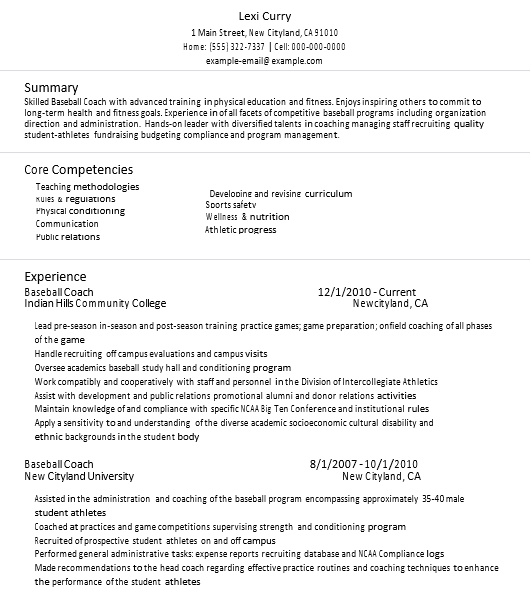 Resume Template for Swim Coach
This template is designed for you who want to easily edit the content to fit your personal information. Write down your personal details, honors, educational background, employment history, volunteer experience and community service experience in the provided spaces.
Resume Template for Tennis Coach
This template focuses on giving information about job experience. Prove that you are an experienced coach by using this template.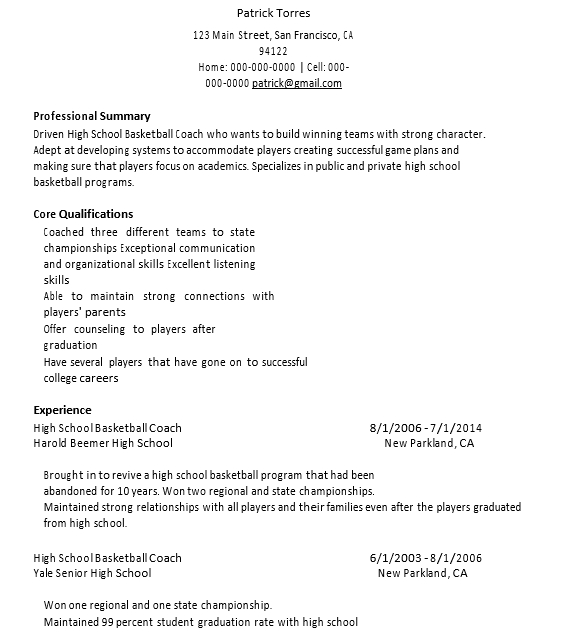 Similar Posts: