A church custodian is a person who has responsibility to keep a church tidy & clean between services, events, & different church activities. The following church custodian job description describes the complete and detailed tasks and duties needed to keep the church appearing orderly and pristine at all times. So, you have to pay attention to the following template.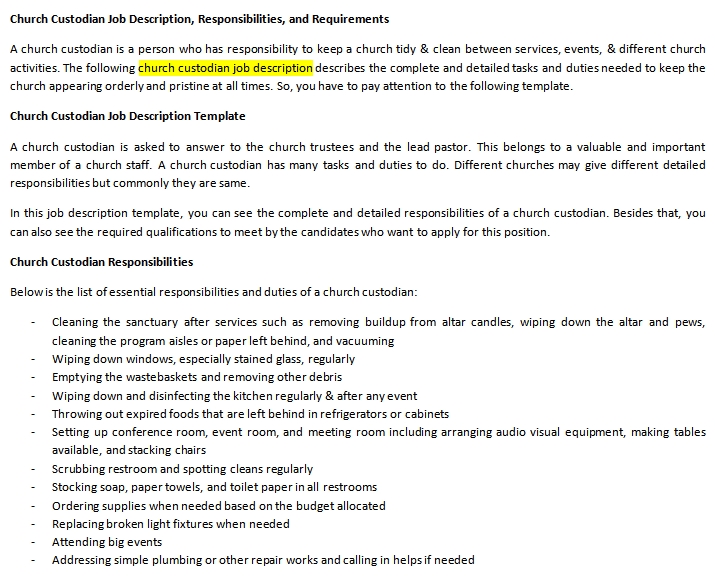 Church Custodian Job Description Template
A church custodian is asked to answer to the church trustees and the lead pastor. This belongs to a valuable and important member of a church staff. A church custodian has many tasks and duties to do. Different churches may give different detailed responsibilities but commonly they are same.
In this job description template, you can see the complete and detailed responsibilities of a church custodian. Besides that, you can also see the required qualifications to meet by the candidates who want to apply for this position.
Church Custodian Responsibilities
Below is the list of essential responsibilities and duties of a church custodian:
Cleaning the sanctuary after services such as removing buildup from altar candles, wiping down the altar and pews, cleaning the program aisles or paper left behind, and vacuuming
Wiping down windows, especially stained glass, regularly
Emptying the wastebaskets and removing other debris
Wiping down and disinfecting the kitchen regularly & after any event
Throwing out expired foods that are left behind in refrigerators or cabinets
Setting up conference room, event room, and meeting room including arranging audio visual equipment, making tables available, and stacking chairs
Scrubbing restroom and spotting cleans regularly
Stocking soap, paper towels, and toilet paper in all restrooms
Ordering supplies when needed based on the budget allocated
Replacing broken light fixtures when needed
Attending big events
Addressing simple plumbing or other repair works and calling in helps if needed
Church Custodian Requirements
A church custodian must be adept. So, there are some qualifications required for the candidates. Here are the required abilities, skills, and knowledge:
Having a positive attitude & being willing to assist in all things
Courteous & tactful
Directed & able to complete custodial duties with no supervision
Flexible & willing to adopt to different schedules & work level required every week
Being committed to the church's missions & goals
Knowledge of various cleaning techniques like waxing, disinfecting, stain removal, etc
Proactive
Honest & trustworthy to have access to the church's secured areas
Knowledge of simple plumbing & general repair works
Responsible & able to arrange duties
Church Custodian FAQs
What does a church custodian do in a church?
A church custodian must keep a church tidy & clean between services, events, & different church activities.
Can I edit the posted job description here?
This job description template is editable so that you can easily edit it to fit your needs.
Do you have interview questions for a church custodian?
Besides the church custodian job description, we also provide some interview questions you can use free.
Similar Posts: