Babysitter Resume
If you want to build a career as a babysitter, you need to have a professional resume in order to show that you have what it takes to be a babysitter. The quality of your resume will be able to set you apart from other candidates who are seeking the same position as you. In most cases, you must tell in detail about your abilities in handling babies in emergencies by giving first aid and maintaining the baby's hygiene. Usually you are also expected to include an explanation about your skills, responsibilities, expertise and accomplishments that are important and related to applying for a babysitter job. One simple action that you can take is by using a babysitter resume.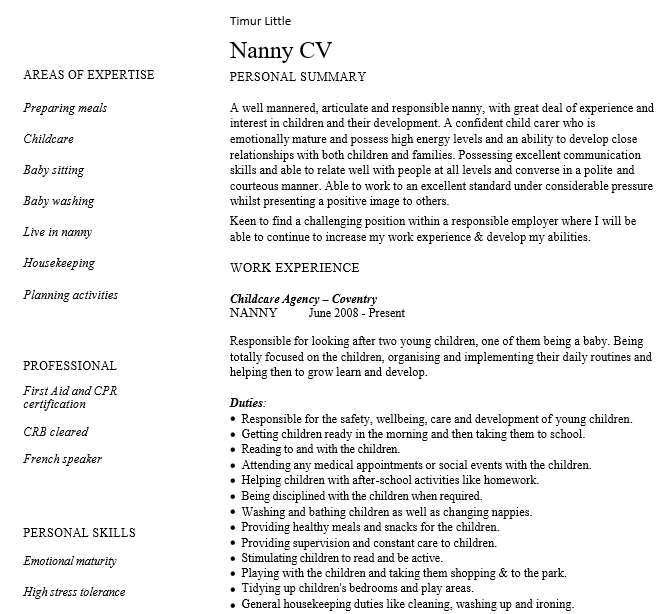 You can find babysitter resume examples on this website to guide you in the writing process of your resume. Choose the one that suits you best.
Sample of Babysitter Resume
The babysitter resume below is provided for you who need guidance in writing a professional resume.
Aleysa Witham
Personal Info
Phone: (555) 523-534-556
Email: aleysa.witham@gmail.com
Summary
A responsible and compassionate babysitter with more than 4 years experience who is looking for a job in which I can perform my excellence at child care. I am skilled in CPR, tutoring, changing diapers and potty training. I have worked as a babysitter for 2 families, as a daycare worker and as a camp counselor. I received recommendations from both families for reliability. I was able to decrease conflict incidents by 10% at Camp Azalea. I also successfully entertained 5 toddlers at Winner Daycare.
Experience
Babysitter
2019-2021
Worked as a babysitter and received recommendations from the family
Created educational games that improved baby's shyness
Taught toddlers to swim with safety lessons in water
Turned toddlers' dislike for carrot into love
Camp Counselor at Camp Azalea
2018-2019
Serving as camp counselor who taught, coached and supervised children
Taught woodcraft, swimming, archery and soccer and was picked to lead hikes
Providing resolutions for conflicts. Incidents decreased by 20% under my supervision due to my emphasis to build strong relationships
Daycare Volunteer at Winner Daycare
2017-2018
Volunteered at a medium sized daycare. I was responsible for conflict resolution, child interaction, game creation and playground supervision
Changing little kids' diapers, around 5 diapers/day.
Education
Rosemary High School
GPA: 3.88
Relevant Coursework: childhood education, basic first aid and CPR, child and infant
Graduation: 2017
Membership: a member of student council, secretary of math club, captain of soccer team
Key skills
Changing Diapers
CPR and First Aid
Potty Training
Physically fit
Food Preparation
Washing Machines
Problem Solving
Bottle Feeding
Light Cleaning
Conflict Resolution
Certifications and Achievements
First aid and CPR
Babysitting Certification
Graduated with high GPA
Language
How to Write a Babysitter Resume
You can take a look at the following things and consider putting them on your babysitter resume.
Highlight your relevant skills. Your skills will show the age range that you are able to babysit.
Write down your introductory statement
Include your professional experience
Relevant Babysitter Skills to Include on a Resume
There are several skills that are required to become a babysitter. Read and include the following skills on your resume.
Patience in handling child
Good problem solving skills
Relationship and communication building
Able to do multitasking
Scheduling and time management
Self reliance
Having creative skills to create learning activities
Having great confidence
Things to Put on Babysitting Resume
Include the following things in writing down your professional babysitter resume.
List your babysitting experience
Identify your skills that are related to babysitting
Add experience section on your resume
Include certifications and skills section
You can add some references
Kinds of Babysitter Resume
There are several kinds of babysitter resumes that you can use as a guide in writing your babysitter resume. Choose the one that best describes you.
Resume Template for Experienced Babysitter
This template provides spaces for you to write down your goal statement, education, date of birth, personal skills and employment history. It is available in MS Word format so you will not face much difficulties in adjusting its content to fit your personal data.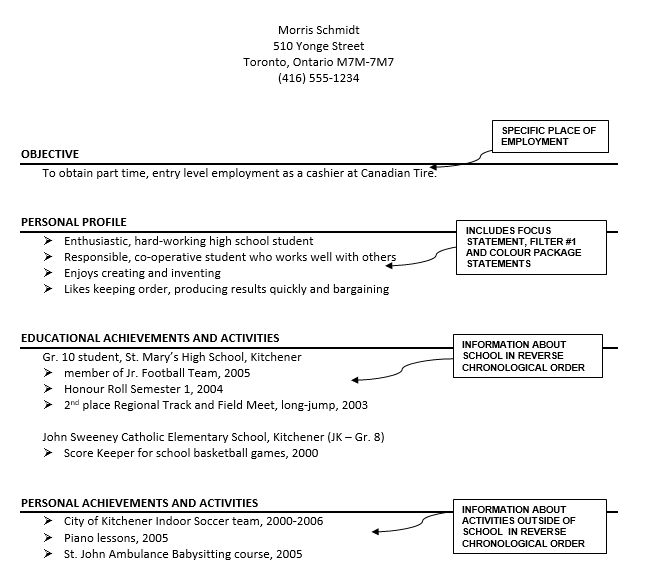 Resume Template for Entry Level Babysitter
If you do not have any working experience yet, this template is the best choice for you. You can write your name, personal information, working experience, school activities, community service experience, awards, honors, strengths and references in the provided sections.
Resume Template for Nanny Babysitter
When you are considered an experienced and expert in this field, you can pick this template to highlight your abilities. Write down your personal summary, areas of expertise, certifications, personal skills, and professional working experience in the spaces provided for you in this template.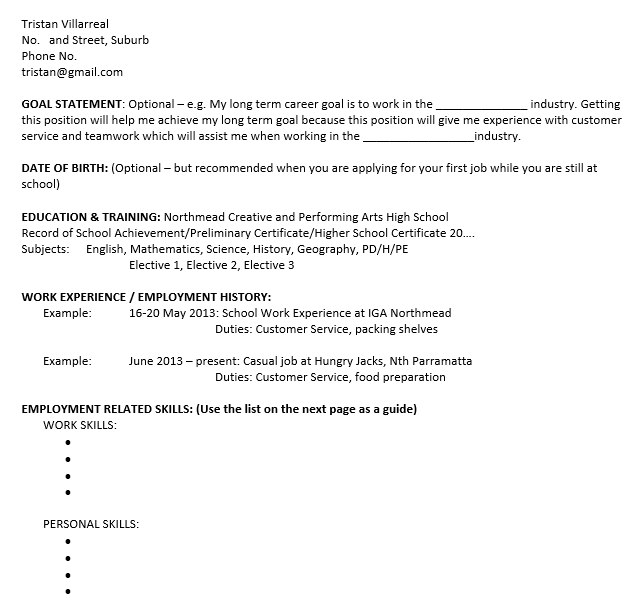 Resume Template for Professional Babysitter
This simple and professional resume will suit you who wants to be a professional babysitter. You can write details about your resume objective, personal profile, educational activities and achievements, personal activities and achievements and your working experience. Available in MS Word format, all you have to do is to do some modifications to its contents to fit your personal details.
Resume Template for Babysitter Training
This template provides sections to write about your personal information, educational background, training, additional training, babysitting experience, other related experience, abilities, skills, hobbies and references. Use this template and prove that you are a valuable candidate.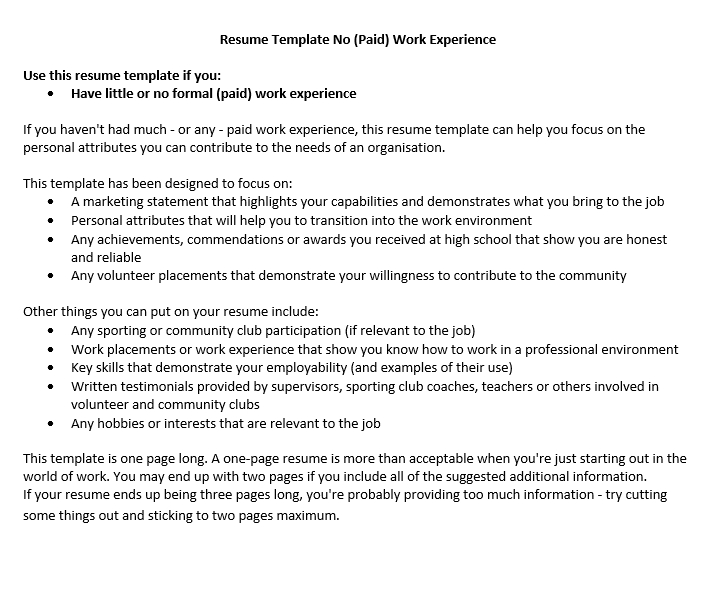 Resume Template for Babysitter with No Experience
If you are interested in working as a babysitter but you have not been working as a babysitter professionally, this template might be the best choice for you. The sections provided by this template consist of information about personal details, career objectives, personal attributes, skills and educational background. Written in MS Word format, you are expected to not have any difficulties in the editing process.
Resume Template for Occasional Babysitter
This template will be suitable for you who want to work as an occasional babysitter. You can write down your professional summary, skills, work history and also your educational background in available spaces.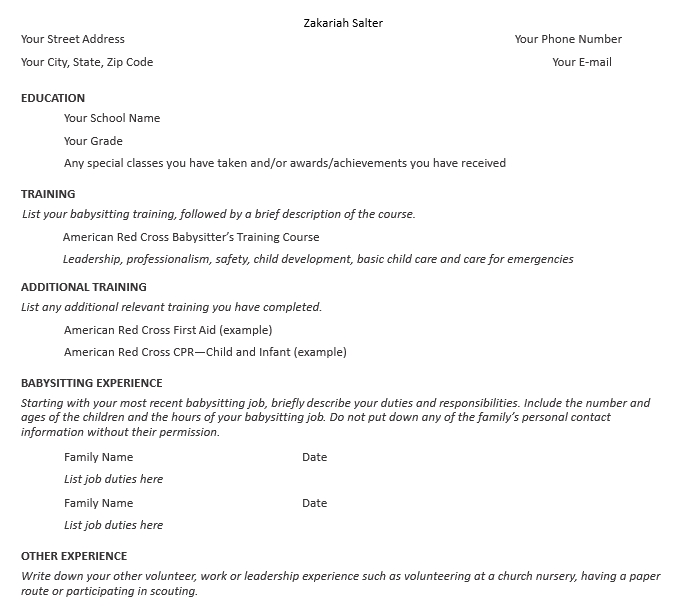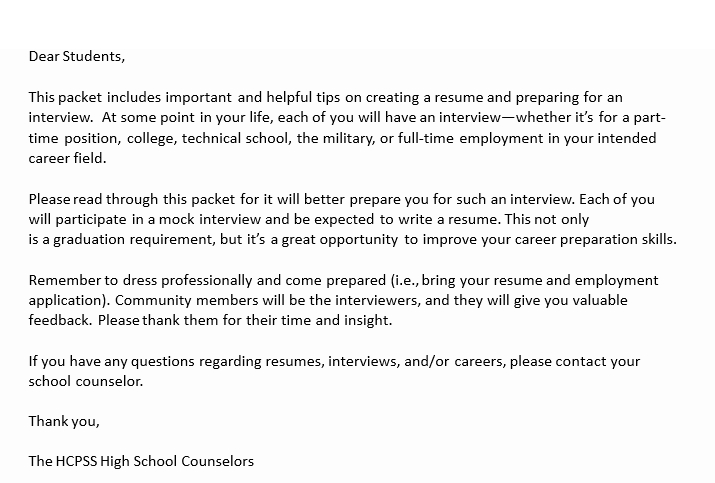 Similar Posts: