Artist Resume
If you are preparing to apply for a job, you must be able to write a professional resume because you need to assure the recruiter that you are the best person for the position. Moreover, when there are many people who are seeking the same job as you, you have to prove that you are the best choice among the candidates by engaging the recruiter through your professional resume. A simple solution that you can take is by using an artist resume.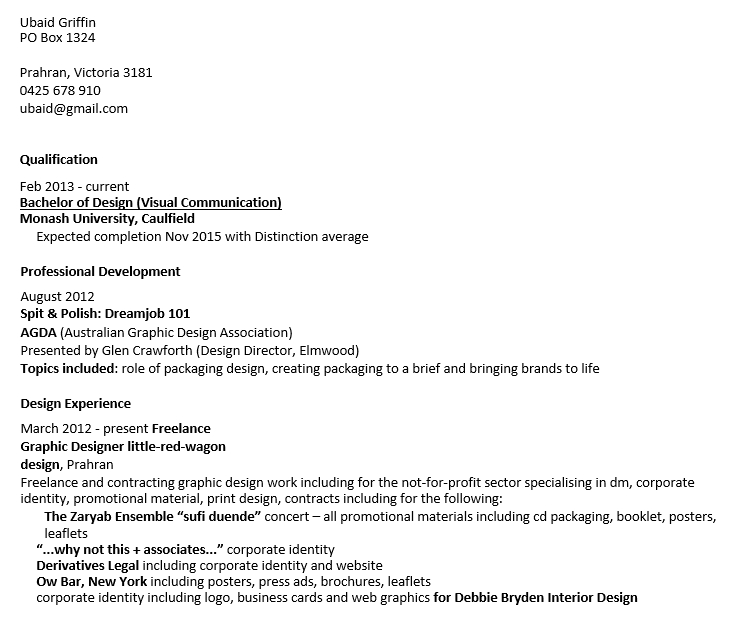 When you think that writing a resume is a very challenging thing, you may consider using the creative artist resume provided on this website so that you will have a guide in writing an effective and professional resume that you need to impress the recruiter. All you need to do is quite simple actually, just do some modification so that the resume will be suitable with your purpose and relevant with information related to you.
Artist Resume Sample
In order to give you inspiration in writing a professional resume, take a look at the sample of artist resume below.
John Frost
BA in Visual Arts
Personal Info
Phone : (555)212-212-213
Email: john.frost@gmail.com
Summary
I am a passionate artist with a BA in Visual Arts from Claire State University looking for an artist' residency at Revelove. I was a recipient of an undergraduate Visual Arts Fellowship.I received 2nd Place in the 2019 Juried Arts Design Competition and was awarded a grant as a promising new artist. I produced an award-winning design in 2020. I was also participating in two modern arts design exhibitions.
Experience
Video game creative artist
Game Station Inc.
2018-2020
Creating 60 3D game characters by using Autodesk
Creating ten scenery backgrounds designs
Facilitating a project in developing the art for a runner game
Drawing 50 art sketches for a new game project
Fantasy Inc. 
2020-2021
Producing designs with high quality to define and expand the appearance of an online game. Increasing reviewer art ratings by 30%.
Handling 30 game art projects each year.
Delivering creative excellence on every project. Scoring a 95-point artwork inspection.
Receiving recommendations for productive artwork and creative concepts from the management. Generating 70 new sketches every month.
Education
BA in Visual Arts at Claire State University, 2014-2018
GPA: 3.5
Relevant Coursework: decorative art, contemporary drawing, 2D and 3d design, advanced visual field reporting, art curation.
Graduation: 2018
Membership: A member of Magnificent Creative Arts Group
Certification: Certification of Competence in Visual Arts
Key Skills
Creative thinking
3D artwork
Autodesk
Critical thinking skills
Adobe Illustrator
Achievements
2019 Juried Arts Exhibition
2nd Place in the 2019 Juried Arts Design Competitio
Language 
How to Write an Artist Resume
The following are things that you can consider in writing an artist resume:
Write down your contact details.
Explain your educational background. Write your educational history in detail and with the most recent first.
Mention your group and solo exhibitions.
List your collections.
Highlight your awards.
List down your publications, commissions and residencies.
Things to put on a resume as an artist
As an artist, there are several things that you must include on your resume such as: educational background, publications, exhibitions, workshops, residencies, other education, awards, recognition, related work experience and also collections.
Advice for a standout artist resume
Modify a template to fit the job application. Choose a template with the reverse-chronological format
Use legible, clear fonts, correct amount of white space and eye-friendly headings
Highlight your strengths
Convey your personal brand
Do not forget to write your collections in alphabetical order
Keep your resume up to date
Keep it easy to read, simple, effective and professional
Always do a spelling check
Save your resume in MS Word format and send it as a PDF
What are the qualities of an artist?
The following are the shared qualities and characteristics of an artist:
Artists are usually stubborn
They have great passion
Always have desire to grow
They are mostly flexible
They like to try new things
Commonly, they are dedicated
They tend to criticize themselves
Often, they are vulnerable
Kinds of Artist Resumes
There are various kinds of artist resumes available online to help you in writing a professional resume that fit your purpose. Choose the one that is most relevant with your needs.
Simple Resume Template for Assistant Art Director
This simple template is available in MS Word so you will be able to modify this template easily and it also contains sections to write down your contact information, career objective and recent photo. You can use this template to highlight your related skills and professional accomplishments. This template is a good option for you who want to write a simple and professional resume.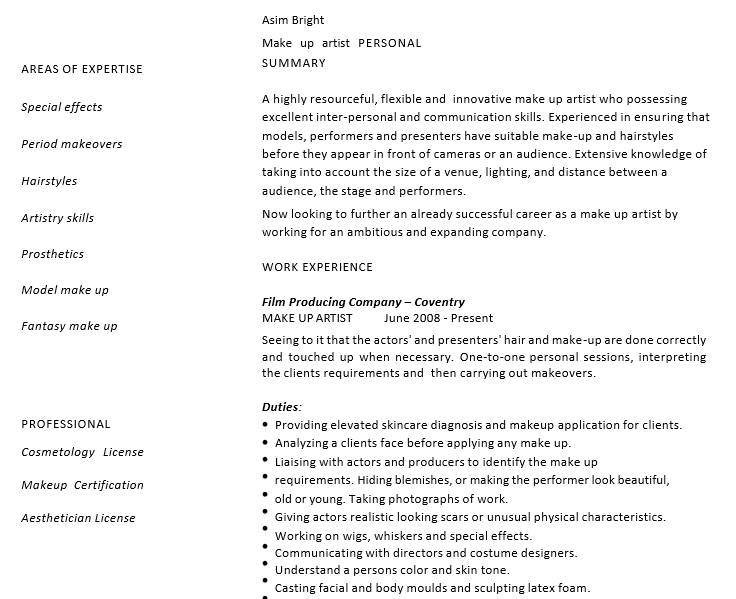 Resume Template for Makeup Artist
The competitive job market as a makeup artist will encourage you to be able to write a professional artist resume. Since this is a very demanding job, you need to write a resume that will make your standout among other makeup artists. Use this template to ease your way in writing the professional resume. You can include your personal summary, working experiences, key skills, competencies, areas of expertise, licences, certifications, personal skills and personal details in this complete template.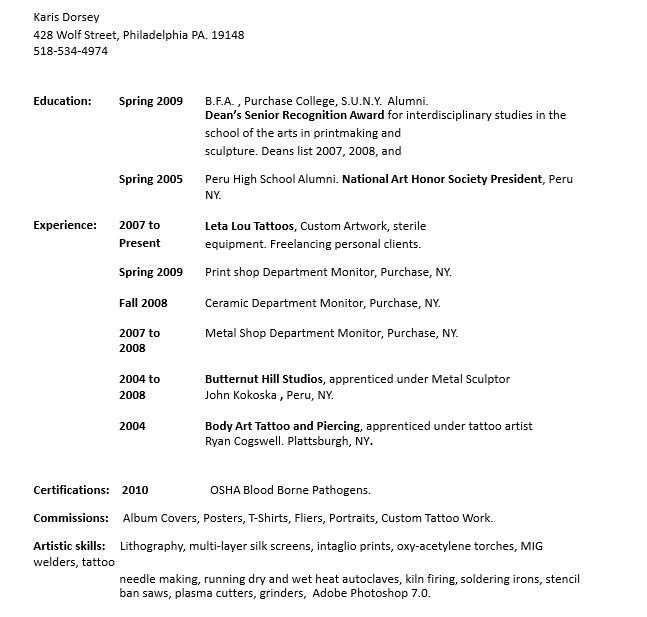 Resume Template for Graphic Artist
If you want to get a job as a graphic artist, you will have to compete with quite a lot of people since this job is highly in demand. Therefore, you need to be able to write a good resume that will set you apart from other graphic artists. Choose this template to help you in writing your professional artist resume. This template allows you to add information about your personal details, qualifications, professional development and designing experiences with ease.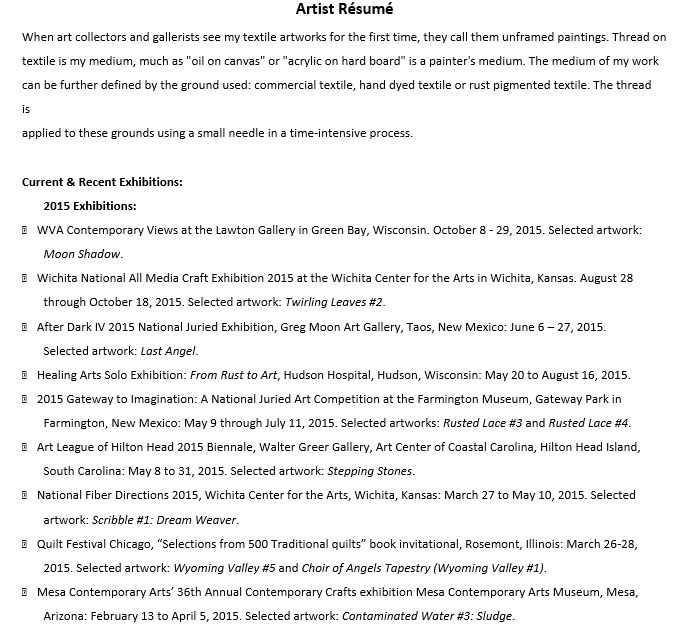 Resume Template for Visual Artist
When you want to apply for a job as a visual artist, this template might be the best choice for you. It provides sections for you to write down your professional working experiences and your qualifications in a well-organized pattern. Prove that you are the best visual artist by using this template.
Resume Template for 3D Artist
The creation of 3D art can only be done by highly qualified artists. Showcase your talents and skills using this resume template for a 3D artist. You can include your personal details, professional summary, professional areas of expertise, highlight of your career and your digital 3D work history in the available spaces.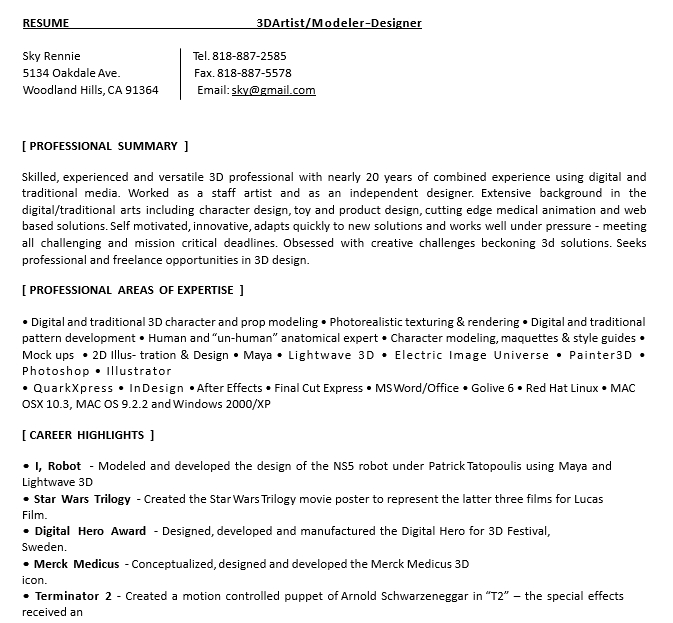 Resume Template for Tattoo Artist
If you want to apply for a job as a tattoo artist, this artist resume is very suitable for you. This template allows you to segregate your qualifications and your working experiences in neat sections so that it will be easier for the recruiter to read your resume. There are spaces prepared for you to write down your educational background, professional working experiences, certifications, commissions and artistic skills.
Resume Template for Art of Marketing
Available in MS Word, this simple template will guide you in writing your professional resume. Write down your personal details, career objective, education history and working experiences in the provided sections.
Resume Template for Artist
If you want to work as an artist, you need to express everything that you have done in this field. This template will help you to write a professional resume in which you can highlight your educational background, exhibitions you have participated in, curated exhibitions, awards, grants and related experiences in available sections.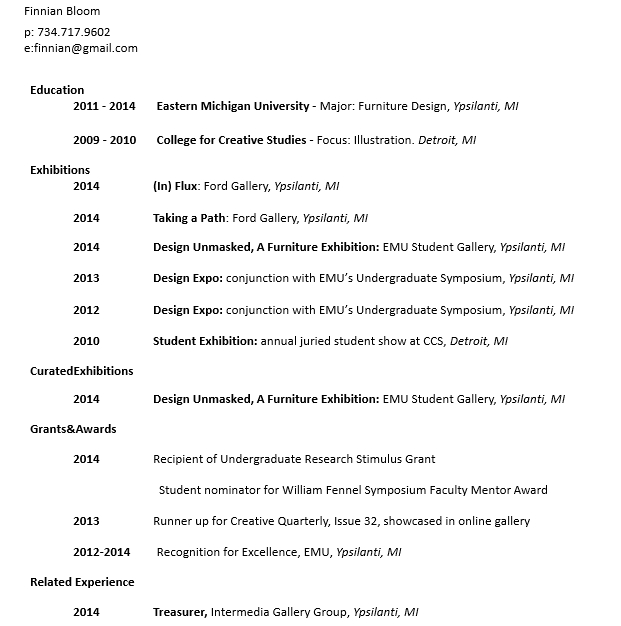 Similar Posts: