Chemical Engineer Resume
Chemical engineering is one of the most prominent jobs that offer a high salary. However, this position requires a candidate to be well-knowledge in various branches such as biology, chemistry, life sciences, physics, economics, and most importantly math. If you have this degree, you are lucky because you have a lot of chances to work in various vital jobs. If you are interested in becoming a chemical engineer, you can use the chemical engineer resume templates and check our guidelines and examples below.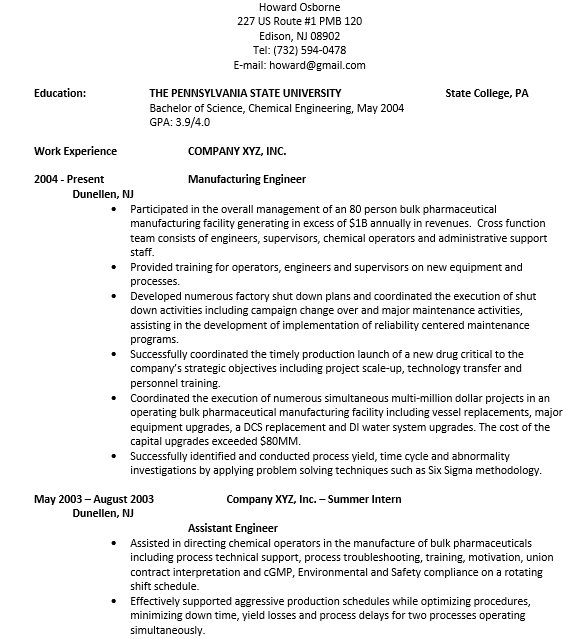 Sample of Chemical Engineer Resume
Marcela Sanchez
Personal Info:
Phone: (876)543-456-876
Email: marcela.sanchez@gmail.com
Summary
Detail-oriented chemical engineer with 3+ years of experience. Excelled at the designing process, managing and executing projects. In search of a new position as a Chemical Engineer in Go Pharaos Inc to deliver an out-of-the-box solution. Succeeded in lowering the equipment malfunctions by 25% through improving the standard of working procedures and also maintenance tasks. Supervising 15 chemists and technicians to meet the company's demands.
Work Experience
Chemical Engineer
Cincinatique, Inc.
Feb 2019-December 2020
Decreased equipment malfunctions by 25% by improving the SOP and maintenance.
Trained 15 technicians and chemists to meet the company's demands in terms of production.
A designed new working system that saved 15 labor hours per week.
Chemist
TurkTurk, Inch
January 2018-December 2018
Developed new waste-system and treatments that successfully decreased the waste effects by 20%
Created a new project waste stream management that saved up to $25,000 a year.
Education
2014-2017 University of Ilinois
Bachelor of Science in Chemical Engineering
Conducted individual research on river pollution in the Lusiana district.
Pursued passion in chemical analysis
GPA: 3.7
Relevant Coursework: Environmental Management, Factory Waste Management, and Introduction to Ecology
Membership: Green Community Club
Key Skills
Hard Skills: Mathematics, biology, physics, chemistry, resources management, process design, equipment configuration
Soft skills: Leadership, teamwork, critical thinking, decision making, problem-solving, and self-motivation
Awards
Favorite Innovation On River Contamination Solution, Illinois, 2019
Language:
What Are To Write In A Chemical Engineer Resume?
To win a job application, you have to start with writing a good resume. Begin with a format decision that makes your resume look outstanding and makes the hiring manager feel easier to absorb the information by just doing the skimming. At least, make sure your resume has this component:
Header – This contains your info such as full name, professional title, and contact details.
Resume summary – This part summarizes your whole profile. So, make sure you only include the most outstanding one. 2-4 sentences are enough.
Related work experience – Besides mentioning your position at the previous job, you need to include facts and your previous projects that are successfully executed.
Education – Mention your background education and certification
Skills – It should be relevant to the job listing requirements, so be careful in writing this part. Use the right keywords
Additional info – This includes the relevant achievements, language mastery, or volunteer projects.
What Is The Role Of a Chemical Engineer?
The main role of a chemical engineer is to optimize, troubleshoot, develop and oversee the manufacturing process. However, remember that the job description can carry. It depends on the company's policies but generally, those are you going to do.
How To Write An Excellent Objective Resume?
Writing an objective resume/resume summary, you can begin with noticing the relevant keywords required by the company. And then, find the ones that match your qualifications and then start writing your resume objective.
First, begin with 2-3 skills, and then continue with the professional goal that you expect from the company. Include your most important achievements from your previous works and background education too.
Kinds Of Chemical Engineer Resume
There some of the best chemical engineers' resume templates that you can download for free! Check them below:
Free Chemical Engineer Resume Template
Are you looking for a chemical resume template with a fresher design? Probably you might want to try this template. Even though this template has some colors, it is still professional to use.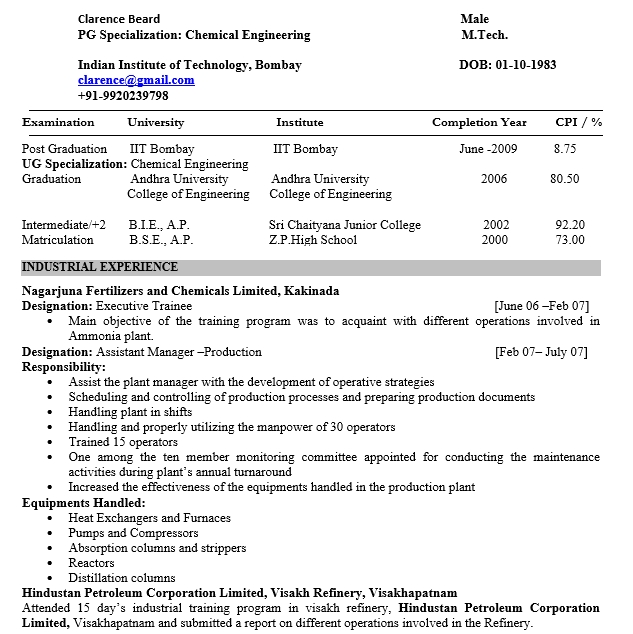 Entry-Level Chemical Engineer Resume
For you who are seeking a new position or just started your job application journey, make sure you pick the right template. This is a professional template with an excellent design that you might love.
Resume Template For Chemical Engineer
Of course, the best part about this resume template is its format. It helps you make the resume quickly because this template already has simple guides to help you write your best profile.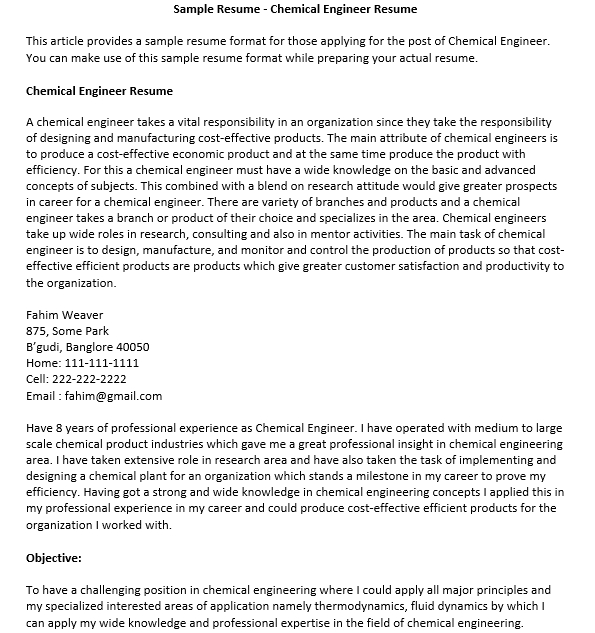 Chemical Project Engineer Resume Example
If you are looking for a fine resume template design with a professional look, this one is the best to pick. You could use this template to showcase your profile and convince the employer.
Standard Chemical Resume Template
Some people stick with the standard format because this template keeps them from being too distractive and unprofessional. Besides, it is safe to use if you are applying in certain countries and you don't know the standard format.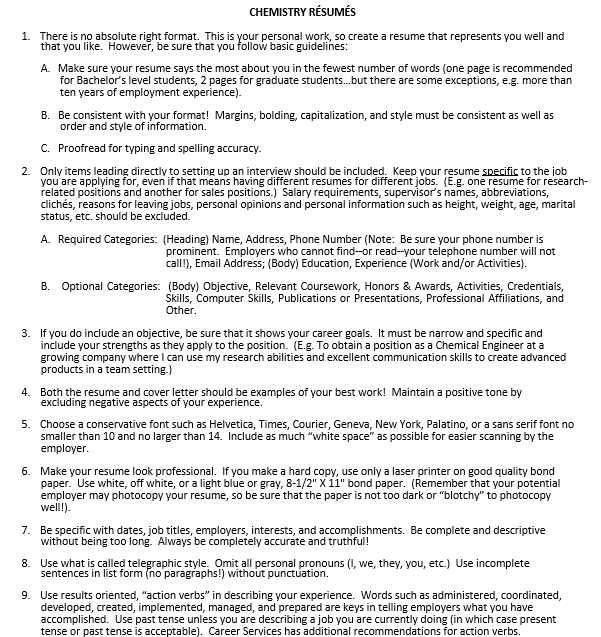 Sample Of Chemical Engineer Resume
Are you looking for a sample that allows you to edit it directly from the document? Then probably you will love using this template. It has a good example as well as an editable feature making it easier for t=you to learn and write the resume directly.
Production Chemical Engineer Resume Sample
Some of you might be looking for a resume template for a specific position. If this is the production chemical engineer, then you are on the right page. This template is designed specifically for this position completed with the example.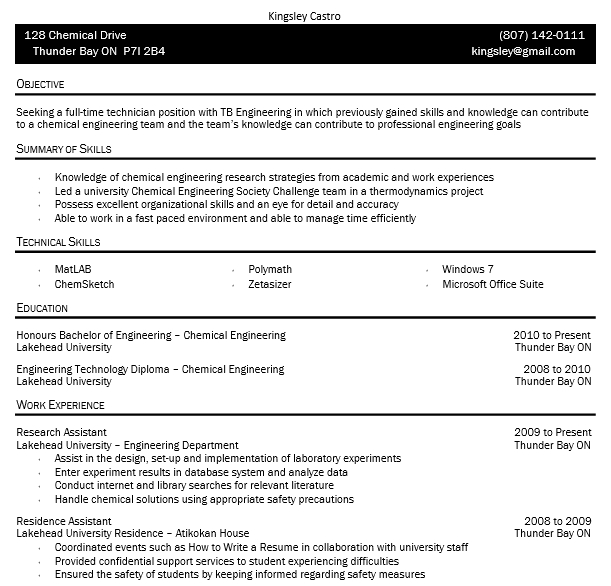 Chemical Engineer CV Template
One of the best CV templates is this one. You don't have to pay a lot of money only to get the premium feature and example. We provide it for free! So, you don't have to worry about the professional format because we always make sure that our template is designed by professionals. Happy editing!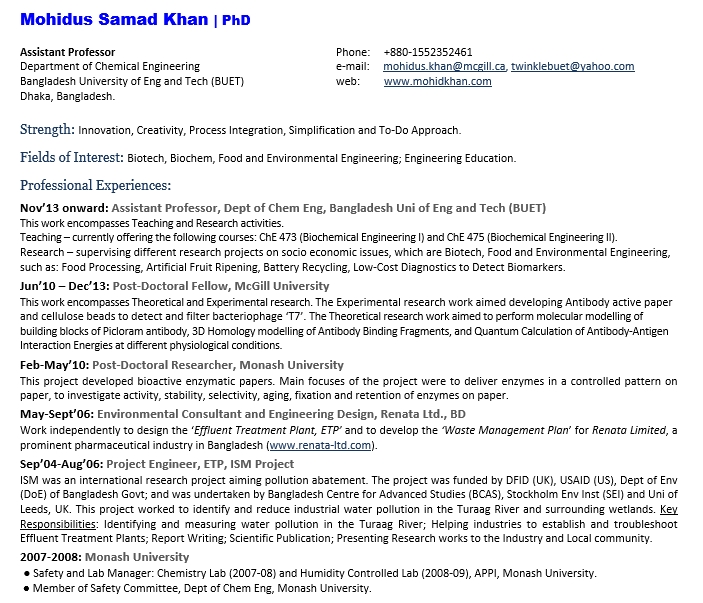 Similar Posts: