A web manager is an IT specialist who helps an organization by managing its official website. He or she oversees the web functionality; evaluates & manages the performance of the web, facilitates hosting & server management; and also develops, maintain & update web contents. For the more detailed tasks & duties, you can see the following website manager job description.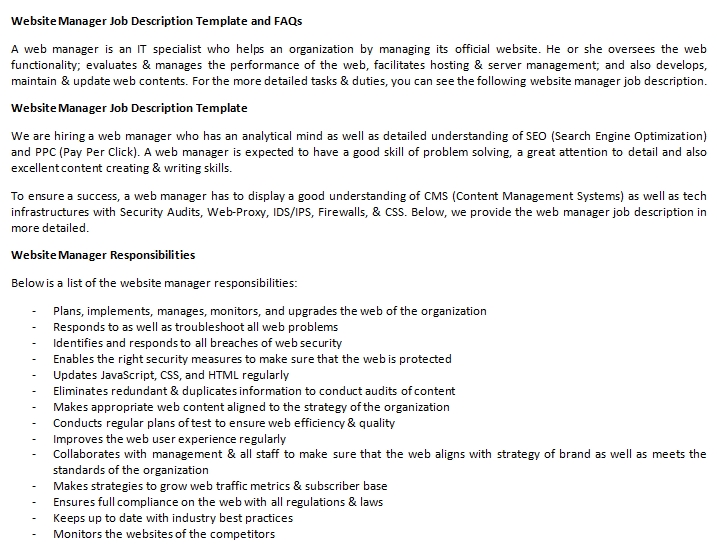 Website Manager Job Description Template
We are hiring a web manager who has an analytical mind as well as detailed understanding of SEO (Search Engine Optimization) and PPC (Pay Per Click). A web manager is expected to have a good skill of problem solving, a great attention to detail and also excellent content creating & writing skills.
To ensure a success, a web manager has to display a good understanding of CMS (Content Management Systems) as well as tech infrastructures with Security Audits, Web-Proxy, IDS/IPS, Firewalls, & CSS. Below, we provide the web manager job description in more detailed.
Website Manager Responsibilities
Below is a list of the website manager responsibilities:
Plans, implements, manages, monitors, and upgrades the web of the organization
Responds to as well as troubleshoot all web problems
Identifies and responds to all breaches of web security
Enables the right security measures to make sure that the web is protected
Updates JavaScript, CSS, and HTML regularly
Eliminates redundant & duplicates information to conduct audits of content
Makes appropriate web content aligned to the strategy of the organization
Conducts regular plans of test to ensure web efficiency & quality
Improves the web user experience regularly
Collaborates with management & all staff to make sure that the web aligns with strategy of brand as well as meets the standards of the organization
Makes strategies to grow web traffic metrics & subscriber base
Ensures full compliance on the web with all regulations & laws
Keeps up to date with industry best practices
Monitors the websites of the competitors
Website Manager Requirements
Here is a list of the web site manager requirements:
A degree in the related field
Work experience in the same role
Knowledge of W3C Web Standards, Content Management Systems, Adobe suite, and Macromedia suite
Proficient in JavaScript, mySQL, Access, firewalls, cross-platform & cross-browser compatibility, CSS design, XHTML, and HTML
Good understanding of SEO and PPC
Ability of troubleshooting web problems in a fast-paced environment
Attention to details with good skills of analytical mind & problem solving
Excellent skills of content creating & writing
Great skills of time management with multi-task ability
Website Manager FAQs
What does a web manager do?
Basically, a web manager helps an organization by managing its official website.
Can I edit the posted job description here?
Yes, you can. You can add or remove the details in the job description posted here easily.
Do you have interview questions for a web manager?
Besides the website manager job description, we also provide some interview question samples on another page.
Similar Posts: