Web Developer Resume
Within nowadays era, the needs of websites are increasing. Various things could be done within a website, such as purchasing things, posting news and announcements, posting offers, etc. Therefore, the needs of web developers also keep raising. Becoming a web developer could expose you to great opportunities, and to grab them, you may need a web developer resume.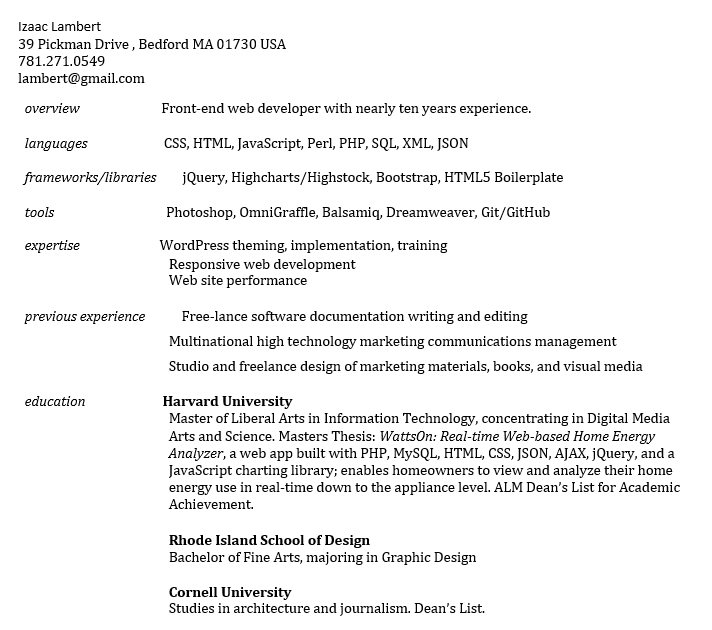 Since there are a bunch of competitors out there that may seek a similar opportunity with you, and since you may have similar skills and capabilities, the only experience differs you from the competitors. However, it is possible to win your position as a web developer even you have no experience. Simply compose your web developer resume with no experience and include the relevant details, then you are good to go.
Web Developer Resume Sample
Supply yourself with adequate and compelling insight on web developer resume using the following sample:
Personal Info
Jimmy Roostenstein Stantham
Phone  : (878) 987-245-211-9
Email   : JRStantham@gmail.com
Summary
A highly motivated and passionate team player seeking a place where I could implement my proficiency in various web programming languages. Equipped with decent interpersonal skills and analytical skills, and extra relevant coursework and experience, I believe, I would be the perfect person for the team.
Experience
Interim Intern Web Development Team
2020
Wrote various custom code (HTML, CSS, PHP, Javascript, etc.) for existing websites and web application
Assisted in troubleshooting within websites
Updated website content, pages, and also its posts
Deliver technical support related to websites to internal systems
Tested and provided feedback on the beta website and going-to-launch website
Education
Greenpea Polytechnic of Technologies
Software and Website Engineering
2017-present
GPA: 3.5
Relevant Coursework: New student internal course and e-Learning website of Greenpea University
Expected Graduation: 2021
Membership: Member of Greenpea Junior IT Support Community
Key Skills:
Adequate HTML, CSS, PHP, and Javascript skills
Good Responsive design skills
Decent analytical skills
Acceptable interpersonal skills
Testing and debugging skills
Search engine optimization skills
Awards:
Team member of e-Learning and internal course for new student web development in Greenpea University
Language:
How to write Web Developer Resume
In case you want to compose your resume and wonder where to start, the following steps should be your guide for composing the best web developer resume:
State the clearest personal information regarding yourself
Whether you want to write a resume for the experienced one or not, highlighting your education and certification is important. Consider putting this detail on your resume
Add your relevant achievements, accomplishments, and projects you have ever done. By team or solo.
Provide the unique and stand-out ability that differs you from the competitors.
Mention your technical proficiency in certain areas. For example WordPress, Joomla, Blogger, or PHP proficiency
Always re-read and review the resume you wrote. Proofread to make sure your resume is free from grammatical errors and typos.
What do Employers Expect to Discover in a Web Developer
Most employers already put expectations towards their recruits. The following is the employer's expectation towards you as the recruits.
Proficiency in HTML, CSS, JavaScript, JQuery, and other specific web programming languages
Honesty
Able to work within a team and certain deadlines
Willingness to learn, and able to learn quickly
What to Include Within Your Web Developer Resume
Mostly, the candidates would wonder what to include within their web developer resume. They have a certain fear that if their resume is not meeting the criteria, they will be ignored. Consider the following aspects to be included below to make your resume speaks about you.
Contact details information
Professional Resume Summary
Primary Skills
Professional Experiences (or any relevant experience)
Education
Projects
(Optional) Social Media Profiles
(Optional) Interests, Hobbies, Extracurricular achievements
What Are 5 Essential Skills Of Being A Web Developer
Below are the essential skills which are required to be a web developer. If you are looking to be one of them, you should possess the following skills.
Communicating well with others
Able to manage time and setting priorities
Having a good comprehend of UX
Keeping up-to-date with the web development industry
Constantly, consistently learning and improving
What to Consider when Writing A Web Developer Resume
After you have what you need to compose your resume, do not forget to consider the following to make your resume is effectively engaging.
Prioritize using the reverse-chronological resume format. Follow the example and its best practices
Employ a resume summary to grab the employer's attention
Showcase your top accomplishments within your work experience section
Providing a portfolio is recommended if you have several decent projects
Put a convincing cover letter along with your resume
Kinds of Web Developer Resume
There are several different kinds of web developer resume based on the situations and conditions. You are to choose them wisely which is more relevant to your circumstance to make them effectively leveraged.
Web Developer Resume Template
This two-columned resume is equipped with adequate visual information of yours. The information to be included is summed at visual elements such as interests, hobbies, and skillsets. While the rest is providing good details in eye-friendly readable sections.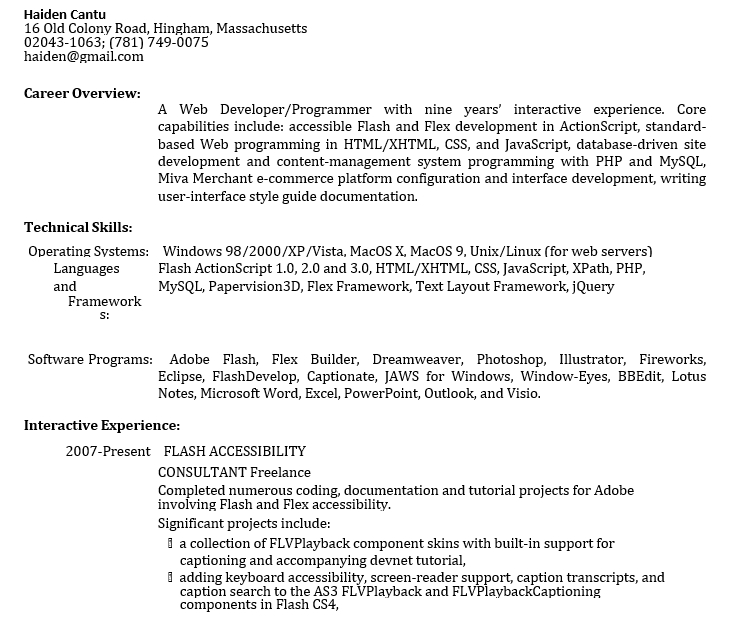 Front-End Web Developer Resume Template
If you are keen on a standard style yet a modern resume, this template is best for your needs. Employing sufficient space for your picture and personal info with mini icons, this template would look simple yet modern for you.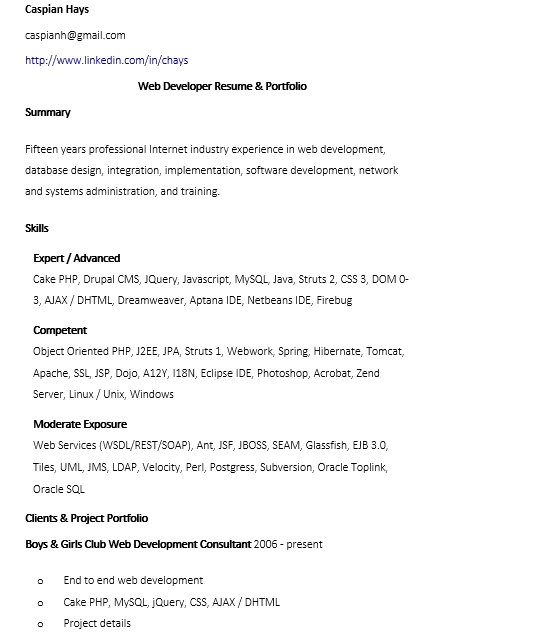 Sample Web Developer Resume Template
With almost full visual elements to describe your skills and capabilities, this resume comprises of full decent visual experience. The mini icons and well-furnished layout would ensure that your employer notices you as an energetic person.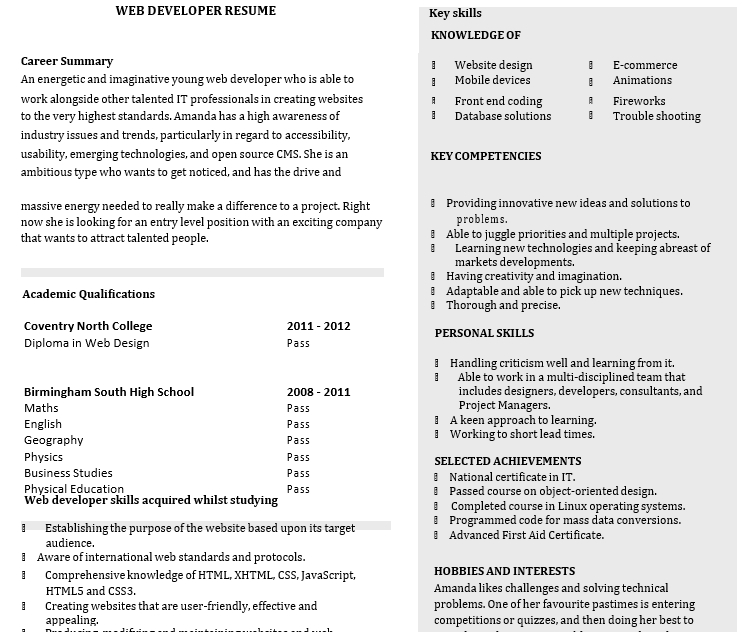 Dot Net Web Developer Resume Template
The simple resume for you who are eager to be neutral in design, yet strong within the information you provide. The minimalist color selection also adds up the simple style that you could utilize for your resume.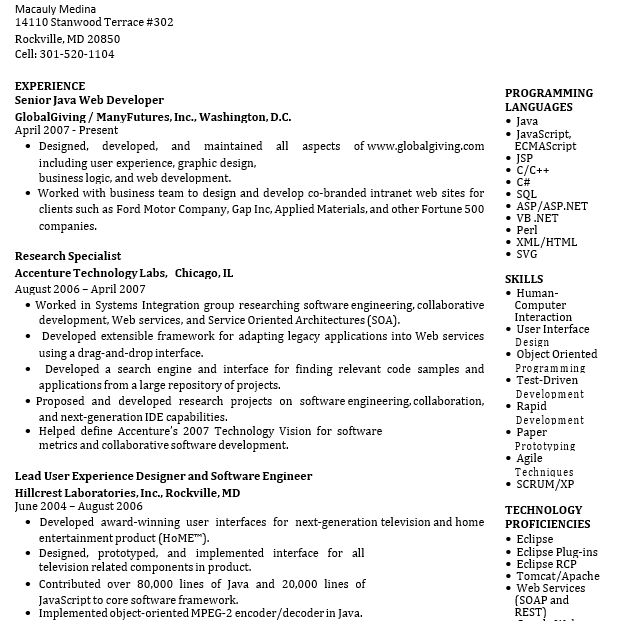 Back-End Web Developer Resume Template
Providing a minimalist color selection and proportional sectioning, this template would be the best choice for you. The other information detail is described in an eye-catching layout; providing an enjoyable read-through of the resume.
Professional Web Developer Resume Template
A professional resume must not in colorful layout. A professional resume should comprise of good detailing in information. Therefore, this resume template should be a perfect fit for you.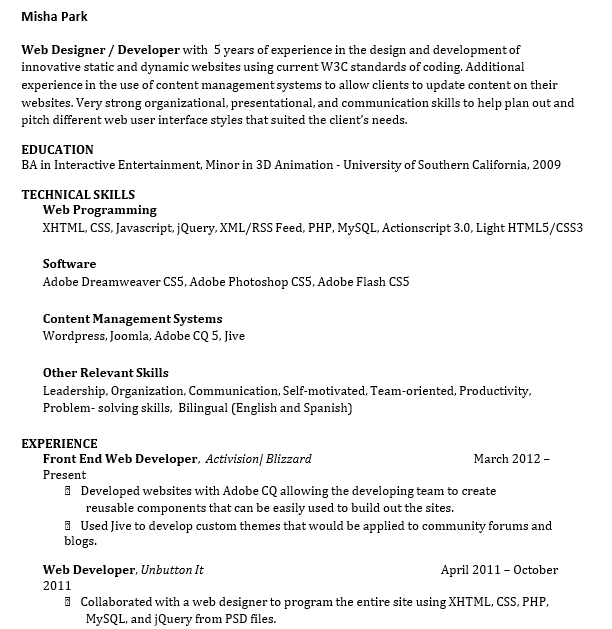 Experienced Web Developer Resume Template
Providing the details in bullet pointers and minimalist design, this resume template should be the best choice for the experienced one that prioritizes highlighting the experience.
PHP Web Developer Resume Template
The resume provides adequate sections and minimal visual elements to highlight your rich information. Pick this resume template if it is relevant to your circumstance.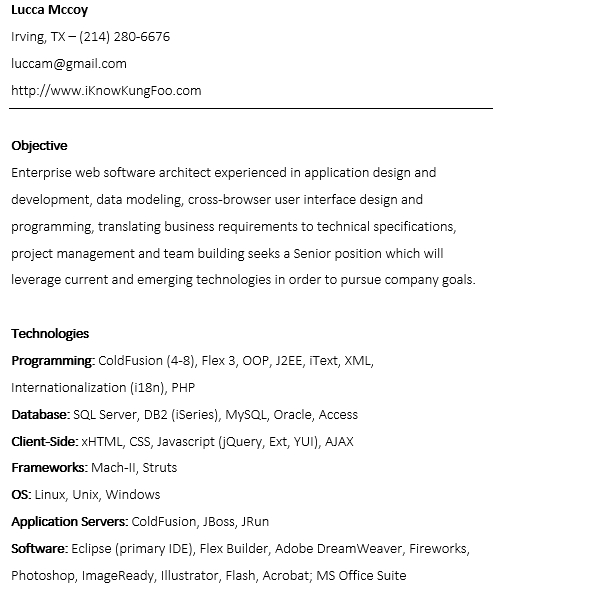 HTML Web Developer Resume Template
The resume provides bi-colored columns. While the first column provides visual elements detailing personal information, the other column describes the rest.
Entry Level Web Developer Resume Template
For an entry-level, this eye-catching and modern designed template is recommended. Highlighting the key skills and relevant achievements in the web developer field.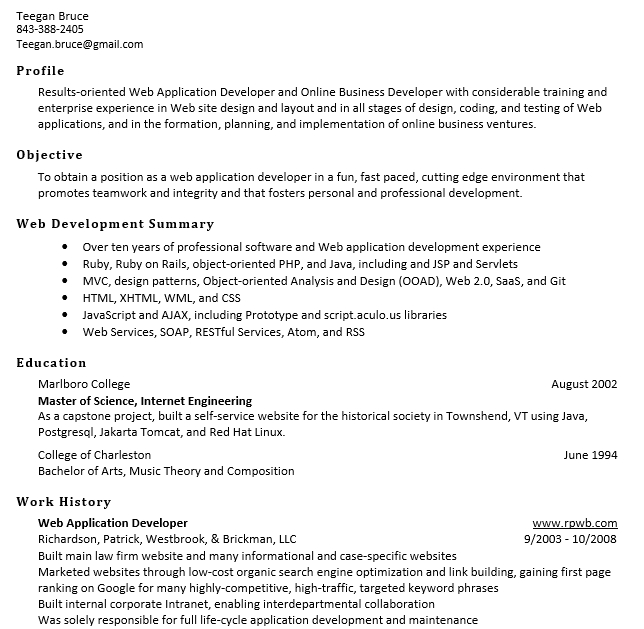 Web Developer Resume Sample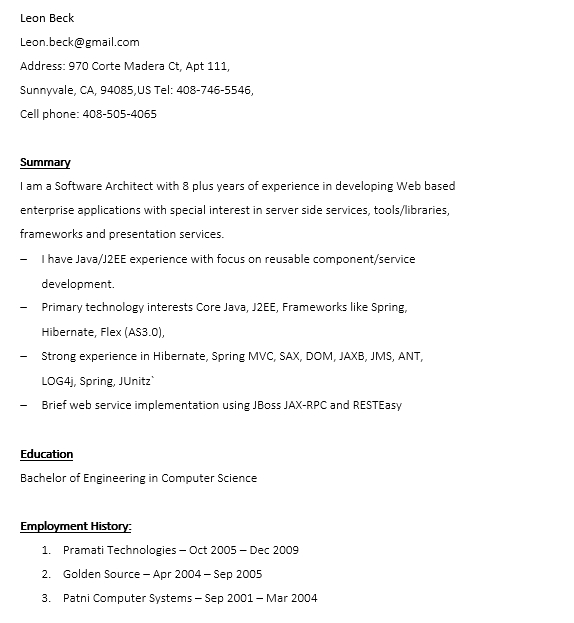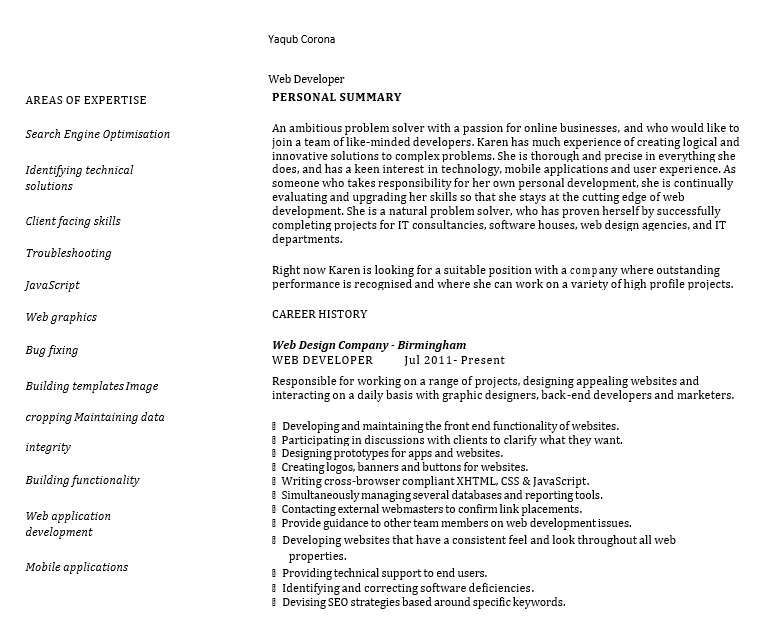 Similar Posts: