A train conductor works onboard freight trains or passenger to make sure that their daily operations run well. He or she collects the tickets and ticket payments from the passengers supervise the passengers' boarding & disembarking, and also relay important info to the Locomotive Engineer. In this article, we will list down the train conductor job description.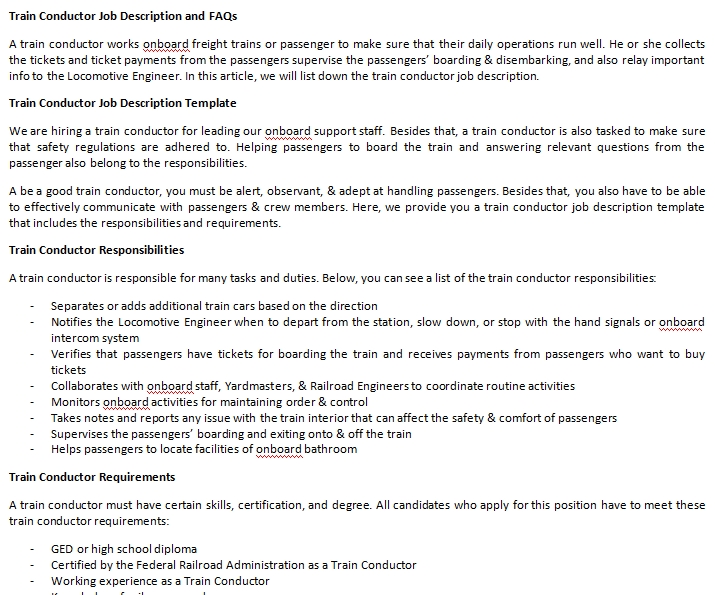 Train Conductor Job Description Template
We are hiring a train conductor for leading our onboard support staff. Besides that, a train conductor is also tasked to make sure that safety regulations are adhered to. Helping passengers to board the train and answering relevant questions from the passenger also belong to the responsibilities.
A be a good train conductor, you must be alert, observant, & adept at handling passengers. Besides that, you also have to be able to effectively communicate with passengers & crew members. Here, we provide you a train conductor job description template that includes the responsibilities and requirements.
Train Conductor Responsibilities
A train conductor is responsible for many tasks and duties. Below, you can see a list of the train conductor responsibilities:
Separates or adds additional train cars based on the direction
Notifies the Locomotive Engineer when to depart from the station, slow down, or stop with the hand signals or onboard intercom system
Verifies that passengers have tickets for boarding the train and receives payments from passengers who want to buy tickets
Collaborates with onboard staff, Yardmasters, & Railroad Engineers to coordinate routine activities
Monitors onboard activities for maintaining order & control
Takes notes and reports any issue with the train interior that can affect the safety & comfort of passengers
Supervises the passengers' boarding and exiting onto & off the train
Helps passengers to locate facilities of onboard bathroom
Train Conductor Requirements
A train conductor must have certain skills, certification, and degree. All candidates who apply for this position have to meet these train conductor requirements:
GED or high school diploma
Certified by the Federal Railroad Administration as a Train Conductor
Working experience as a Train Conductor
Knowledge of railway procedures
Ability of standing for extended periods
Strong skills of problem solving & decision making
Effective skills of communication
Exceptional skills of customer service
Good hearing and hand-eye coordination
Train Conductor FAQs
What does a train conductor do?
Basically, a train conductor works onboard freight trains or passenger to make sure that their daily operations run well. The template above presents the more detailed responsibilities of a train conductor.
Can I edit the posted train conductor job description here?
Of course, you can. We provide a customizable train conductor job description here. If you want to use it, just feel free to edit it first. Adding or removing details in it is allowed.
Do you have interview questions for a train conductor?
Besides the train conductor job description, we also provide some interview questions. You can find them on another page on this web.
Similar Posts: