A millwright is a worker manipulating industrial machinery in construction sites, factories, or other industries. A millwright can also be called an industrial mechanic. The duties are to install new machinery, repair & replace defective parts of machine, and ensure that machines properly work. The following millwright job description presents the more detailed tasks and duties.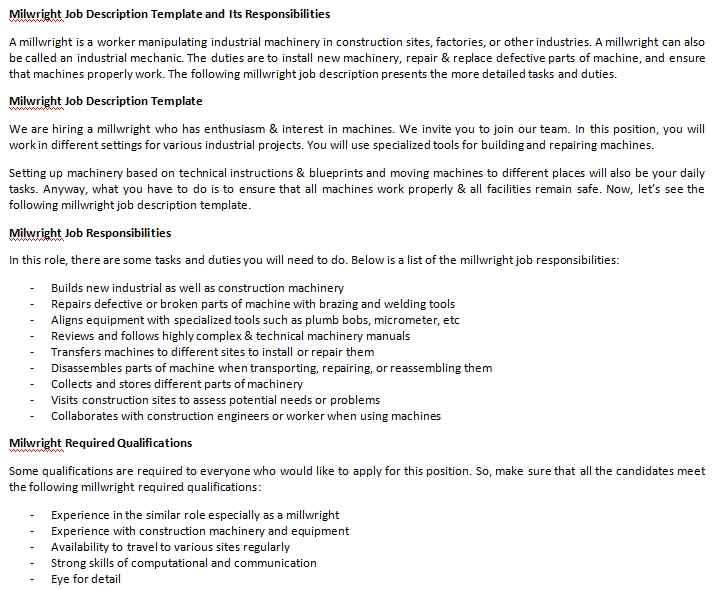 Milwright Job Description Template
We are hiring a millwright who has enthusiasm & interest in machines. We invite you to join our team. In this position, you will work in different settings for various industrial projects. You will use specialized tools for building and repairing machines.
Setting up machinery based on technical instructions & blueprints and moving machines to different places will also be your daily tasks. Anyway, what you have to do is to ensure that all machines work properly & all facilities remain safe. Now, let's see the following millwright job description template.
Milwright Job Responsibilities
In this role, there are some tasks and duties you will need to do. Below is a list of the millwright job responsibilities:
Builds new industrial as well as construction machinery
Repairs defective or broken parts of machine with brazing and welding tools
Aligns equipment with specialized tools such as plumb bobs, micrometer, etc
Reviews and follows highly complex & technical machinery manuals
Transfers machines to different sites to install or repair them
Disassembles parts of machine when transporting, repairing, or reassembling them
Collects and stores different parts of machinery
Visits construction sites to assess potential needs or problems
Collaborates with construction engineers or worker when using machines
Milwright Required Qualifications
Some qualifications are required to everyone who would like to apply for this position. So, make sure that all the candidates meet the following millwright required qualifications:
Experience in the similar role especially as a millwright
Experience with construction machinery and equipment
Availability to travel to various sites regularly
Strong skills of computational and communication
Eye for detail
Good team spirit
Certification in the similar field especially as a millwright based on National Standards
Milwright Job Description FAQs
What does a millwright do in a company?
A millwright is often involved in a comprehensive & mechanical project. Installation, maintenance, and industrial machinery & equipment repair belong to skills you must have. Using specialized tools also become your daily tasks including hydraulic bolters and welders.
Can I edit the posted millwright job description template here?
Of course, you can. The industrial mechanic job description posted here is editable. So, just feel free to edit it by adding or removing the details in it. In fact, different companies may give different tasks and duties. They may also require different qualifications.
Do you have interview questions for a millwright?
Besides the millwright job description, we also provide a collection of interview question samples. You can use the questions to interview candidates who apply for this position. The interview questions can be found on another page here.
Similar Posts: