Hostess Resume
The job descriptions of hostesses depend on the assigned task given by the employers, but their main responsibility is to greet and serve the guests. They usually work in the restaurant and other food and drink business. Often, they take the reservations and show the guests to the assigned seats that guests have reserved.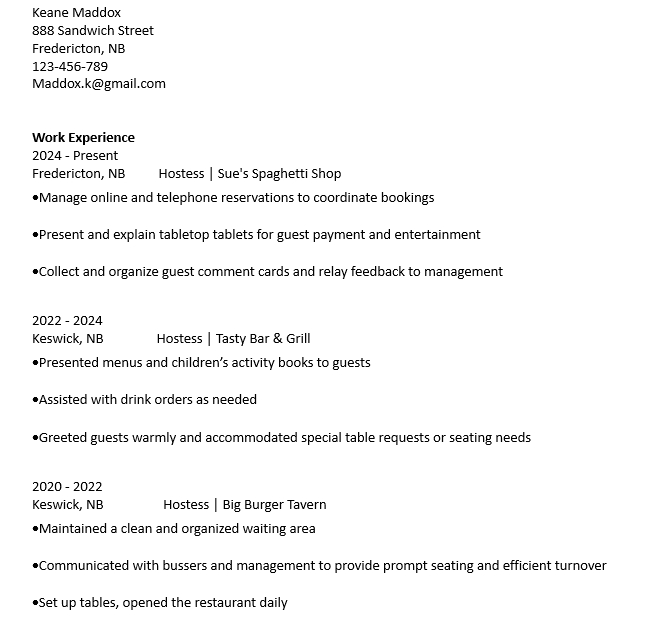 If you are interested in pursuing a career as a hostess, there are some relevant skills like excellent customer service that you have to possess. We will discuss below, as well as the information on how to write an appropriate hostess resume to land you the job. Check the information below and take some notes.
Sample of Professional Hostess Resume
In giving you a clearer idea of how an appropriate hostess resume is written, we provide a resume sample below.
Joanna Frederick
Personal Info
Phone: (555) 123-234-456
Email: jo_frederick@email.com
Summary
A skilled hostess with more than 5 years of experience in providing high-quality customer service in café and restaurant businesses. Assisting customers in making reservations, providing comprehensive information to the customers about the food and drink, and successfully working with other staff to create a comfortable ambiance for the customers' dining experience. Seeking a career advancement in applying for a fine-dining hostess to deliver the best customer service and to leverage my expertise in F&B knowledge to join Black Swan Fine Dining Restaurant.
Experience
A Hostess at XYZ Restaurant
2017 – 2020
Welcoming around 350 guests in a day and taking them to their seats
Assisting around 35-50 guests in making reservations from the phone calls and emails
Presenting the menu to the guests and answering inquiries regarding the food and drink served in the restaurant
Giving information of the restaurant specials menu and successfully sold several popular menus and increased the restaurant profit to 50% in a year
Accommodating guests with special needs like providing child seat-booster for babies' guests
Successfully increasing the customer satisfaction and restaurant profit to 50% in a year
A Hostess at Reading and Drinking Café
2014 – 2017
Welcoming guests in a friendly attitude based on the operations standard
Assisting guests to their seats or the reservation table
Helping guests in making reservations from phone calls, emails, or direct visit
Presenting the menu and answering inquiries related to the food and drinks
Explaining the concept of the café to particular guests
Creating a safe and comfortable dining experience for the guests
Preparing meeting room for the special occasion for the guests
Addressing guests' complaints and suggestions and forwarding them to the manager
Increasing customers' satisfaction by 25% in a year
Education 
Bachelor Degree – Hospitality Management at Hopkins University, 2010 – 2014
GPA: 3.80 (Top 5% of the Program)
Relevant Coursework: Intensive Training on Public Speaking for Hostess, Interpersonal Training to Deal with Different Guests for Your Business, F&B Hospitality Management Course
Graduation: 2014
Membership: Public Speaking Club, European and American Food Club, Asian Cuisines Club
Key Skills
– Strong communication skills
– Interpersonal skill
– Customer service
– Public speaking
– Teamwork
– Multitasking
– Excellent reservation management
– Excellent understanding of Food and Beverages
– Dining room management
– Dining service management
– Excellent guest accommodation
– Restaurant policy and safety standard operations
Achievements and Certifications
Public Speaking for Hostess Certificate
Certificate on Interpersonal Skills
Certificate on F&B Management Course
Language
How to Write Hostess Resumes Professionally
In writing a good hostess resume, someone has to know the steps before, during, and before sending the resume. Not many people know this which leads to the rejection in the resume screening.
Read the job descriptions before applying for the position. Make sure you what the qualifications they're looking for in an applicant
Choose the best resume format to represent your information well. It can be a functional format who inexperienced applicants, or a chronological format for experienced ones.
Only write something relevant that may contribute to the job you apply
Proofread before you send the resume to avoid any unprofessional mistakes
Senior Mechanical Engineer Job Description: Information Related To Responsibilities And Requirements 
Tips in Writing Hostess Resume
After knowing the steps of how to write a good hostess resume, now we collect some tips that you need to know.
Make it brief and clear. It doesn't have to be long but the point has to be there, avoid using flowery writing
Write down only facts about yourself and what you've done. Don't lie just because you want to impress the employer
Write a strong persuasive career summary
Use bullet-points in chronological order from the latest to the oldest information
Write down the relevant qualifications, it can be from the additional coursework or academic qualification
Kinds of Hostess Resumes Templates
If you want to save time in writing a resume, these are the available options for hostess resume templates that you can use based on your needs.
Air Hostess Resume Template
This resume template serves you as a professional sample for the applicants who want to be air hostesses. Different from any other samples, this resume template highlights your abilities in serving and providing the best comfort to the airplane's passengers.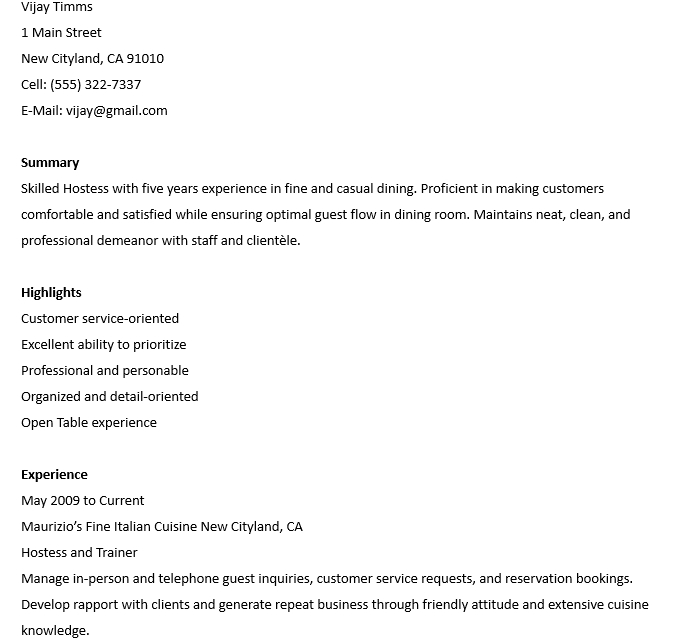 Club Hostess Resume Template
This resume template is designed for club hostess applicants. It provides a section of professional experience where it shows the employers how capable you are of doing the job. It also gives relevant skills information that is beneficial for the applicant.
Recipe Hostess Resume Template
When your dream job is to serve guests in a fine-dining restaurant, this resume template facilitates you to have a proper and professional resume that's written in an elegant design that gives well-structured information sections.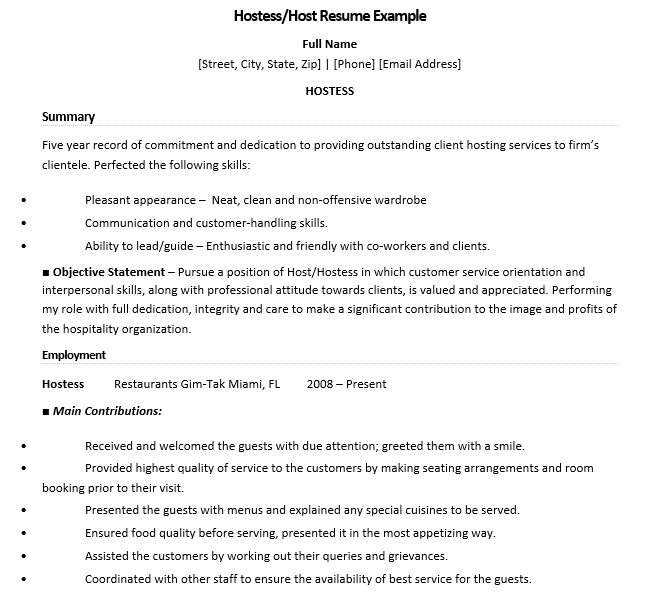 Restaurant Hostess Resume Template
If you prefer to work in a restaurant, this resume template provides you all the needed information for the employer. From the persuasive career summary to the achievements and certifications sections are available for you to edit.
Hostess Experience Resume Template
This resume template is designed specifically for those who have been working as a hostess for some times. The resume template gives you a spacious section where you can list the professional experiences and relevant skills of the job.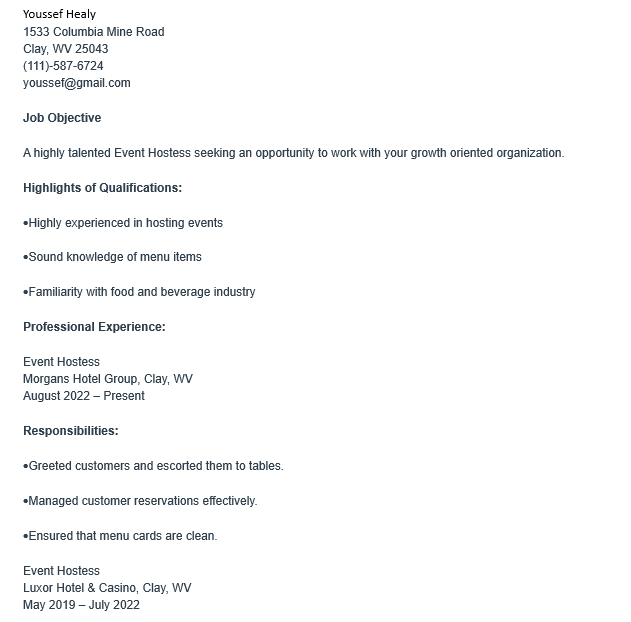 Sample Hostess Resume Templates
If you don't fancy a resume template that's built with too much design, this simple but complete resume template is what you're looking for. It is applicable for both beginners or experienced ones.
Entry-Level Hostess Resume Template
When you just started a career as a hostess, this resume is the perfect option to apply for an entry-level position. It highlights your persuasive career objective with a list of relevant hostess skills, and some relevant additional activities to help the employers know your capabilities.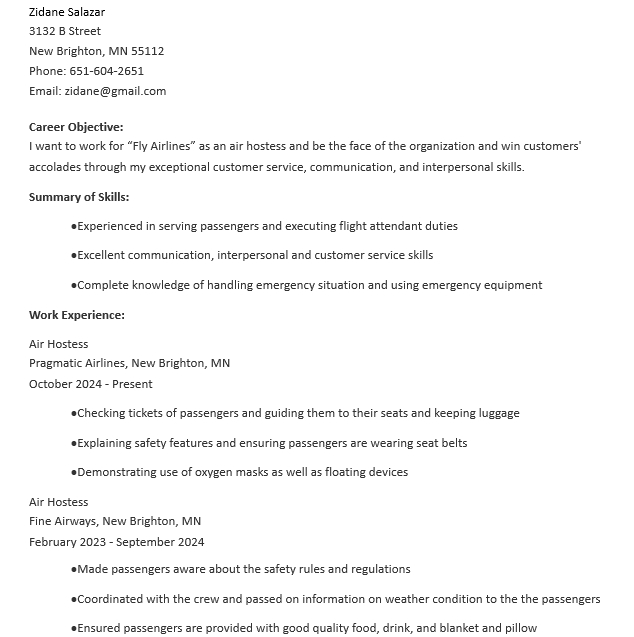 Merchandise Hostess Resume Template
Different from any hostess position that works in the F&B business, this resume template gives a career opportunity to work as a hostess that provides information about the products or merchandise sold. It highlights your ability in providing excellent customer service.
Head Hostess Resume Template
This resume template is designed for those who have career advancement to be head hostess in a business. It's built by showing the certifications and professional experience of the applicants.
Hostess Food and Beverage Resume Template
This resume template is again can be used for everyone who just started a career or pursues a career advancement. It is designed in a modern design that shows your enthusiastic side and it promotes the applicants well from the relevant skills it's written.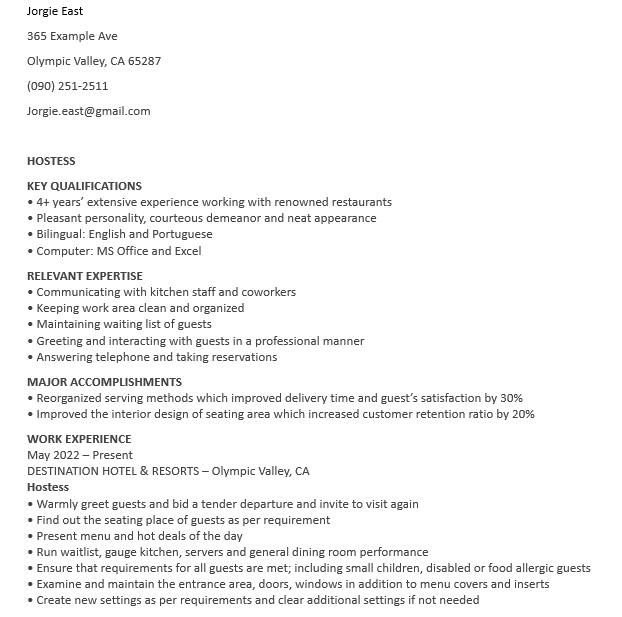 Similar Posts: