Fresher Resume Template
Nowadays, there are many career opportunities are available for fresher. First-year students need to gain experience working in a real-life situation. It teaches them to be independent financially and to add experience to be written in their resume.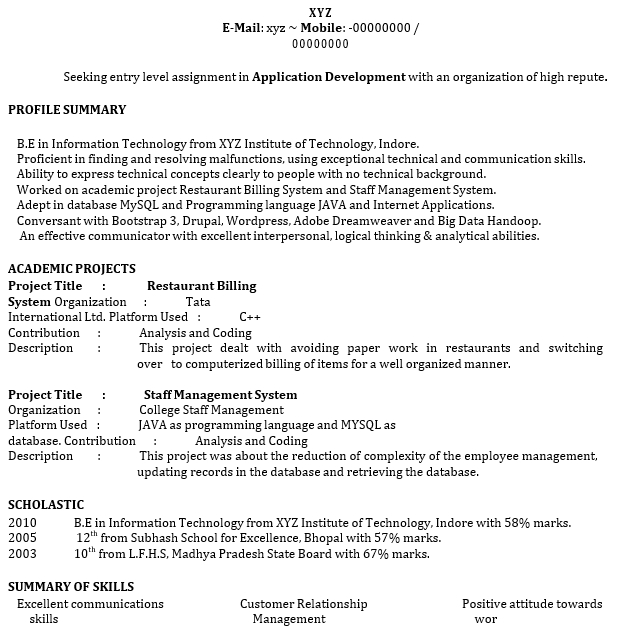 It is crucial to have experiences stated in the resume when they are applying for a job after they graduated. It shows that those students are active in creating career opportunities for themselves. Of course, not only experience is important, but also a fresher resume template. Here, you will read samples of resume templates and related information for fresher resumes.
Sample of Fresher Resume Template
Let's dive into the resume sample to give you a better understanding of how good a fresher resume is.
Clarence Edwards
Personal Info
Phone: (555) 432-321-212
Email: clarence_edwards@email.com
Summary
A student of English Education at ABC University which wants to enhance my English ability as a private tutor. Have good knowledge regarding subject mastery and teaching approaches to assist me during my work.
Experience
Private Tutor
2017 – 2019
Teaching English for Young Learns for conversation need
Preparing the English materials for students age 7-10
Developing simple English vocabulary games to enrich the teaching strategies for children
English Competition
XYZ Language School
2018
Preparing for English competition at national level
Practicing English reading, listening, writing, and speaking skills daily
Education 
English Education at ABC University
2020 – present
ABC Vocational High School
2017 – 2020
GPA: 3.76
Relevant Coursework: English for Young Learner, Basic English Grammar, Teaching Strategies
Graduation: 2014
Membership: English Club in Senior High School, English Debate Club at University
Key Skills
Creativity
Good communication skills
Detailed-oriented
Compassionate
Awards
Top 3 in English Competition, 2018
Language
English
Germany
A little bit of Korean
How to Write Fresher Resume Template
In writing a good resume for fresher, you need to keep these things in mind.
Tailor the career objective or personal summary that best describes you
Write down any experience you have, not necessarily about work, but internship or training can be included
Key skills that include technical and soft skills
Mention your academic background with the achievement you have
If you have references, that's going to be a plus point
The Best Resume Format for Fresher
To be able to create the best resume, fresher needs to know where their strengths are. If it is on the skills, they might need to use a functional resume where it focuses on the skills and abilities. You can also add information about the internship or training if you ever attended that. In most cases, fresher uses a functional resume as it adds value without mentioning the work experience, as most don't have it. But if you have work experience and it is relevant to the job you apply for, then you can use a chronological resume.
Crucial Skills to Write in Fresher Resume Template
Freshers are usually identical with having less experience, but you don't need to worry. Highlight your skills to boost your impression to the employers, just like the skills below that are a must-write for a resume.
Critical Thinking
Communication Skills (both active and passive)
Creativity
Teamwork or Collaboration Skills
Adaptability
Technology and digital skills
Resume for Fresher Looking for the First Job
To land a new job, you need experience but what if that's your first job and you don't have any work experience before that? This is what happened mostly to fresher. The fear of not being able to create an impressive resume will always there. Let's see these several tips to help you.
Choose the best resume format that goes well with you
Explain your educational background clearly
Mention any relevant experience, it can be about volunteering or anything you did in your high school that helps to improve your value
Highlight your relevant skills
Add awards or certificates you have
Write down an effective but reasonable career objective
Kinds of Fresher Resume Template
There is a lot of fresher resume template where you can use these days. Below are the following kinds of resumes you can choose.
Fresher Resume Format
This resume template serves for any job that fresher applies for. Using a simple and neat styling format, you can edit this template easily to save your time.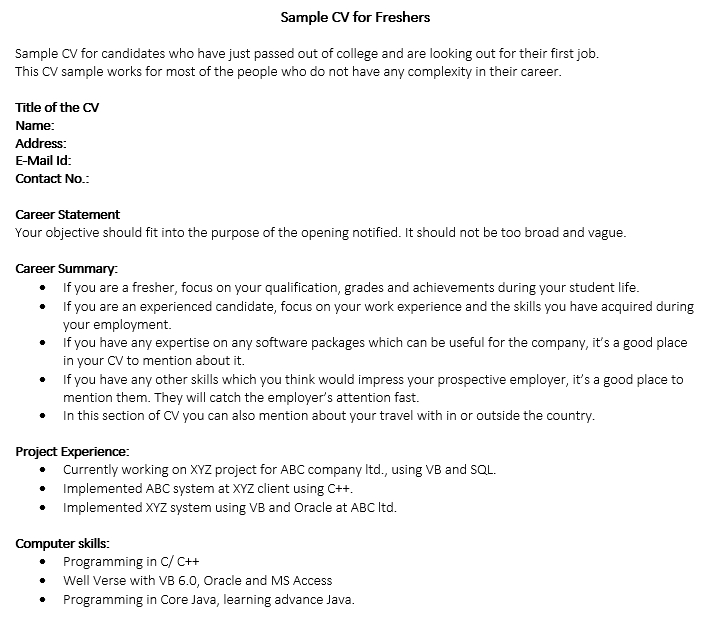 Resume Format for Fresher in Word Format
This resume template is written in Word format that allows the users to have an outstanding resume to be sent to the employer.
Simple Graduate Fresher Resume Template
Sometimes, you don't need a fancy resume to highlight your experience and skills. This simple graduate resume template employs a basic style with a formal tone that gives enough emphasis on the skills and academic background.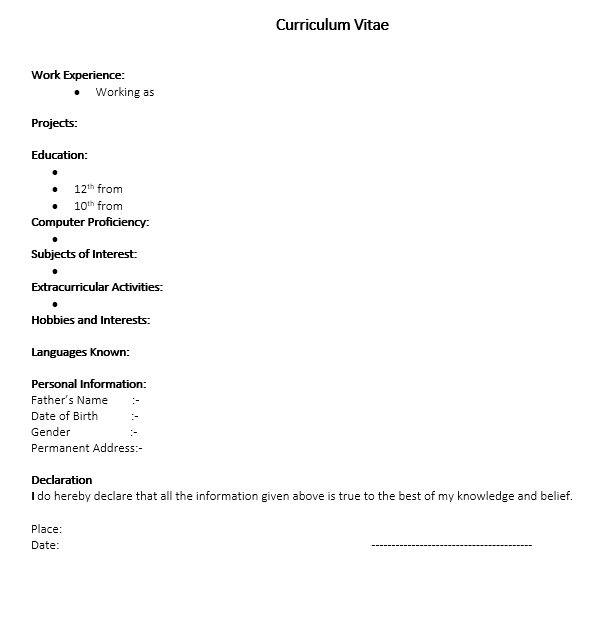 IT Freshers Resume Template
If you are interested in working in the IT industry, this resume template is designed for you. This resume highlights the skills in technology where it is relevant to the job being applied.
Technical Resume Template
This resume has an organized format style with thorough information on the technical competencies and other sections. It is written in Word that can be edited easily and it is reader-friendly.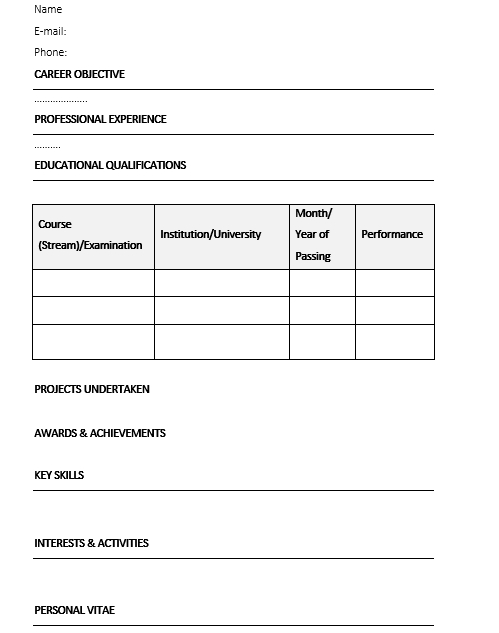 Software Engineer Resume for Fresher
This template is designed for fresher who seeks career opportunity as a software engineer. Completed with personal information, this resume creates a clear career objective where an employer can appreciate and consider your application.
Free MBA Fresher Resume Template
If you have an MBA degree, this resume template is specifically designed for you. Completed with work experience and key skills, this template allows you to prove that you are qualified in front of the employer.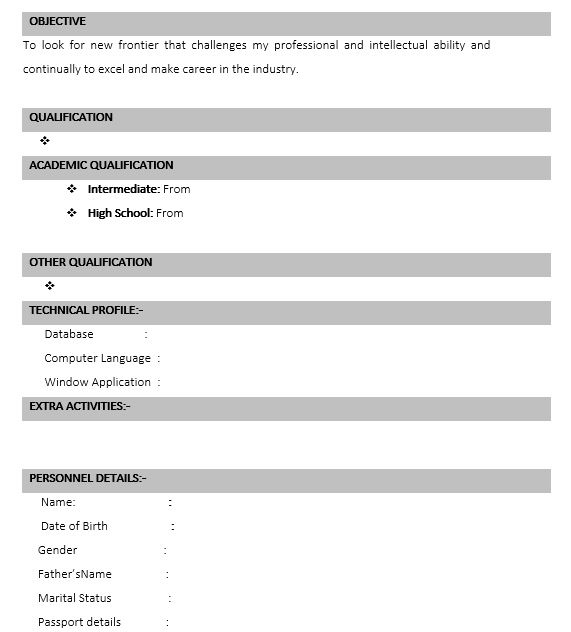 Fresher Resume with No Experience
For fresher with no experience, this resume template can be a good choice to have an impressive resume that highlights the skills and academic background. Use this template and you won't regret it.
Civil Engineer Fresher Resume Template
Use this template if you are a civil engineer fresher. With formal and neutral language, this resume ensures to include your relevant skills that can contribute to your work.
Mass Communication Fresher Resume Template
This resume template is designed for mass communication fresher. Save your time and think less about how to create an outstanding resume by making use of this template.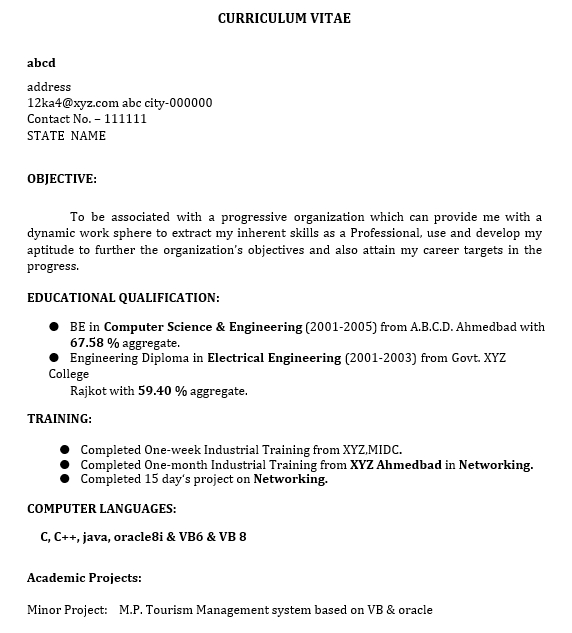 Similar Posts: