Federal Resume
Working in the federal sector is a serious thing. This is why they only hire a professional and qualified candidate with strict procedures. The examination and interview can be extensive and tiring.  Besides, the competitors are quite high which is why you have to make a strong federal resume to pass the hiring process.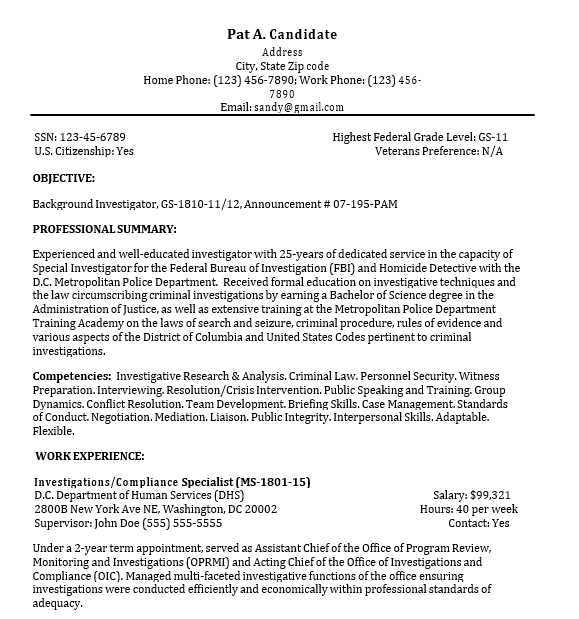 To write an excellent resume, you must pay attention to various aspects from your educational background, certification, hard skills, soft skills, and even experiences. This resume also highlights other important details such as your GS grade and membership in an organization. Since it is a government sector, they want to see how you could serve the public and provide their needs according to your job description in the position you are applying for.
Sample of Federal Resume
To help you make a good resume, below is the example of the federal resume;
Crista Reiss
Personal Info
Phone : (444)434-434-456
Address: 30 Rooselvelt Drive, Apt. 675 – Roanoke, VA 25008
Email: christa.reizz@gmail.com
U.S Citizen
SSN 333-22-123
Summary
In search of an entry-level position as the Federal Assistant at Hopskin Organization to use my 2-year experience, expertise, and knowledge about the law. I am a high-motivated candidate with a bachelor's degree in law with a 3.8/4.0 GPA and strong clerical skills hoping for a new challenge in your firm.
Experience
Office Automation Assistant
Federal Milk Market Administration
2018-2020
Supported 18 staff and more than 150 projects
operating various tools such as Microsoft Office and management software to create a document and manage it.
Answering telephone, calls, and emails
Setting schedules for staff and boards
Education
Santo Yusuf University
California
2015-2018
GPA: 3.8
Relevant Coursework: American Business for Women
Graduation: 2018
Membership: women Activist Community, California
Key Skills:
Business correspondences
Microsoft Office
Communication
Leadership
Awards
Student of the year, 2017-2018
First Winner of 3rd Speaker in Asian Debate Competition – 2018
Language
How Do You Write An Outstanding Federal Resume?
Begin with writing the contact information
Add the citizenship status
Don't forget to add the citizenship status
Put the GS grade
Add veteran's preference
Mention your work experience
Mention your educational background
Consider other items such as achievements, organization, and coursework
How Many Pages Should A Federal Resume Be Ideal?
The length of the resume generally can be your personal choice. However, generally, a good resume should be one to three pages which depend on your experiences and skills. Besides, it is wise to only include your skills and experience that can show your best qualities. It is not necessarily mentioning the whole profile. Pick the most relevant ones.
What Is The Difference Between Federal And Regular Resume?
For a private company, a federal resume usually only consists of two pages, meanwhile, the federal resumes can take to 3-5 pages. Why is it longer? This because the federal wants to use know your best skills and abilities.
Kinds Of Federal Resume Templates
Writing a federal resume can be tiresome especially if this is your first time. Furthermore, you have many things to prepare for your hiring. To save your time, you can use our resume templates which you can copy the formats. Of course, you need to improvise your resume with your resume objectives and other details.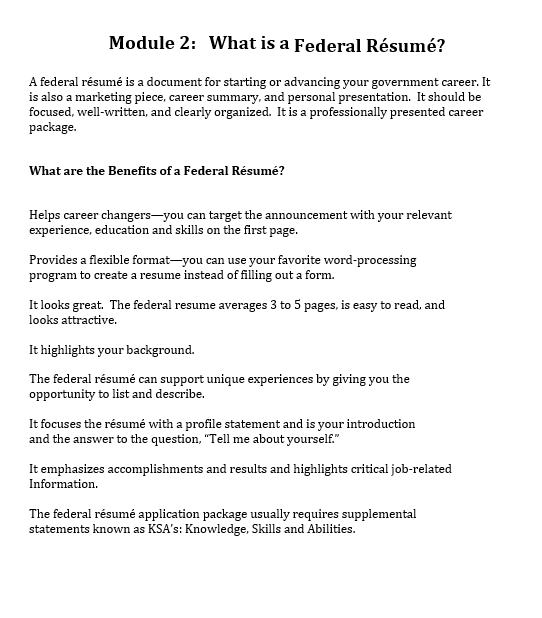 Federal Resume Free Download
To apply for a position in the government sector, a good resume is important. This resume template is a good start that you can copy the format and improvise the content with your styles. It is so much easier to do as it is the formal format.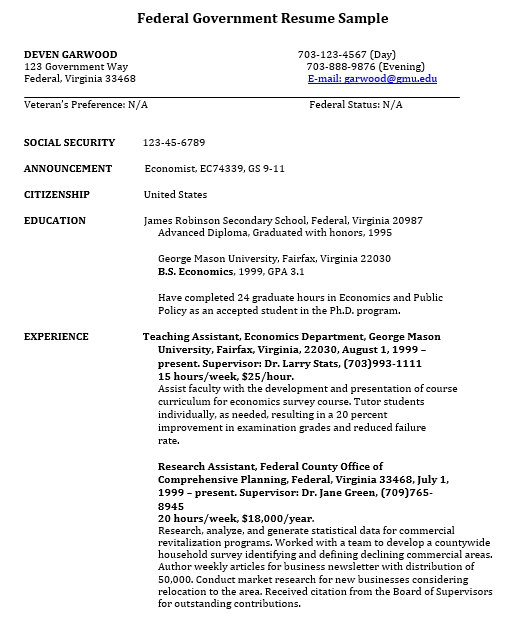 Free Federal Government Resume Sample
For someone with no experience, it is important to impress the hiring manager with an excellent resume. A federal resume is different from the regular one because they have different formats and other qualifications to put on the documents. You can use this template if you have no idea about it.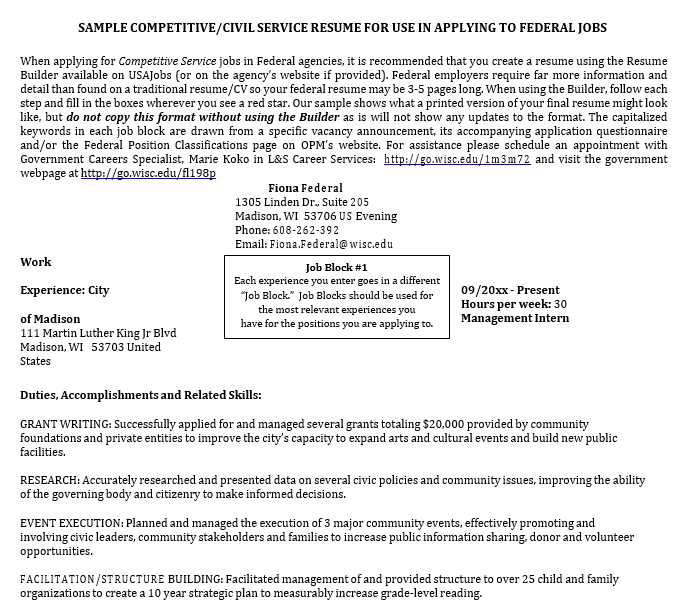 Federal Employment Resume Template
It is another sample you can adapt to your resume. The details come with the spaces for personal information including the hiring authority, general experience, skills, and many more.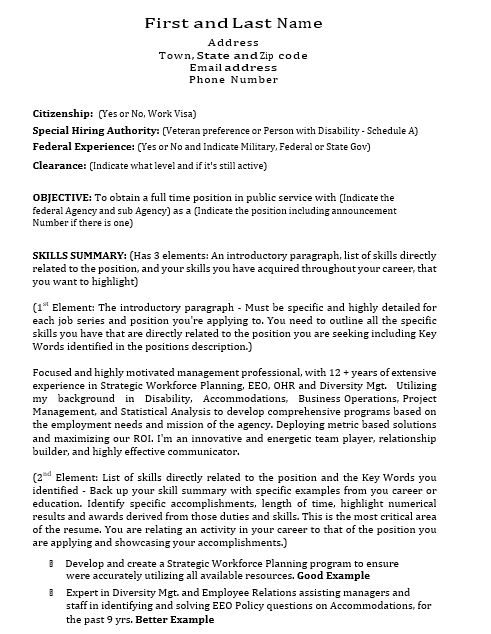 Federal Job Resume Template
Do you need a template that helps you write a better resume? Maybe this template is the best one. It comes with details such as what to write in a certain section. now you can write a professional resume without feeling so much doubt about whether it is good or not.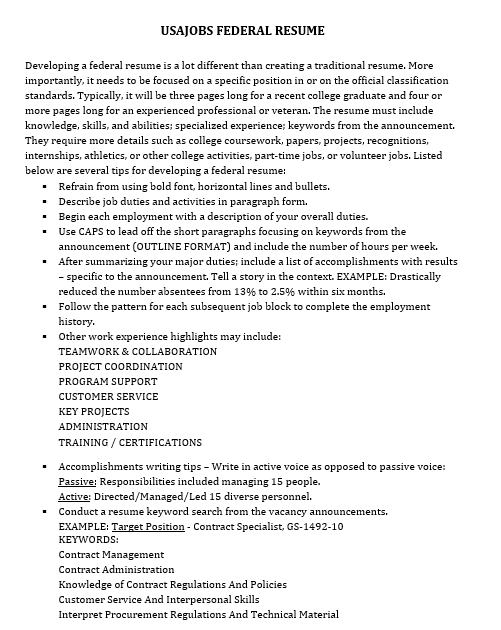 Standard Federal Resume Guide
It is the simplest guide about how to write a proper federal resume. Some of you might not be aware of what to write on the resume and what details need to be written. This will guide you in finding your best potential and skills that match the job listing.
Federal Style Resume PDF
This template explains in detail each section of the resume. Now you will not miss a single important detail and can make sure what to include to show your best potential.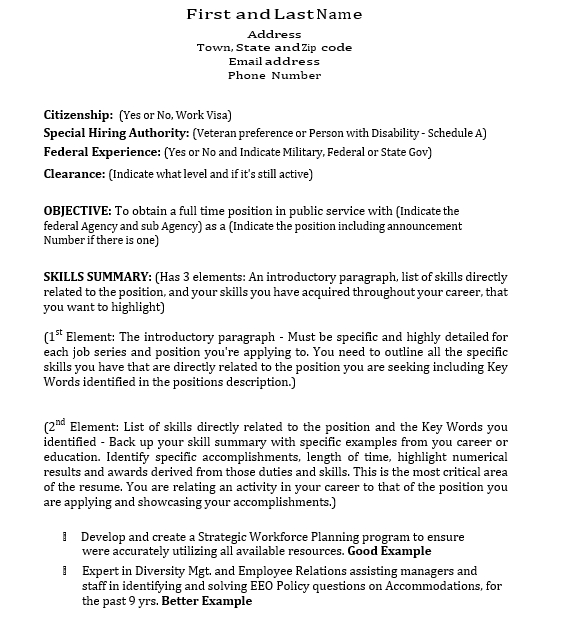 Resume Template For Federal Jobs show your best skills with a proper resume template. This template is designed very simply without leaving the necessary details.
USAJOBS Resume Template
If you want to apply for a federal position, this template provides you the most important details that you must write. By using this one, you will know how to write the resume in a standard format yet professional and formal.
Resume Format For Government Job
For all of you who are seeking a government job, you might need a resume format that is generally designed for the government sector. This template helps you tell your best potential with a formal format that is professionally well-written. You may copy this format and make some improvements.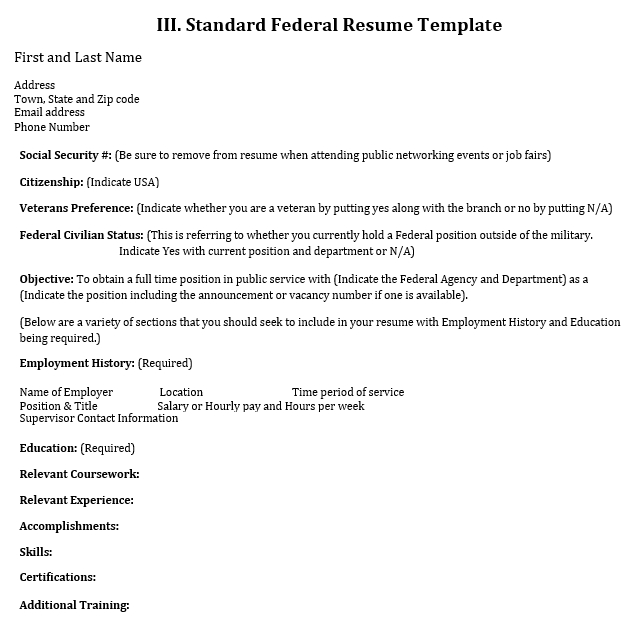 Federal Resume Guide Template
It is another template that you can use to write your first resume. If you have no experience and lack some good achievements, you might want to use this template because it helps you highlight your best skills and potential.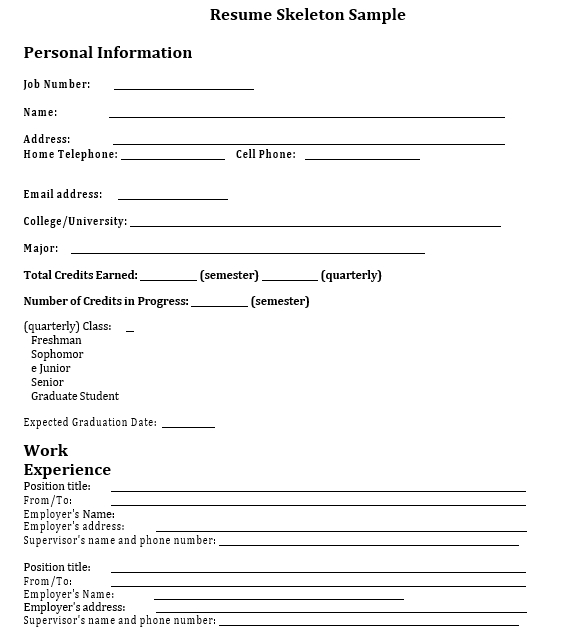 Similar Posts: