Call Center Resume Example
Applying for a job in the call center field is sure to be fun. The workers do not only come from students who have graduated but also students who are interns or volunteers. Along with the increasing number of industries, there are also many call center vacancies being opened. If you want to build a great resume to apply for a job in this field, it's a good idea to take a look at our best call center resume example in this article.
Whatever position you're applying for, a great resume will grab the recruiter's eye. You can also write a sample resume for a call center without experience with a classy design to attract the attention of the employer. Don't hesitate, choose the best template that we provide.
Call Center Resume Example
To make it easier, we have provided you a simple resume sample for the call center that can give you an idea:
Melissa Brown
Personal Info
Phone: (333)-332-223-222
Email: brown.lisa@gmail.com
Summary
A bachelor's degree of Arts (3.6/4.0) with 3+ years experience as a Call Center representative. To obtain a position as a Call Center representative in Chicago Leeds by bringing outstanding communication skills, being able to solve client problems, and being skilled in convincing and promoting services or products to customers.
Experience
Call Center Representative
1) Angel LC Group
2016-2017
Answering questions from customers
Convincing customers about the company's latest products
Resolving customer problems and dealing with various complaints
2) QUIT Company
2018-2020
Responding to various complaints from customers and providing accurate solutions.
Working closely with manufacturers and vendors to solve customer problems.
Maintaining a 95% customer service satisfaction rate within 2 years.
Able to serve 50 calls quickly a day
Education
BA in English
University of North East
2012-2016
GPA: 3.6
Relevant Coursework: Managing Difficult Customers, Public Speaking, Written and Communication skills, Customer Service.
Membership: Spanish Club, French Club
Publications
The article "How To Make They Listen To You" appeared on Community Website
Key Skills
Excellent communication skills
Detail-oriented
Stress management
Listening
Phone skills
Organizational skills
Persuasion
Friendly
Customer service
10-Key typing
Awards
Student of The Year, 2014-2015
The Employee of The Month in QUIT Company, 2019
Languages
English
Spanish
French
Mandarin
How To Write A Call Center Resume?
To write a resume for a call center, there are a few things you should pay close attention to. Take a look at some of the tips below for producing a quality resume:
Highlight your skills well, ranging from work experience in similar fields, communication skills, and language skills that are more than two.
Enter a description of your previous job, including writing down the achievements you have made. For example, successfully serving how many customers a day.
Use verbs action, for example, handle, train, receive, memorize, and so on.
What Should Be Put On My Call Center Resume?
There are several important elements that you should include in your resume, as are the following important aspects:
Precise information such as name, phone number, email, education, and experience.
Use keywords to write down your exact skills.
Match the qualifications the employer is looking for with your skills.
What Are The Duties of A Call Center Representative?
There are some duties of a call center representative that you need to know before writing the resume. The following are the duties:
Answering phone calls from clients and handling all complaints.
Studying and providing solutions to problems that clients ask.
Actively listening to callers.
Providing maximum and quality customer service.
Providing clear and accurate information to callers.
Providing the latest product or service recommendations to customers.
Meeting various company procedures.
What Are The Important Skills For A Call Center Representative?
Excellent communication skills
Patience
Organization
Listening Capacity
Problem solving and Flexibility
Clarity in Communicating
Computer skills
Adaptability
Friendly
Multitasking
Kind of Call Center Resume Example
If you don't have much time to build a design for your resume, it would be better to choose our template below:
Call Center Sales Resume Sample
Writing a resume requires a lot of important things, including the qualifications and experience you want. Make sure you create a resume in the right design and format for great results.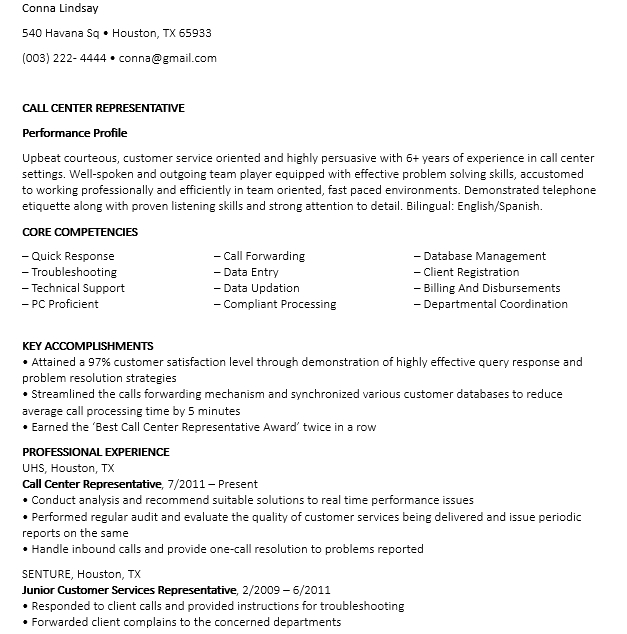 Call Center Agent Resume Design
Instead of being confused about choosing a design, you can use this template to produce a suitable resume. Use a few essential elements to get a resume that is both quality and classy.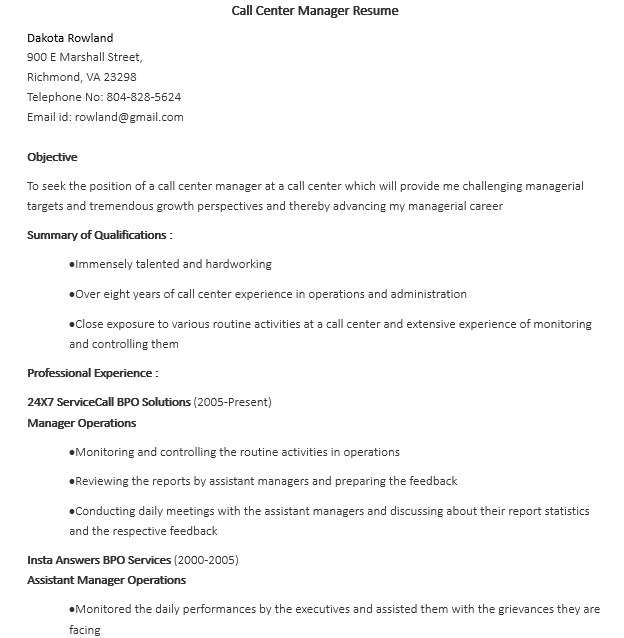 Entry-level Call Center Resume
If you are a beginner, then this template can be the right answer. You can change several elements including work experience and description according to your needs.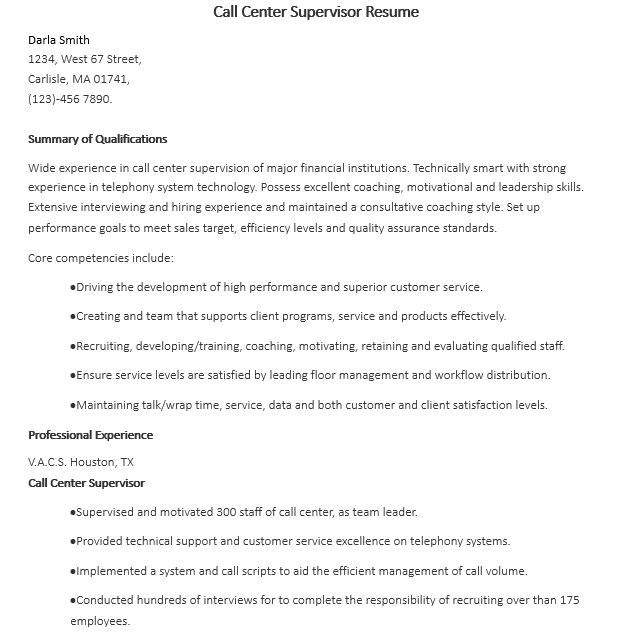 Trainer Call Center Resume Example
This next template has a nice design with neat colors. You can apply this template for quality resume results, but don't use things that are too verbose to make your resume look elegant.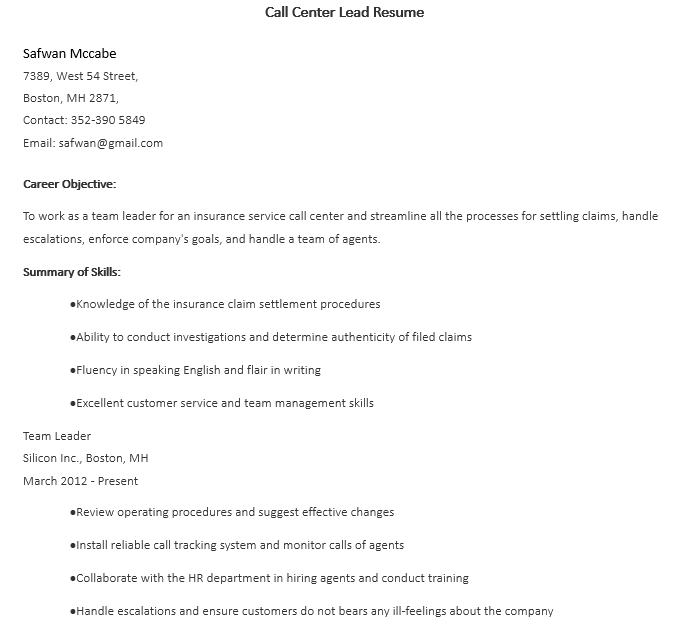 Call Center Resume For Student
If you are applying for an internship, this format is the most appropriate. You can include some experience during the organization so that your resume will look quality. Try this template to make a great result.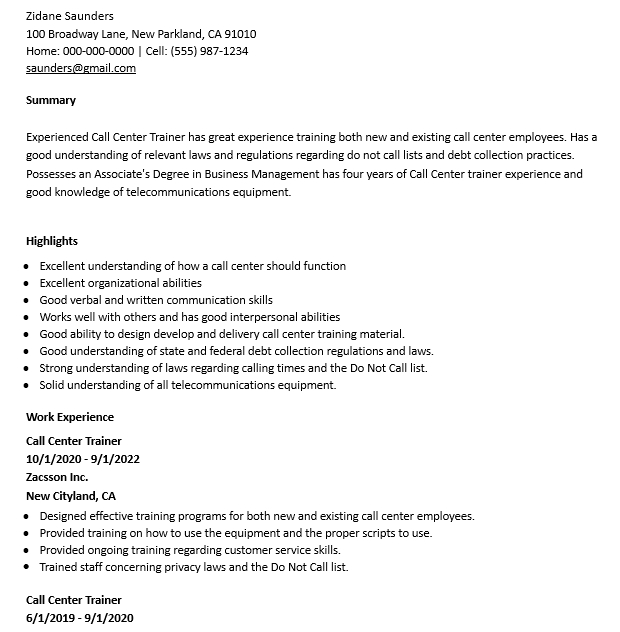 Call Center Manager Resume Design
If you want to use a quality resume, then this template is a perfect choice. Pay attention to some important aspects in it such as design, color, photos, and several other things that must be included.
Call Center Representative Resume
It's time to write a resume with proper formatting in mind. This template will help you a lot in producing a professional resume.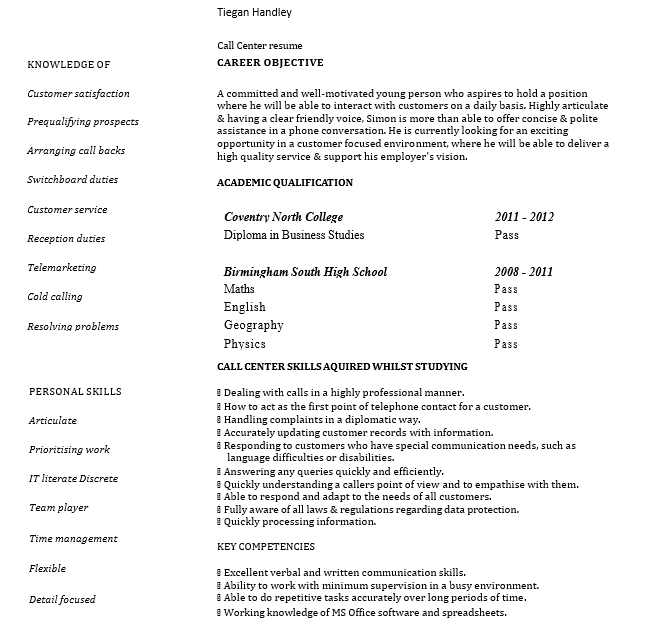 Simple Call Center Resume Template
Don't forget to prepare a draft and a few other elements before writing a resume. That way you can produce a good and neat format.
Editable Call Center Resume
Working in a call center is fun, especially when you can serve many customers. If this is your passion, make sure to create a classy resume.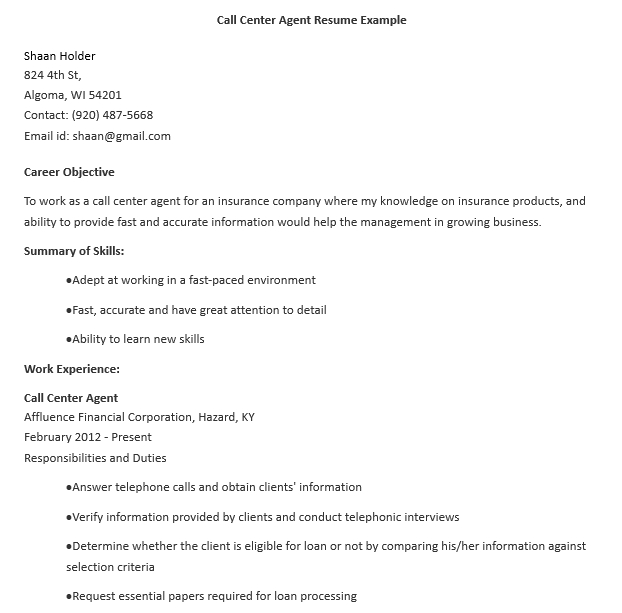 Call Center Supervisor Resume Design
A simple design will make your resume look great. Use this template to build the right resume by incorporating a few positive elements.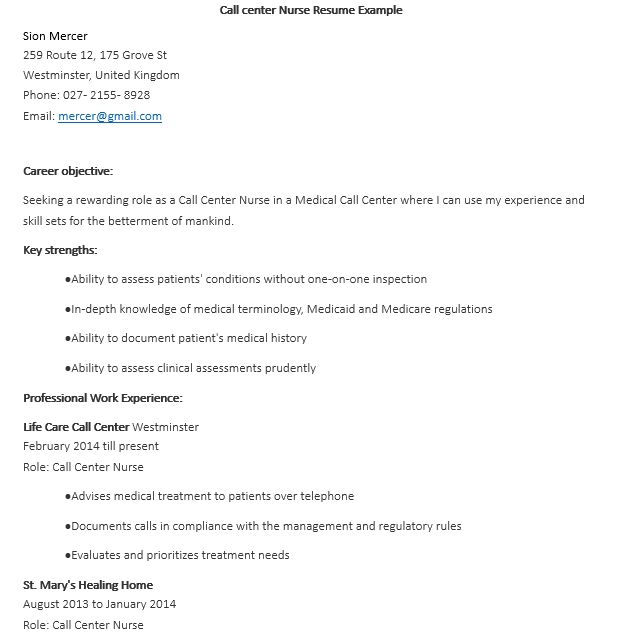 Similar Posts: