Preschool Teacher Resume
Teaching preschool students is not an easy job that anyone can do. One needs to meet the requirements before being a preschool teacher as in whether they are good with children and how to use the learning approach for young learners. Yet, this job still has a lot of applicants in the industry.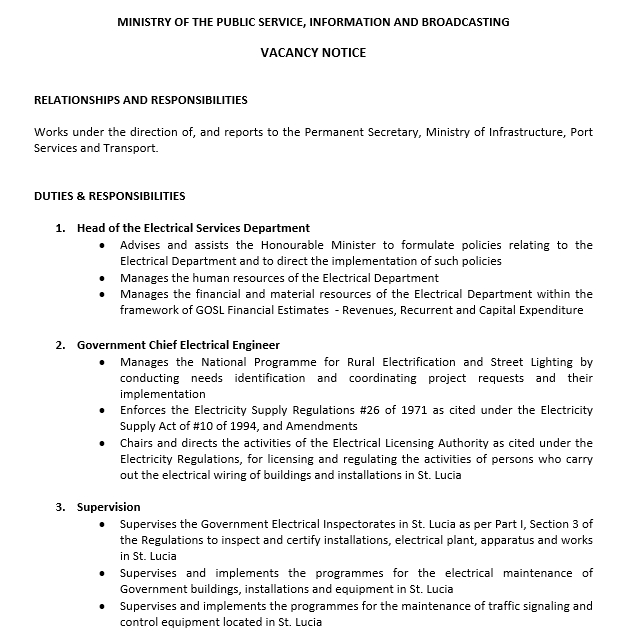 There are hundreds of applications sent to the organizations every time a job vacancy opens. Among those applications, the employer will choose the ones with the best preschool teacher resume to pass the resume screening phase. In this article, you will read the information on how to create a good resume for a preschool teacher that can help you to go through the first hiring stage.
Sample of Preschool Teacher Resume for Fresher
Anyone can apply for a preschool teacher position including a fresher. The sample below shows how a good preschool teacher resume is written especially for fresher.
Caroline Margareta
Personal Info
Phone: (555) 123-123-123
Email: carolinemargareta@email.com
Summary
A creative preschool teacher with 4 years of experience in setting up the classroom for children age 3-5 years old. With excellent communication skills and a good understanding of teaching pedagogy for children, I can develop and implement the best teaching strategies which improve students' competence and behavioral skills. I also conduct regular communication with the parents to monitor children's development and growth.
Experience
Preschool Teacher at Happy Children School
2016 – 2020
Creating lessons plans for delivering interactive lessons for children
Preparing classroom activities, strategies, and materials for children age 3 – 5 years old
Preparing field trip for students with the monitor of other teachers and parents
Conducting regular communication with the parents regarding students' improvement and growth
Implemented multiple languages and musical-related activities that improve students' skills
Increasing students' motivation in learning and assisting two students with learning difficulty during the teaching and learning process
Education 
Bachelor Degree in Early Childhood Education at XYZ University
2012 – 2016
GPA: 3.75
Relevant Coursework: Pre-service Teacher Training, Seminar for Early Childhood Education, Volunteer Work at ABC Orphanage
Graduation: 2016
Membership: Association of Preschool Teacher at XXX State
Key Skills
Excellent communication skills
Patience
Creativity
Flexibility
Classroom management
Achievements
Teacher of the Month (2017 – 2019)
Best Planner for Students' Field Trip, 2019
Language
How to Write a Preschool Teacher Resume
In writing a preschool teacher resume, you need to know some guidelines to ensure that your resume is going to pass the first stage in the hiring process.
Read the job vacancy thoroughly
Choose the best resume format: functional resume, chronological resume, or the combination resume
Tailor the resume based on your situation and the best format
Write down your experience and contribution to your former workplace
If you don't have much experience, focus on the relevant skills that can help you in doing your job in the next career
List your educational history and academic achievements
Mention any experience that is relevant such as pre-service teacher training, seminar, or an internship
Proofread before sending the resume
Main Responsibility of Preschool Teacher
Similar to any teachers at the different academic level, the preschool teacher requires them in conducting teaching and learning process, from creating lesson plans, monitoring students' during the break time and how they interact with each other. They also ensure a safe environment for the students at school.
What Skills Should be Included in Preschool Teacher Resume?
Among all the skills that you have, you need to be considerate in choosing which one is relevant for your resume. These are several hard and soft skills that you can write for your resume.
Communication skills. This skill will be useful for delivering lessons and it is specifically needed for teaching children.
Creativity. It is essential when you deal with children, you need to explore teaching strategies in how to teach children without them getting bored.
Patience.
Classroom management. Dealing with many children in one class can be challenging so you need to master this skill.
Parent interaction and communication. It is needed for you to communicate with parents regarding the development of the children in the class.
Lesson plan knowledge. This is important to build a lesson map and strategy as to how to teach children in each meeting.
Kinds of Preschool Teacher Resume
There is a lot of preschool teacher resume templates available online now. Yet, you still need to search and use the right one that suits your situation. Take a look at some resume template samples below.
Sample Montessori Preschool Teacher Resume
This template is designed for a preschool teacher who applies for a job in a school that employs the Montessori method of education. It gives a highlight of your relevant skills and ability to impress the employer.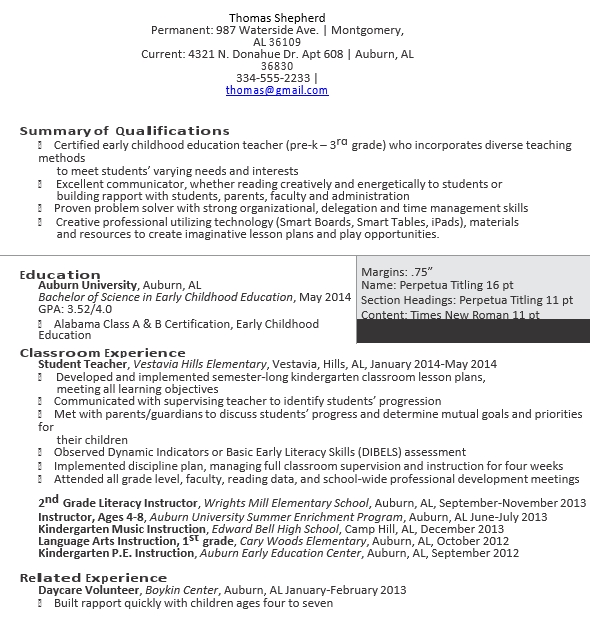 Preschool Art Teacher Resume
If your skill focuses on the art, this template is useful for you. It produces a strong summary and focuses on your art abilities where you can facilitate the students in delivering the lessons.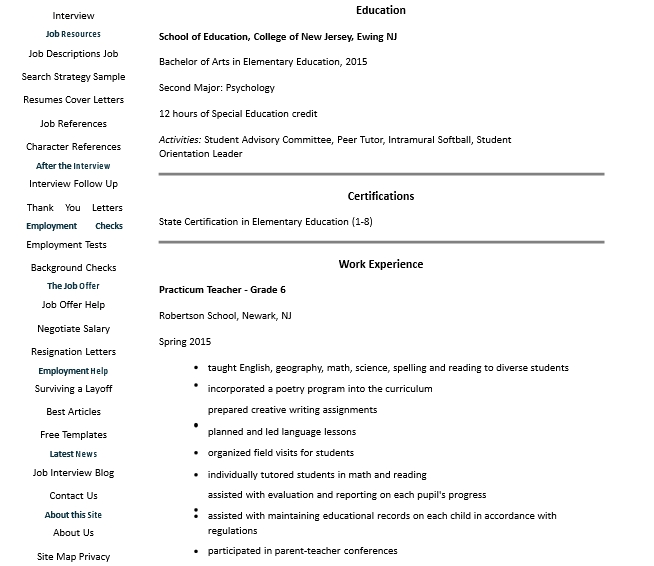 Preschool Teacher Resume with No Experience
When you have no experience, this template will highlight your relevant skills as a preschool teacher in contributing to the employer's organization. It also produces a good career objective to showcase your contribution in the next few years of your career.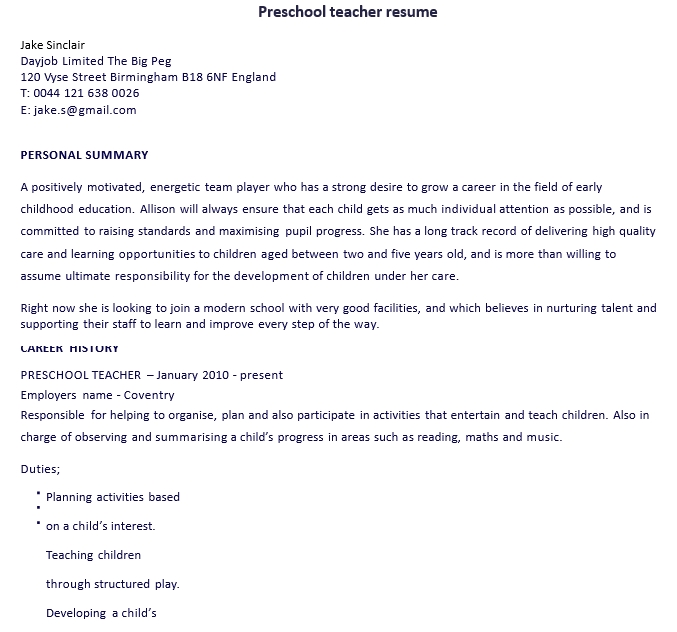 Assistant Preschool Teacher Resume Template
For an assistant preschool teacher, this template is designed specifically for you. It is created in Ms. Word file format where it gives you easy access for you to edit it.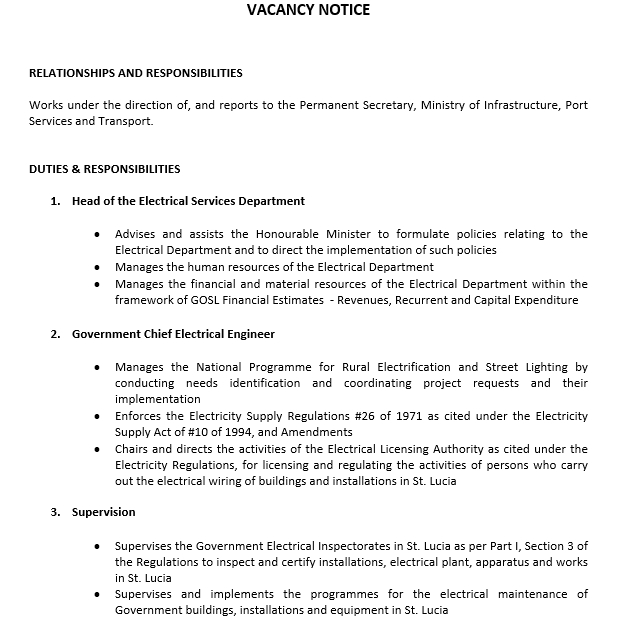 Church Preschool Teacher Resume Template
This template is designed for the church preschool teacher. With a professional summary it produces, this template will be a good way to promote your ability as a teacher for young learners.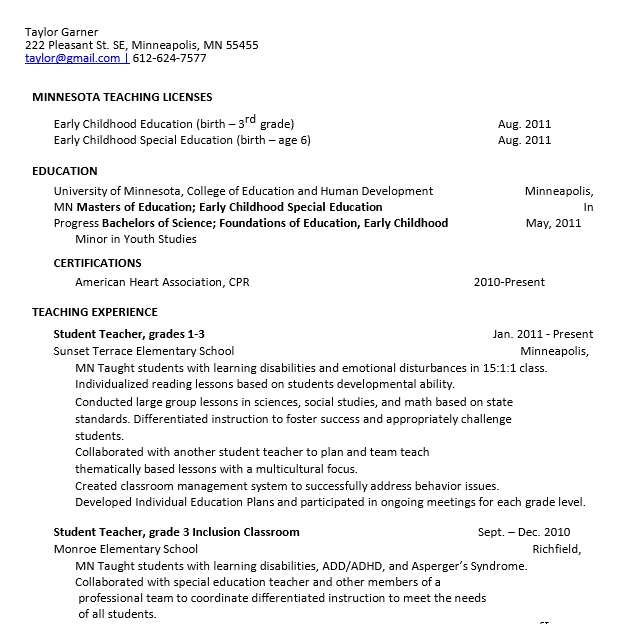 Head Preschool Teacher Resume Template
After a while working in the industry, you might want to pursue another level of the position as a head preschool teacher. This template will facilitate you in having the position as it has a well-structured resume with complete information needed by the employer.
Preschool Bilingual Teacher Resume Template
If you have competence in speaking more than one language, this resume template will put the importance of your skills. It will also save your time and you can focus on preparing other things for the hiring process.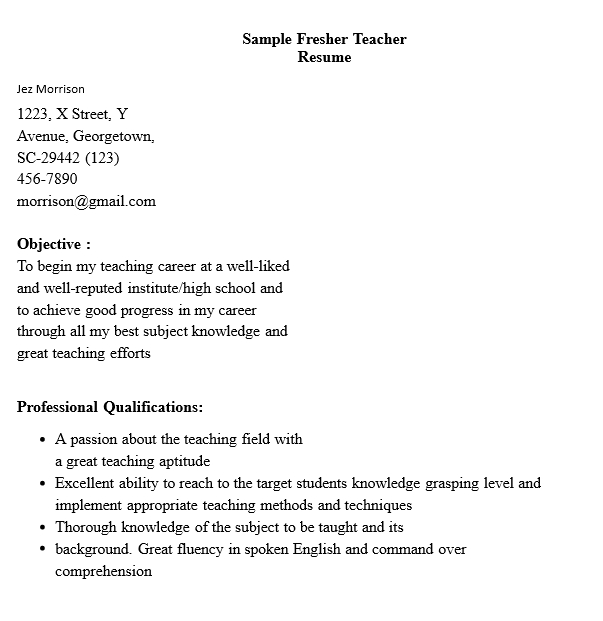 Preschool Lead Teacher Resume Template
Use this template if you need to apply for a preschool lead teacher. It has well-summarized information for each section, including professional experience to relevant skills and achievements.
Entry-Level Preschool Teacher Resume Template
When you apply for the entry-level position as a preschool teacher, this resume template will help you to land a job. Using a simple functional resume format highlights the skills that might assist you in doing your job.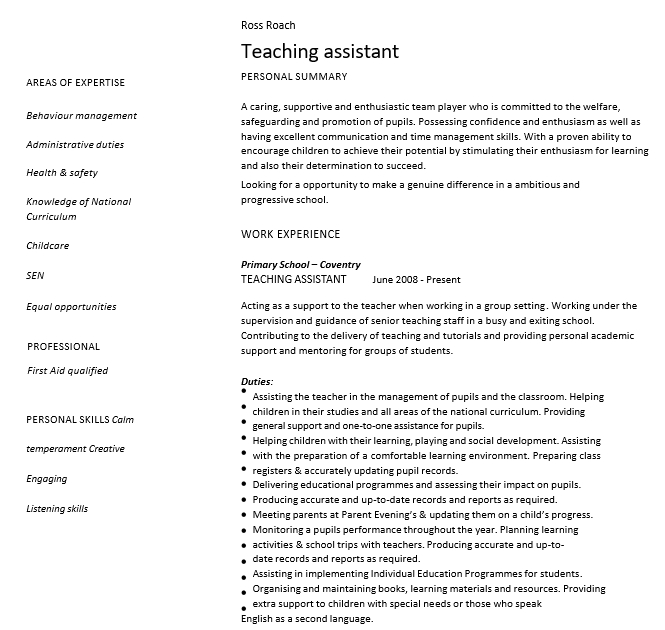 Christian Preschool Teacher Resume Template
The Christian preschool teacher can use this template for saving time and getting an effective resume to showcase their positive traits.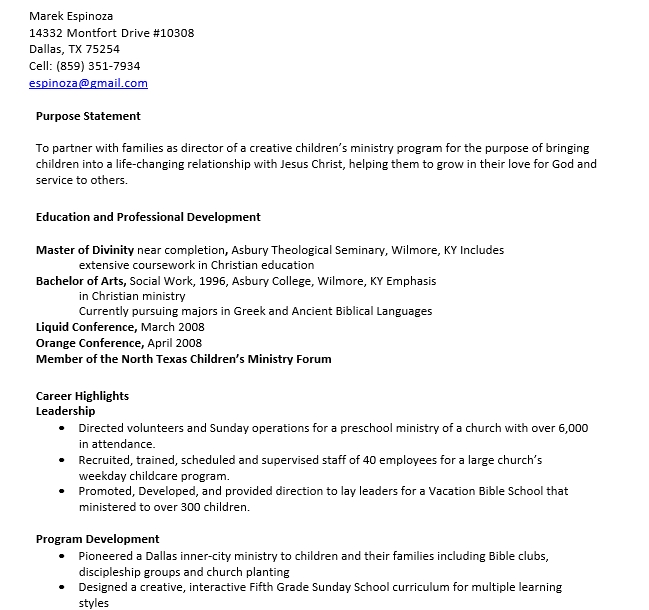 Similar Posts: