Paraeducator Resume
Paraeducator refers to the term used by individuals who provide additional instructional supports to students under the supervision of a school employee or teacher. They are assigned in classes to help students in performing their assignments. A lot of career opportunity is now opened for the paraeducators in some schools and institutions.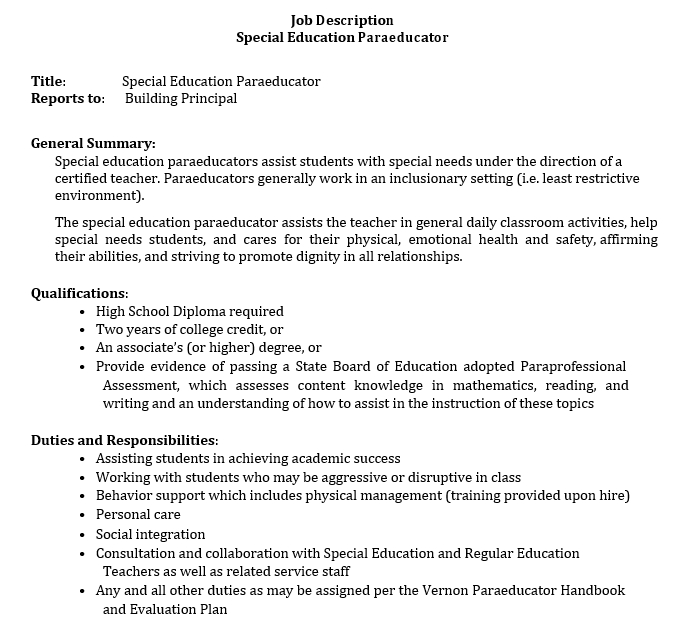 For people who want to pursue a career in this field, they have to meet specific requirements and send a proper paraeducator resume to highlight the skills they have. In this article, we provide you information on how to make a good resume for a paraeducator and its sample as a reference.
Sample Paraeducator Resume with No Experience
A paraeducator may apply for the job when they have no experience. If this is the situation that some of you have, this sample is suitable to give you an idea of how a paraeducator's resume is written, specifically for those who have no experience.
Anne Lamar
Personal Info
Phone: (555) 123-234-456
Email: annelamar@email.com
Summary
A creative and passionate graduate majoring in Education for Special Children is seeking an opportunity to fill in a paraeducator position at ABC Special Needs Children Institution. To have excellent knowledge in providing the classroom instructions to the children in a loving and calm attitude. Joined XYZ Children Special Needs during an internship and successfully increasing the students' understanding of the classroom instructions.
Experience
An internship at XYZ Children Special Needs
2019
Providing supports to students with special needs in giving classroom instructions
Assisting students in finishing the tasks assigned by the classroom teachers
Monitoring students' behaviors during the class
Recording students' attendance list on a daily basis
Collaborating with classroom teachers in formulating classroom activities and instructions to facilitate the needs of the children
Conducting discussion with the classroom teacher regarding how the classes are done regularly
Successfully increasing students' understanding towards the classroom instructions by 25%
Education 
Bachelor Degree – Education for Special Children at Hopkins University, 2015 – 2019
GPA: 3.80
Relevant Coursework: Seminar of Assisting Children with Special Needs, Classroom Management Short Course, Meeting Different Children and Giving Effective Classroom Instructions Online Course, Public Speaking Intensive Course
Graduation: 2019
Membership: Paraeducators Online Forum, Young Learner Teacher Community
Key Skills
– Strong communication skills, including non-verbal communication
– Patience and friendly
– Creativity
– Public speaking
– Teamwork
– Specific mastery subject
– Excellent in giving classroom instructional
– Likes children
– Classroom management
Achievements and Certifications
Public Speaking Certificate
Certificate of Paraeducator by Hopkins University
Certificate of Classroom Management
Language
How to Write a Paraeducator Resume
In writing a perfect paraeducator resume, it's always better to prepare before the process of writing itself. So, here we collect information on how you can have a proper resume before and during the process of resume writing.
Things to Include on Paraeducator Resumes
When you know the tips of how to write paraeducator resumes, now let's see what things should be included on the resume.
Personal identity
Professional summary or career objective for beginners
Professional experience, if you don't have any, include any relevant experience such as training or internship
Relevant paraeducators skills
Achievements and qualifications
Interests that might support your job application
Relevant Skills to Write on Paraeducator Resumes
In the skill section, paraeducators have to include the relevant skills that show that they're capable of doing their job. So, we gather several relevant skills that are crucial to be put to the paraeducator's resume.
Excellent classroom management and subjects
Excellent ability in providing classroom instructions
Excellent knowledge of handling children
Calm and patience
Able to work in a team
Creative
Organized
Kinds of Paraeducator Resume Templates
Sometimes, it takes a lot to prepare everything during the hiring process. This is when you need to use a resume template instead of making a resume yourself. Below are several samples of paraeducator resume templates that you can choose.
Paraprofessional Resume No Experience
This resume template is designed for those with no experience to apply for a paraeducator position. It has a strong career objective and relevant paraeducator skills that lead you to pass the resume screening.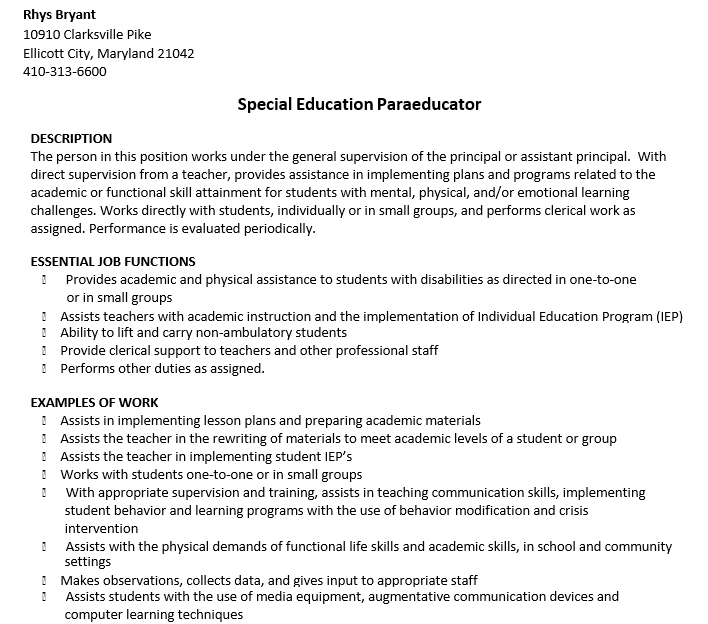 Special Education Paraeducator Resume
This resume is the best fit for those who apply for a position at special education schools. It provides the qualifications that the applicants have and a set of relevant skills for a paraeducator. It also gives information on academic qualifications.
Paraeducator Resume Sample
This resume template applies a simple basic resume design that works for both entry-level positions and professionals. Using a well-structured information section, it is reader-friendly to navigate the information.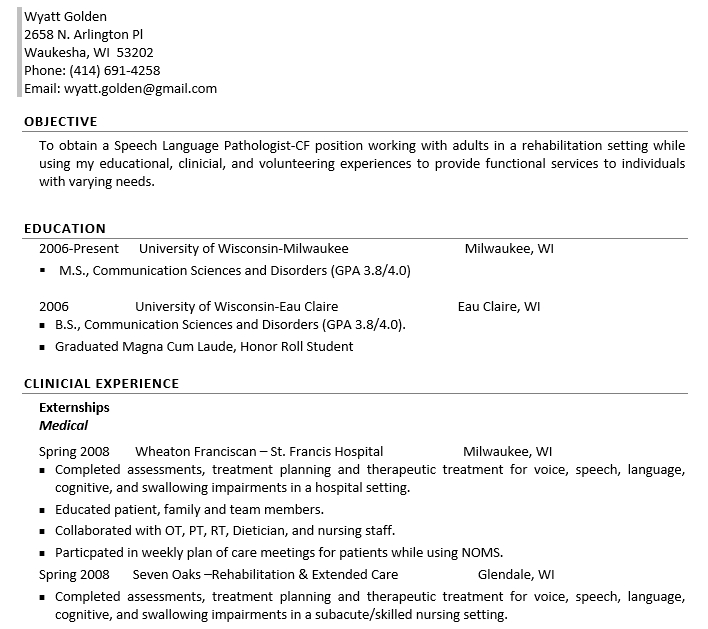 Office Paraeducator Resume
This resume is designed for those who want to focus on the paraeducator that isn't involved directly in the teaching process. It includes an outstanding profile summary, a list of work experience, skills, and academic qualifications.
Special Edition Paraeducator Resume
Another sample resume that's designed for paraeducators who focus on students with special needs. It shows the relevant qualifications and what you have done in your previous work to give the employer an insight into what you've done.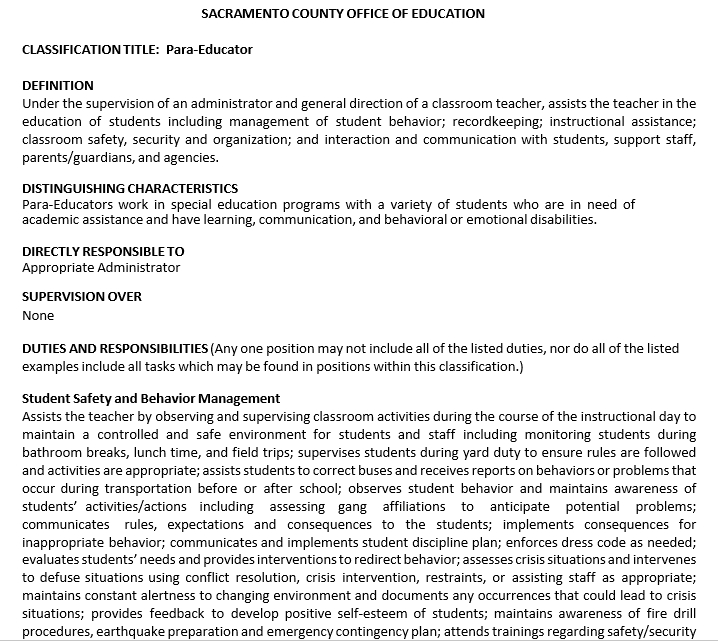 Instructional Assistant Paraeducator Resume
This resume focuses on the paraeducator that gives instructional assistance to students with special needs. Numerous relevant skills are written to highlight your capabilities and a list of certifications is mentioned.
After School Paraeducator Resume
This resume facilitates the applicants' information of the skills in supporting the interactions between students with special needs. It is personalized by showing the related work experience that can be a consideration for the employers.
In-school Suspension Paraeducator Resume
Some school practices an in-school suspension program where paraeducators can provide the appropriate methods in dealing with misbehaving students. This resume facilitates you to have the needed information written from the profile summary to the achievement.
Special Education Behavior Paraeducator Resume
This resume is designed for paraeducators that focus on special education behavior. It is written professionally in a simple minimalist design that doesn't get in the way of the information presented.
Substitute Special Education Paraeducator Resume
It is designed for a substitute paraeducator job where you don't work full-time. Yet, it creates a professional resume with a good profile summary and a list of paraeducator qualifications.
Similar Posts: