A mystery shopper is hired as an independent contractor by a service provider, department store, retail establishment, restaurant, financial institution, store, or other businesses to measure product quality, customer service, & general environment of the mentioned establishment. So, it is very important to know more about the mystery shopper job description in detailed.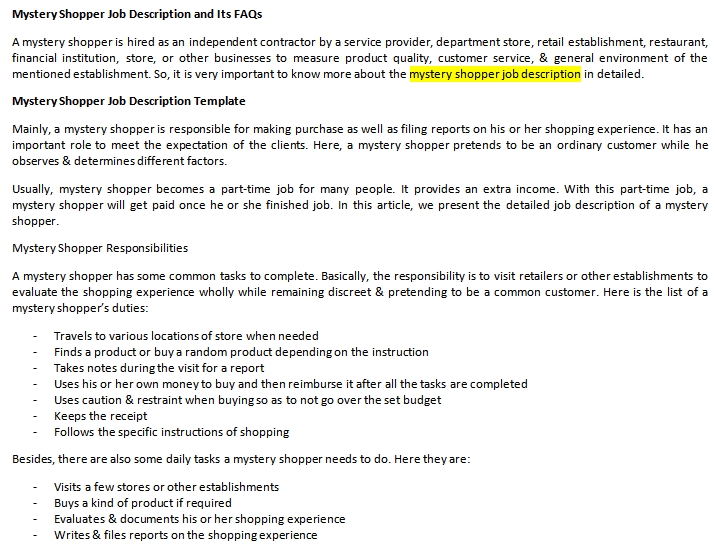 Mystery Shopper Job Description Template
Mainly, a mystery shopper is responsible for making purchase as well as filing reports on his or her shopping experience. It has an important role to meet the expectation of the clients. Here, a mystery shopper pretends to be an ordinary customer while he observes & determines different factors.
Usually, mystery shopper becomes a part-time job for many people. It provides an extra income. With this part-time job, a mystery shopper will get paid once he or she finished job. In this article, we present the detailed job description of a mystery shopper.
Mystery Shopper Responsibilities
A mystery shopper has some common tasks to complete. Basically, the responsibility is to visit retailers or other establishments to evaluate the shopping experience wholly while remaining discreet & pretending to be a common customer. Here is the list of a mystery shopper's duties:
Travels to various locations of store when needed
Finds a product or buy a random product depending on the instruction
Takes notes during the visit for a report
Uses his or her own money to buy and then reimburse it after all the tasks are completed
Uses caution & restraint when buying so as to not go over the set budget
Keeps the receipt
Follows the specific instructions of shopping
Besides, there are also some daily tasks a mystery shopper needs to do. Here they are:
Visits a few stores or other establishments
Buys a kind of product if required
Evaluates & documents his or her shopping experience
Writes & files reports on the shopping experience
Mystery Shopper Requirements
To keep us growing, all the candidates of the mystery shopper have to meet some required qualifications. So, anyway who is interested to apply for this job position, make sure that the following requirements are met:
Highly motivated, honest, and energetic
Excellent interpersonal and communication skills
Ability to independently work with no supervision
Result-oriented with a passion for shopping and an engaging personality
Mystery Shopper FAQs
What does a mystery shopper do?
Mainly, a mystery shopper is tasked to purchase certain products and make a report for the shopping experience. It aims to meet the customers' expectations.
Can I edit the posted job description here?
The job description posted in this article is editable. So, you can update it to fit your needs. In fact, different companies may give different responsibilities and qualifications.
Do you have interview questions for a mystery shopper?
This web does not only contain the mystery shopper job description but also the samples of interview questions you can use for recruiting a mystery shopper.
Similar Posts: