As a merchandiser, this person will take responsibility to collaborate with buyers, suppliers, retail teams, and analysts to manage the appropriate products in stock. If you're interested in this position, make sure you pay attention to the merchandiser job description below. The job description will include all responsibilities and requirements of a merchandiser that you're supposed to fulfill. Take a look at the description.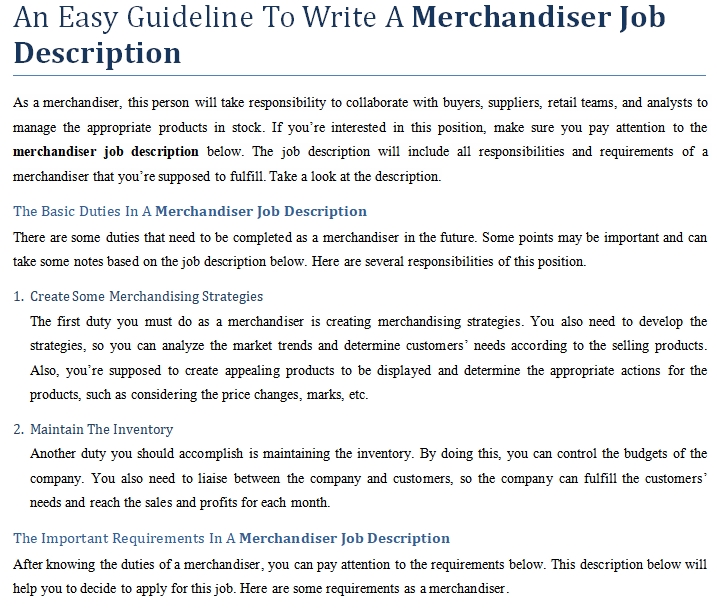 The Basic Duties In A Merchandiser Job Description
There are some duties that need to be completed as a merchandiser in the future. Some points may be important and can take some notes based on the job description below. Here are several responsibilities of this position.
Create Some Merchandising Strategies
The first duty you must do as a merchandiser is creating merchandising strategies. You also need to develop the strategies, so you can analyze the market trends and determine customers' needs according to the selling products. Also, you're supposed to create appealing products to be displayed and determine the appropriate actions for the products, such as considering the price changes, marks, etc.
Maintain The Inventory
Another duty you should accomplish is maintaining the inventory. By doing this, you can control the budgets of the company. You also need to liaise between the company and customers, so the company can fulfill the customers' needs and reach the sales and profits for each month.
The Important Requirements In A Merchandiser Job Description
After knowing the duties of a merchandiser, you can pay attention to the requirements below. This description below will help you to decide to apply for this job. Here are some requirements as a merchandiser.
Have A Degree And Experience
As a merchandiser, you should graduate from a high school diploma degree or GED. Having a degree in marketing, business, retail, or other related fields is preferred. Besides, you need to have experience in merchandising or retail and a valid driving license.
Have Some Essential Skills
If you want to be a merchandiser, you must have excellent communication and decision-making skills. Also, you should have strong analytical and numerical skills, and also a commercial awareness.
FAQs:
What Is A Merchandiser's Job?
The job of a merchandiser is to plan and manage products that will be promoted and displayed.
What Do You Need To Do Before Applying For A Merchandiser?
Before you apply in this position, you need to make sure that you can complete all responsibilities and qualify the requirements above.
What Are The Most Common Jobs In The Merchandiser Job Description?
As a merchandiser, he or she will ensure the product on display are appealing and choose the right promotional strategies. Also, a merchandiser is supposed to handle problems related to supply stocks and customers' issues.
In conclusion, if you want to apply for this job, make sure to prepare the requirements and consider the duties in the merchandiser job description above. If you make a good preparation, you can have a bigger opportunity to become a candidate. We can't wait to see you soon!
Similar Posts: