Medical Assistant Resumes
Medical assistants usually do both administrative and clinical duties. Most of the time, they will be supervised by doctors or other professionals in the healthcare field. Medical assistants work together with doctors in explaining to the patients about the treatment procedures, collecting specimens and bringing them to the laboratory and gathering patients' history. Meanwhile, the administrative duties of medical assistants are such as updating patients' medical records, filling insurance forms and scheduling appointments. When you are interested in applying for a position as a medical assistant, you must be able to show that you can perform those duties well through a professional resume. One solution for you is to look at some medical assistant resumes and choose the one that fits your personal details.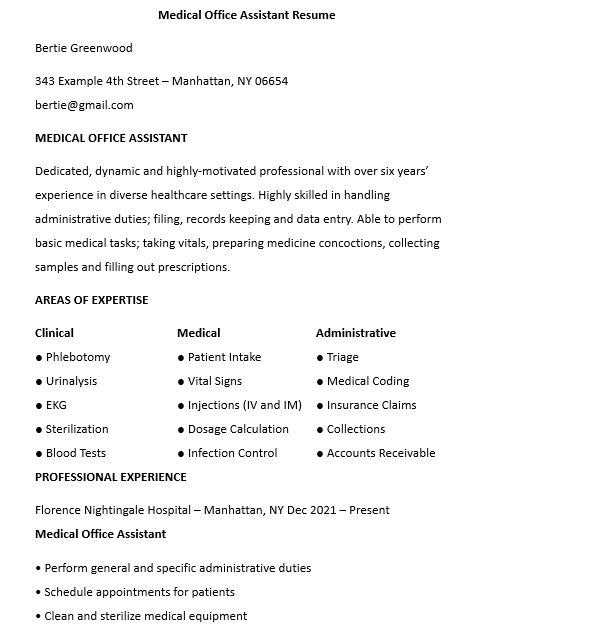 Writing a professional resume when you have never done it before might feel challenging for you. Therefore, you can check out the medical assistant resume with no experience and use the ideas to write your own professional resume.
Sample of Medical Assistant Resume
The medical assistant resume below will give you guidance in writing professional medical assistant resumes.
Carlos Finn
Personal Info
Phone: (555) 525-525-525
Email: carlos.finn@gmail.com
Summary
An organized and experienced medical assistant with more than 2 years of professional working experience. I am passionate in providing care to patients by offering modern and advanced patient care and medical techniques. In previous work places, on average I served 30 patients each day.
Experience
Medical Assistant at MEDi Clinic
2019-2021
Monitoring around 30 patients each day (assessing their medical condition, obtaining patients' vital signs and preparing patients for medical treatment
Ordering medical, lab, and x-ray supplies electronically as directed
Assisting physician and nurse with patients care and treatment
Setting up, sterilizing instruments and restocked laundry
Helping to implement quality assurance
Volunteer Medical Assist18ant at FastCare Clinic
2018-2019
Monitoring more than 15 patients per day (taking temperature, blood pressure, pulse to detect abnormalities
Conducting physician referrals
Learning emergency medical technique
Education
Associate Degree – Medical Assistant at BCD College, 2018
GPA: 3.78
Relevant Coursework: physiology and anatomy, medical terminology, phlebotomy, pharmacology, basic surgical assisting, patient care, office administration, clinical courses
Graduation: 2018
Membership: a member of Medical Assistant Association
Key Skills
Taking Vital Signs
Patient Care
Patient Assessment
Recording Patients' History
Phlebotomy Certificate
Administering Injections
Appointment Scheduling
Patient Preparation
Certifications and Achievements
Clinical Medical Assistant Certification
Graduate with High GPA
Language
How to Write a Medical Assistant Resume
You can take the following things into your consideration when writing a medical assistant resume for the first time.
Start writing your resume by composing an attractive profile statement or summary
Prepare two sections to write about your administrative skills and patient care
Choose the correct resume template.
Include your certifications
Emphasize your relevant experience
Skills to Put on a Medical Assistant Resume
As a person who wants to go for a medical assistant position, you need to make sure that you have the following skills and include them on your resume.
Great communication skills. You must be an active listener to understand and record patients' specifications and issues accurately.
Clerical and organizational skills
Medical knowledge to some extent
Sanitation and safety knowledge
Computer skills
Customer Service Skills
Experience Needed by a Medical Assistant
When you are planning to become a medical assistant, you can include some related experience on your medical assistant resume. It is possible for you to be accepted as a medical assistant with your high-school diploma, but most employers prefer candidates who have undergone training or have certifications from accredited programs. Usually those programs last from six weeks until three months.
Kinds of Medical Assistant Resumes
There are several kinds of assistant resumes that you can choose and use as a guidance in writing your own professional medical assistant resume.
Resume Template for  Medical Assistant (Student Entry Level)
Prove that you are a valuable candidate to consider for this position by using this template. There are sections available for you to write your personal details, personal statement, academic qualifications and competencies.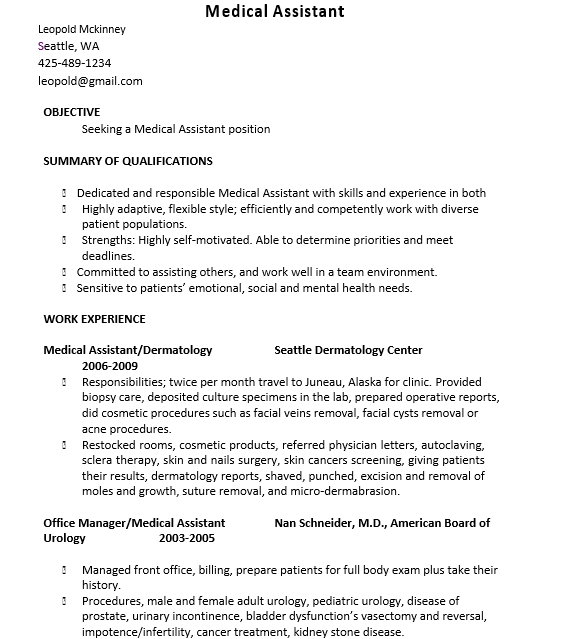 Resume Sample for Certified Medical Assistant
When you already are a certified medical assistant and seeking a job, this template may help you to pursue your dream to become a medical assistant. You can highlight your educational background and your professional experience in the available spaces.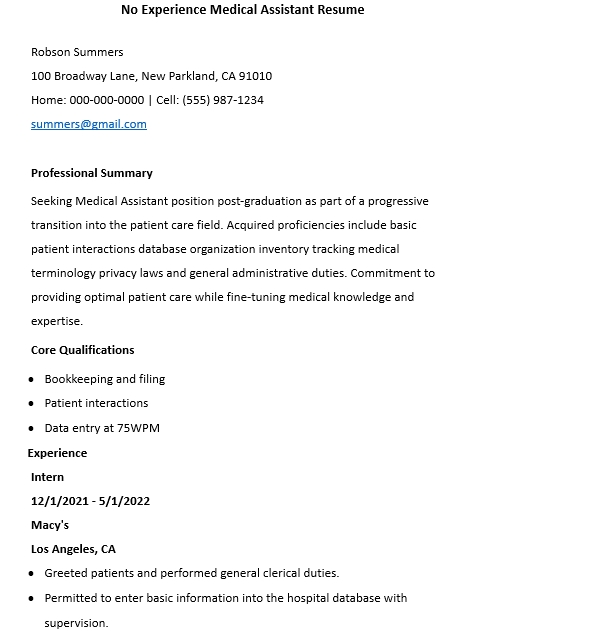 Resume Template for Medical Clinic Assistant
Provided in MS Word format, this template might be the best choice for you since it will be quite easy to adjust the content to suit your personal information. Write down your contact information, resume objective, working history, educational background, volunteering experience and skills in the available spaces.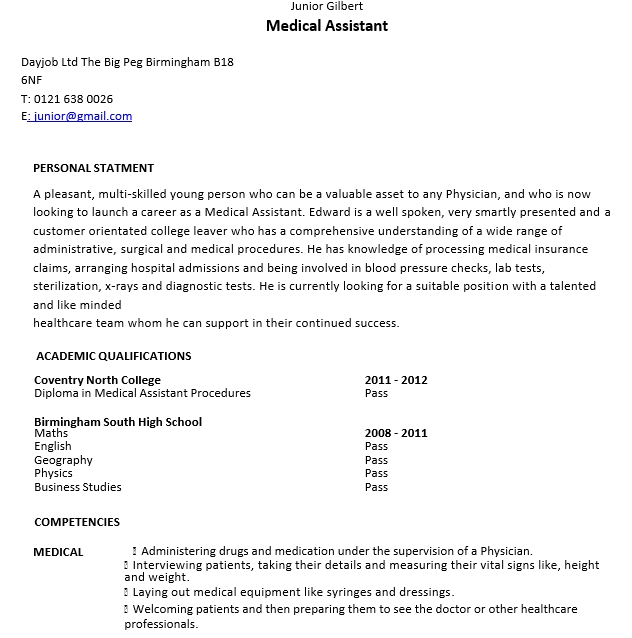 Resume Template for Medical Office Assistant
If you are looking for a position as a medical office assistant, you may want to use this template as your guidance to write your professional resume. All you have to do is to do some modification on its contents such as areas of expertise and professional experience to fit your personal details. Ready in MS Word format, surely you do not need to face many difficulties in editing its contents.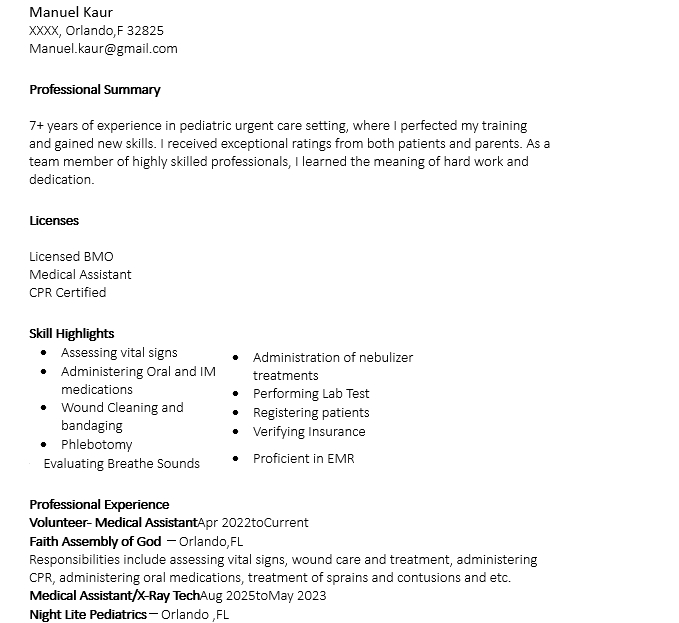 Resume Template for Medical Support Assistant
This template comes in a simple format and it provides spaces for your resume objective, summary of qualification and working experience. Prove that you are eligible for the position by using this template.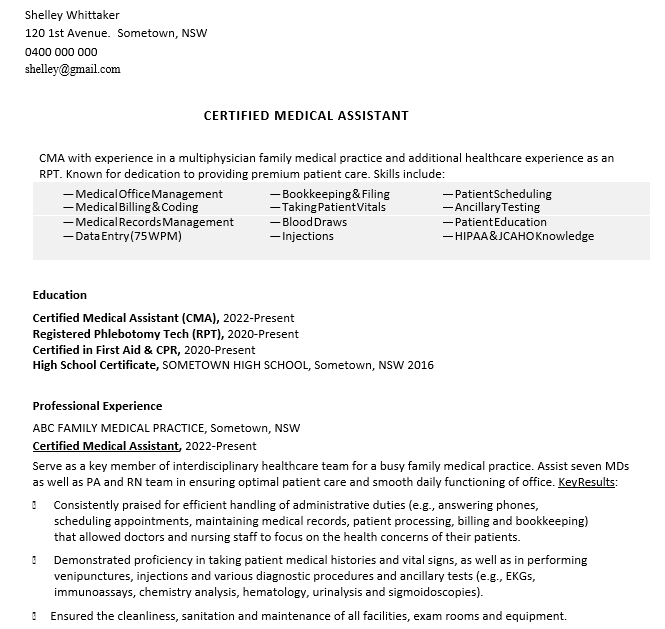 Resume Template for Volunteer Medical Assistant
Having the experience working in this field and wanting to apply for a volunteer position, you can choose this template to write your medical assistant resume. Add your professional summary, licenses, skills, education, training and professional experience in the available sections.
Resume Template for Not Experienced Medical Assistant
If you want to work as a medical assistant but you do not have any professional working experience yet, you can try to use this template. You can focus on writing about your professional summary, core qualifications and experience as an intern. It will also be easy for you to edit because it is in MS Word format.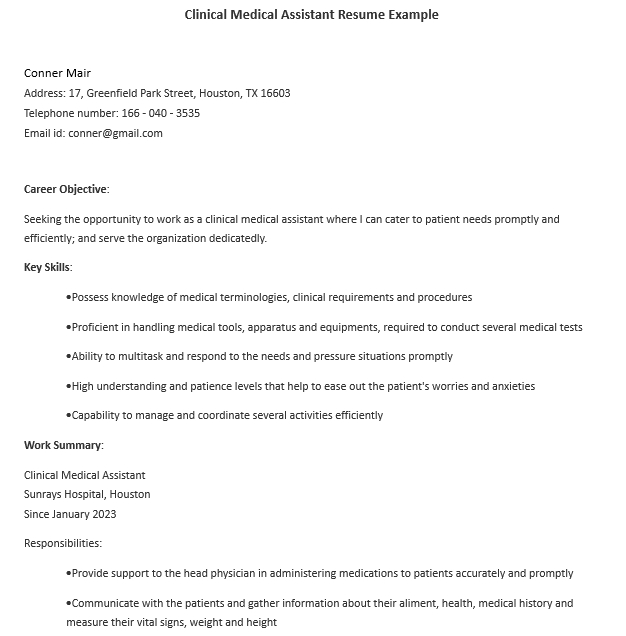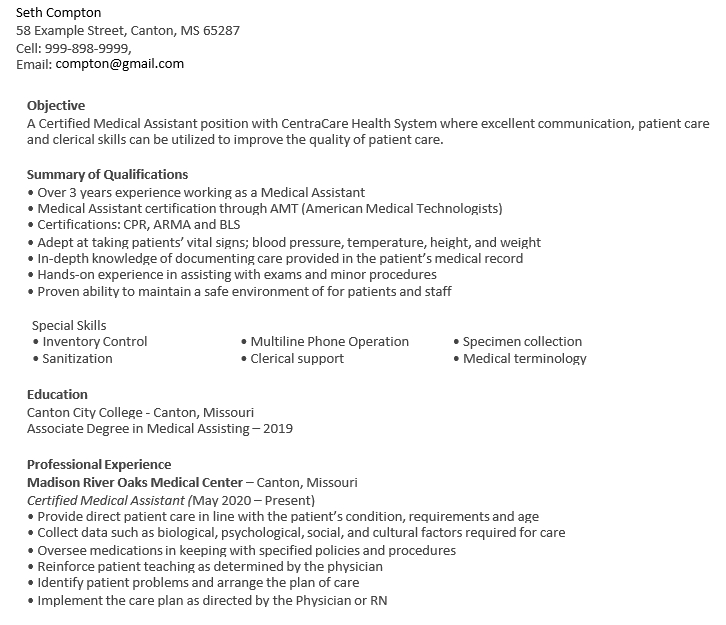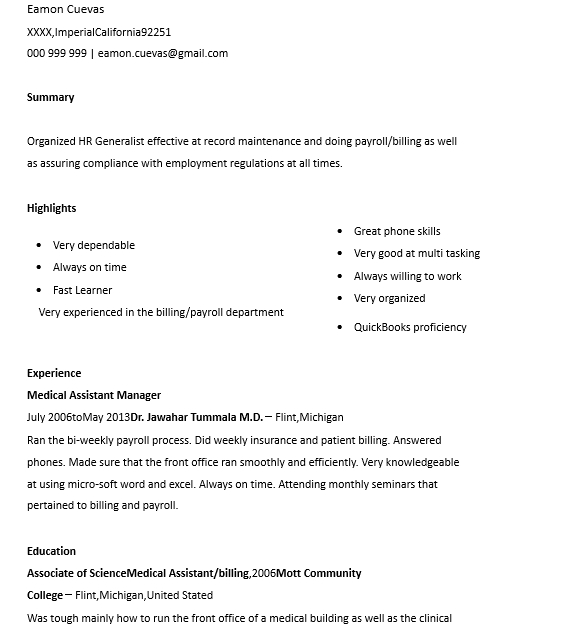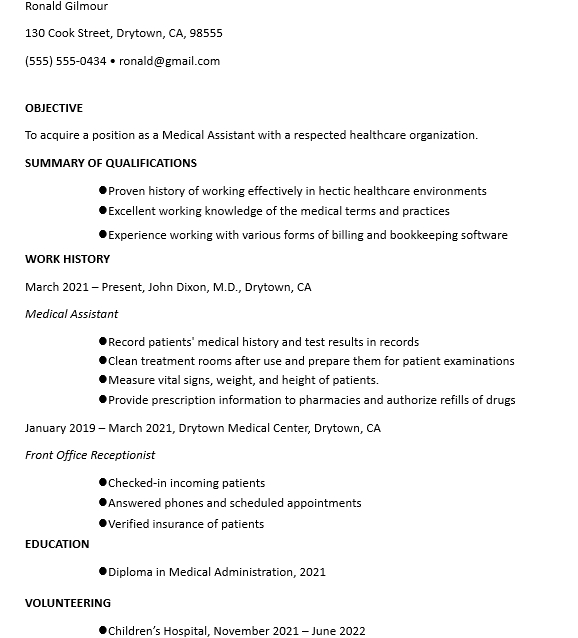 Similar Posts: