How is a florist's job description like? A florist works to sell and organize flowers based on his customers' budgets and tastes. The floral arrangements that he made are usually for weddings, graduation, and other events. To know more about a florist job description, let's check this out.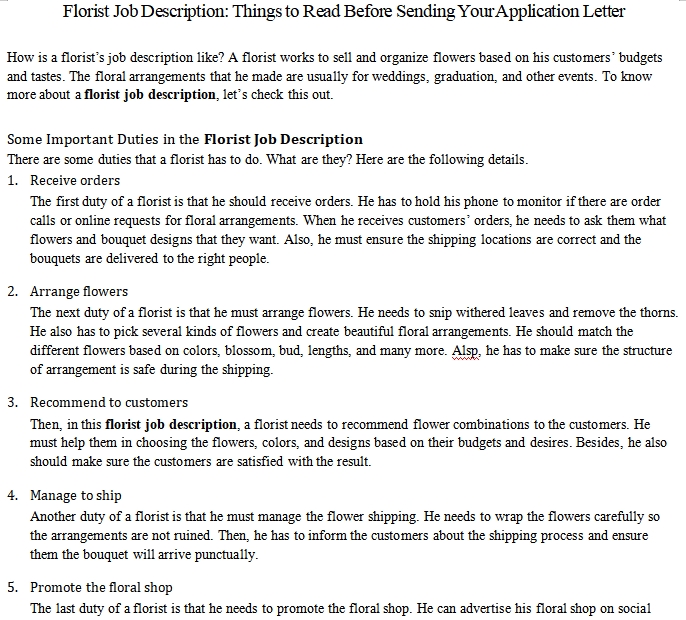 Some Important Duties in the Florist Job Description
There are some duties that a florist has to do. What are they? Here are the following details.
1. Receive orders
The first duty of a florist is that he should receive orders. He has to hold his phone to monitor if there are order calls or online requests for floral arrangements. When he receives customers' orders, he needs to ask them what flowers and bouquet designs that they want. Also, he must ensure the shipping locations are correct and the bouquets are delivered to the right people.
2. Arrange flowers
The next duty of a florist is that he must arrange flowers. He needs to snip withered leaves and remove the thorns. He also has to pick several kinds of flowers and create beautiful floral arrangements. He should match the different flowers based on colors, blossom, bud, lengths, and many more. Alsp, he has to make sure the structure of arrangement is safe during the shipping.
3. Recommend to customers
Then, in this florist job description, a florist needs to recommend flower combinations to the customers. He must help them in choosing the flowers, colors, and designs based on their budgets and desires. Besides, he also should make sure the customers are satisfied with the result.
4. Manage to ship
Another duty of a florist is that he must manage the flower shipping. He needs to wrap the flowers carefully so the arrangements are not ruined. Then, he has to inform the customers about the shipping process and ensure them the bouquet will arrive punctually.
5. Promote the floral shop
Some Important Requirements in the Florist Job Description
If you are interested in this job description, you need to know some of the important requirements below.
1. Have a High School Diploma
The first requirement that you have to fulfill if you want to be a florist is that you have to qualify for a High School Diploma. Besides, it will also be considered if you have a GED certificate.
2. Knowledgable in botany
The next requirement is that you should have a lot of knowledge in botany. As a florist, you must be able to nourish the flowers so they can grow properly. You should understand the plants' nutritional needs and their life spans.
3. Great communication skill
The last requirement is that you must have great communication skills. It is because you assist customers in choosing flowers. Thus, you should be patient to handle their needs.
FAQs:
What is the role of a florist?
A florist has a job to sell and organize flowers based on his customers' budgets and tastes. He usually needs to create floral arrangements on some events such as weddings, graduation, romantic dinner, and other events.
What are the most common duties of this position?
The most common duties are to receive orders, arrange flowers, give suggestions, and other important duties.
What should you do before assigning a florist job description?
You have to consider the duties of a florist if you want to assign it. If you feel difficult to start, you can have a look at the list of requirements on the florist job description above.
To sum up, that is about the important information that you have to put in a florist job description. You can send your CV if you are interested.
Similar Posts: