Dental Assistant Resume
In the practical sense, dentists are commonly assisted by dental assistants for examining patients. To be a dental assistant, one has to own good dental knowledge and how to perform dental procedures. They usually work in a dental healthcare facility, a hospital, or a private dental clinic. Becoming a dental assistant can be a good career choice.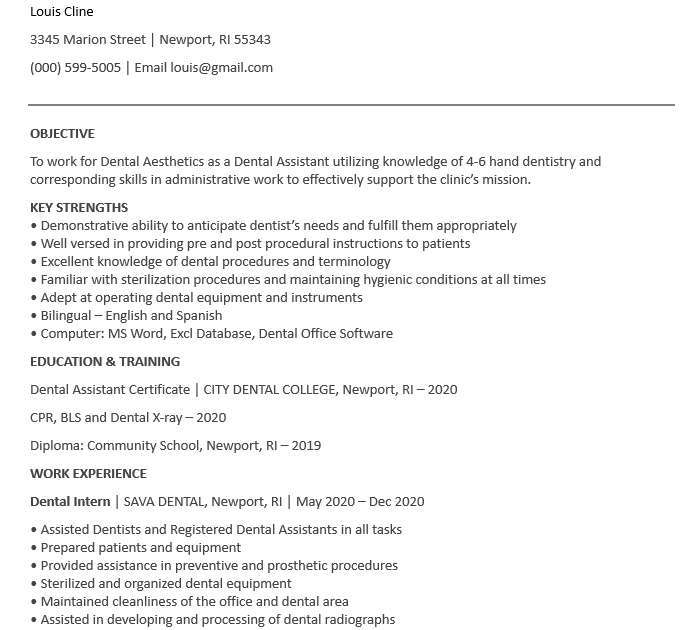 If you are interested in becoming a dental assistant, it's wise to prepare everything beforehand, including a dental assistant resume. This article will guide you on how to write an effective dental assistant resume that will lead to the next hiring process.
Sample of Dental Assistant Resume
In giving you a clear idea of how a dental assistant resume is, this sample is provided for you.
Natalie Jenkins
Personal Info
Phone: (555) 321-321-321
Email: nataliejenkins@email.com
Summary
A trained and certified dental assistant with three years of experience in providing the patients' best dental treatment and assisting dentists in performing dental procedures. With good communication skills, I have facilitated the recovery process of numerous patients with different dental treatments from tooth cleaning and extractions, fillings, and performing dental implants and braces.
Experience
Dental Assistant at ABC Family Clinic
2017 – 2020
Welcoming patients and accompanied them to the treatment room
Checking patients' medical history and dental problems
Assisting dentists in examining the patients with necessary dental equipment
Cleaning and preparing the room and equipment beforehand
Performing x-rays for patients
Giving information regarding the dental problem prevention
Education 
Registered Dental Assistant, XYZ Dental Academy
2016
GPA: 3.80
Relevant Coursework: Radiography, Oral Anatomy, Clinical Dental Assisting
Graduation: 2016
Membership: Dental Assistant Association, Dental Assistant Alumni Community
Key Skills
Excellent knowledge of dental procedures
Strong communication skills
Excellent organization skill
Good management skill
Patience
Achievements
Best Customer Service of the Month (voted by the customers), June 2018, February 2019, August 2020
Best Internship Member in Providing Customer Service (voted by employees), 2016
Language
How to Write Dental Assistant Resume
After reading the sample resume for a dental assistant, we tell you how to write a good resume for a dental assistant.
Read the job offering or advertisement correctly. Know which qualifications they are looking for, whether it's in an entry-level position or an experienced one. This is important to match with the qualifications you have.
Choose the best resume format. You have a chronological resume and a functional resume to choose from.
Include the information that showcases your strengths, it can be your experience, skills, and education.
Only add relevant information that helps the employers identify your contributions as a dental assistant.
Don't go over with misleading information that doesn't represent yourself.
Proofread. We always stress this thing as it shows how professional your resume is. Check on the grammatical errors, misspellings, and capitalization.
Information to be Written for Dental Assistant Resume
In writing an effective dental assistant resume, there is information that cannot be missed. We collect the list of things you need to include for your resume.
Personal contact. It always comes first. Name, address, email address, and phone number are enough.
Strong career objective or professional summary.
Work-related experience
Relevant key skills for dental assistant
Educational background
Additional activities that are relevant like training, seminar, volunteer work
Achievements and awards, if it's available
Writing an Inexperienced Dental Assistant Resume
Writing a dental assistant resume for a professional application is common, but what if writing a resume for an inexperienced one? What's there to write when you have less to share? Here are the things you can do to make your inexperienced resume still looks stunning.
Create a powerful yet reasonable career objective. Tell the employers how you will see yourself in the near future by working with their institution. Focus on what your goals are and how you will contribute to the institution's growth
Focus on your strength. If it's your skills, go for it. If it's about your volunteer work, explain it.
Educational background and GPA. This can help to boost your value to the employers.
Qualifications. If you earned any certificates or licenses, you may add information about it.
Crucial Skills to be Put on Dental Assistant Resume
If you are confused about what skills to include among all the skills you have, this is a good list of the skills that you can write on your dental assistant resume.
Strong organizational skill
Excellent communication skill
Professional
Able to work under pressure
Detailed-oriented
Compassionate and patience
Kinds of Dental Assistant Resume Templates
Now, things get easier with the availability of resume templates that can provide the best resume format for you and the job you are applying for.
Ms. Word Dental Assistant Resume
This template works fine for general dental assistants, whether you are applying for an entry-level position or an experienced one. Written in Ms. Word, it saves your time in making some changes on it.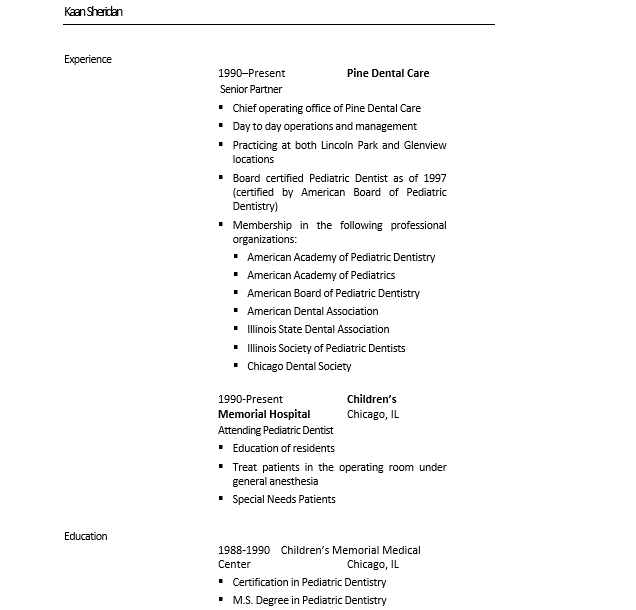 Students Dental Assistant Resume Free Download
Use this template if you are still a student and are ready to find some experience as a dental assistant. It's good to highlight your strengths and qualifications. Plus, it's free to download.
Best Dental Assistant Resume Free Download
If you want to have a professional template with detailed information about the work experience, this resume is what you look for. With a list of summary qualifications, this resume has a well-structured design to manage each section.
Entry-Level Dental Assistant Resume Download
If you are applying for an entry-level dental assistant, this template will help you to impress the employer. Showing internship experience, key strengths, and relevant skills, this resume will be a good choice.
Pediatric Dental Assistant Resume in Ms. Word
Sometimes, you don't need a sophisticated design to cover the information. This template employs a minimalist formatting style with a thorough list of your experience.
Free Dental Assistant Resume
This basic dental assistant template allows you to showcase your qualifications and experience the most. It's free to download and easy to edit.
Dental Technician Resume
This template is designed for a dental technician to specifically focus on the relevant skills needed. You will read the sample of effective profile summary by changing slightly to suit your condition.
Dental Secretary Resume
If you want to apply for a dental secretary, this template works best for you. It is easy to edit as it uses Ms. Word file format and applies the neat formatting style.
Dental Hygienist Resume
This template is particularly designed for a dental hygienist. It provides a comprehensive profile summary and professional experience that boost your value to the employer.
Medical Dentist Assistant Resume
This template is applicable in most cases. With a good formatting style and formal language, this template provides a professional look for your resume.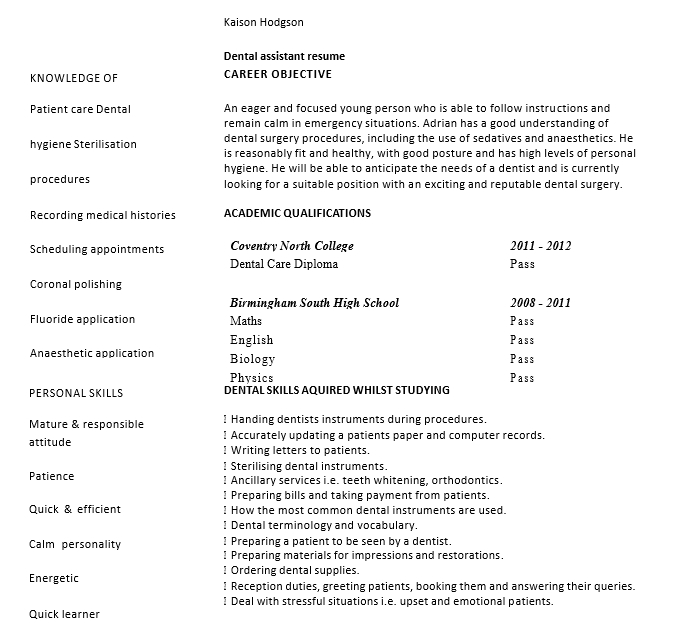 Similar Posts: