Veterinary technician generally works in the hospitals, veterinary practices, zoos, and research laboratories. They have to perform certain procedures such as draw blood, assist the medical stand, and also administer the medication. This job is also called the Licensed Veterinary technician a.k.an LVT. For further reading, follow our article about the veterinary technician job description bellow.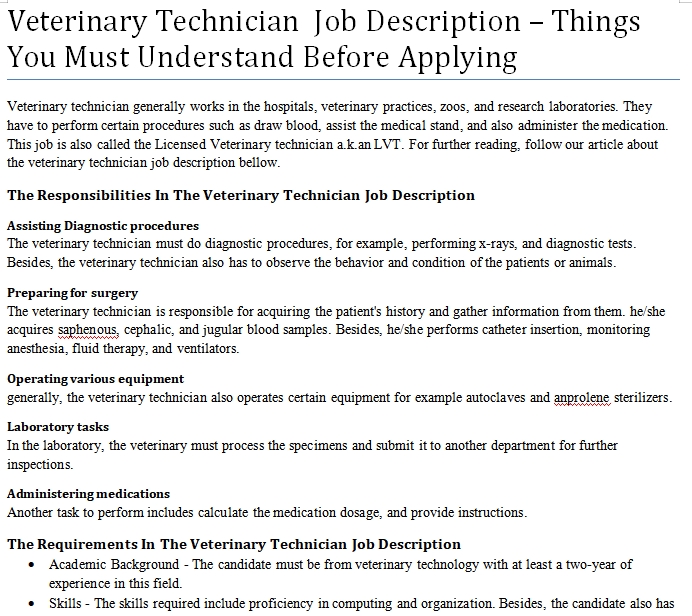 The Responsibilities In The Veterinary Technician Job Description
Assisting Diagnostic procedures
The veterinary technician must do diagnostic procedures, for example, performing x-rays, and diagnostic tests. Besides, the veterinary technician also has to observe the behavior and condition of the patients or animals.
Preparing for surgery
The veterinary technician is responsible for acquiring the patient's history and gather information from them. he/she acquires saphenous, cephalic, and jugular blood samples. Besides, he/she performs catheter insertion, monitoring anesthesia, fluid therapy, and ventilators.
Operating various equipment
generally, the veterinary technician also operates certain equipment for example autoclaves and anprolene sterilizers.
Laboratory tasks
In the laboratory, the veterinary must process the specimens and submit it to another department for further inspections.
Administering medications
Another task to perform includes calculate the medication dosage, and provide instructions.
The Requirements In The Veterinary Technician Job Description
Academic Background – The candidate must be from veterinary technology with at least a two-year of experience in this field.
Skills – The skills required include proficiency in computing and organization. Besides, the candidate also has to be strong at communication, multitasking, and affinity.
For each country, the certification is supposedly different. Mostly the certification requires a degree in the same field with experience and completion in certain requirements. The specialty recognized by the organization includes clinical pathology, clinical practice, clinical; care, anesthesiology, surgery, behavior, nutrition, dentistry, and zoo.
Additionally, the veterinary technician must have a strong physical condition because this job requires them to lift and move the patients or animals.
FAQs:
What Are The Veterinary Technician's Prominent Roles?
The role of the veterinary technician is to give support to patients before surgery. They will perform various procedures and provide critical care nursing, coordinate their care, etc before and after the surgery.
What Should You Prepare Before Applying As A veterinary Technician?
To be successful as a veterinary technician, you have to be compassionate and meticulous in providing care for patients. You are required to be empathetic, detail-oriented, and motivated.
What Are The General Tasks Of A veterinary Technician?
Generally, the veterinary technician is assigned to provide care nursing, performing phlebotomy duties, and provide injections such as intravenous (IV), intramuscular (IM) and subcutaneous (SQ). Also, the technician must discuss the treatments and diagnostic with the patients.
To sum up, the veterinary technician requires the candidate to have a certain academic background and soft skills. Experience is more preferred by employers because this indicates you are eligible to work in this sector. We hope the summary of a veterinary technician job description above can help you prepare your interview. We wish you a good luck for your future career.
Similar Posts: