Personal Trainer Resumes
We have seen how a personal trainer has become a popular career choice for people over the past years. It is related to more people are interested in going to the gym and spending time working out, so the demand for a personal trainer is also increasing. This can be a good choice of career especially for those who have an interest in doing sports.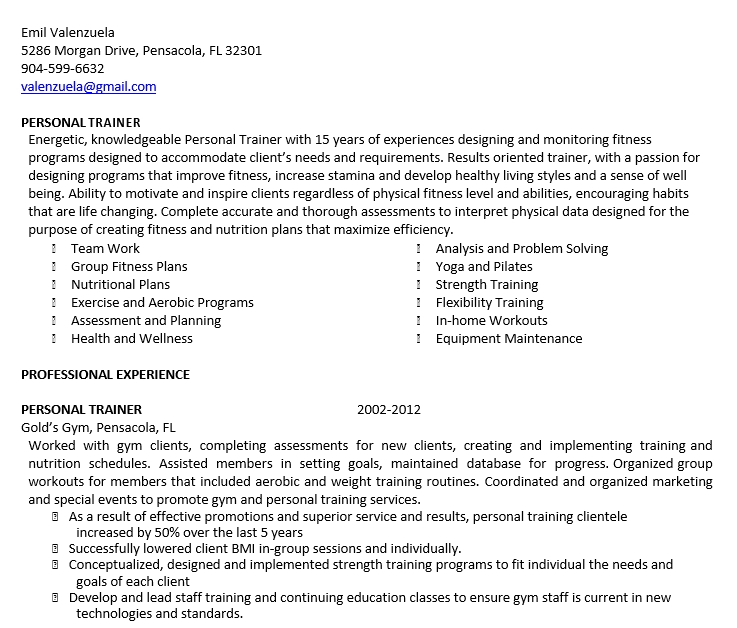 To be a personal trainer, of course, someone has to have technical knowledge of the exercise program. Also, they need to have perfect personal trainer resumes that give a good summary of their skills and experience.
Freelance Personal Trainer Resume
To show you a perfect personal trainer resume, here we give a sample resume that is designed for a freelancer below.
Landon Oslo
Personal Info
Phone: (555) 123-456-789
Email: landon.oslo@email.com
Summary
A highly motivated personal trainer with a certification of ACE is looking for a career opportunity at Stay Fit Gym as a freelance personal trainer. I helped clients in assisting their fitness program planning to achieve their desired goals effectively and safely. I have excellent communication skills with exceptional knowledge of fitness and exercise programs that would be beneficial for my work.
Experience
Personal Trainer at ABC Sports Fitness
2018 – 2020
Conducting clients' body checking condition from the weight, height, and any health problems that may get in the way of fitness program
Assisting clients in achieving their desired fitness goals
Preparing personalized fitness program planning to each client with different exercises and diet
Preparing the fitness equipment that is used for the fitness program
Demonstrating how to do the exercises to avoid injuries
Keeping the clients' records and progress of the fitness program
Managing 10-14 clients at once, both in the continuous program or seasonally
Increasing the positive reviews from the clients by 40% and successfully helping 95% of clients to achieve their fitness goals
Education 
Bachelor of Health and Physical Science at University of Hopkins, 2014 – 2017
GPA: 3.80 (Excellence Awards for Student)
Relevant Coursework: Training on Certified Personal Trainers, Balanced Nutrition for Your Better Health Online Course, Fitness Coaching Public Speaking
Graduation: 2017
Membership: Personal Trainer Community, Sports Club, Balancing Diet for Fitness Club
Key Skills
Strong fitness program knowledge
Strong exercises program design and planning
Excellent health instructions
Coaching
Exceptional communication skills
Nutrition principles
Weight management
Organized and time-management skills
Achievements and Certifications
Certified of ACE (the American Council of Exercises)
Certification of Balanced Nutrition Program for Personal Trainers
Students Excellence Awards
Language
English
Dutch
Passive Korean
How to Write Personal Trainer Resumes
We collect some information on how to write personal trainer resumes for anyone that finds it difficult to do, especially those who have never done it before.
Read the job description. It is crucial to collect information as much as possible, regarding the relevant skills, the location when the career opportunity is opened, the related keywords, and others
Choose the resume format that best represents your abilities
Use related keywords to the job
Proofread before sending out the resume
Tips in Writing Skills on Personal Trainer Resumes
The skill section is considered to be a tricky part of the resume. People are mistakenly listing everything down on the personal trainer resumes, while there are ways to make it more effective.
Do You Need Certifications to be Personal Trainers?
There is no exact requirement on whether someone has to be certified to be a personal trainer or not before starting the career. However, it is surely beneficial if you have the certifications that are related to your career. Not having the certifications may take you a long time to get hired, or if you have you will not get the insurance as other certified personal trainers have.
Kinds of Personal Trainer Resumes
There are numerous personal trainer resumes available online. You can use it to save your time but still get a professional resume.
Entry-Level Personal Trainer Resume
Freshers can use this resume template as it is designed specifically for an entry-level position. It highlights the relevant skills for personal trainers and the relevant additional experiences.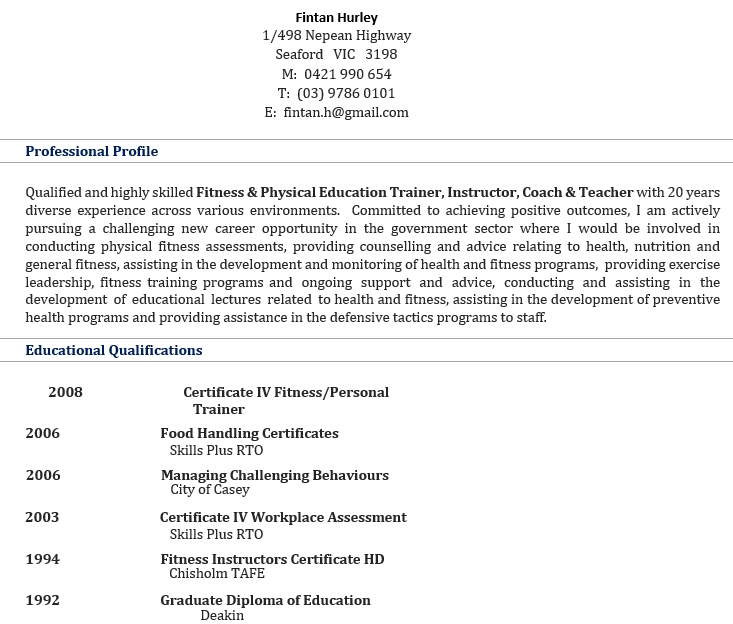 Functional Personal Trainer Resume Template
This resume template is designed in a functional format that is suitable for applicants who have less experience or no experience at all. It promotes the applicants by having a strong career objective and a list of relevant skills and qualifications.
Chronological Personal Trainer Resume
For the applicants who are experienced, this chronological resume will be a good option to showcase the experience and professional achievement earned. It also has a special section of the relevant qualifications.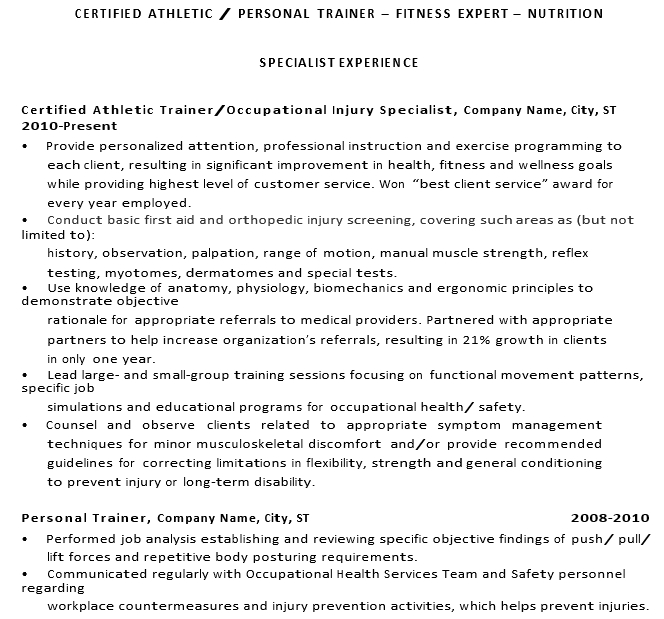 Sample Personal Trainer Resume
This resume template is applicable for beginners or professionals. It is designed in a simple resume format with well-structured information to make it easy for the readers to find the information.
Gym Personal Trainer Resume
To be a gym personal trainer, this resume template will be suitable for promoting your skills. It is written professionally with a formal language and a modern design that shows your enthusiastic side.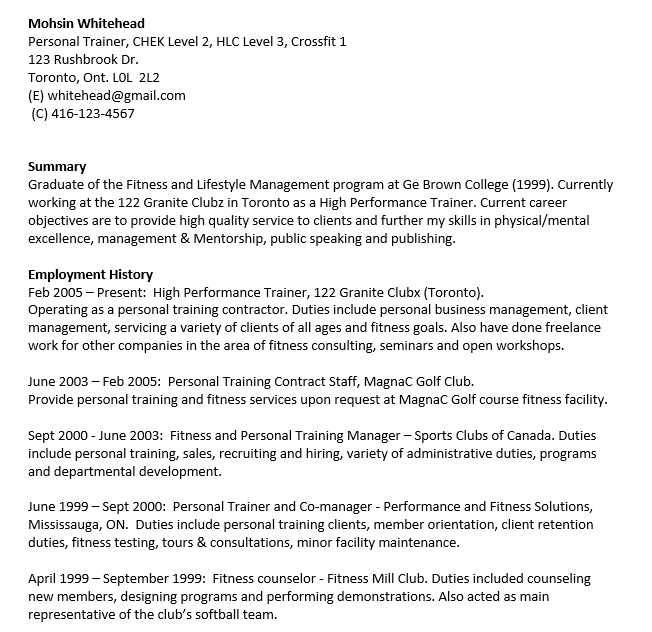 Student Personal Trainer Resume
If you're a student but also pursuing a career as a personal trainer, this resume template will give you the best alternative to showcase your relevant academic qualification and skills too.
Sports Personal Trainer Resume
To be a sport personal trainer, this resume template is what you're looking for. Written in Ms. Word, this resume is easy to edit and free to download.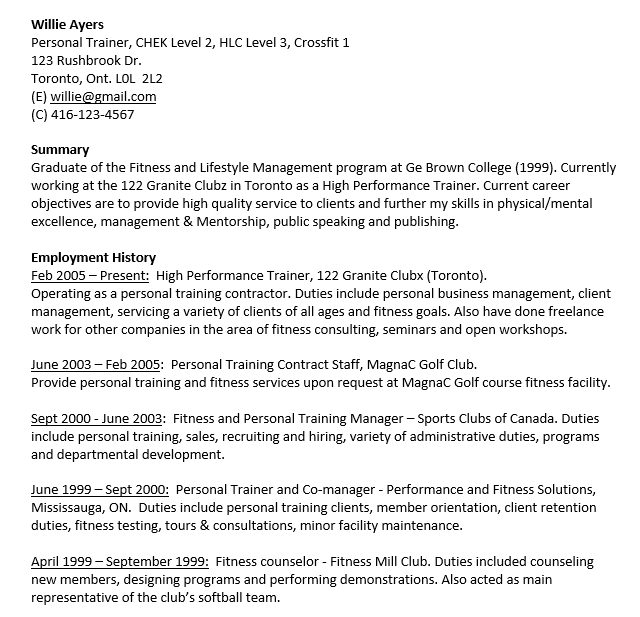 Fitness Personal Trainer Resume
This resume will make your resume stands out from any other fitness personal trainer. It creates a good professional career summary that persuades the employer to consider giving the job to you.
Certified Personal Trainer Resume
If you're certified to be a personal trainer, this resume template will facilitate you in promoting yourself by highlighting the certifications and qualifications that you have along with the professional summary and experience.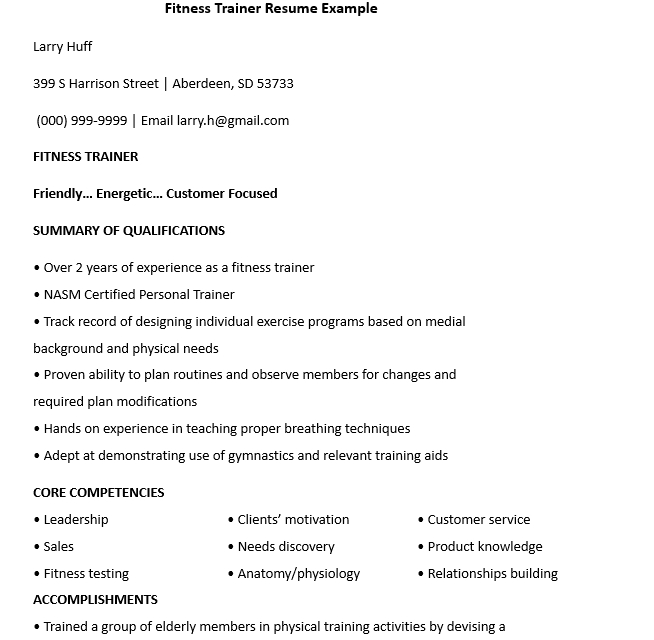 Freelance Personal Trainer Resume
To start the career, you may choose to be freelance as a personal trainer. This resume template is created in simple design but it allows the applicants to have a thorough information section to represent themselves.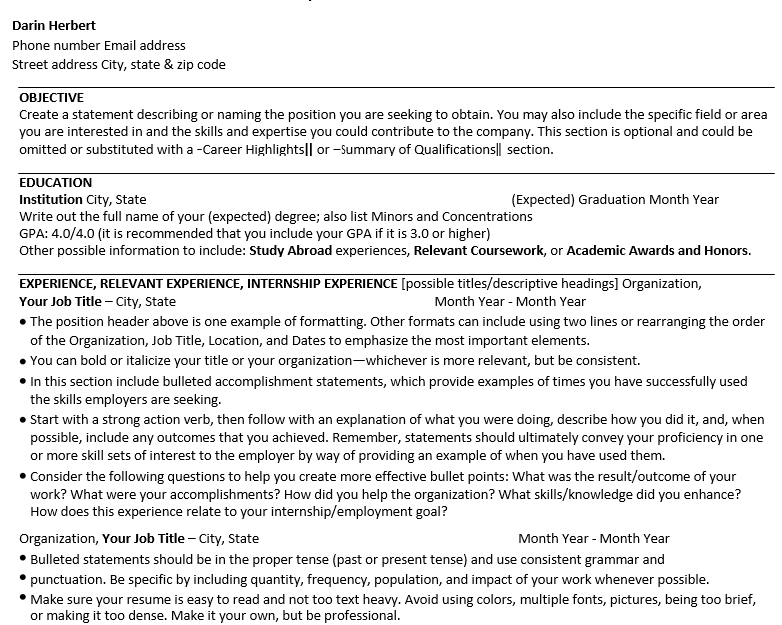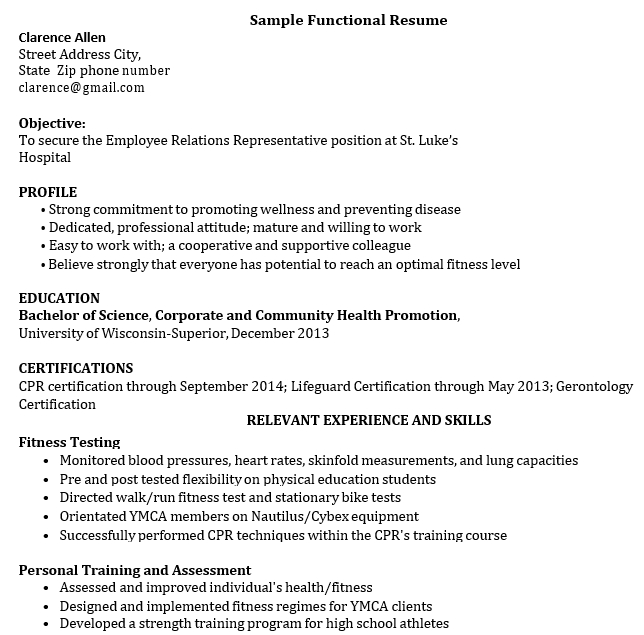 Similar Posts: