Have you heard about food preparation worker? They are responsible for preparing and performing other ingredients preparation. They also assist some cooks, chefs, and other kitchen teams. They usually work in hotels, cafeteria, restaurants, school, hospital, and grocery stores. Check out more about the requirements and duties of the food preparation worker job description down below!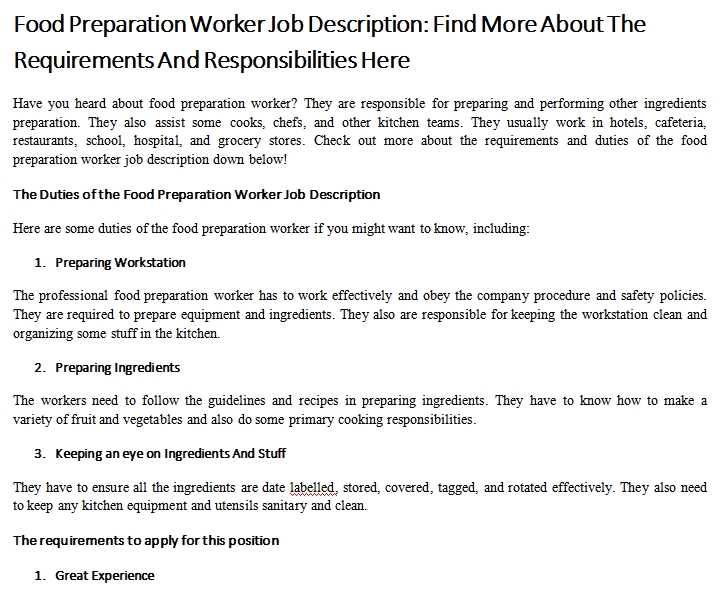 The Duties of the Food Preparation Worker Job Description
Here are some duties of the food preparation worker if you might want to know, including:
1. Preparing Workstation
The professional food preparation worker has to work effectively and obey the company procedure and safety policies. They are required to prepare equipment and ingredients. They also are responsible for keeping the workstation clean and organizing some stuff in the kitchen.
2. Preparing Ingredients
The workers need to follow the guidelines and recipes in preparing ingredients. They have to know how to make a variety of fruit and vegetables and also do some primary cooking responsibilities.
3. Keeping an eye on Ingredients And Stuff
They have to ensure all the ingredients are date labelled, stored, covered, tagged, and rotated effectively. They also need to keep any kitchen equipment and utensils sanitary and clean.
The requirements to apply for this position
1. Great Experience
The workers must have a lot of experience in kitchen production, at least two years. The candidate must at least have get a GED or high school diploma.
2. Having the Ability To Follow The Guidelines
They need to have excellent knowledge or understanding of ingredients preparations is fundamental. They need to follow the guidelines and recipes properly and effectively. It would be so much better if the workers also have an excellent understanding of foodborne illnesses and food allergies.
3. Having Ability To Work In Kitchen All Time
The professional food preparation has to know some necessary skills that related to their job, especially basic mathematical skills and knife handling skills. They have to be proficient in their communication skills for both verbal and written. They also need to be available to stay work shift on over weekends and public holidays.
FAQs:
1. What is a food preparation worker's job? 
A food preparation worker is someone who energetically assists several kitchen workers by providing and preparing food ingredients. The preparation worker works with another kitchen team to make sure customer satisfaction and its retention.
2. What should the institution do before putting on the food preparation worker job description?
It would be better if you have a strong understanding of the stability and quality of products or ingredients. The candidates of this job have to comply with the production rules by following official and standardized recipes. The candidates of this job have to be talented, enthusiastic and have stamina. Those are things that you should consider before putting on the job description of a food preparation worker.
3. What did the fulfilment associate do in their office? 
In general, the food preparation worker has to do such tasks related to preparing ingredients including wash, slice, chop, peel, trim, and grate any vegetables and fruits. They also weigh, measure, and mix a variety of ingredients. The person also will slice, cut, grind any meats. In other words, a professional food preparation worker job description is someone who ensures all ingredients are rotated and stored correctly to maximize the freshness of ingredients.
Similar Posts: