A dermatologist is a medical practitioner who specializes in skin health. He or she examines patients with their conditions of skin and overviews the dermatologist treatment progress. A dermatologist job description is responsible for different tasks and duties. In this article, we will talk more about the dermatologist job description.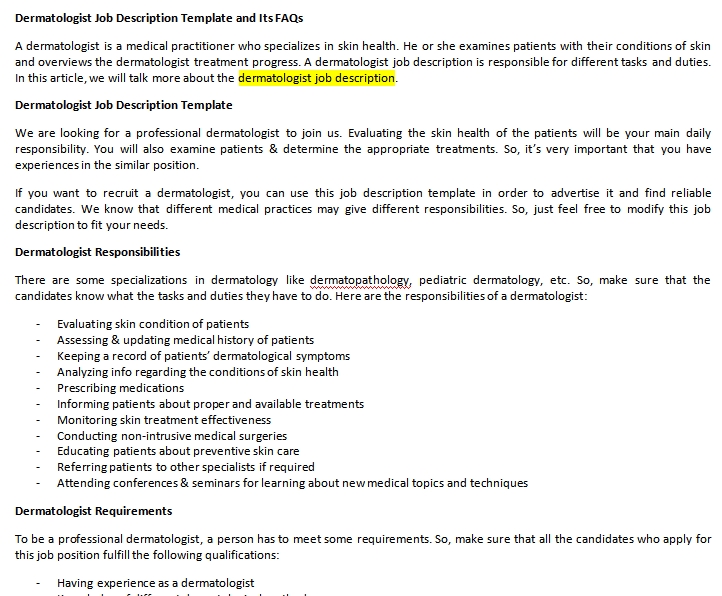 Dermatologist Job Description Template
We are looking for a professional dermatologist to join us. Evaluating the skin health of the patients will be your main daily responsibility. You will also examine patients & determine the appropriate treatments. So, it's very important that you have experiences in the similar position.
If you want to recruit a dermatologist, you can use this job description template in order to advertise it and find reliable candidates. We know that different medical practices may give different responsibilities. So, just feel free to modify this job description to fit your needs.
Dermatologist Responsibilities
There are some specializations in dermatology like dermatopathology, pediatric dermatology, etc. So, make sure that the candidates know what the tasks and duties they have to do. Here are the responsibilities of a dermatologist:
Evaluating skin condition of patients
Assessing & updating medical history of patients
Keeping a record of patients' dermatological symptoms
Analyzing info regarding the conditions of skin health
Prescribing medications
Informing patients about proper and available treatments
Monitoring skin treatment effectiveness
Conducting non-intrusive medical surgeries
Educating patients about preventive skin care
Referring patients to other specialists if required
Attending conferences & seminars for learning about new medical topics and techniques
Dermatologist Requirements
To be a professional dermatologist, a person has to meet some requirements. So, make sure that all the candidates who apply for this job position fulfill the following qualifications:
Having experience as a dermatologist
Knowledge of different dermatological methods
Ability for complex information analization
Active skills of communication
Ability for explaining medical terms to patients effectively
A compassionate and resilient personality
Good attention to details
National medical license
Medical science's degree
Residency in dermatology
Dermatologist FAQs
What does a dermatologist do in a medical practice?
A dermatologist diagnoses skin issues, from mild ones to severe ones. He or she conducts screening & skin evaluations as well as analyzes the medical history of patients to determine proper treatments. He or she also oversees how effective the dermatological treatments are.
Can I edit the posted dermatologist job description here?
Yes, you can. Everyone can use this job description and is allowed to edit it. In fact, this job description template is customizable. So, you can adjust it to fit your needs.
Do you have interview questions for a dermatologist?
In the recruitment process, you may need to interview the candidates who apply for this position. So, this web does not only provide the dermatologist job description but also some interview question samples. You can use them to interview the candidates to make sure that you find the best one.
Similar Posts: