Chef Resume Template
When someone has a dream to be a chef, he or she must have a great lifestyle who always respects foods and the person who will eat them. Besides, being a chef is something honorable that serving a customer with a good brings satisfaction. If you are a person who has a strong passion to work in this industry, you need to get prepared with everything to convince the employer. The simplest thing to do is using a professional chef resume template. Check also our simple tips and example on how to write a resume properly.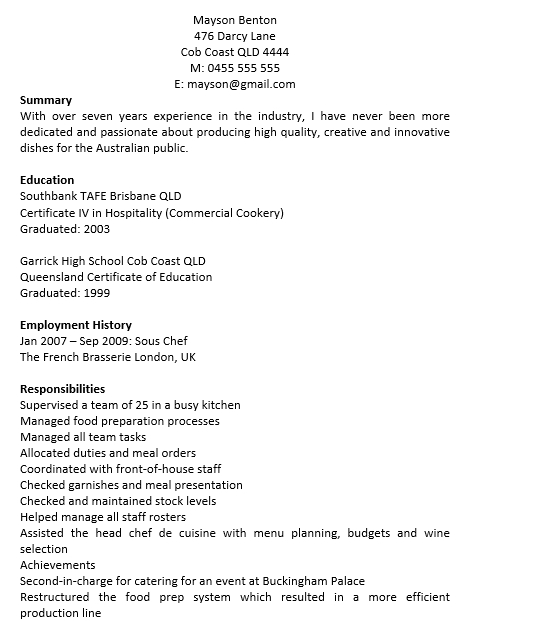 Sample of Chef Resume
David Foulcher
Personal Info:
Phone: (987)123-456-987
Email: david.foulcher@gmail.com
Summary 
Detail-oriented and excellent time management cook with 5+ years experience in the kitchen environment. Received 5 stars rating for culinary satisfaction according to national rating. In search of an advanced culinary career in Cempeda Restaurant as a chef.
Working Experience
Chef 
April 2017-January 2021
Koi Restaurant, New York, NY
Key Responsibilities:
Cooked various menu items efficiently
Coordinated with the wait staff and other helpers to know about the menu changes and special requests.
Assisting the chief assistant in auditing the stocks
Coordinating with the restaurant manager in budgeting
Key achievements:
Reduced the food waste by 15% by improving customer satisfaction and stock auditing
Reduced the order-to-table by 20% by implementing a new order flow system.
Cook Assistant 
March 2015-December 2016
Prepared all the food stocks for cooks
Properly cleaned and sanitized the food, equipment, and places based on the SOP.
Maintained the cooking utensils, cutting boards dishes, and others.
Assisted cook in doing meal preparation from peeling, cutting, cleaning washing, preparing meat and poultries, etc.
Transfer all ingredients from storage to kitchen according to instructions.
Education 
Diploma in Restaurant and Culinary Management
Institute of Culinary Education, New York, NY
Completion: 2014
GPA: 3.6
Relevant Coursework: Asian dishes, Middle East Cooking, Sushi Principles, Ramen, Cooking Management, Finance, and Food safety
Membership: Ramen Enthusiast Club
Key Skills
Shushi Cutting
Infrared Salamander Broiler
Restaurant Budgeting
Interpersonal
Time Management
Communication
Food Safety
Awards:
Favorite Dishes for Fairy Tale Challenge In Kitchen Hell Season 2, 2018
Language:
English
Japanese
Mandarin
Italian
How To Write An Outstanding Chef Resume?
Writing a resume is similar to the regular one. However, of course, there are some important to underline for this position.
Resume objective – In writing a resume objective, make sure you don't write a too-long paragraph. This is a summary of your profile and this part is very important. Most hiring managers only read this part so make sure in the short paragraph, you only include the most important thing. 2-4 sentences are enough for a resume objective.
Experience – Only include the most relevant experience on the resume.
Display your certification – The fastest way to get any attention is to display your certifications and your skills. You can write it down on the resume objective and put its detail in the education section.
Action verbs – For a punchy resume, you have to use action verbs such as accomplish, provide, develop, allocate, etc. These verbs make your resume more professional.
What Are The Main Signs Of A Competent Chef?
Becoming a chef is not easy because this job is very tiring and requires strong dedication and energy. Some of the top skills that make you look like a competent chef are like having organization, time management, leadership, teamwork, cooking technique, and creativity skills. Besides, you have to master the art of being calm as this position has strong pressure.
What Are The Technical Skills To Have As A Chef?
The most technical skills to have if you want to be a professional chef are knife, making stock, creating the sauce, egg expert, meat, poultry, fish, vegetable, and kneading skills. You are also required to have strong knowledge of safety standards.
Kinds of Chef Resume Template You Must Try
We have endless options about resume templates that you can download for free, including the chef resume. Here are some of the best:
Authentic Chef Resume Template
For you who are seeking a good resume template, this one is a great choice. This template brings a simple design yet looks elegant. You can write down your qualifications in chronological order.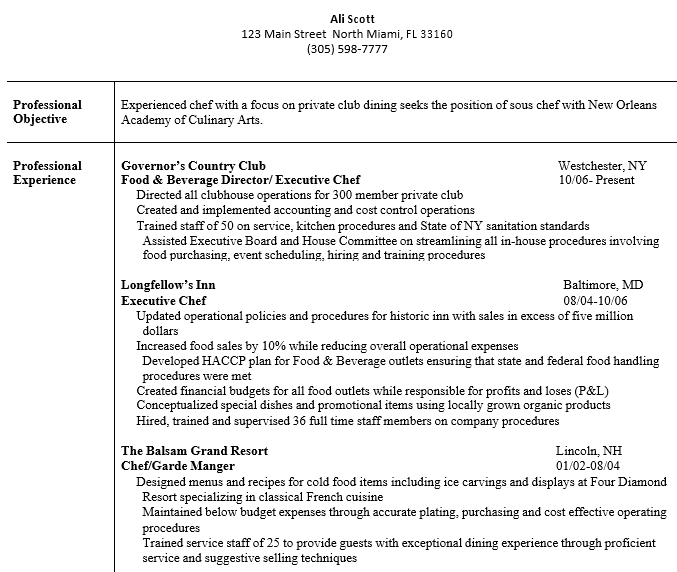 Chef Resume Sample In Word Format
If you are looking for an editable template, this cook resume should be your best option. This is a well-designed resume template that can be easily customized. It is perfect for professionals who are looking for a new career.
Professional Chef Resume Template
For a professional like you, you must not waste the chance by making small mistakes, especially writing a lame resume. If you are seeking a good template, this one can help you showcase your best skills.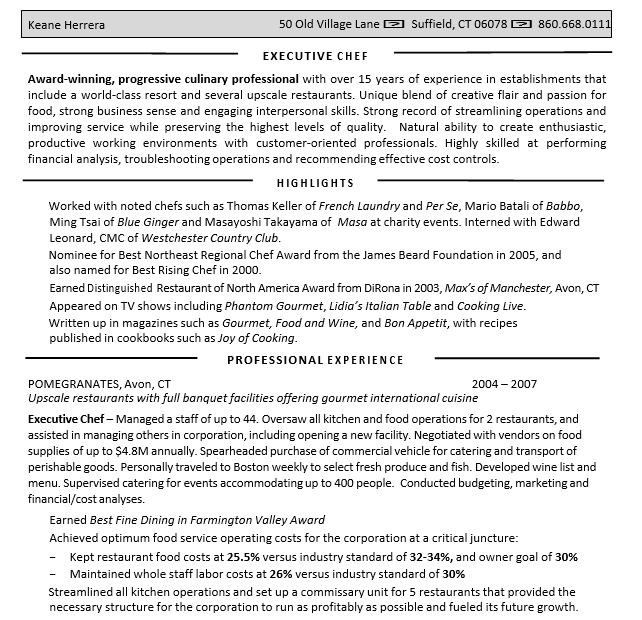 Simple Design Resume Template
Download this premium template for free. You can suit this template based on your preference. This template helps you highlight your important values.
Printable Experience Resume Sample
For you who are seeking a template that is printable and editable, this template is the best choice. It is an eye-catching template that can highlight your skills as an experienced chef. It is classy and simple!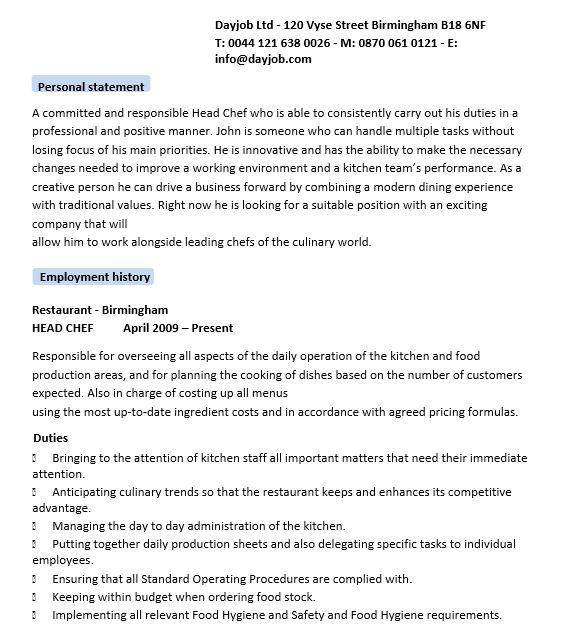 Chef Resume Tutorial Template
If you are seeking a tutorial that is also editable, this template provides you good guidance for all of you who have just begin job hunting. Impress the employer and display your best skills using this template!
Chef Resume MS Word
Using MS. Word is the easiest way to write a resume. This template is editable in some software such as Google Docs or Word Pad. You can learn from its example and edit it at the same time. And directly on this document. So you don't have to do copy and paste which we know is a daunting task.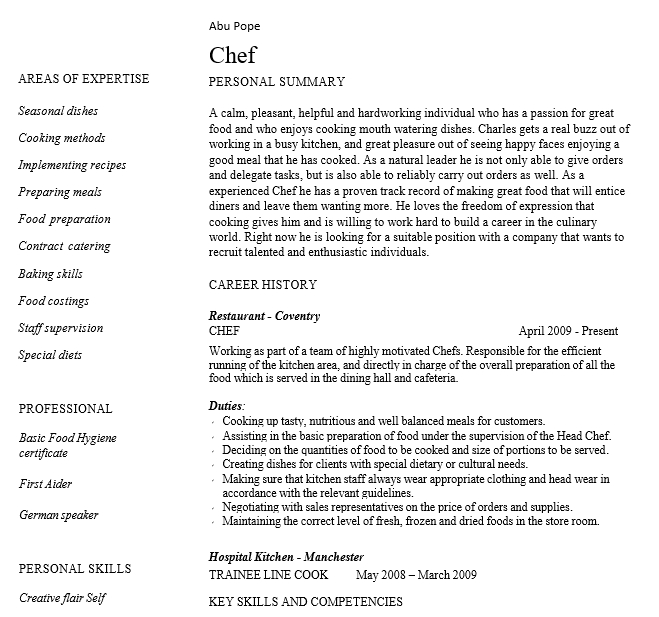 Chef CV Sample Doc
The additional template that you need to try is this CV. This template is designed in chronological order which is very effective, with the resume objective at the top. It will make the hiring manager feel easier to read your profile and make your chance bigger!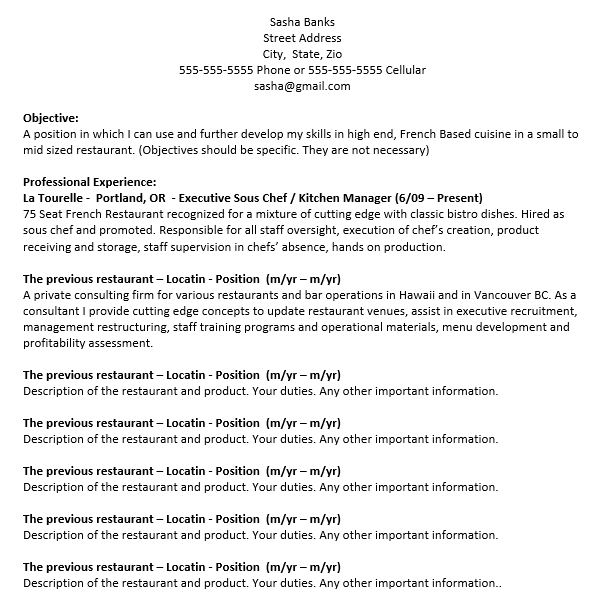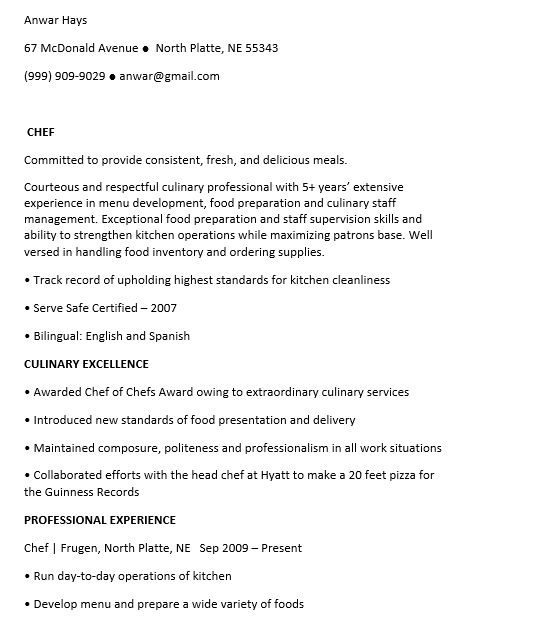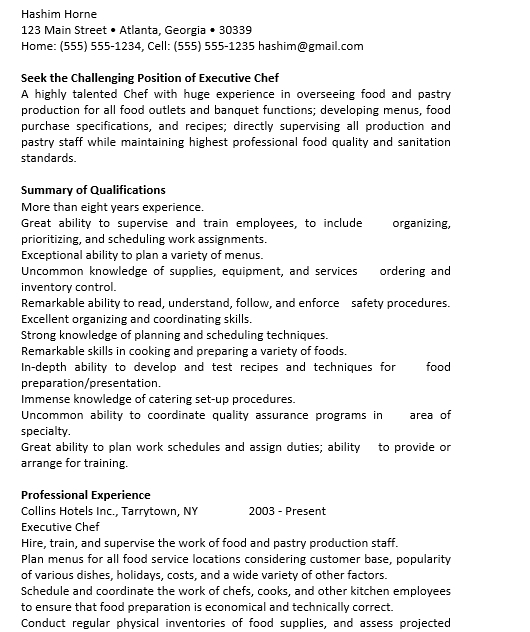 Similar Posts: