The advertising manager job is a kind of job that manages advertising activity in a company. The advertising manager acts as a creative developer to create an interesting campaign to reach the company's goals. Becoming an advertising manager is not an easy job but it means that we must find many ways to impress people.  So, we should focus on building interest and increasing awareness of the products and services we provide. If we are still wondering what kinds of specific jobs an advertising manager should do, here we are going to learn in the advertising manager job description. The successful advertising managers need to know the responsibilities and requirements as follows.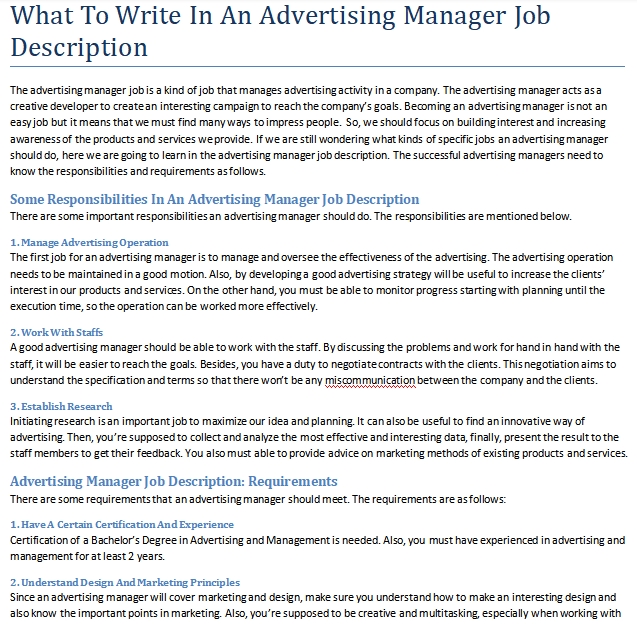 Some Responsibilities In An Advertising Manager Job Description
There are some important responsibilities an advertising manager should do. The responsibilities are mentioned below.
1. Manage Advertising Operation
The first job for an advertising manager is to manage and oversee the effectiveness of the advertising. The advertising operation needs to be maintained in a good motion. Also, by developing a good advertising strategy will be useful to increase the clients' interest in our products and services. On the other hand, you must be able to monitor progress starting with planning until the execution time, so the operation can be worked more effectively.
2. Work With Staffs
A good advertising manager should be able to work with the staff. By discussing the problems and work for hand in hand with the staff, it will be easier to reach the goals. Besides, you have a duty to negotiate contracts with the clients. This negotiation aims to understand the specification and terms so that there won't be any miscommunication between the company and the clients.
3. Establish Research
Initiating research is an important job to maximize our idea and planning. It can also be useful to find an innovative way of advertising. Then, you're supposed to collect and analyze the most effective and interesting data, finally, present the result to the staff members to get their feedback. You also must able to provide advice on marketing methods of existing products and services.
Advertising Manager Job Description: Requirements
There are some requirements that an advertising manager should meet. The requirements are as follows:
1. Have A Certain Certification And Experience
Certification of a Bachelor's Degree in Advertising and Management is needed. Also, you must have experienced in advertising and management for at least 2 years.
2. Understand Design And Marketing Principles
Since an advertising manager will cover marketing and design, make sure you understand how to make an interesting design and also know the important points in marketing. Also, you're supposed to be creative and multitasking, especially when working with the team.
3. Have Excellent Supportive Skills
Some supportive skills include management, negotiate, communicate in verbal and non-verbal, problem-solving and collaborative skills.
Those are what we need to know in the advertising manager job description. If we want to be a successful advertising manager, we need to understand the responsibilities well and also consider the requirements.
FAQs:
What Is An Advertising Manager's Job?
An advertising manager's job is to manage the advertising operation in a company.
What Should You Do Before Posting An Advertising Manager Job Description?
You need to consider the duties and conditions before posting this description.
What Are The Common Duties Of This Position?
The duties of the advertising manager are monitoring the process of advertising operation, planning an effective strategy for advertising and then designing and executing the campaign.
Similar Posts: