Volunteer Resume
When applying to be a volunteer, you also still have to pay attention to several important things. One element you shouldn't miss is creating a resume. However, you will be considered by recruiters if you are eligible to join their organization through your volunteer resume.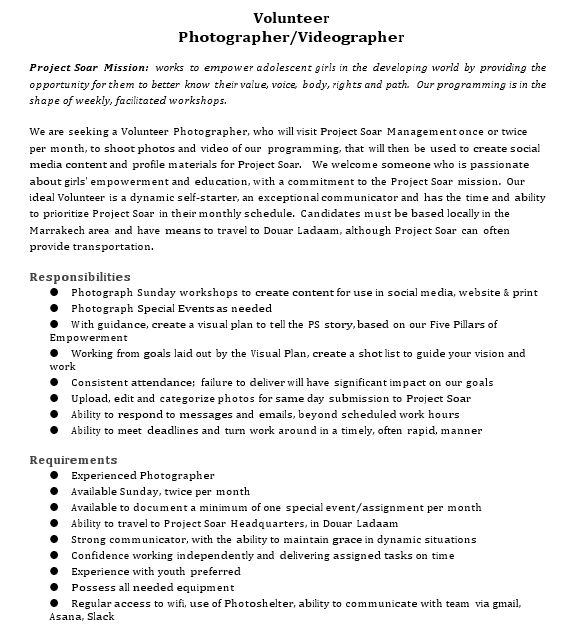 Don't worry if you're confused about how to start a classy resume to apply to volunteer, this article will discuss more about a community resume sample volunteer and tips to build it perfectly. You can also choose our best templates below.
Volunteer Resume Sample
To make it clearer, you can pay attention to a sample below in writing your resume:
Julia Peterson
Personal Info
Phone: (444)-333-222-111
Email: Julia_peterson11@gmail.com
Summary
A bachelor's degree student in the education department (3.6 / 4.0) who loves children and is passionate about contributing to student teaching. I am seeking a position as a volunteer in Elementary School to leverage my skills in education, problem-solving, and preparing study materials.
Experience
1) Jasmine Kindergarten
Kindergarten Volunteer
2017-2019
Guiding children in dance practice.
Preparing basic concepts for important materials for children.
Helping to keep children in the playground.
2) Genius Elementary School
Street School Volunteer
2019-2020
Helping the teacher to prepare material to be used in the classroom.
Helping the administrative process in the school office.
Contributing to the computer lab.
Helping students who have questions about difficult subjects.
Education
Reed State University
Elementary School Teacher
2016-2020
GPA: 3.6
Relevant Coursework: Developing elementary school student learning facilities based on the applicable curriculum.
Membership: Chairman of the children's library community
Key Skills
Communication
Leadership
Computer software
Good time management
Work ethic
Imaginative thinking
Awards
Finalists for the Children's Fairy Tales Event at Reed State University, 2018.
The best volunteer companion at Jasmine Kindergarten, 2019.
Language
How To Write A Volunteer Resume?
Writing a resume will be better if you pay attention to several important aspects. To produce a resume for a good volunteer, you can apply the following tips:
Write your contact information clearly, starting from the name, phone number, and email.
Make professional career objectives
Write down your experiences as a volunteer
Finish your education
Use diction that is straightforward and easy to understand
What Skills Do Volunteers Need?
A volunteer must have several qualified skills. This can be included in your resume for more convincing results. Some of these important skills include:
Ability to work with teams
Ability to work on time
Having good communication skills
Professional and dedicated
Having a leadership spirit
Can adapt to different people
Confident and friendly
Ability to interact with many people
How To Write A Volunteer Experience on Resume?
If your volunteer site requires specific experience, you should write it on your resume. But if the volunteer assignment you are applying for is not related with experience, then you can put it separately at the bottom of your resume.
In writing your experiences on your resume, you must pay attention to things that are in accordance with the wishes of the organization. Enter the relevant experience and appropriate to the position you are applying for. For example, if you want to apply as a volunteer at school, you must include relevant experiences in the world of education.
What Are the Benefits of Volunteering?
By joining the volunteer program, you will get several benefits that will have a good impact on you. For example, are the following advantages:
You can become a more confident person.
Become someone who provides positive benefits for the environment.
Have a variety of new experiences that can be included in the resume.
Learn new things.
Meeting people and learning various things.
Find hidden talents.
Kinds of Volunteer Resume
There are several kinds of resumes for volunteers that you can choose from. Here are some amazing templates that you can apply:
Resume for Hospital Volunteer
Applying for a position as a hospital volunteer requires a good resume. You can choose this template for reliable resume results. Besides, customize this design based on your need. You will get a great resume format.
Volunteer School Resume
If you love teaching, this resume is a perfect fit. Apply this resume according to your wishes by including a variety of relevant work experiences. It would be nice to be a volunteer who benefits others a lot.
Resume Template Firefighter Volunteer
Want to have experience working with firefighters? Then this resume will be the most suitable format. Try this resume and customize it based on your need.
Church Resume Template Volunteer
There are several spiritual benefits you will get from volunteering at church. To get your application accepted, just try this resume format.
Volunteer Nursing Resume Design
The world of health will accept several volunteers for health workers. You can learn many things and interact with several patients. Take this resume and start writing in the best format.
Resume For Animal Shelter Volunteer
If you are an animal lover, then volunteering at an animal shelter is the right choice. Use this resume and change some of your experience, skills, and other important elements.
Volunteer Leadership Resume Sample
Resume designs for volunteer leadership will make your resume look more classy and professional. Choose this template and prove to the recruiter that you are the best candidate.
Photographer Volunteer Template Resume
Before becoming a reliable photographer, you need to have experience as a volunteer photographer first. By choosing this template, it is possible to get maximum and classy results.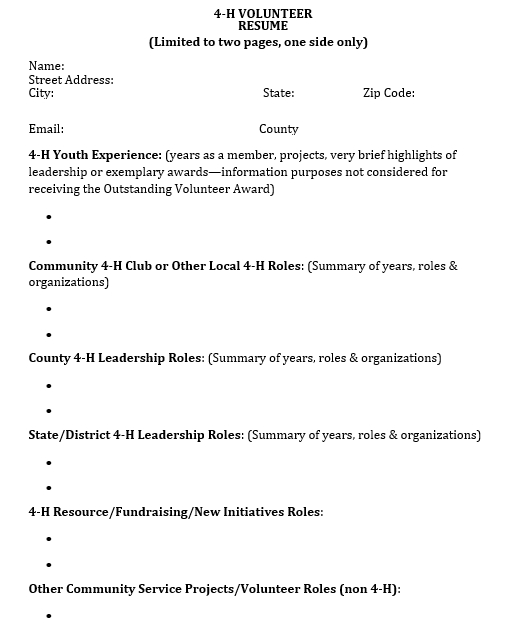 Volunteer Simple Resume Design
If you like a unique and simple design, you don't need to bother in choosing it. The simple design will make your resume more comfortable to look at. With a simple format, you may make recruiters feel more impressed and willing to consider you.
Blank Resume Volunteer Sample
Using a blank resume will make it easier for you to fill it out yourself as needed. This format is perfect for those of you who like an easy way to write a resume. Use this template to get a resume for volunteers that is simple but still professional.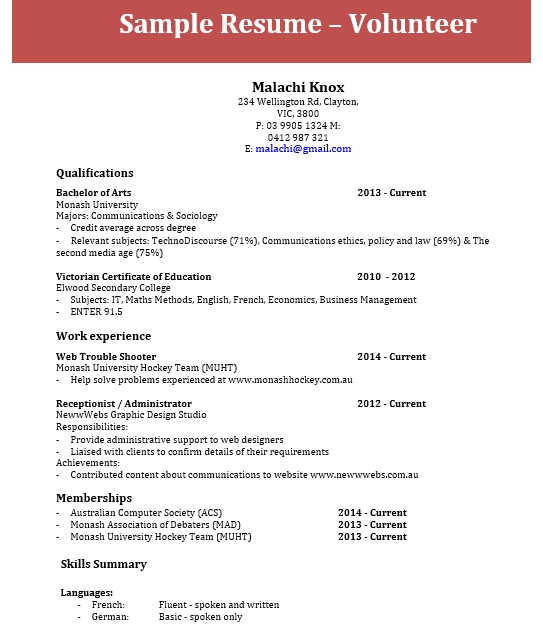 Similar Posts: