Tailor has a job to repair, alter, and modify the garments based on the customers' requests. The tailor job description list the following responsibilities, duties, and skills which we list below:
Restyling outdated garments based on the customers' requests which includes sewing hooks, buttons, and also zippers.
Assisting the clients in picking the right fabric.
Discussing the design, repair, and alteration requests with the clients for making sure the results meet their orders.
Measuring the clients' bodies completely based on the garment models by using a tape measure.
Recording the measurements and preferences of the clients as well as the instructions.
Placing labels on the garments as requested.
Making garment modifications based on the orders, for example, lining sheer garments, tapering the legs of the pants, adding padding, and also removing pockets.
Altering garments to improve their comfort and fitness such as narrowing lapels, shortening the straps, sleeves, etc.
Repairing the garments, for example, sewing holes and tears.
Helping the customers constructing the garments based on their ideas, preferences as well as specifications.
Explaining the costs and time estimation to the clients.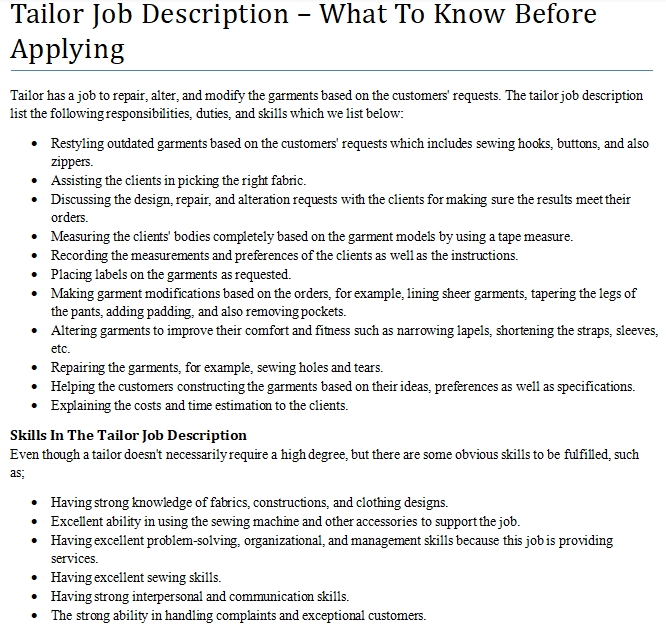 Skills In The Tailor Job Description
Even though a tailor doesn't necessarily require a high degree, but there are some obvious skills to be fulfilled, such as;
Having strong knowledge of fabrics, constructions, and clothing designs.
Excellent ability in using the sewing machine and other accessories to support the job.
Having excellent problem-solving, organizational, and management skills because this job is providing services.
Having excellent sewing skills.
Having strong interpersonal and communication skills.
The strong ability in handling complaints and exceptional customers.
Having good hand coordination.
Loving and paying to details a lot.
Besides, the candidate who wants to apply for this position must be experienced in this field, or able to perform tailor task excellently.
If you are planning to apply as a tailor, besides understanding the duties, skills, and responsibilities stated in the tailor job description, you can use the following objective statements to help you prepare your resume.
I would like to gain more experience as a tailor by joining your company.
Knowing your company is looking for a tailor, I am ready to use all of my knowledge and skills to grow with your team.
I will use all of my skills and experiences in garments to work as a tailor in your company.
After reading your tailor job description, I would love to apply as a candidate.
I would be glad if you give me a chance to present my skills and experience in garment industries.
I am a skilled – and experienced tailor and want to improve my experience. I am ready to work with your company as a professional tailor.
Garments are my passion and I have a lot of experience in dealing with the types of garments in my last job. Now I want to gain more experience by joining your organization.
That's all our summary about the tailor job description. Make sure you read and understand the requirements well before applying.
Similar Posts: