Retail Manager Resumes
The retail manager is responsible for the things that happen in the store. They are expected to run the business well so it meets the profit. The retail manager handles all the things from the product control, customers' inquiries, to the employee hiring process. With the list of responsibilities that retail manager has, they have compensation in terms of their salaries and career growth.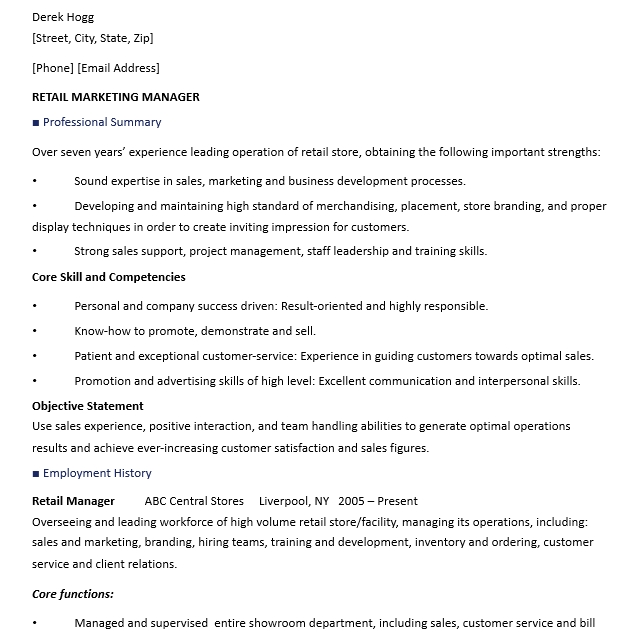 If you are planning to expand your career to be a retail manager, you need to possess some relevant experience. You also need to create outstanding retail manager resumes that show your skills in managing the business.
Retail Sales Manager Resume Sample
To give you a better understanding of the retail manager's resume, here we include the sample resume below.
Armando Moreno
Personal Info
Phone: (555) 123-456-789
Email: armandomoreno@email.com
Summary
Result-oriented retail manager with 2 years of experience in leading a clothing company by increasing the business' profit up to 35%. Able to apply effective marketing strategies and provide the best customer service to exceed the customers' experience. Seeking an opportunity to fill the Retail Manager position at ABC Store to improve the customer service level and to meet the business goals.
Experience
Retail Manager
2019 – 2020
Maintaining the product stocks and keeping the records daily
Preparing the best marketing strategies for the business
Conducting regular meetings with the team to evaluate to boost the sales
Checking the budget and reducing the unnecessary outcomes
Dealing with customers' inquiries and complaints
Conducting regular product quality check
Tracking the customers' satisfaction regarding their buying experience
Introducing the new shopping system by launching a mobile application and website-based shopping
Improving the sales by 35% after the launching of the online-based shopping system
Education 
Bachelor of Business Management at Johannes University, 2014 – 2018
GPA: 3.85
Relevant Coursework: Internship as an assistant retail manager in a small store, Training at Managing Successful Business for three months
Graduation: 2018
Membership: Retail Manager Association, an active member at Finance and Business website,
Key Skills
Excellent business and retail management
Good knowledge of marketing strategies
Accounting software
Basic Ms. Office
Excellent communication skills
Excellent leadership skill
Team-work
Able to work under pressure
Achievements and Certifications
Retail Management Certification
Management Business Training Certification
Language
How to Write Retail Manager Resume
In writing a good resume for a retail manager, there are certain things you need to remember.
Always read the job description. It gives you a heads-up of what the employer is looking for, the qualities, the skills, the experience
Choose the best resume format. If you are experienced, it is better to use a chronological format, while if you are inexperienced, a functional format will highlight your strengths more
Proofread. We cannot stress this enough as people send the resume that contains errors in spelling, grammar, punctuation, and others. It makes you look unprofessional
Stick to the truth. This becomes a deal no matter how much you want to impress the employer. Never tells a lie about any of your work experience
What Should be Written on Retail Manager Resume?
After reading some tips on how to write a good retail manager resume, now it's time to see what piece of information you need to include to create a perfect and comprehensible resume.
Applicant's identity. It comes at the top of the resume with the name, email address, and phone number
Professional summary or career objective. It depends whether you are experienced or not
Educational background. If you are a linear major with the job, it will be beneficial
Relevant skills to retail manager. Once again, don't put only soft skills but also hard skills that are specific to the job
Additional activities. This is needed by those who are inexperienced in the professional field, you can include training or volunteer work
Achievement and certifications. This section allows you to promote yourself by showing what you've achieved.
Client Services Coordinator Job Description: Things To Be Highlighted To Become A Client Services Coordinator
Relevant Retail Manager Skills to Include on Resume
People often make a big mistake by writing all the skills they have on the resume. It's never going to work. While there are common soft skills you need to write, focus on the hard skills that relate to the job. Here, we make a list of the relevant skills to the retail manager.
Good skills to keep up-to-date with the trends
Excellent retail management
Commercial and advertising skills (marketing)
Business management
Technology and accounting software skills
Excellent customer service
Good communication skills
Leadership
Teamwork
Multi-tasking
Kinds of Retail Manager Resume Templates
You might need a lot of preparation during the hiring process of a retail manager where you don't have much time in writing a good resume but still need to have a professional one. In this case, you can make use of one of the resume templates available below and edit it to suit your needs.
Retail Assistant Manager Resume Sample
This resume template is designed for retail assistant managers. You can use this template if you're looking for a simple design with a neat resume structure. It also has a strong career objective to highlight your skills and experience.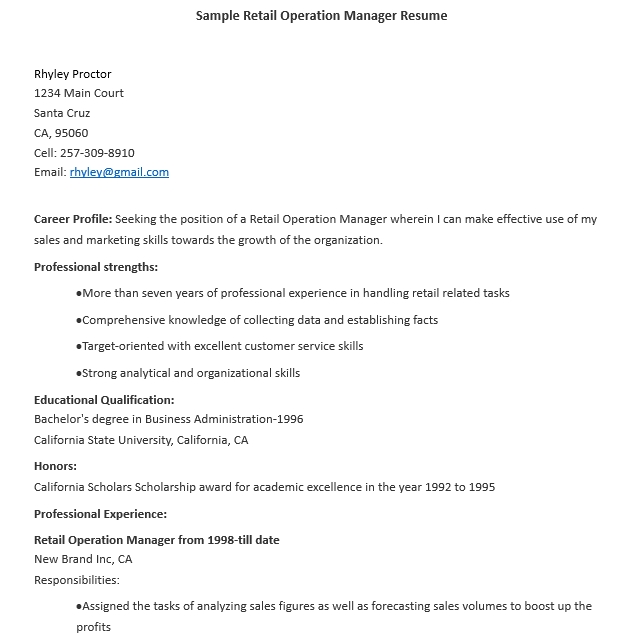 Retail Project Manager Resume Format
If you are applying for a retail project manager, use this resume template. It gives you comprehensive information of what you can contribute to the job, as well as good information about your professional experience.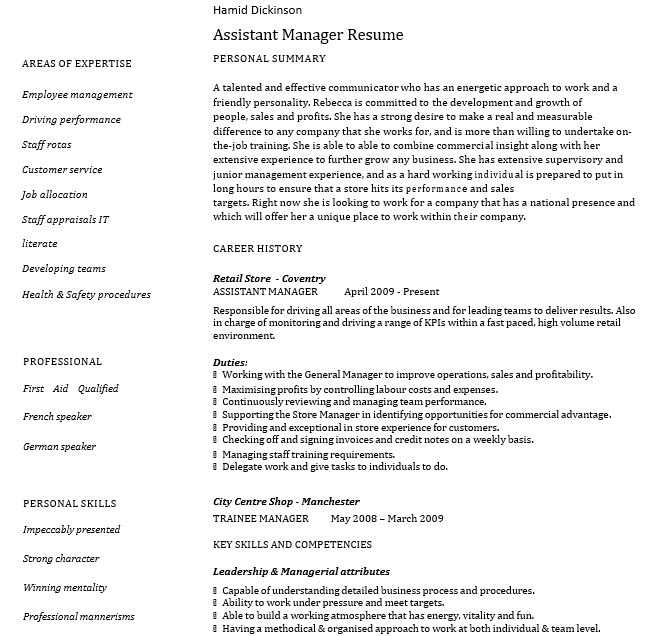 Retail Sales Manager Resume in Word
This resume template applies Ms. Word file format that allows easy access for the applicants to edit the information. It is specifically designed for a retail sales manager position.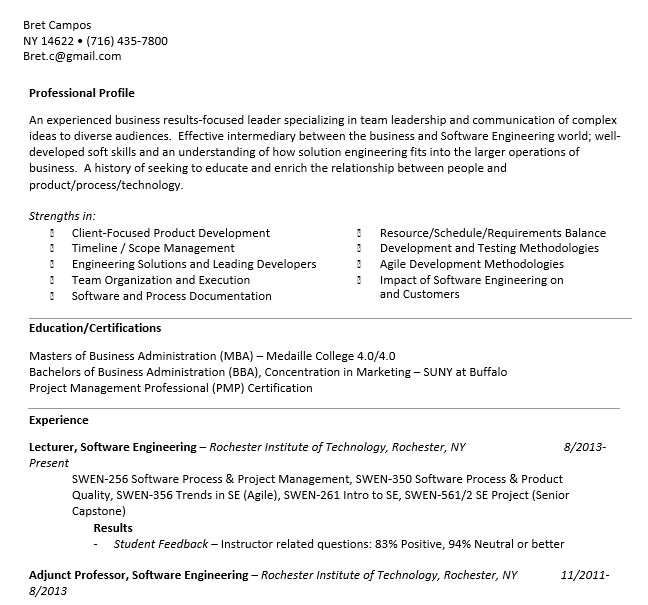 Retail Store Manager Resume Template
Calling all the retail store manager applicants! This resume template will facilitate you with complete information on the professional experience and a strong career summary to catch the employer's attention.
Retail General Manager Resume
To be a GM of a retail shop, one needs a well-structured resume with thorough information such as professional achievements and relevant skills to be a GM. It ends up with information on additional activities such as training and volunteer work.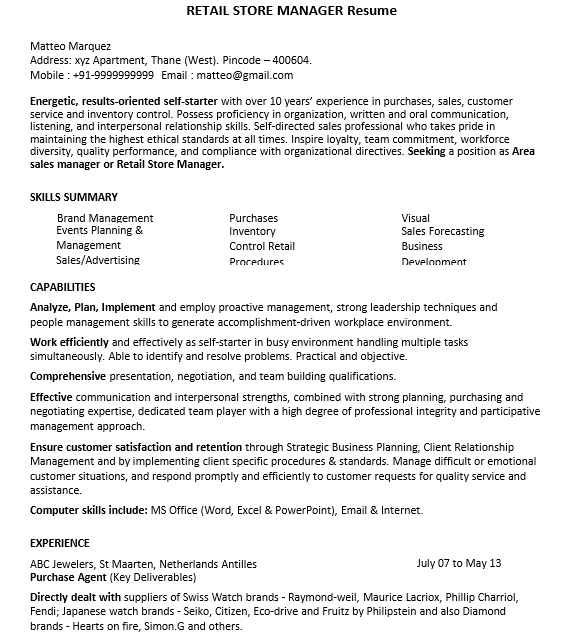 Entry-Level Retail Manager Resume
For those who apply for an entry-level position as a retail manager, this resume template is what you're looking for. Written in Ms. Word file format, this template employs a functional resume format to highlight the relevant skills.
Retail Customer-Service Manager Resume
If you focus on the retail customer service manager, this resume helps you in landing the job. An outstanding profile summary is written professionally to show what you can bring to the table.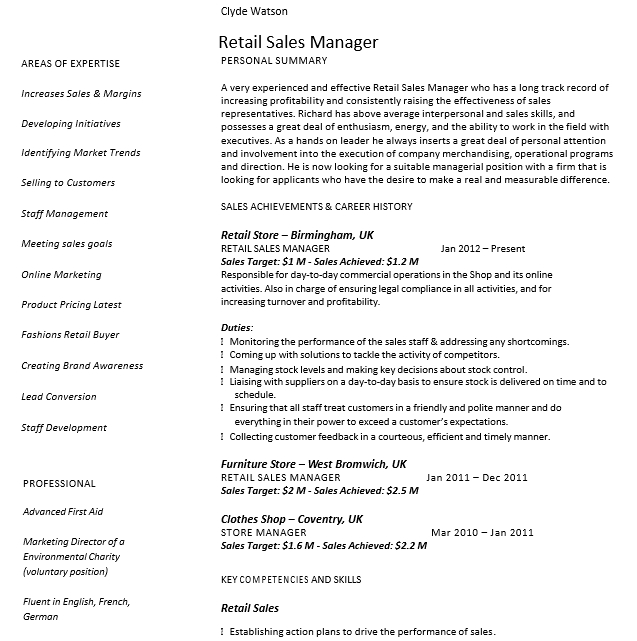 Retail Marketing Manager Resume
This resume template focuses on the skills of marketing and a professional summary of the applicant that you can edit slightly to suit your condition. It can be downloaded so you can edit it anytime.
Retail Associate Resume
To be a retail associate, the applicants have to send a perfect resume template from the content to the format and this template allows you to have it all. It will be a good resume to promote yourself.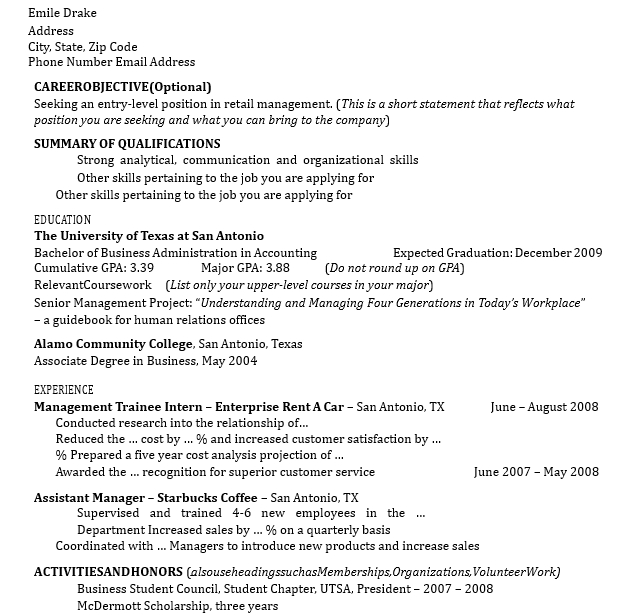 Store Manager Resume Example
This resume template can be used for any store manager, including a retail manager. You need to tweak it a bit here and there to suit your condition.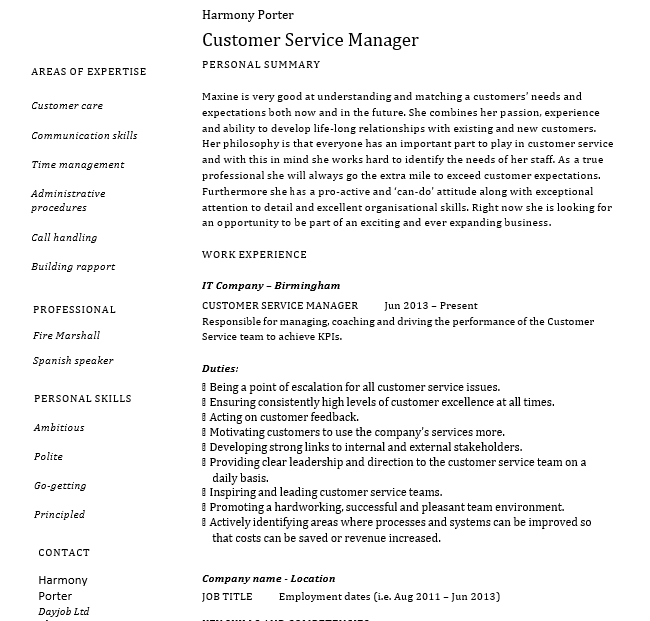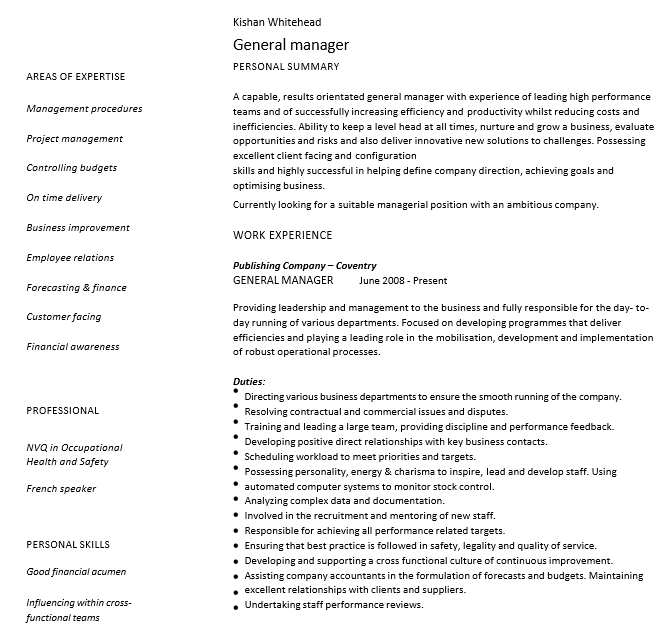 Similar Posts: