Office Manager Resume
With so many facilities and lets' say "a little privilege" of being a manager, no wonder if so many people land for this position. However, being a manager requires good skills, experience, and sometimes an educational background. Even it is not enough! You need to explain those qualifications in a professional way, which is through an office manager resume. On this page, you will find endless options of resume templates and some tips on how to write them properly.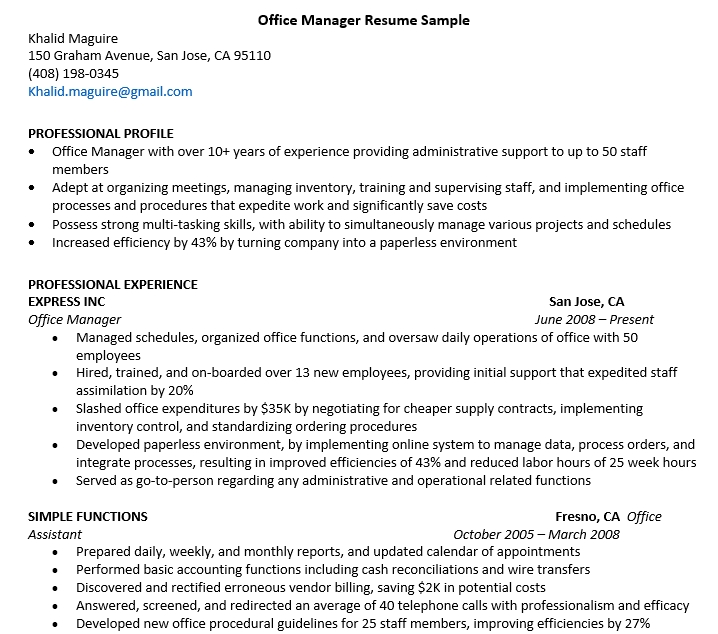 Sample of Office Resume Template
Nehayatu Karim
Personal Info
Phone: (987)654-234-897
Email: nehayatu.karim@gmail.com
Summary
Goal-oriented office manager with 6 years of experience looking for a new position to leverage the expertise and increase the efficiency of business activity in Psy Global. Assisted 15 office assistants in a big tech business. successfully grew contract by 27% per year, decreased expenses by 35%, and cut the workload to 45%.
Experience
Office Manager
Cubic Tech Group
January 2016- April 2021
Monitored, organized, and coordinated 15 office assistants during office activities in the busy tech business efficiently.
Archived the revenue goals by effectively managing a good job scheduling, working system, and working hours. Successfully decreased the expenses by 35% and cut the workload by 45%.
Successfully stimulated new contract by 27% through implementing the new program as a part of marketing strategies
Office Manager
December 2013 – December 2015
Kbikel Tech Group
Built an effective working system and schedules which decreased the turnover by 40%.
Monitored the office operation
Coordinated meetings and appointments with clients and other staff in a calendar and schedule.
Trained, coached, mentored, and supervised the new staff as well as delegating the assignments properly.
Created presentation for management meetings level.
Education
2012 MSc Management and Administration
ABC University, New York, NY
GPA: 3.8
Relevant Coursework: Public Speaking, Budgeting, Leadership, Ms. Office, Accounting, Training, and Digital Marketing
Membership: SkatiBoard Club
Key Skills
Hard skills: employee training, performance assessment, scheduling, business operation management, digital marketing
Soft skills: leadership, interpersonal, time management, analytical thinking, problem-solving and administrative.
Awards:
2nd Winner of National Essay Competition "Recovering After Pandeimi", 2020
Language
English
Italian
Spanish
Portugis
What Are Skills To Put In The Office Manager Resume?
There are specific skills you must have before applying for this position. Some of the primary skills you need to include are interpersonal, creative, problem-solving, problem assessment, team building, supervision, and leadership skills. Other technical skills you need to include are employee training, business operation management, digital marketing, scheduling, and assessment.
What Are The Job Description Of An Office Manager?
Before writing a resume, you have to understand the job description. Even though the company might post different requirements, you still can lean on some general job description below:
Managing and organizing databases, schedules, meetings, etc.
Helping booking trips from accommodations and transportation.
Organizing the conferences and certain events.
Ordering inventories such as stationaries and furniture.
Dealing with problems such as queries, complaints, etc.
Supervised and trained the staff.
How To Write A Resume Summary?
A resume summary is one of the most important things in the job application. The hiring manager often just do skimming the CV or resume. When writing a summary, you only summarize your profile which means you only include the most valuable information such as your skill, educational background, experience, and your intention in the company. Typically, a resume summary only contains 2-4 sentences.
Kinds Of Office Manager Resume Template
If you are looking for a resume template, make sure you choose a simple design. Typically such a format is likable because it eases the hiring manager to spot your qualifications.
Office Manager Resume Sample With No Experience
If you are someone who has no experience in this field, you probably often wonder how to make an outstanding resume. This template contains examples for fresh graduates or people with no experience. You can imitate the template and edit it with your version.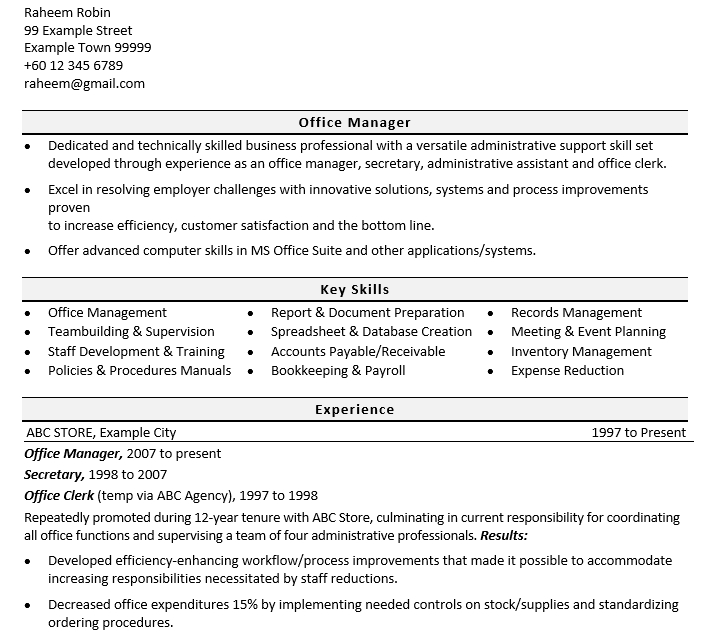 Financial Office Manager Resume Sample
If you think you are eligible to handle the finance, maybe the financial office manager is suitable for you. Therefore, you need to use this template. It has a simple design with excellent wording and structuring too.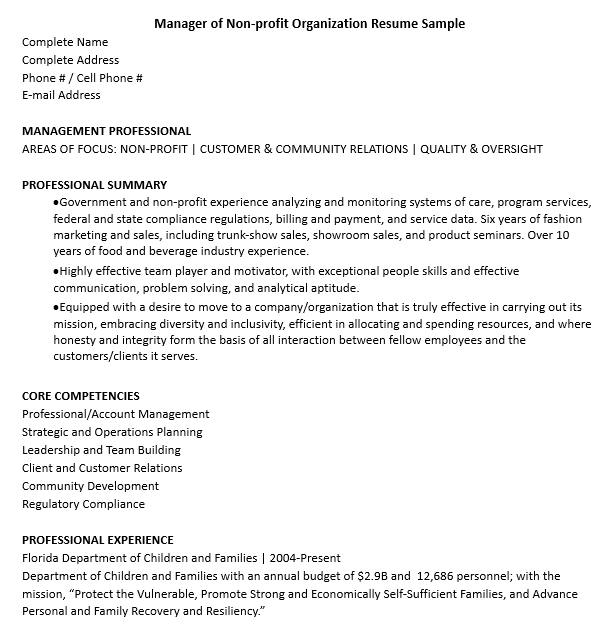 Law Office Manager Resume
Another example to download is this template. This is a great template with a chronological order format allowing you to write a resume quickly.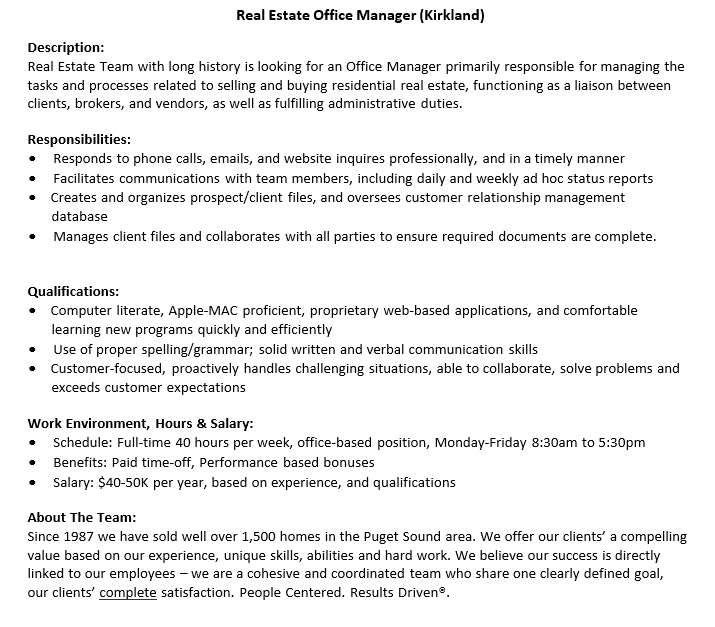 Real Estate Office Manager Resume Sample
For you who have a strong passion for real estate, maybe this template is your best choice. It is an example that is editable. You can use it in various software such as Microsoft Word, or Google Docs.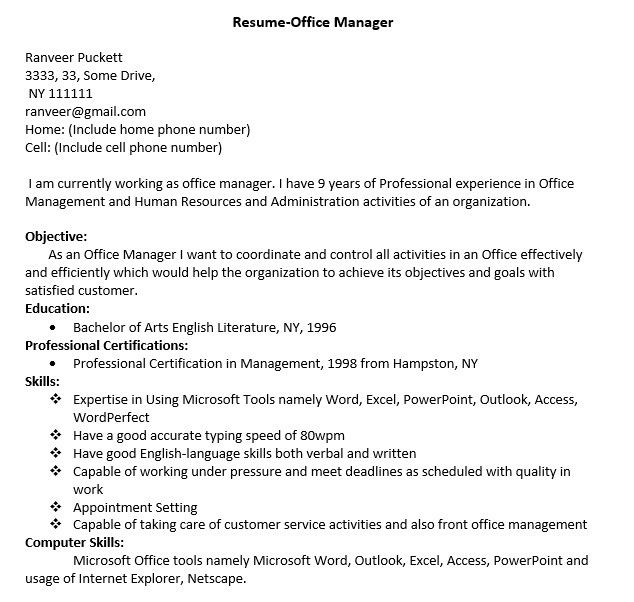 Office Manager Resume Example
Upgrade your resume format using this professional template. Don't worry because this template has a standard format so you can use it in various countries. It covers complete information allowing you to showcase your potential.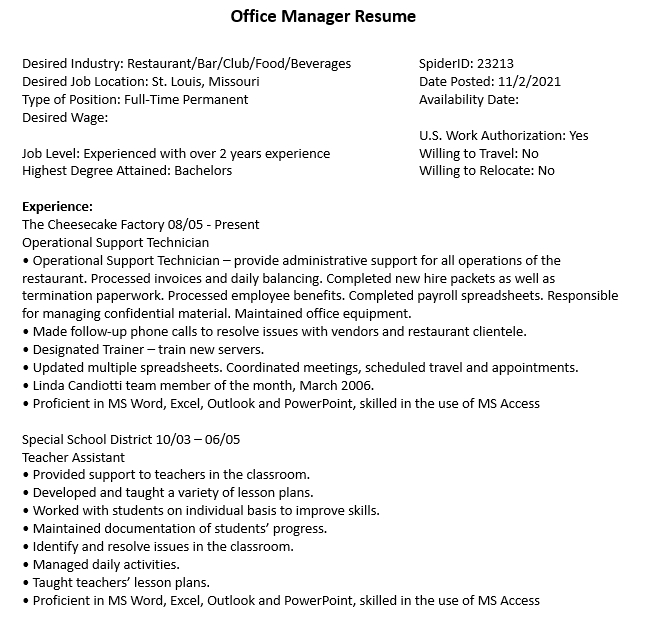 Office Manager Resume Template
There are countless templates outside there that you can download for free. However, it is rare to find a template with a premium feature. This is why you have to be careful and select templates because some of them are also not as complete as this one.
Professional Resume Template
Don't blow your chance to get hired by writing a lame resume. We know that you have limited time so we provide you a template designed for a professional. Look at how classy this template, it is suitable for someone who loves simplicity and elegance.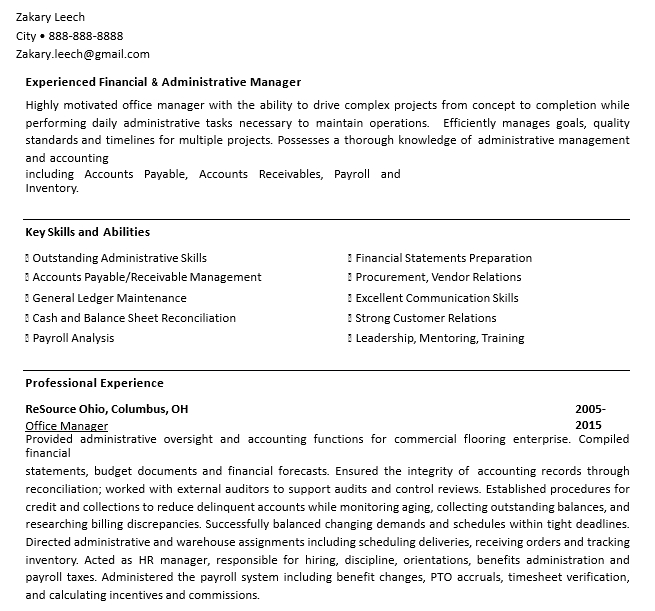 Non-Profit Office Manager Resume
Even a nonprofit organization will see through your resume to know your level of professionalism. You need to use this template if you want to make a professional template!
Restaurant Office Manager
If you are looking for a template for a restaurant manager office manager resume, this is the best one to pick. This template gives you complete details that allow you to showcase your excellent experience and skills. What makes this template great is the editable feature. Now you can edit while learning from the example. This is a versatile template format that can be used for any field too.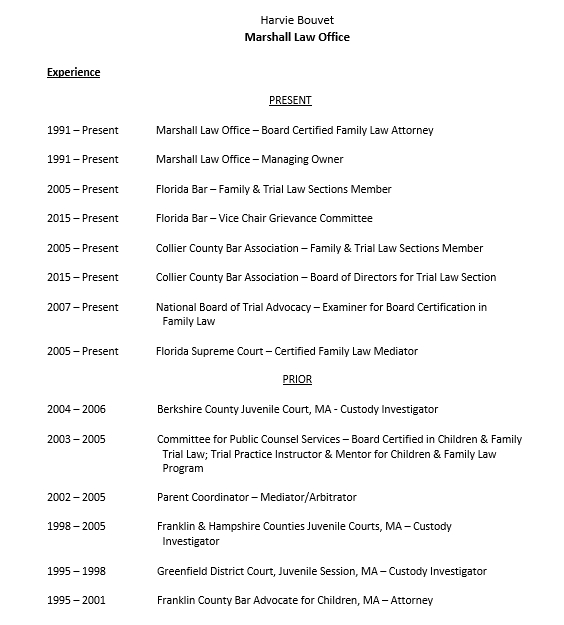 Similar Posts: