Makeup Artist Resumes
Nowadays, a hobby can be a career opportunity and bring you a good amount of money if you know how to manage it well. An example of that is becoming a makeup artist. It all starts with a hobby and if you have a good skill in makeup, then it can give you a chance to make it your career.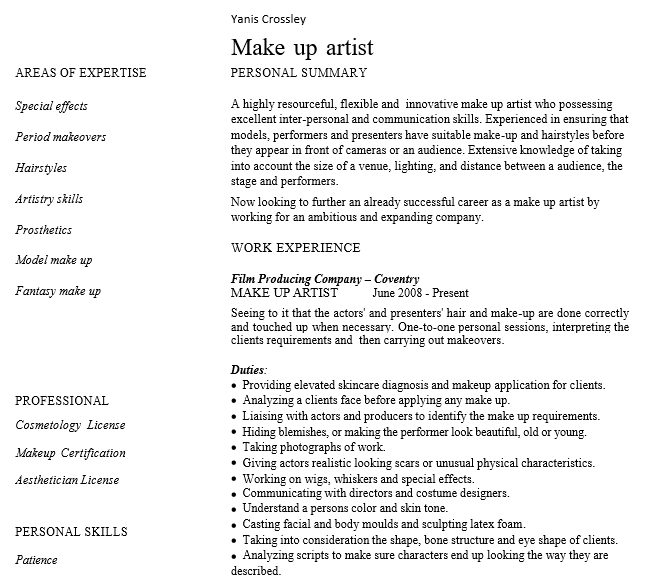 We have seen many successful makeup artists in the industry but it all comes with the requirements that you need to have. One of the requirements is to send makeup artist resumes and let the employers find your abilities. Thus, we will discuss more how to write a good resume for a makeup artist below.
Beginner Makeup Artist Resume Sample
Here we provide a sample of makeup artist resume for beginners. We hope this can be a reference for those who want to start a career as a makeup artist.
Brenda Jefferson
Personal Info
Phone: (555) 123-123-123
Email: brenda_jefferson@email.com
Summary
Passionate and creative makeup artist and licensed cosmetologist with 15 regular clients and more than 5000 followers on Instagram. Handle high-quality makeup services for clients and provide educational information on how to do basic makeup and skincare principles that are suitable for each client's condition. Seeking an opportunity to work as a makeup artist at XYZ Professional Salon.
Experience
Self-Employed Makeup Artist
2018 – 2020
Assisting clients in having the desired makeup look for special occasions such as weddings, graduations, or parties
Educating clients on basic makeup skills and skincare principles that are suitable for each client's condition
Suggesting skincare routine for the clients regarding the skin problems that happened due to makeup
Promoting makeup products that are suitable for clients' skin condition
Filling in as a makeup artist at ABC Beauty Salon for 3x in a month
Improving clients' satisfaction to 85% from last year and cosmetics sales to 60%
Education 
Bachelor of Cosmetology at Johannes Beauty School, 2015 – 2017
GPA: 3.80
Relevant Coursework: Beauty Makeup and Skincare Treatment Intensive Training, Seminar on Makeup and Hairstyling held by Professional Makeup Association
Graduation: 2017
Membership: Makeup Artists Association, Active Member on International Makeup Artist Official Online Forum
Key Skills
Excellent communication skills
Excellent knowledge of makeup uses, strategies, and products
Excellent knowledge of skincare products and principles
Excellent customer service
Creativity
Time management
Able to work under pressure
Achievements and Certifications
Licensed cosmetologist from Johannes Beauty School
Training Certification on Makeup and Skincare Treatment
Language
How to Write Makeup Artist Resumes Professionally
If you are about to send a makeup artist resume, you have to make sure that you did several things below.
Read the job description. Find out the information of what qualifications you need to have and what relevant skills can help you land the job
Create a powerful career summary. Write what you have done and what you can contribute to the job
List down your work experience and relevant skills
Add some achievements and certifications
If you have any relevant additional activities, also write them down
Proofread before sending the resume. It is done to avoid any mistakes regarding grammar, spelling, punctuation, and capitalization
List of Qualifications Needed for Makeup Artists
It is often required that a makeup artist includes a list of qualifications to show how capable they are in doing their job. Here is the list of the qualifications that you can have as preparation before applying for the job.
Makeup Artistry. This certification includes various areas such as makeup techniques until the fashion stylist. A different course will offer different areas to cover within one certification program
Certification of Makeup and Hairstylist. This certificate is similar to the previous one but the coverage is slightly different as they also offer hairstylist certification that can be useful for those who want to be competent in doing both the makeup and hairstylist.
Becoming Makeup Artists without Qualifications?
There may be some workplaces that don't require you to have a certain qualification from makeup school, but someone has to have the skills to start with. They can have the skills and do some self-employed makeup artists as a way to develop the skills. It will be beneficial if someone joins a makeup course, training, or seminar that can give them more makeup education.
Kinds of Makeup Artists Resume Templates
If you want to save time, it's always a good choice to make use of a resume template that's available online. We collect several samples of resume templates for makeup artists here.
Hair and Makeup Artist Resume Template
This resume template is suitable to use for anyone who wants to be a makeup artist, both for beginners or professionals. It has a basic information structure on your resume that you can edit based on your needs.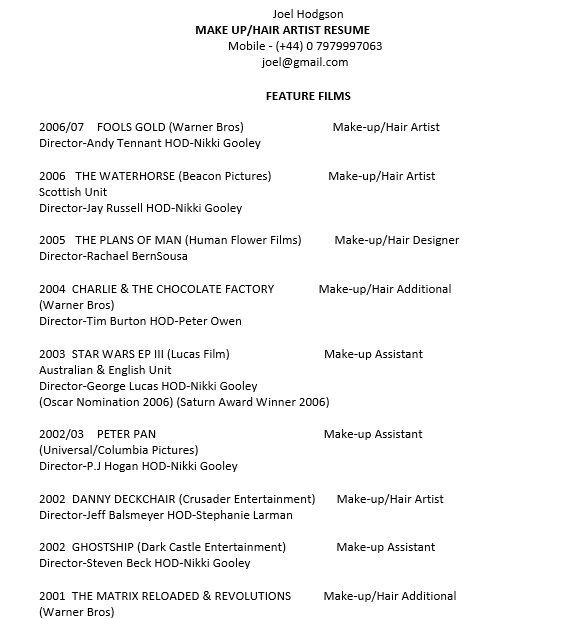 Professional Makeup Artist Resume Template
If you have been around to be a makeup artist, this resume template provides comprehensive information on your professional experience and relevant skills to boost your image.
Professional Makeup and Hairstylist Resume
This resume template is designed for a professional in makeup and hairstylist with a chronological resume format that highlights your experience. It also has a specific section where it allows you to show your achievement.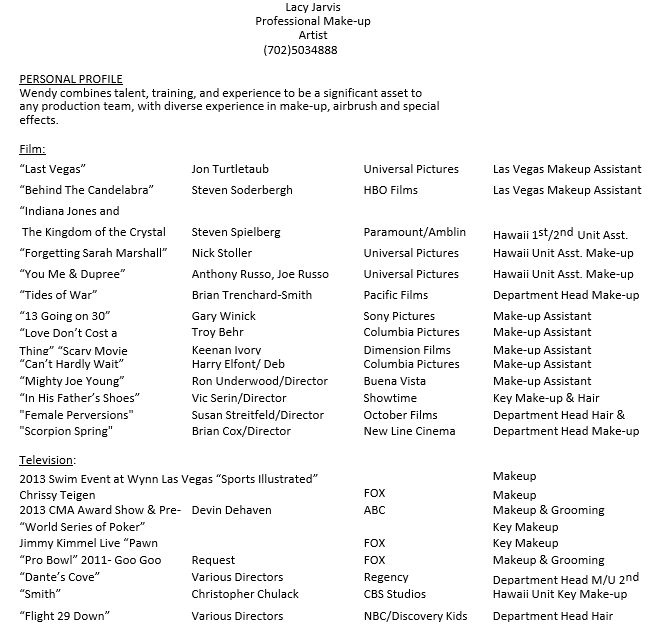 Printable Makeup Artist Resume Template
Use this resume template if you look for a printable resume that gives you easy access to edit. Created in a simple design and basic resume format, this resume is reader-friendly to navigate the information needed.
Sample Professional Makeup Artist Resume
Another professional makeup artist's resume is available. This comes with a powerful summary of professional experience that includes relevant skills and an additional relevant activities section.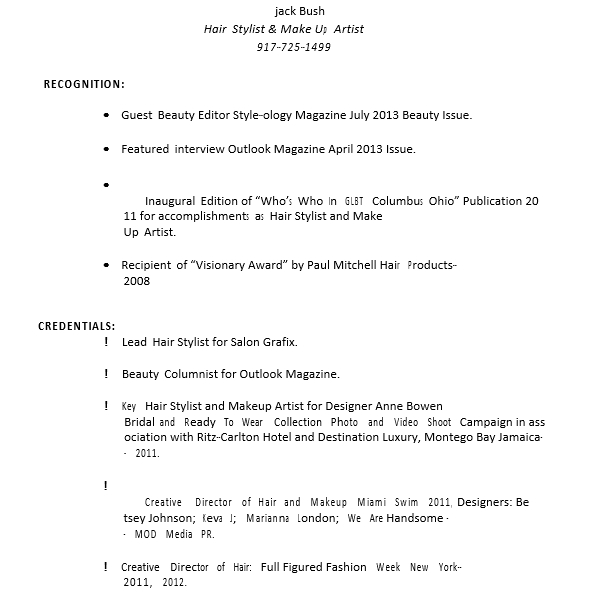 Salon Makeup Artist and Hairstylist Resume
If you want to work in the salon, this resume template can be a good choice in giving you a professional resume that showcases your best talent in makeup and hairstylist.
Simple Department Store Makeup Artist and Hairstylist Resume
This resume template is specifically designed for makeup artists and hairstylists who work in a department store. With a modern design, it creates an attractive look and it has a good resume structure to read.
Beginner Makeup Artist and Hairstylist Resume
For beginners, this resume template will highlight your qualifications by mentioning your academic school or relevant training activities, as well as the relevant skills that help you in doing the job.
Freelance Makeup Artist Resume
If you can't work full-time as a makeup artist, this resume is suitable for you as it is designed for a freelance one. Focusing on the relevant makeup artists and the qualified education and licenses section leads you to pass the resume screening.
Makeup Artist and Cosmetologist Resume
When you have a license to be a makeup artist and cosmetologist, this resume allows you to have a perfect resume for the job. It is written in Ms. Word and PDF, and it's also downloadable so you can choose which one suits your needs.
Similar Posts: