Cook Resume
Being a cook can be a promising career but also a demanding one. Applicants must have certain qualifications related to cooking and good knowledge of food and cooking skills. Nowadays, the cook doesn't only work at the restaurant but also in the hotel, resort, and even hospitals. That means more opportunities to make it a career.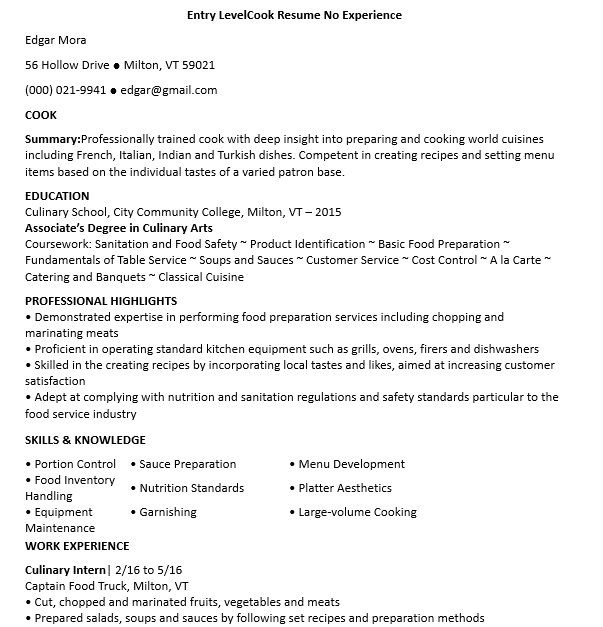 The first step of applying for the job is you send the cook resume to the employers. It doesn't have to be a mere resume but it needs to have crucial information as it promotes yourself and lets the employers know what you can contribute to the job. Here we collect information that is beneficial for you when you're applying for a cook.
Cook Resume Sample
We directly give a sample of the cook's resume so that you understand how a good resume for the cook is written.
Catherine Heathrow
Personal Info
Phone: (555) 123-456-789
Email: catheathrow@email.com
Summary
A detailed-oriented and passionate cook with 5+ years of experience in a fine-dining restaurant and a hotel is seeking an opportunity to work in Luxurious Resorts as the Lead Chef. Achieved the five-star review for the hotel signature dish from the food critics.
Experience
A cook at XYZ Hotel
2017 – 2020
Preparing the ingredients and food items before the operational hours
Checking the food item quality in a regular manner
Producing food and beverages based on the recipes and standard operations system
Maintaining food cleanliness and workstation to keep sanitized
Preparing a set of different menus every day for the hotel guests
Creating a newly invented menu for special occasions
Received a five-star review from food critics for Sweet and Spicy Grilled Lamb with Mashed Potatoes menu as the hotel's signature dish
A cook at ABC Restaurant
2015 – 2017
Opening and preparing the restaurant before the operational hours
Preparing food ingredients and recipes to create everyday
Checking the ingredients stocks and conducting daily quality control of the ingredients
Cutting food, vegetables, fruits every day
Producing food and beverages based on the customers' order
Maintaining safety procedures during the work and workstation cleanliness
Increasing the sales by nearly 15% for the restaurant profit
Education 
Bachelor of Arts in Culinary at Johannes University, 2011 – 2015
GPA: 3.88
Relevant Coursework: an internship at Hotel Marriot for six months as an assistant cook, Intensive Training in cooking Middle Eastern and Western menu for four months, courses in Food Safety and Nutrition
Graduation: 2015
Membership: Assistant Cook Community, Hotel Cook Association, Western food forum, Middle Eastern food forum
Key Skills
Excellent knowledge of food and cooking preparation
Excellent knowledge of cooking procedures and methods
Knowledge in cooking utensils such as knives, pans, grills
Professional food handling and standard sanitation procedures
Creativity
Communication skills
Multitasking
Work under pressure
Problem-solving
Achievements and Certifications
Certified as a Cook in Western and Middle Eastern food
Certified in Food Safety and Nutrition
Language
English
Dutch
Passive German
How to Write a Cook Resume
After reading the sample, now we give you the information in writing a good cook resume that helps you in creating one.
Read the job description. Cooks at the restaurant might have different qualifications from cooks at the hotel. So, you need to read carefully
Choose the best resume for you. It depends on whether you're experienced or not
Start making a list of the needed information to be included, from the professional experience to achievements
Choose cook-related keywords and use cook-related action verbs
Proofread before sending your resume
What You Need to Remember in Writing Cook Resume
There is some information that you need to include in writing a cook resume. You can edit it based on your needs.
Personal identity
Career objective or professional summary. Know the difference.
Professional experience. If you are inexperienced, write down any related experience you have such as an internship, training, or simply volunteer work as a cook
Only list relevant cook skills
Add some qualifications and achievements, if you have any
Skills Needed to be Included on Cook Resume
These are several needed skills that are common to be found on a cook resume. We list this to give you a reference.
Excellent understanding of any cuisine specialization
Excellent understanding of cooking methods and protocols
Good organization skills
Detailed-oriented
Creativity
Cleanliness
Problem-solving
Good communication skills
Kinds of Cook Resumes
Sometimes, you simply don't have time to write a resume yourself so you can make use of the resume templates. These are several templates that are available for cook.
Entry-Level Cook Resume
This resume template targets the entry-level position where it is mostly applied by newly graduated culinary students or someone with less experience. It highlights the skills and creates a strong career objective to promote the applicants.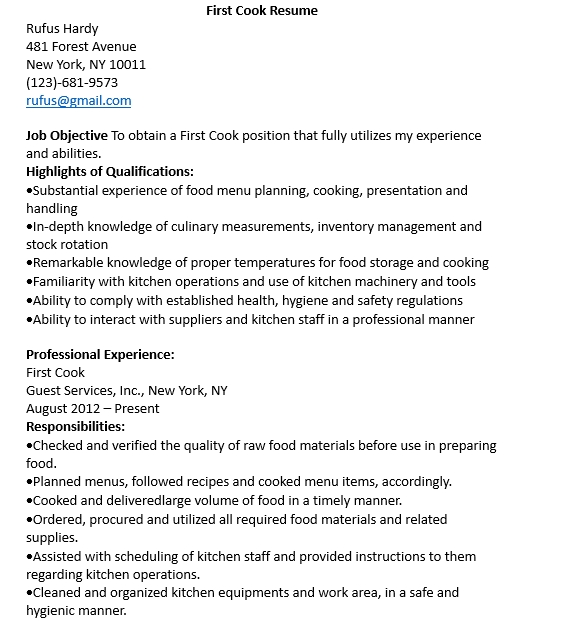 Professional Cook Resume
This resume template aims at the professional applicants that are experienced in the industry. A strong professional summary with chronological work experience becomes the two main points on this resume.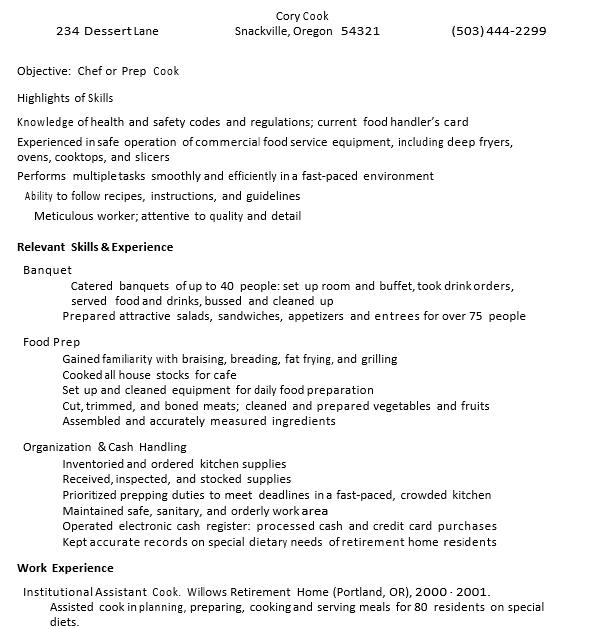 Cook Manager Resume
If you expand your career to be a cook manager, this resume template can provide you with the needed information for employers. It is written in Ms. Word and PDF, so you can choose one that gives you easy access to edit.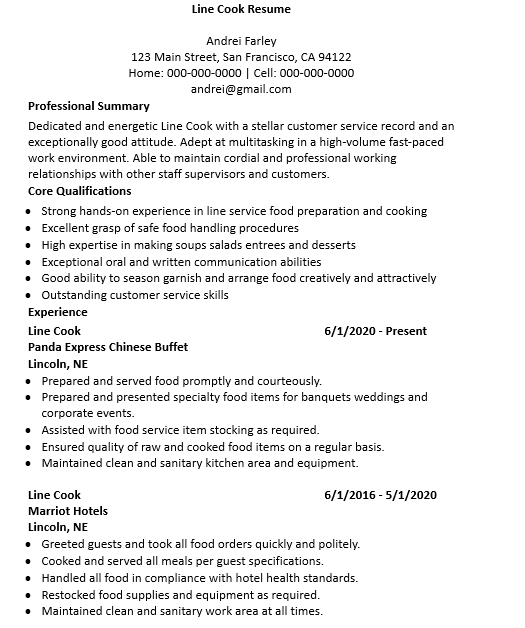 Lead Cook Resume
Lead cooks can use this resume template to apply for a job. It is downloadable and editable, and it applies a simple design that is easy to navigate the information.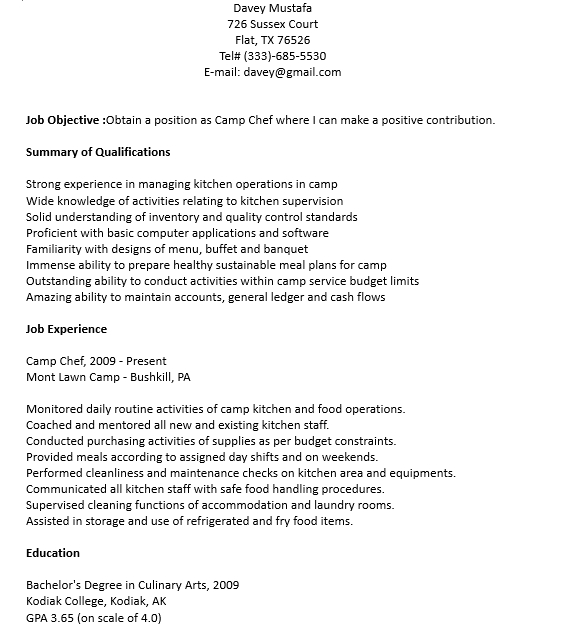 Catering Resume
Cook also works in the catering company. So, if this is what you're looking for in a career, use this template. It highlights your strengths and allows you to have a list of relevant skills for the cook.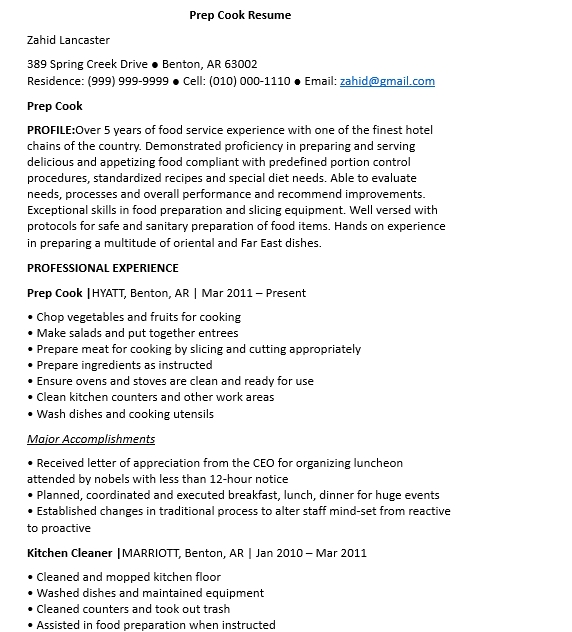 Apprentice Chef Resume
Calling all beginner chefs to use this resume template. For someone inexperienced, you can focus on the skills and career objective, but if you have any experience, you can add it to the work history section.
Executive Chef Resume
To be an executive chef, one must have certain qualifications and meet requirements. This resume template facilitates you with those sections to promote yourself to employers.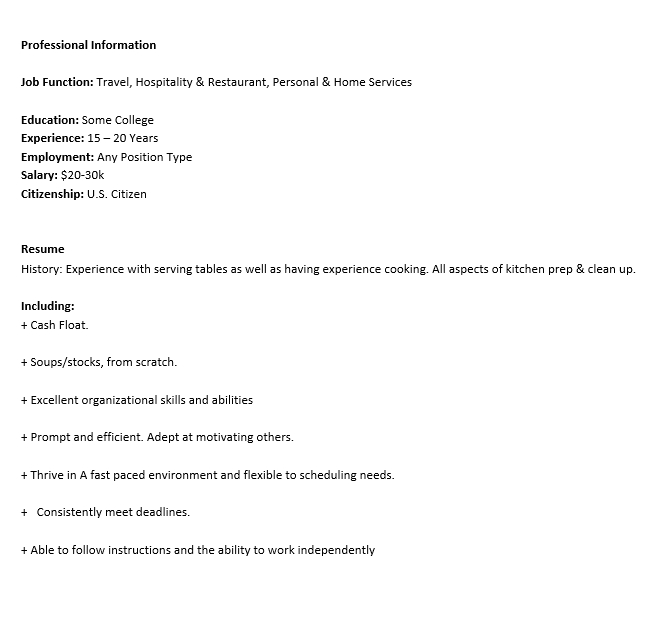 Bartender Resume
If you want to be a barista, this resume template can be a good choice to lead you to land the job. With a modern design and neat look, this resume template will be able to show your enthusiasm.
Barista Resume
This resume template is designed for the barista. Having special sections in achievements, this resume template is suitable for those who are experienced in becoming a barista.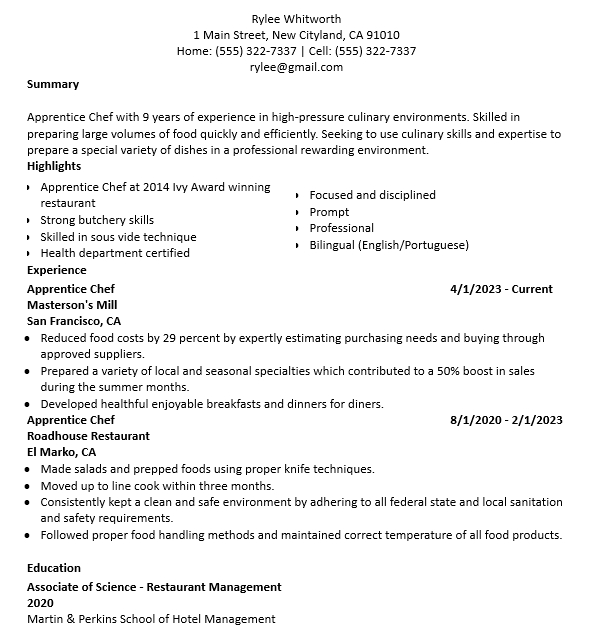 Restaurant Cook Resume
This resume template is designed specifically for a restaurant cook. It gives you a choice whether you want to specify it to a certain cuisine style or to make it general. It is editable and it saves your time.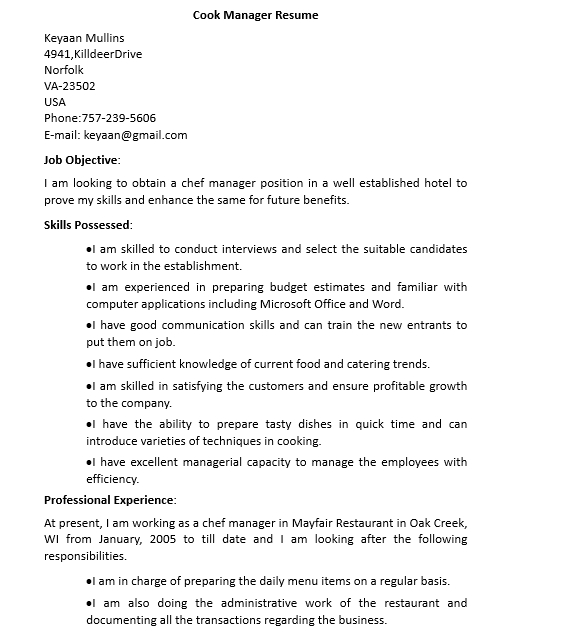 Similar Posts: