A seamstress works to modify, construct, mend, and alter the garments based on the specifications requested by the customers. Usually, they are working as a self-employed or in a factory, boutiques, department stores, or dry cleaners. For further detail, you can read the following explanation about the seamstress job description.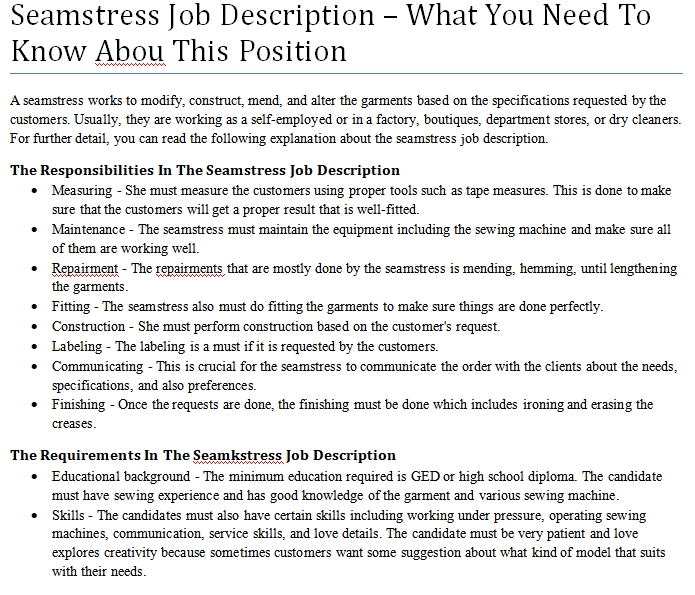 The Responsibilities In The Seamstress Job Description
Measuring – She must measure the customers using proper tools such as tape measures. This is done to make sure that the customers will get a proper result that is well-fitted.
Maintenance – The seamstress must maintain the equipment including the sewing machine and make sure all of them are working well.
Repairment – The repairments that are mostly done by the seamstress is mending, hemming, until lengthening the garments.
Fitting – The seamstress also must do fitting the garments to make sure things are done perfectly.
Construction – She must perform construction based on the customer's request.
Labeling – The labeling is a must if it is requested by the customers.
Communicating – This is crucial for the seamstress to communicate the order with the clients about the needs, specifications, and also preferences.
Finishing – Once the requests are done, the finishing must be done which includes ironing and erasing the creases.
The Requirements In The Seamkstress Job Description
Educational background – The minimum education required is GED or high school diploma. The candidate must have sewing experience and has good knowledge of the garment and various sewing machine.
Skills – The candidates must also have certain skills including working under pressure, operating sewing machines, communication, service skills, and love details. The candidate must be very patient and love explores creativity because sometimes customers want some suggestion about what kind of model that suits with their needs.
FAQs:
What's A Seamstress' Job?
A seamstress has a job to modify, alter, amend, and construct garments based on the requests. They have to make sure that the clothes and other stuff are well-fitted to use.
What Are To Consider Before Hiring A Seamstress?
Hiring a seamstress can be very tricky as they have to be able to figure out the taste of the customers. They have to be able to describe the concept of design and turn it into a product. As an employer, if you need a professional seamstress who has the same vision as you, you have to make sure that you understand well the main tasks and requirements.
What Are The Duties In The Seamstress Job Description?
Generally, there are some duties that a seamstress needs to perform. This includes alter, mend, construct, replacing buttons, zipper, pockets linings, and other things related to the request of the customers.
By knowing the general tasks of a seamstress, you can figure out what aspects to look for from a candidate. Besides, you can find a person that shares the vision with you. Furthermore, it is easier for you to write a job description.
Similar Posts: