Sample Medical Receptionist Resume
If you have good skills in customer service, then it doesn't hurt to try to apply as a medical receptionist. When working in this position, you will be needed by patients who always contact you when visiting the hospital or clinic. The opportunities you get are also quite large because more and more health clinics are standing and need a receptionist. As a first step, you need to see our sample medical receptionist resume first.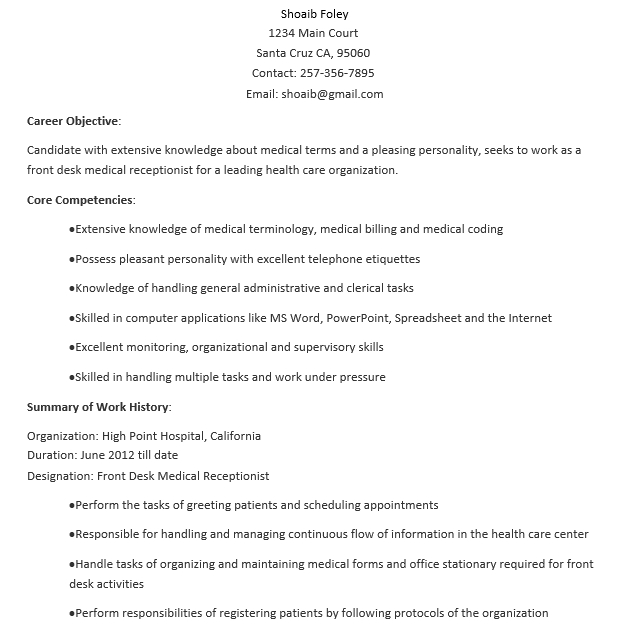 We have some of the best templates for various receptionist positions, from an entry-level medical receptionist resume sample to experienced ones. The content is almost the same, only different in the elements that you write on the resume.
Sample Medical Receptionist Resume Sample
If you're confused about how to start a great resume, you can look at one of our examples below for inspiration:
Hera Anderson
Personal Info
Phone: (777)-772-772-227
Email: heraanderson.hera@gmail.com
Summary
A bachelor's degree in Business Administration (3.6/4.0) who can be relied upon with 4+ years of experience in medical reception. To obtain a position as a medical receptionist at Family Hospital; brings skills in communication, data entry, documentation, administration, computing, and customer service.
Experience
Medical Receptionist
1) Health and Care Clinic
2015-2017
Greeting patients and family members by phone or in-person
Helping visitors and patients effectively
Cooperating with doctors or other health staff
Performing all work according to HIPAA regulations
Ensuring the confidentiality of patient information
2) George Hospital
2018-2020
Complying with hospital policies
Scheduling appointments between patients and doctors
Cooperating with doctors in the treatment of patients
Greeting patients and provide assistance
Successfully increasing patient service satisfaction according to the review on the George Hospital health application.
Education
B.S. in Business Administration
Chicago State University
2011-2014
GPA: 3.6
Relevant Coursework: Business Statics, Business Organization, Management Concepts and Practices, Organizational Behavior.
Membership: Mandarin Club, Scientist Club
Key Skills
Time management
Communication
Organization
Friendly
Empathy
Data entry
Computer skills
Awards
Top 10 outstanding students at the Chicago State University level, 2013
Nominated for the best participant in "The Queen" competition at Chicago State University, 2014
Language
How To Write A Medical Receptionist Resume?
If you want to produce a quality resume, make sure to organize it neatly so it's easy to read. Before writing a resume, pay attention to the following elements so that you produce a great format:
Use the most appropriate resume format. If you want to highlight the experience, it's better to choose a chronological resume format, but if you want to highlight your skills then you can use a functional resume format. While the combination resume format, you can use to highlight both.
Consider some of the skills you would like to write on your resume. You must include some of the skills the prospective employer needs.
An important point besides skill is experience. Whatever customer service experience you've had, it's best to include it on a resume.
Certification is also an important aspect that you should not ignore. Highlight some of your certifications to produce a quality resume.
Commercial Construction Project Manager Job Description: A Useful Guide To Become A Commercial Construction Project Manager
What Are The Most Important Skills For A Medical Receptionist?
As you know those skills include the most important element you should write on your resume. Here are the skills that are needed by a medical receptionist:
Scheduling
Microsoft office suite
Budgeting
Organization
Customer service
Time management
Data entry
Customer service
Office administration
Electronic medical records
Handing calls
Technical skills
Communication skills
What Should I Include on My Medical Resume?
Take a look at some of the essential elements below to make a great, neat resume. Make sure that you write down a few of these things correctly:
Custom templates for quality medical resumes.
Provide the best resume summary or resume objectives.
Create a job description so the recruiter believes you are the right candidate.
Highlight your resume education.
Highlight your skills in the medical field.
List additional sections that complement your resume.
What Is The Best Objective For A Medical Resume Summary?
There are several objectives that you can use to make a great resume. For example, by using words such as goal-oriented, dedicated, motivated, patient, and can work with doctors or other nursing staff in a clinic or hospital.
Sample Medical Receptionist Resume Templates
We have several templates you can use to make a great resume. You can choose this resume as you wish:
Front Desk Medical Resume Sample
If you are applying for a job in a front desk position, make sure to use the right template. There are several aspects that you can include such as skills, experience, and certifications in a resume.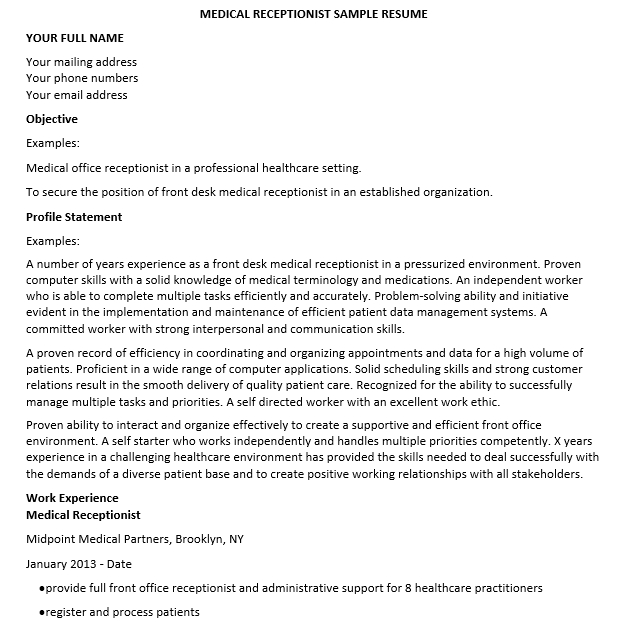 Simple Receptionist Medical Resume
Using a simple design will make your resume look more practical. Even if you are using a simple template, make sure to write a weighted resume content that prioritizes the qualifications needed by the recruiter.
Editable Medical Resume Design
If you need a resume that's easy to edit, then this template will be a perfect choice. You may need supporting things like certifications, language skills, or awards to make the perfect resume.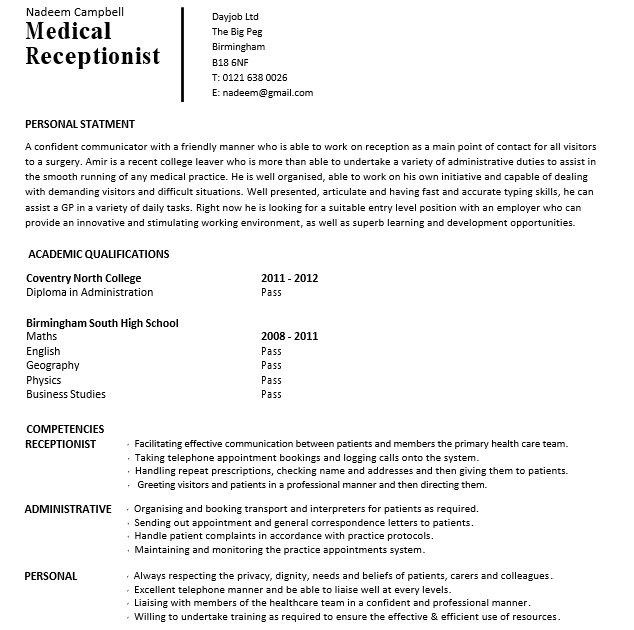 Blank Medical Resume Template
Some people prefer to use a blank resume because it is easy to edit. However, some aspects can make your resume feel more weighty, namely the experience and skills that you highlight.
Experienced Medical Resume Template
Stop worrying about choosing a template, you can use this format as one of the most inspiring ideas for creating a resume. This format is suitable for those of you who want to have a resume that looks professional and classy.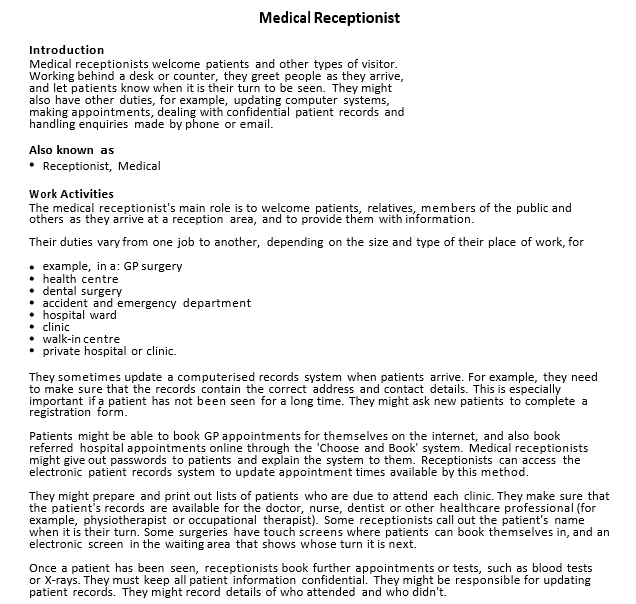 Entry-level Medical Resume Sample
If you have no experience at all, it's better to use this resume. The experiences that you can enter include while being an intern, volunteering, or others.
Medical Office Receptionist Resume
Nothing is impossible if you try earnestly. Be sure to land a job in the medical receptionist field by choosing this format. It's guaranteed that the recruiter will be interested in your resume.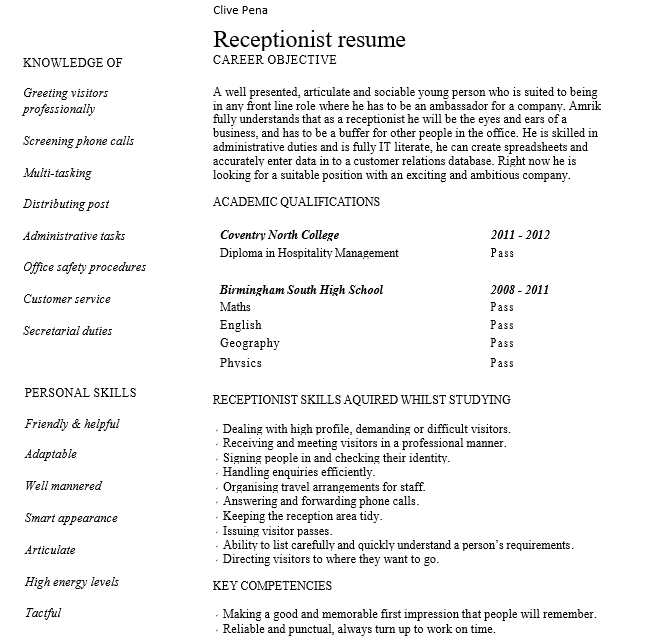 Medical Assistant Resume Template
Don't forget to write a draft of your resume as best you can before writing it in the template. Note that you also need to write your best qualifications your experiences to create a well-arranged resume.
Hospital Medical Resume Design
Would you like to apply for a job as a medical receptionist in a hospital? If so, then you can use this resume template. One thing you must remember, make sure to have empathy and a friendly attitude.
Office Receptionist Resume Template
A receptionist should care about customers indiscriminately. To start your career, use this template to produce a classy resume.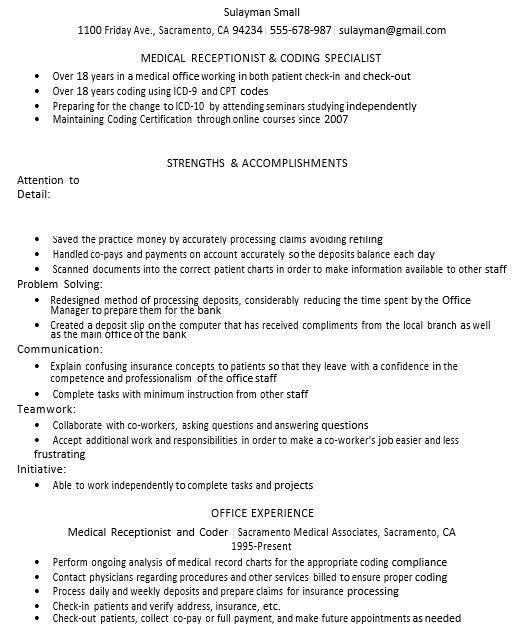 Similar Posts: