Receptionist Resume
Companies and organizations have receptionist staff as the representative of the business to welcome the visitors. They are equipped with the standard operations in welcoming the visitors and handling some matters such as answering visitors' questions related to the companies either from the calls, emails, or direct visiting.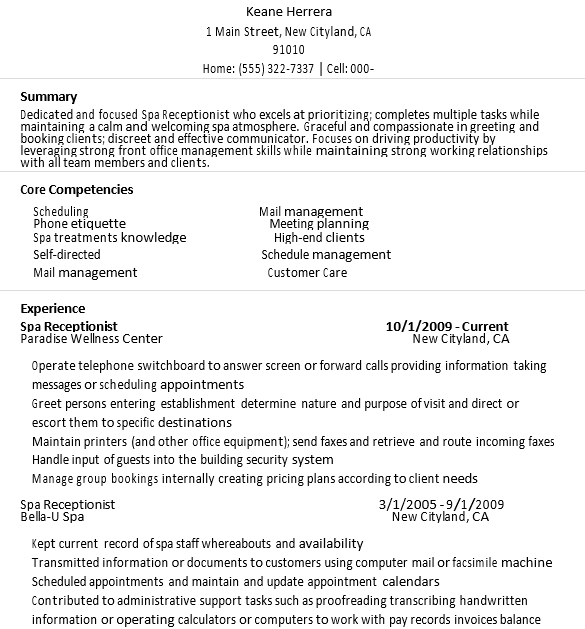 With the importance of receptionist nowadays, it can be a good career opportunity. If you plan to apply for a receptionist, read the information presented below in regards to the good receptionist resume. Of course, you need this to land for a job, so make sure you know the right way to write a resume to win the competition between other receptionist applicants.
Sample of Receptionist Resume Template
We give you a sample of receptionist resume for someone who has been around the industry for a while.
Joanne Harrison
Personal Info
Phone: (555) 123-234-456
Email: joanne_harrison@email.com
Summary
A receptionist with three years of experience as a receptionist at national companies is seeking career growth to fill in the position as a receptionist at XYZ International Firm. Excellent communications skills and professionalism to work under any circumstances become my strengths in conducting the job. Received the highest vote from the customers regarding customer service skills during my career.
Experience
The receptionist at John National Company
2019 – 2020
Welcoming the visitors with the standard operations in greeting customers
Directing the visitors to the department they are assigned to
Receiving calls from the customers to answer the inquiries about the company
Receiving mails, calls, and deliveries on a daily basis
Maintaining security in the work environment
Keeping the records of the inquiries about the company in the Ms. Excel spreadsheet
Voted with the Most Satisfactory Service by the customers in August 2019 – December 2019
Front Desk Receptionist at ABC Organization
2018 – 2019
Welcoming and directing the visitors to the department they need to be at
Answering the inquiries from the visitors and customers from calls, emails, and direct visitation
Ensuring the front office work supplies
Organizing the meeting schedules to the calendar software built for the company
Performing other receptionist duties such as photocopying and faxing
Improving the customer service satisfaction of the company by 25%
Education 
Bachelor Degree – Business Management at Hopkins University, 2014 – 2018
GPA: 3.90 (Top 3% of the Program)
Relevant Coursework: Intensive Course of Public Speaking, Seminar on Dealing with Customers, Training of Front-Desk Staff for three months
Graduation: 2018
Membership: Public Speaking Online Forum, Language Learning Forum, Books Club, Business Administration Community
Key Skills
– Strong communication skills, in oral communication and business writing
– Excellent knowledge of customer service skills
– Professionalism
– Detailed-oriented
– Organization skills and problem-solving
– Ms. Office
– Google Spreadsheet
– Public Speaking
– Business Management
Achievements and Certifications
Public Speaking Certificate
Certificate in Receptionist from the Intensive Training
Language
How to Write Receptionist Resume
If you decide to write your resume, take a look at these guidelines to ensure the good production of the receptionist's resume.
Read job description and highlight what the employer is looking for
Choose the best resume format that represents your information well
List down the professional experience you have. If you don't have, including your additional experiences such as the internship, training session, or volunteer work
Add some achievements and certifications that are relevant to the job
Always tell the truth
Proofread before sending the resume
Receptionist Resume Experience
When you are writing a receptionist resume, there is a professional experience section where you can write down where you have been working and what your responsibilities are. Yet, in writing the receptionist resume experience, there are things you need to remember.
Be specific in explaining what you are contributing to your previous work. Mention not only general job descriptions but also your achievements, like improving which section of the workplace
Be honest with the experience information, no need to make it up
Write it down in chronological order from the latest from the oldest one
Receptionist Relevant Skills to Write on Resume
We collect some skills that are related to the receptionist, which can be added to your resume. The benefit of writing these skills is to specify the skills that are specifically needed for the job.
Excellent communications skills, both spoken and written
Good customer service skills
Good knowledge of the company and its service or products
Detailed oriented
Problem-solving
Basic understanding of technology and common software such as Ms. Office
Kinds of Receptionist Resume Template
It is understandable to have difficulty in writing your resume. The format, the diction, the design, everything can be hard. So, if you face that situation, you can use one of the receptionist resume templates below that suits your needs.
Front Desk Medical Receptionist Resume
This resume template is designed for a front desk receptionist that works in the medical industry. This template consists of separate information sections from work experience, skills, certifications, and academic background. It makes a reader-friendly vibe for collecting the information.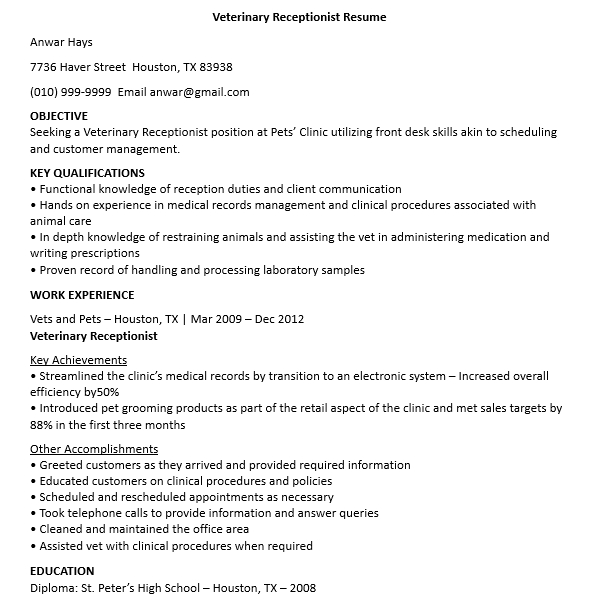 Medical Receptionist Resume
This resume template is similar to the previous one, which is about a medical receptionist resume. It is written in simple design this time, so if you plan to have a basic but informative resume, you can use this template.
Spa Receptionist Resume
Spa receptionist applicants can use this resume template as it provides a good career summary that sums up your experience and skills to the employers. The file format is in Ms. Word that gives you an easy access to edit.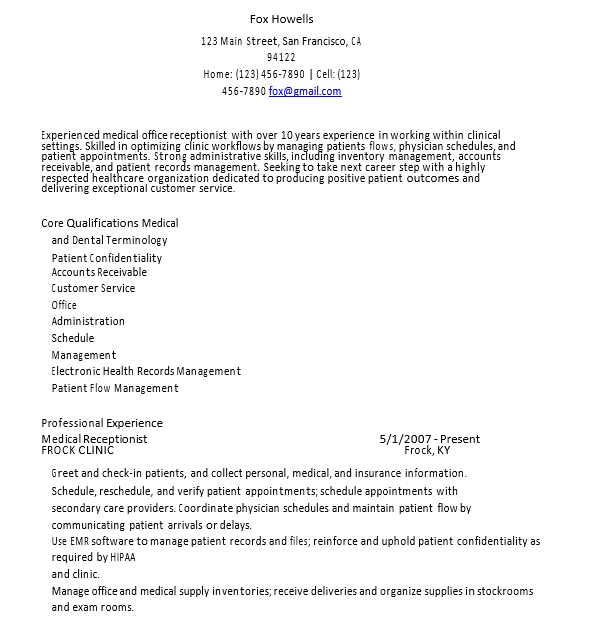 Salon Receptionist Resume
This salon receptionist resume is applicable for both entry-level or professionals. The information sections on the resume can be changed to suit your condition. It is also downloadable so you can do it in your free time.
Veterinary Receptionist Resume
If you are a veterinarian, this resume template is what you're looking for. Save your time and get a professional resume to promote yourself. It includes some veterinary certifications that can be your advantage.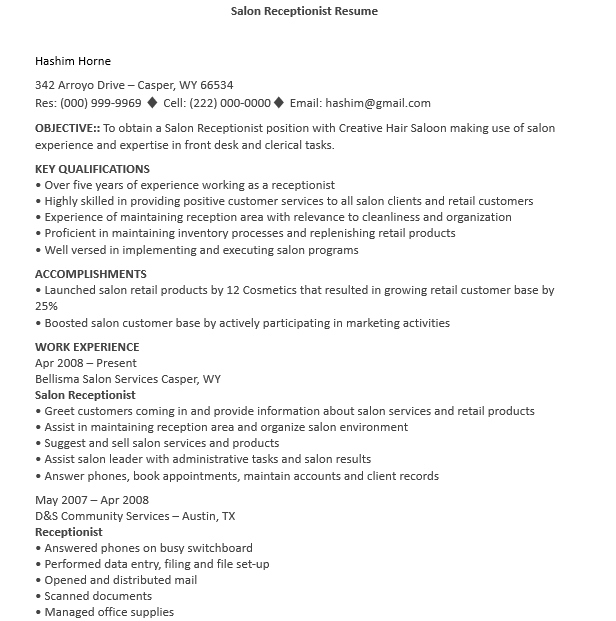 Front Office Receptionist Resume
If you target to be a front office receptionist in any company, you can read and edit this resume template. Written in a formal tone and modern design, this resume template is suitable for anyone.
Hotel Receptionist Resume
For hotel receptionists, this resume template will lead you to a perfect resume with a comprehensive professional summary, relevant hotel skills, and professional experience. There's a section below that allows you to boost your image by including your receptionist certifications and achievements.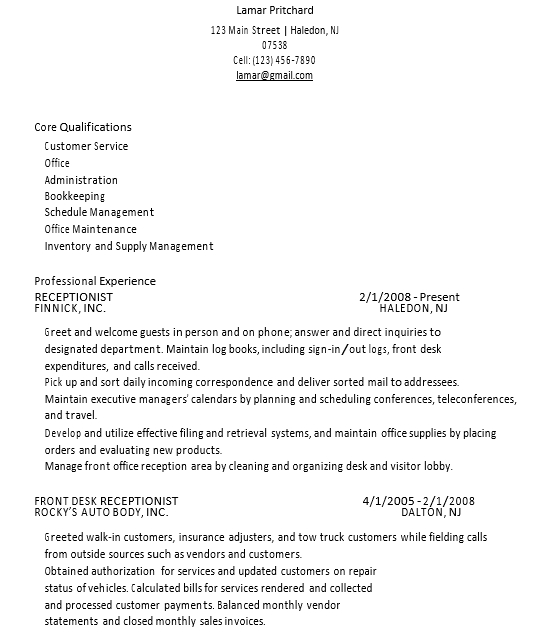 Clinic Receptionist Resume Sample
This resume template is designed for a receptionist who works at a clinic. By using this resume template, you don't need to worry about having an unprofessional resume, as it gives good comprehensive information with a well-structured resume format.
Front Desk Coordinator Resume
If you focus to be a front desk coordinator, this resume template is what you're looking for. It provides you with the simple resume format but a complete section of information needed. It is also available in Ms. Word and PDF file formats where you can suit to use which version.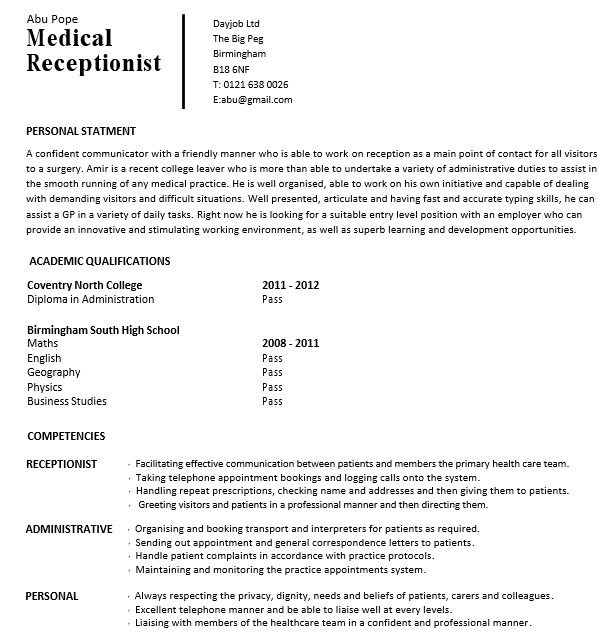 Front Desk Receptionist Resume
This resume template works best for a front desk receptionist in any company, be it an entry-level or professionals. The information sections can be edited to suit your condition when you can focus on the relevant skills or to the professional experience.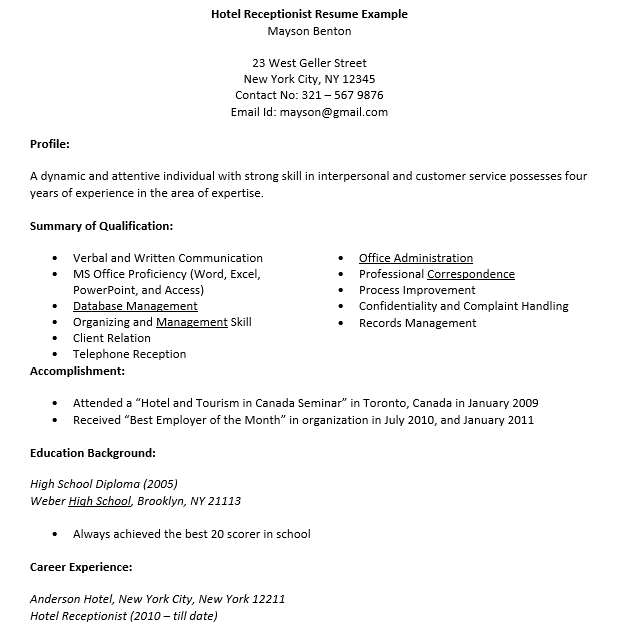 Similar Posts: