Journalist Resume Sample
If you have a passion for journalism, then applying for a job in that field will be very exciting. As a journalist, there are some basic skills that you must have, it depends on the position you are applying for. But make sure that you have a background in journalism or media. Then you can build a great resume by including a few relevant elements. We'll give you a journalist resume sample that you can use as an idea.
The resume that you write must contain a few relevant things. For example, your contact information or a great journalist resume objective. The use of a summary is needed to attract the attention of the recruiter because the recruiter will not have much time to read the entire resume.
Journalist Resume Sample
You can pay attention to the simple resume below before starting to write yours:
Ethan Wilson
Personal Info
Phone: (333)-223-222-333
Email: wilson.ethan@gmail.com
Summary
A bachelor's degree in Journalism (3.8 / 4.0) who has 6+ years of experience in journalism and has broad knowledge in journalism. To obtain a position as a multimedia journalist at Generation Inc; brings exceptional communication skills, can provide texts to company standards, is a critical thinker, and can work to deadlines under pressure.
Experience
1) Media Association
Writer
2014-2015
Working with a team to develop daily news.
Serializing the news whenever possible.
Managing blog for corporate purposes.
Writing news according to the relevant format.
2) Fact And Viral
Writer / Editor
2016-2020
Developing ideas and writing facts and viral stories.
Making sure the writing is following the deadline.
Keeping notes for interviews and preparing relevant articles.
Studying social media and managing company websites.
Successfully increasing views by up to 60% within 8 months through promotions via Instagram.
Education
BA in Journalism
University of Elunair
2010-2014
GPA: 3.8
Relevant Coursework: Mass Media Law, News Writing and Reporting, Photojournalism, Feature Writing, Broadcast Journalism, Public Relations.
Membership: Members of the "Young Literature" Organization, FEELS Book Club, Poet Club
Activities
Run a website called "Book and Literature" which focuses on the importance of reading literary books and how literature affects life.
Key Skills
News writing
Communication
Public speaking
Column writing
Writing and research
Social media
Website management
Networking
Leadership skills
Adobe InDesign
Awards
Student of The Year in University of Elunair, 2012-2013
1st Winner of Book Review Writing Competition "A Brief History of Time" by Stephen Hawking in Science Today Organization, 2015
Inspirational youth in developing a reading culture according to the Green Organization, 2017.
Languages
How To Write A Journalist Resume?
After knowing the journalist resume sample above, now is the time for you to know how to write a journalist resume. There are several things that you should pay close attention to produce a quality resume format. Here are a few things you need to consider in your resume:
Education: You can include a degree and GPA to complement your resume to make it look quality.
Skills: Skills are an important thing that you should include on your resume. For example good communication skills and relevant writing skills. Show that you have quality abilities.
Tech skills: Don't ignore technology skills, because you need to be up-to-date on technology to produce a professional resume.
Investigative skills: Show that you have the persistence to carry out investigations so that you can generate data or sources for the right story.
What Should Be Included On My Journalist Resume?
Contact information: Phone and email.
Objective statement
Skills
Work experience
Education
Certification
What Are The Important Skills For A Journalist?
Communication skills
Time management
Problem-solving
Writing skills
Editing skills
Storytelling
Shorthand
Basic coding
Newsgathering
How To Build A Great Resume Objective?
The objective statement you write should contain things that catch the recruiter's attention. With an attractive format, you can grab the attention of recruiters so that they are willing to read further on your resume.
Things that you should include in the summary include skills, experience, education, certifications, and other relevant matters, including your future career goals.
Kind of Journalist Resume Sample
We have provided you some appropriate resume templates that can be customized based on your need. Here are the templates:
Editable Journalist Resume Template
Editing a resume will work better by including a few important elements. You can use this template to produce a quality resume, starting from entering your skills and experience.
Major Journalism Resume Design
Edit your resume with a clean yet attractive design. You can include several important elements to support the resume so that recruiters will be sure that you are the right candidate. Use this resume to make a positive impression on recruiters.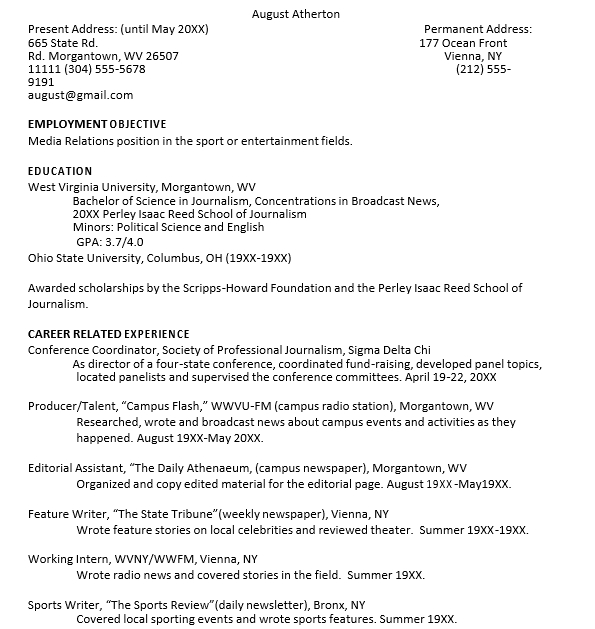 Sports Journalist Resume Template
If you are passionate about sports, then this resume is the one for you to choose from. You may need several things to include on your resume, so make sure to include both precise and professional resume objectives.
Freelance Journalist Resume Design
Would you like to apply for a position as a freelance journalist? If so, then this template is the most suitable. You can enter your experiences to get professional results.
Entry-level Journalist Resume Template
If you are a beginner in the journalist field, you can still get a chance to be accepted. Use this resume and make sure that recruiters will be blown away by your abilities.
Journalist Job Resume Design
Some of the things you should pay attention to in writing a resume are the proper format. For example, chronological, functional, or a combination. Choosing the right resume will make your resume look professional.
Media Journalist Resume Template
Don't forget to prepare a few things before starting to write your resume, for example, preparing the resume objectives that you will write. By preparing it carefully, you can get good results.
Magazine Journalist Resume
The next template is perfect for those of you who want to apply for positions as journalists in magazines. This resume will give you the right results and is full of professionalism.
Automotive Journalist Resume
If you want to apply for the position of an automotive journalist, then this template is the right one. There are several aspects that you can include, including experience, certifications, and several other sessions.
Simple Journalist Resume Design
A simple template will give great results. You can choose this resume to produce a format that is both classy and elegant, even though it uses a simple format.
Similar Posts: