Event Planner Resume Sample
A resume is the main thing that recruiter will consider. As one of the important points for being recruited by the prospective employer, you must arrange it as well as possible. This also applies if you want to make a resume as an event planner. Make sure you make the best resume possible by considering various important aspects, the goal is to give a big positive impression. We have a few examples for the event planner resume sample that you can use as an example.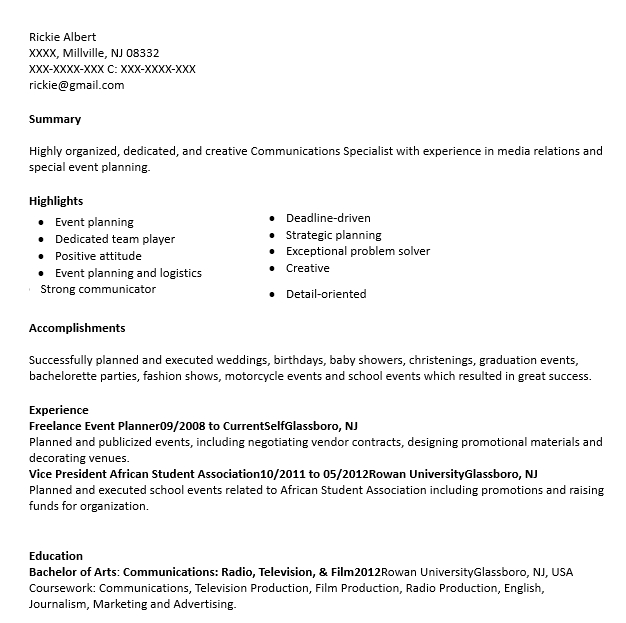 Consider several important things before you write a resume. If you're confused about how to get started, use our best party planner resume sample templates that are available below. By choosing the best format, you will get a great resume design.
Event Planner Resume Sample
Here we have a simple resume sample that you can use as a sample:
Jane Wilson
Personal Info
Phone: (333)-223-222-333
Email: wilson.jane@gmail.com
Summary
A bachelor's degree of Arts in Hotel & Event Management (3.6/4.0) who has experience in an event planning position for 3+ years. To obtain a position as an event planner at the Grand Delta Hotel; offers the ability to work in a team, can work in a dynamic environment, flexibility, and is skilled in arranging events to make them memorable.
Experience
1) Benz Organization
Conference planner
2017-2018
Coordinating caterers, staff, and suppliers.
Identifying the wishes and expectations of the client.
Arranging accommodation for the participants.
Making preparations for possible risks.
2) Modern Age Hotel
Event Planning Specialist
2018-2020
Managing various elements of the project in a predetermined time.
Choosing the best venue, determining the caterer, staff, MC, and others.
Coordinating the various logistical elements.
Able to reduce time in planning events by up to 30% by collaborating with Beloved Enterprises.
Education
BA in Hotel & Event Management
university of Texas
2013-2017
GPA: 3.6
Relevant Coursework: Principles of Event Management, Cost Accounting & Budgeting Of Events, Organization of Events, Personality Development Communication skills.
Membership: "Delta" Young Generation Event Planner, Spanish Club
Certifications
Certified Meeting Professional (CMP) Certification.
International Live Events Association CSEP Certification.
Key Skills
Communication skills
Critical thinking
Teamwork
Venue selection
Attention to detail
Event coordinator
Event management software
Career management
Awards
Best Event Planner at the "National Event Planner Award" Event, 2019
A dedicated Event Planner at Hotel Grand Modern Age, 2020
Languages
English
Mandarin
French
Spanish
How To Write A Resume For An Event Planner?
When writing a resume, make sure you pay attention to several important aspects. Consider the following tips:
Write personal information that contains your name, contact, and email. Don't forget to write your full name.
List some of your relevant skills.
Include your relevant education.
Write down the awards and certifications.
Add your language skills.
You can also add some relevant sections that you think can a plus point.
How Long An Event Planner Resume Should Be?
Apart from paying attention to some of the tips above, you also need to pay attention to how long your resume should be. The short length of a resume cannot be determined, as it will depend on the level of experience you enter.
Generally, a resume consists of only one page, if forced sometimes it can be two pages. But a two-page resume is rare, usually for applicants with more than ten years of experience.
What Skills Are Needed By An Event Planner?
Here are some important skills that you must have as an event planner:
Problem-solving
Multitasking
Communication skills
Organizational skills
Negotiation
Client-first approach
Budgeting
How To Build A Resume Objective?
When writing a resume objective, make sure you write down a few relevant things. Some of the important elements that you must include in career objectives include:
Skills
Qualification
Experience
Education
Career outlook
Kind of Event Planner Resume Samples
If you don't have much time to edit your resume, you can choose and apply our lovable templates below:
Freelance Event Planner Resume
If you're looking to apply for a position as a freelance event planner, then this resume should be your first choice. Some of the elements that you can include experience, qualifications, and much more.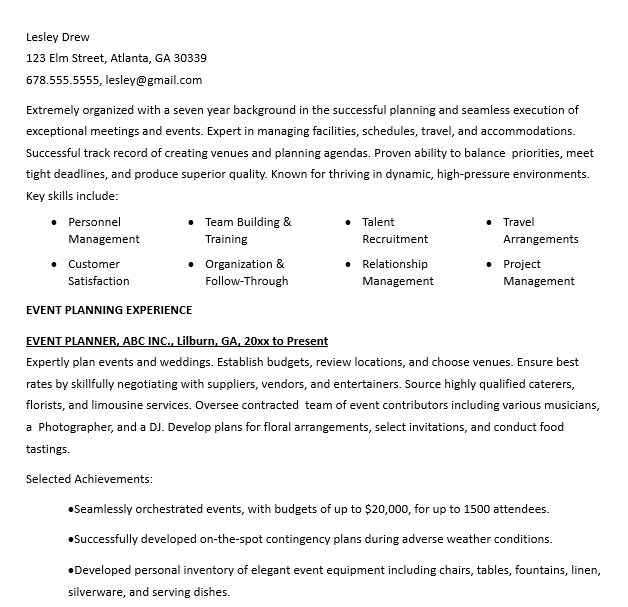 Simple Event Planner Resume
A simple resume is not necessarily bad, you can choose this template to produce a professional resume. You can adjust the resume fields according to your needs.
Editable Event Planner Resume
Edit and adjust your resume accordingly. Don't use too many irrelevant sentences or statements, however, you should make a great resume. By choosing this template, it's easy to create the most professional resume design.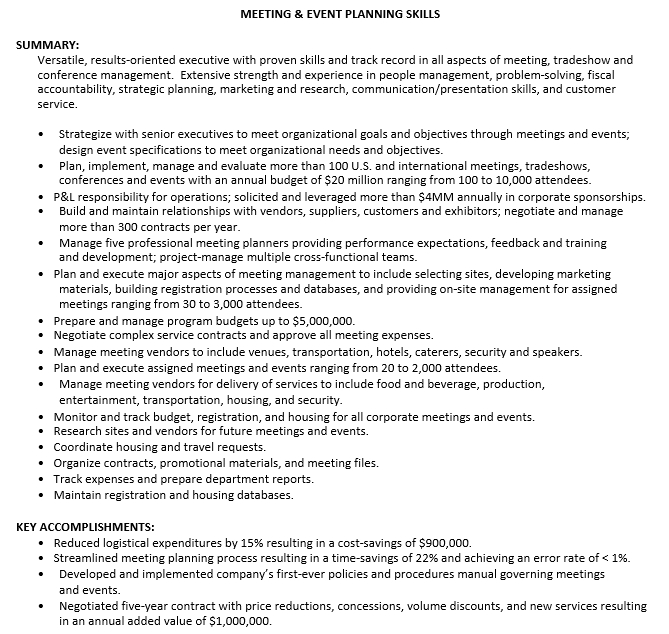 Event Planner No Experience Resume
The next template comes in an elegant format. This template is especially for those of you who don't have any experience, but you can include experiences during an internship or volunteering. So, let's prepare to impress the recruiter.
Event Coordinator Assistant Resume
If you are looking to apply for a position as an assistant event planner, then this resume could be the perfect solution. Add some interesting things according to your resume needs. You are free to decide the columns and fonts.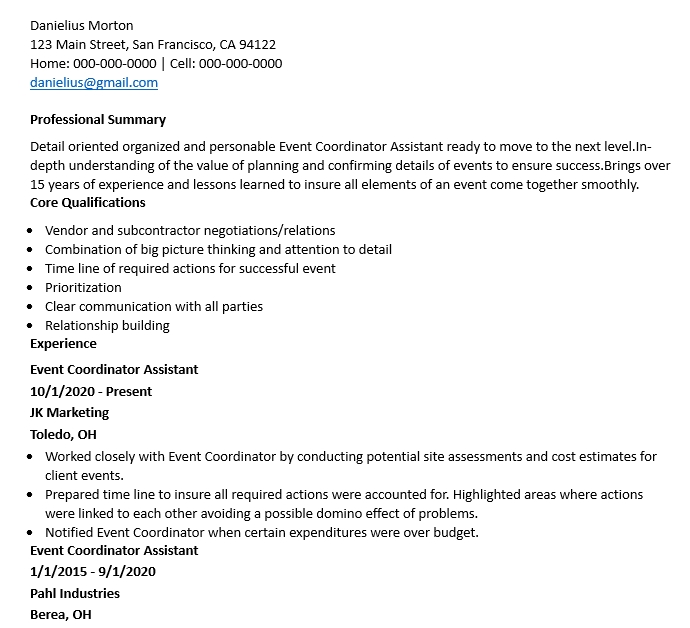 Professional Event Planner Resume
A good look will make your resume look more professional. By using this template, your application will look like a professional who has a lot of experience.
Hotel Event Planner Resume
Do you want to apply for work as an event planner at a hotel? Then this template is the best answer. You can customize the colors and fonts based on your favorite.
Experienced Event Planner Resume
Add some relevant experience to make yourself look more professional. Use this template to make your samples look memorable.
Clean Design Event Planner Resume
This resume template features a graceful color with elegant visuals. There are several aspects that you should add to your resume such as experience, skills, education, and so on.
Full-time Event Planner Resume
If you want to make a resume for a full-time job, then this template is the right one. You can customize the resume columns and letters based on your need.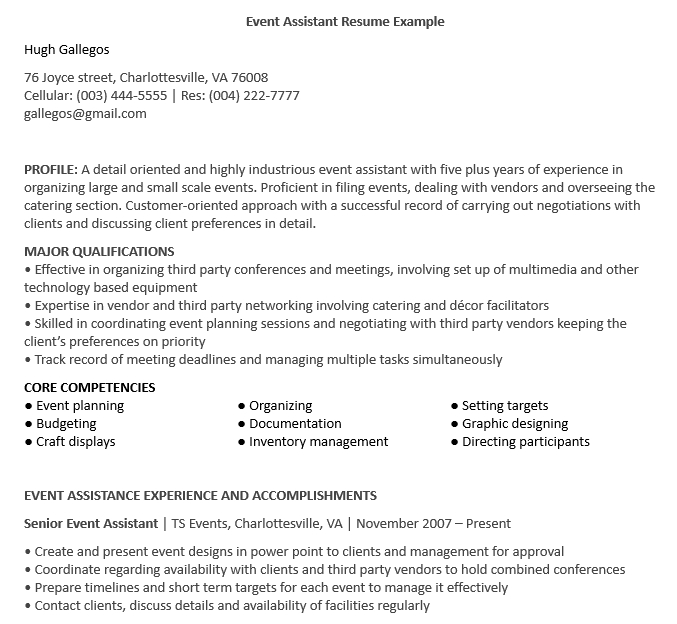 Similar Posts: