An engineering technician is a person who works alongside an engineer, helping with design, research, evaluation & quality control processes. An engineering technician usually works in aerospace, computer, industrial, mechanical, civil or environmental engineering. The engineering technician job description is to handle tasks assigned by an engineer. He or she also writes reports & updates records.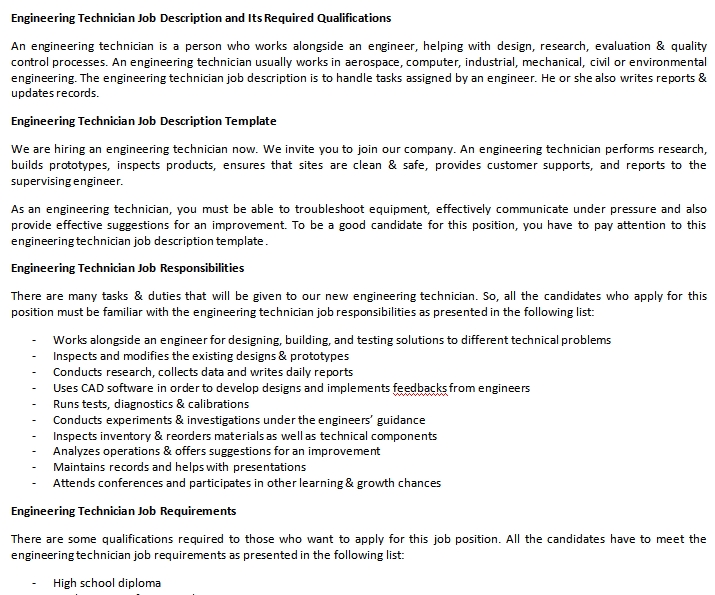 Engineering Technician Job Description Template
We are hiring an engineering technician now. We invite you to join our company. An engineering technician performs research, builds prototypes, inspects products, ensures that sites are clean & safe, provides customer supports, and reports to the supervising engineer.
As an engineering technician, you must be able to troubleshoot equipment, effectively communicate under pressure and also provide effective suggestions for an improvement. To be a good candidate for this position, you have to pay attention to this engineering technician job description template.
Engineering Technician Job Responsibilities
There are many tasks & duties that will be given to our new engineering technician. So, all the candidates who apply for this position must be familiar with the engineering technician job responsibilities as presented in the following list:
Works alongside an engineer for designing, building, and testing solutions to different technical problems
Inspects and modifies the existing designs & prototypes
Conducts research, collects data and writes daily reports
Uses CAD software in order to develop designs and implements feedbacks from engineers
Runs tests, diagnostics & calibrations
Conducts experiments & investigations under the engineers' guidance
Inspects inventory & reorders materials as well as technical components
Analyzes operations & offers suggestions for an improvement
Maintains records and helps with presentations
Attends conferences and participates in other learning & growth chances
Engineering Technician Job Requirements
There are some qualifications required to those who want to apply for this job position. All the candidates have to meet the engineering technician job requirements as presented in the following list:
High school diploma
A relevant certification or license
Associate's degree in the similar field especially in Engineering Technology
Valid driver's license
Great organizational skills and good attention to detail
Time management and strong skills of customer service
Excellent knowledge of health & safety
Ability of collaborating and remaining professional & calm in a fast-paced environment
Superb skills of writing & presentation
Willingness to learn & working overtime if required
Engineering Technician Job Description FAQs
What does an engineering technician do in a company?
Working alongside an engineer, an engineering technician handles tasks assigned by an engineer. He or she also writes reports & updates records.
Can I edit the posted job description here?
Yes, you can. You are allowed to add or remove the details in the editable engineering technician job description template easily.
Do you have interview questions for an engineering technician?
We do not only provide the engineering technician job description but also a collection of interview question samples on another page on this web.
Similar Posts: