A credentialing coordinator is a person who performs administrative duties that relate to healthcare practitioner credentialing. He or she works for a healthcare facility like a hospital or clinic. Many people call this job position a medical credentialing coordinator or credentialing specialist. If you want to know more about it, let's pay attention to the following credentialing coordinator job description.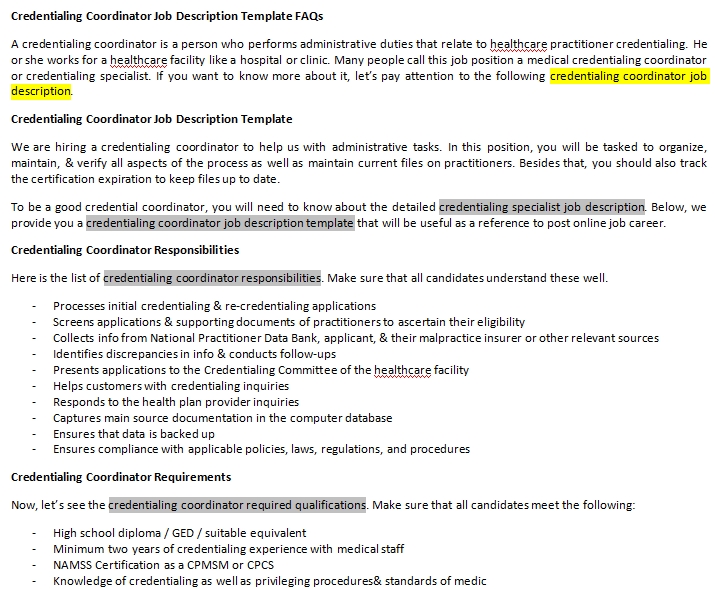 Credentialing Coordinator Job Description Template
We are hiring a credentialing coordinator to help us with administrative tasks. In this position, you will be tasked to organize, maintain, & verify all aspects of the process as well as maintain current files on practitioners. Besides that, you should also track the certification expiration to keep files up to date.
To be a good credential coordinator, you will need to know about the detailed credentialing specialist job description. Below, we provide you a credentialing coordinator job description template that will be useful as a reference to post online job career.
Credentialing Coordinator Responsibilities
Here is the list of credentialing coordinator responsibilities. Make sure that all candidates understand these well.
Processes initial credentialing & re-credentialing applications
Screens applications & supporting documents of practitioners to ascertain their eligibility
Collects info from National Practitioner Data Bank, applicant, & their malpractice insurer or other relevant sources
Identifies discrepancies in info & conducts follow-ups
Presents applications to the Credentialing Committee of the healthcare facility
Helps customers with credentialing inquiries
Responds to the health plan provider inquiries
Captures main source documentation in the computer database
Ensures that data is backed up
Ensures compliance with applicable policies, laws, regulations, and procedures
Credentialing Coordinator Requirements
Now, let's see the credentialing coordinator required qualifications. Make sure that all candidates meet the following:
High school diploma / GED / suitable equivalent
Minimum two years of credentialing experience with medical staff
NAMSS Certification as a CPMSM or CPCS
Knowledge of credentialing as well as privileging procedures& standards of medic
Excellent skills of written & verbal communication
Proficient with Ms. Office especially Word & Excel
Proficient skills of touch typing
Ability to focus for extended periods
Credentialing Coordinator FAQs
What does a credentialing coordinator in a healthcare facility?
Of course, a credentialing coordinator has many responsibilities and different healthcare facilities may give different tasks & duties. However, the main task is to perform administrative duties that relate to healthcare practitioner credentialing.
Can I edit the posted credentialing coordinator job description template here?
Of course, you can. The job description posted here is editable. So, you cannot only download it but also edit it to fit your needs. So, you can use the job description template effectively. Therefore, just feel free to add or remove the details in the template.
Do you have interview questions for a credentialing coordinator?
Besides the credentialing coordinator job description, you can also find some interview question samples on this web. So, when you interview the candidates, you can use these questions.
Similar Posts: