Business Analyst Resume Template
Working as a business analyst is everyone's dream. This is one of the most promising jobs with a high-paying salary and of course, you even can run your business analyst service firm. For you who are seeking a position to expand your expertise, you might want to apply to a reputable firm or company. You can begin with writing a good resume starting with downloading the business analyst resume template. Here are some of the best templates and the example that you can learn from.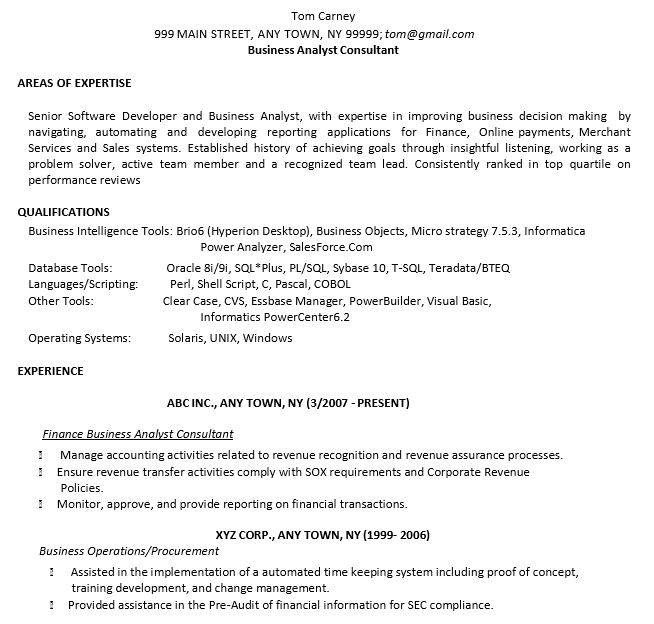 Sample of Business Analyst Resume
Arya Wood
Personal Info:
Phone: (098)546-786-432
Email: arya.wood@gmail.com
Summary
Experienced and detail-oriented business analyst with 6 years experience in ABC Group. Improved profitability of the eCommerce selling by 35% by analyzing the data. Seek to use the management and analysis skills in BHT Corporate. Have a MA in Computer Science.
Experience
Business System Analyst
ABC Group, 2018-2021
Brooklyn, New York
Redesigned the customer service system and service protocols in handling complaints, saving the company $12 million a year.
Redesigned the complaint process or system, reducing the refund request by $7 million annually.
Completed in-depth evaluation and analyses, increasing the selling record by 12%.
Business Analyst Assistant
Kenzo Group, 2014-2018
Assisted the business analyst in making business models.
Assisted business analysts in making business plans and analyses to make sure the project meets the requirements of the customers.
Served as an administrative assistant
Dealed with clerical tasks such as scheduling, distributing meeting minutes, and preparing meeting agendas.
Assisted other teams in developing projects and implementing them.
Education
Imperial College
MA in Computer Science
London, United Kingdom 2014
GPA: 3.8
Relevant Coursework: Business Management, Financing, Budgeting, And Startup
Membership: Korin Chess Club
Key Skills:
Hard Skills: SWOT analysis, financial analysis, prototyping, wireframing, and As-is analysis.
Soft Skills: Attention to detail, research, analytical, public speaking, teamwork, and problem-solving.
Awards:
Best Graduate of Imperial College, 2014
Language:
English
Spanish
French
Mandarin
What To Write In A Business Analyst Resume?
The business analyst resume has a similar structure to others. You have to pay attention more to the most important elements such as:
The personal information – You don't have to write the complete address. It is dangerous because it can lead to a criminal case. Just write a general address like your city or district without mentioning it specifically. The ones that you have to write in the resume are your complete name, and contact person.
Resume objective – In writing the resume objective, make sure you don't make too many flowery words. Make it straightforward and informative by including your skills, experience, education, and your goal why working in the targetted organization.
Experience – Only include the relevant experience. If you don't have experience in the related field, you can include certain experience that brings similar skills needed by the company.
Education – In writing education attainment, make sure you write your major and degree. If you are an inexperienced candidate, don't forget to mention your course or certification that proves you have certain skills needed by the company.
Skills – Always write down the hard and soft skills
Additional information – The information you may add includes your awards, achievements, or language mastery. If you are applying in the education sector, use this section to write your journal books or other publications.
Is The SQL Skill A Thing In As A Business Analyst?
When you are working as a business analyst, you will deal with a lot of data. For every entry-level business analyst, SQL is a must-have skill. If you don't have this skill, take a course. There you can learn about the database fundamentals, structures, and many more.
How To Become A Business Analyst If I Don't Have Experience?
To be a business analyst without experience requires more hard work. However, it doesn't mean you cannot beat other candidates. Here are some basic tips you can follow:
Always understand the important keys about what the business analyst does.
Pick a professional resume template.
If you don't have experience, try to be involved more in a project, for example becoming a volunteer or joining an internship program.
Always try to find a way how to improve your skills.
Kinds Of Business Analyst Resume Sample
Free Analyst Resume Template
If you are looking for a free template that can help you make a professional resume, you can use this one. It is a very nice resume design that comes with a professional format and layout.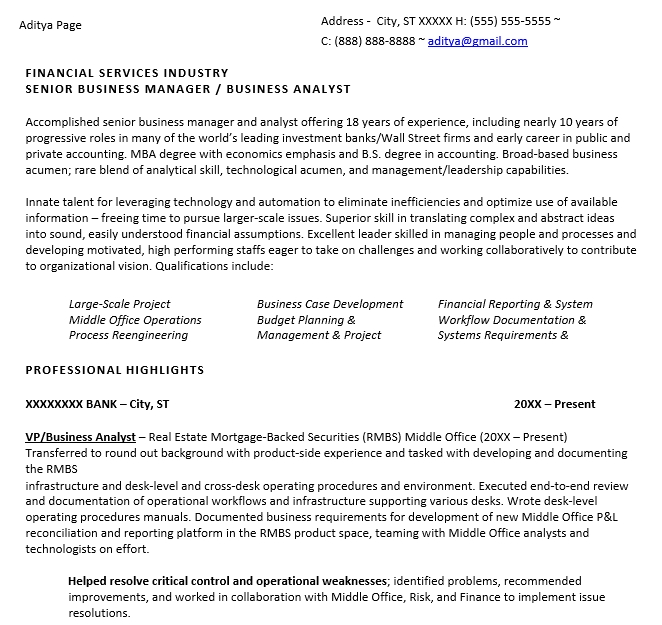 Best Business Analyst Resume Sample
For fresh graduates, having a business analyst resume sample can help you understand what to write in a professional resume. This template is designed with the real example of a candidate who is looking for an entry-level position.
IT Business Analyst Resume
Being a business analyst consultant is an honorable job. It offers a high paying salary which everyone will compete to get this position. However, having the qualifications is not enough. You have to make a good impression to convince the employer. One of them is starting with a good resume sample.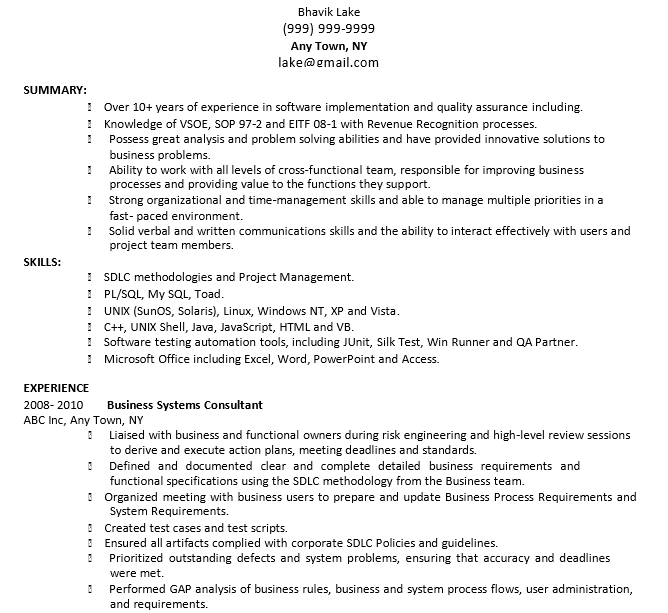 Junior Analyst Resume Sample
Another template you might like is this junior business analyst resume sample. The format is very simple that you can even make your resume in less than an hour. Thanks to the excellent format.
Resume Sample For Business Analyst
Having a good degree, years of experience, and great skills is not enough.  You need a good resume template to help you convince the hiring manager that you are the best candidate. One great example is this template. You can even edit this template for free, directly from the example.
Healthcare Business Analyst Resume Sample
Isn't it very easy to write a resume without thinking about what to write in this document? Yes! This is a versatile template that you can use for any kind of field. Even if you are applying for another job besides a business analyst, this is very helpful.
Business Analyst Assistant Resume Template
If you still have no experience in the business analyst world, you might want to apply as a business analyst assistant. There, you can learn various things from what works and what doesn't. Learning the professional things from the real expert is the best before moving further to the next level. This template can help you reach your dream position.
Experienced Business Analyst Resume Sample
For you who are looking for a good template, this one can be your choice. As an experienced business analyst, you must want your resume to look outstanding and professional. This template is a great one to try!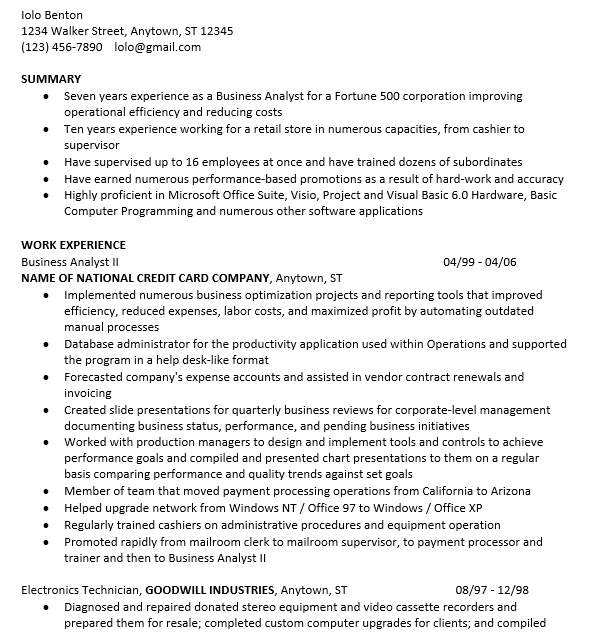 Similar Posts: