A barber can also be called a hairdresser. He or she provides different hairdressing services to make clientele primarily. A barber cuts, trims, styles, and colors hairs. Besides that, providing facial hair grooming & massages also belong to the tasks & duties a barber has to do. For more detailed, you can see the following barber job description.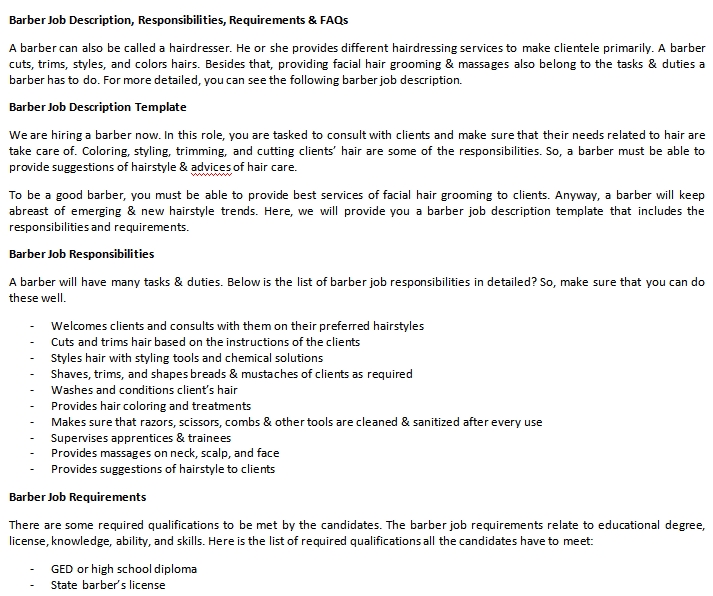 Barber Job Description Template
We are hiring a barber now. In this role, you are tasked to consult with clients and make sure that their needs related to hair are take care of. Coloring, styling, trimming, and cutting clients' hair are some of the responsibilities. So, a barber must be able to provide suggestions of hairstyle & advices of hair care.
To be a good barber, you must be able to provide best services of facial hair grooming to clients. Anyway, a barber will keep abreast of emerging & new hairstyle trends. Here, we will provide you a barber job description template that includes the responsibilities and requirements.
Barber Job Responsibilities
A barber will have many tasks & duties. Below is the list of barber job responsibilities in detailed? So, make sure that you can do these well.
Welcomes clients and consults with them on their preferred hairstyles
Cuts and trims hair based on the instructions of the clients
Styles hair with styling tools and chemical solutions
Shaves, trims, and shapes breads & mustaches of clients as required
Washes and conditions client's hair
Provides hair coloring and treatments
Makes sure that razors, scissors, combs & other tools are cleaned & sanitized after every use
Supervises apprentices & trainees
Provides massages on neck, scalp, and face
Provides suggestions of hairstyle to clients
Barber Job Requirements
There are some required qualifications to be met by the candidates. The barber job requirements relate to educational degree, license, knowledge, ability, and skills. Here is the list of required qualifications all the candidates have to meet:
GED or high school diploma
State barber's license
Good knowledge of current trends of hairstyles
Ability to follow client's instructions
Ability to stand for long time period and willing to work in shifts
Excellent skills of communication
Exceptional skills of customer service
Barber Job Description FAQs
What does a barber do?
One of the responsibilities of a barber is to provide different hairdressing services to make clientele primarily. Besides, a barber also cuts, trims, styles, and colors hairs. Then, providing facial hair grooming & massages also belongs to his or her daily tasks and duties.
Can I edit the posted barber job description template here?
Of course, you can. Since it is an editable barber job description template, you are allowed to add or remove the details in it easily. Make sure that it fits your needs.
Do you have interview questions for a barber?
Besides the barber job description, we also provide interview question samples. You can find them on another page here.
Similar Posts: