Property Manager Resume
Having a business in property has become people's favorite as it moves to the most promising business in the industry. With the increasing need of customers in getting the buildings for accommodation, the business needs professionals, such as a property manager, to handle all the matters regarding the property.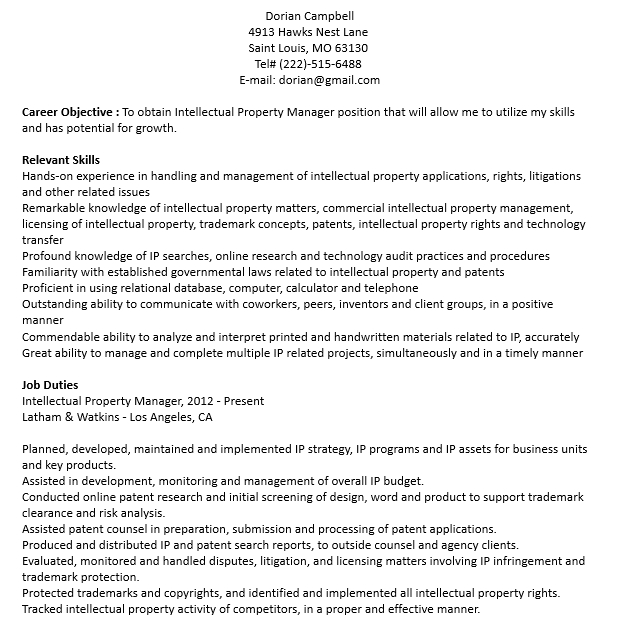 Not everyone, of course, can be a property manager. S/he has to own strong knowledge in property maintenance and law that will benefit the business. If you plan to have a career as a property manager, this article will help you in writing an outstanding property manager resume to how to choose the best resume template at the end section.
Sample of Professional Property Manager Resume
Let's read the sample resume of a professional property manager below.
Dominique Ad'Ler
Personal Info
Phone: (555) 123-123-123
Email: dominique_adler@email.com
Summary
An experienced property manager with 5 years of experience in providing a safe and resourceful environment for the customers and the employees during the progress of building development. Successfully improving 40% occupancy rates in collecting the tenants and improving the business revenue by 15% in a year. Seeking career development by joining XYZ Real Estate as a property manager to bring the business growth as well as provide the best customer service.
Experience
Property Manager at Housing Real Estate
2018 – 2020
Developing promotional strategies based on the market knowledge and customers' demands
Answering customers' questions regarding the properties' information including the facilities, price, repairment, and possible issues
Conducting a regular evaluation of the properties condition and fixing the problems within a timely manner
Maintaining excellent properties conditions every two weeks
Increasing occupancy rates by 40% in collecting long-term tenants
Property Manager at ABC Properties
2015 – 2018
Analyzing the prospective locations for properties building
Targeting potential tenants and customers on the properties' growth
Performing excellent customer service to different types of customers
Boosting the business revenue to $3 million annually
Performing effective financial budgeting skills to reduce unnecessary expenses
Education 
Master of Business Administration at ABC University, 2012 – 2014
Bachelor of Business Administration at ABC University, 2008 – 2012
GPA: 3.88
Relevant Coursework: 18-month course of Certified Property Manager, Public Speaking Training, How to Deal with Difficult Customer for Your Business Seminar, Intensive Course of Certified Apartment Manager.
Graduation: 2014
Membership: Property Manager Association in XXX State, Apartment Property Manager Community in the State of XXX
Key Skills
Strong housing and building management skills
Excellent customer service skills
Financial budgeting skills
Strong skills in tenants and building properties law
Achievements and Certifications
Certified as Property Manager (CPM)
Certified Apartment Manager (CAM)
Language
How to Write a Property Manager Resume
In writing a proper property manager resume, you need to pay attention to several things like the information we have below.
Choose the best resume format to suit your needs. The more experienced you are, the best resume format to facilitate you is the chronological resume.
Create a strong professional summary to sum up your experience and skills within three sentences.
Educational background will show you a basic understanding of the job you apply for.
Experience will be as confirmation of how effective you are doing your job.
Relevant skills can be a good way of boosting your image and ability in front of employers.
What to Write on Property Manager Resume?
When you apply for a manager position, of course, the information included has to be more detailed and professional. Here is the list of crucial things to write on the manager's resume.
Keyword Phrases. Many organizations use the software during the resume screening to choose the applications that have keyword phrases related to the job being applied for. Thus, make sure all the information, skills, and achievements you have are relevant to the job listing.
Management skills in the previous workplace. To prove that you have the ability in management as a manager, showcase the responsibilities in your previous work.
Add some achievements as sprinkles on top. It can be shown by the success rate you have or the amount of benefit that a business has under your supervision.
Skills Needed to Add on Property Manager Resume
On your resume, there is a specific section where you write on the relevant skills related to the job you apply for. For a property manager, we have compiled several skills you need to include to have a good resume.
Excellent customer service. It is often listed first as property manager deals with numerous people from different backgrounds, both from customers to employees. Thus, they have to be friendly, understanding, and responsive.
Strong communication skills. This skill is somewhat related to the previous skill. The ability to promote the property to the customers is a must-have skill for business development.
Understanding of Market Demands. With the development of the property industry, a manager has to think hard about how to get the customers and do the business appropriately.
Organization skill. A property manager needs to have a strong sense of organization when it comes to build and do good maintenance of the property.
Kinds of Property Manager Resume
Sometimes, people can use resume templates to save time yet still have a professional summary to promote themselves. Below are some kinds of property manager resume templates that you can consider using.
Regional Property Manager Resume
This resume template is designed for a regional property manager which includes a well-structured format of skills and experiences. It is also downloadable and editable to suit the applicants' needs.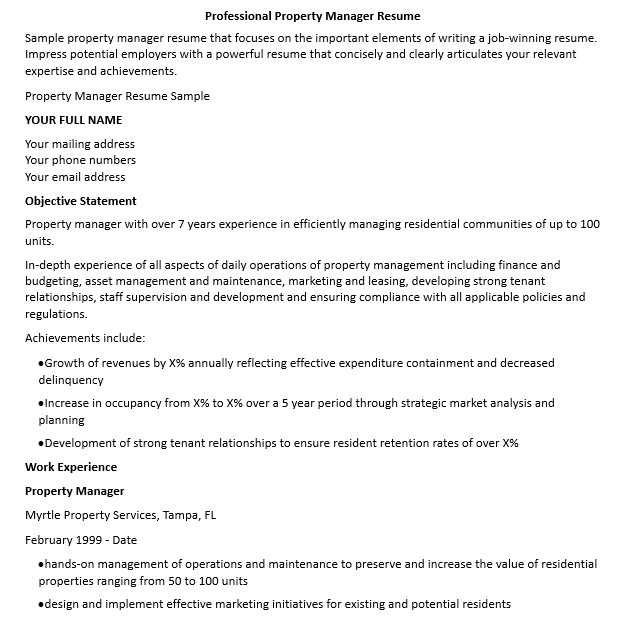 Property Development Manager Resume Template
To work as a property development manager, one has to meet the requirements and qualifications. This template will facilitate you to have the needed information written.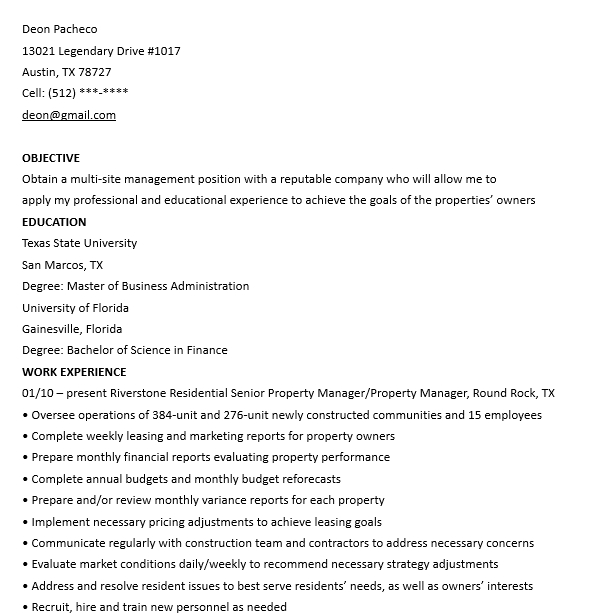 Sample Property Manager Resume
This resume template works perfectly for a property manager with or without experience. It builds up with detailed qualifications, educations, and skills. It can be a good resume option.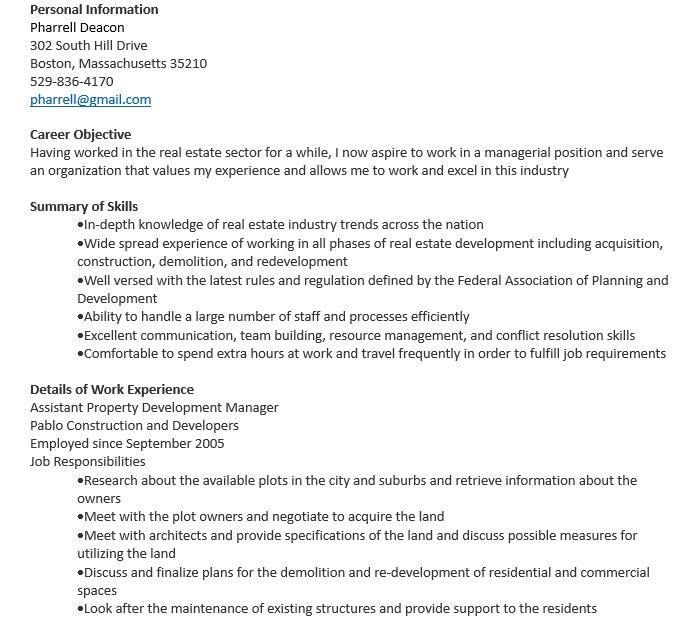 Assistant Property Manager Resume
If you are starting as an assistant property manager, you can use this resume template to showcase your ability and qualifications. With excellent skills and a powerful objective, this template can be an effective one for you.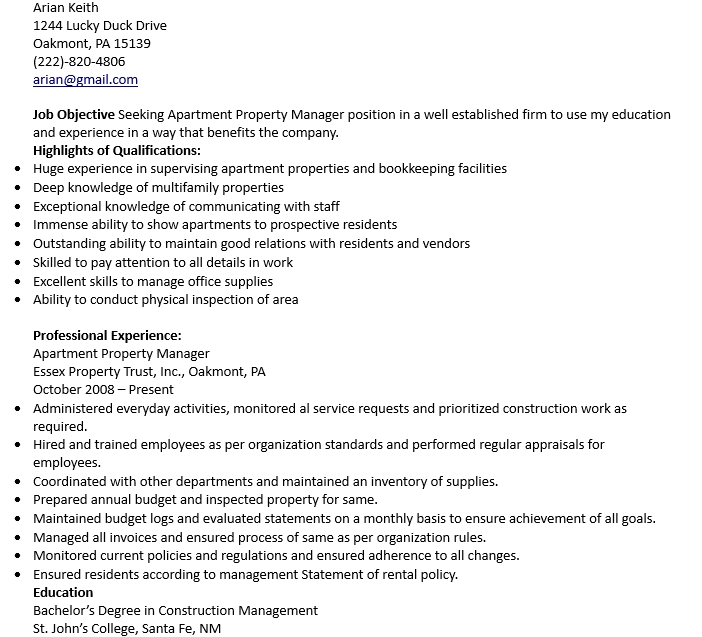 Intellectual Property Manager Resume
This resume template applies a clean and neat format where all the sections are separated clearly and the reader can find the information easily. It is useful for the employer during the first resume scanning phase.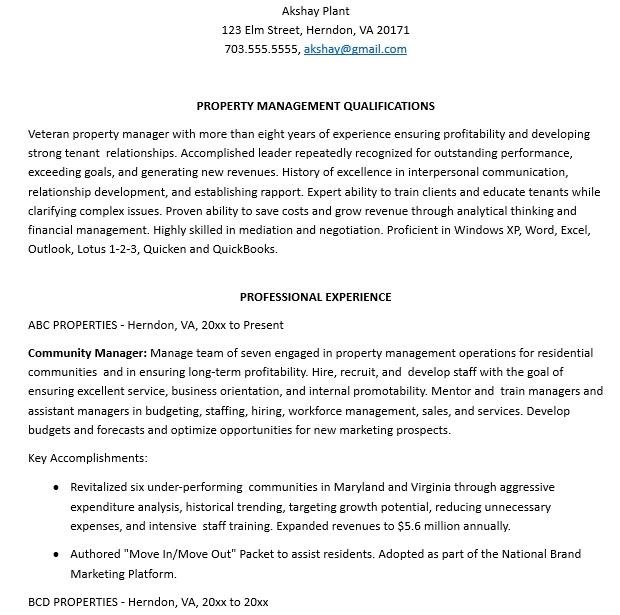 Multi-Site Property Manager Resume
Use this resume template if you want to have a bullet-list format that focuses on your experiences as a property manager. It highlights your contributions to the previous job so that employers have a clear idea of how you do your job.
Condominium Property Manager Resume
This resume template offers a professionally written resume template with a well-structured format. It includes a strong career summary and professional experiences as well.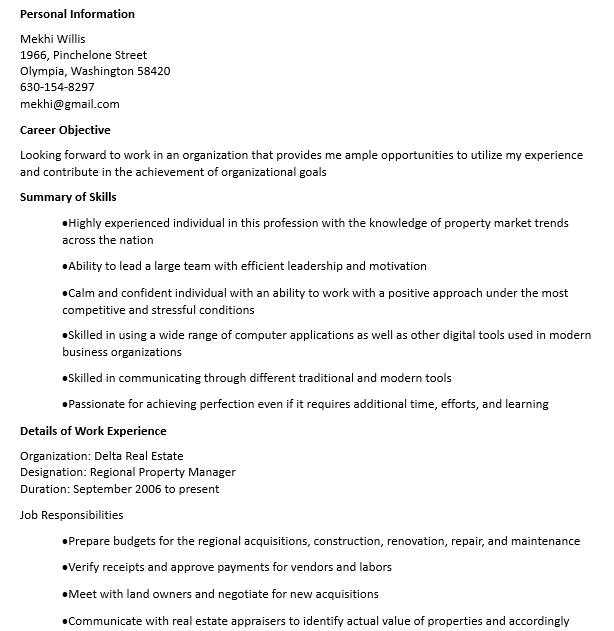 Professional Property Manager Resume
If you have become a property manager for a while, this template will give a comprehensive list of your achievements and experiences.
Apartment Property Manager Resume Template
When you deal with the apartment as property, this resume template is specifically designed for you. It provides qualifications highlights to boost your image in front of the employers.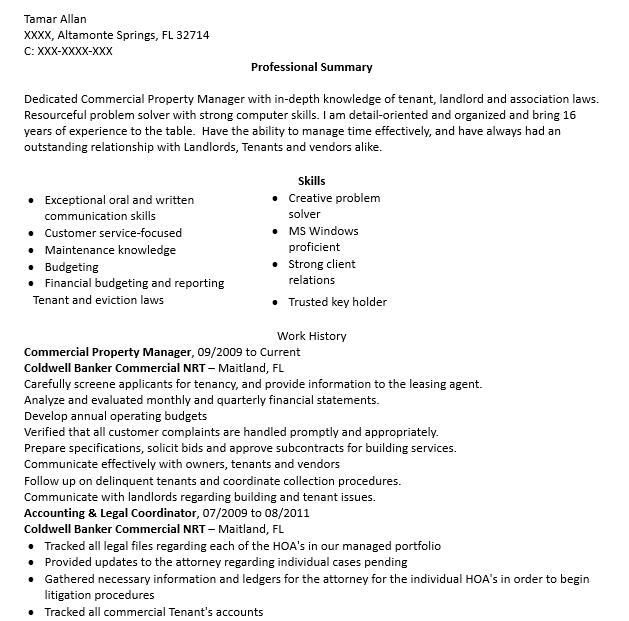 Commercial Property Manager Resume
This resume template gives a chronological format where it shows how experienced you are as a commercial property manager. Using Ms. Word format, it is editable by the applicants easily.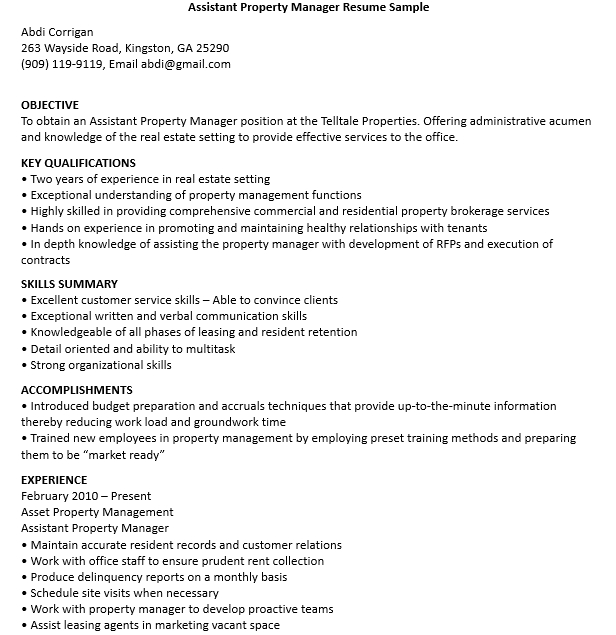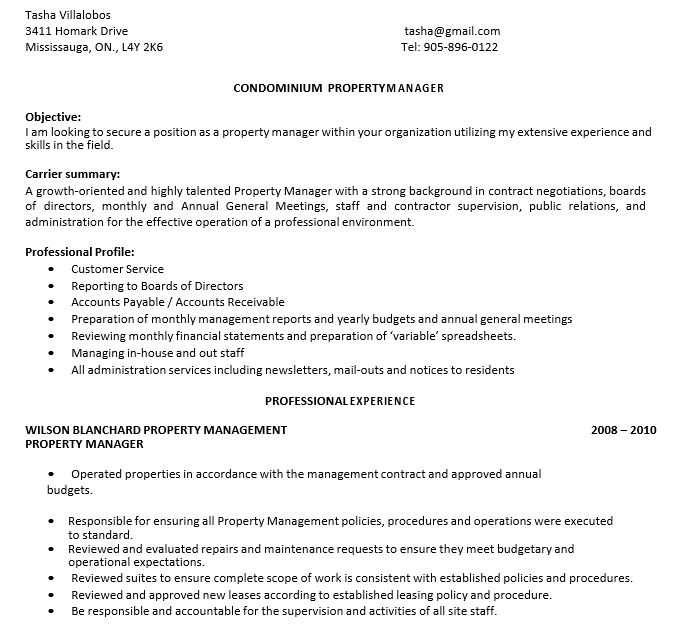 Similar Posts: