Police Officer Resume Templates
Working as a police officer can be a dream for some people, but it takes certain qualifications and requirements to land the job. The applicants also need to go through several steps of the hiring process that can take a while before the acceptance result. Not only the preparation process that the applicants need to do, but the writing of police officer resume templates is the crucial part as well.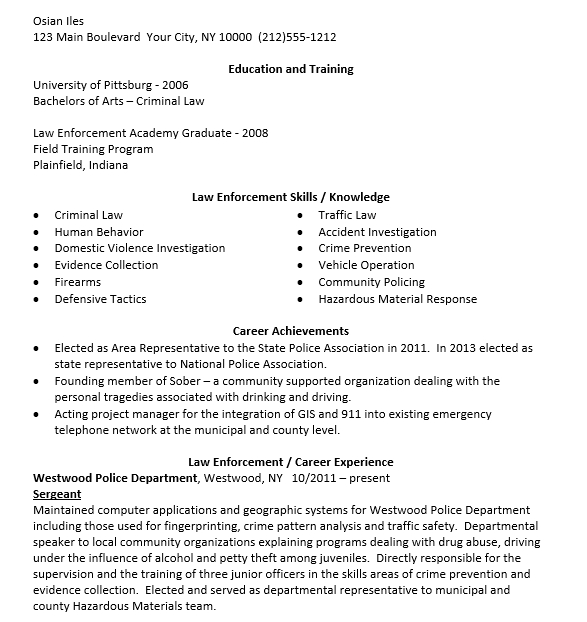 The police officer's resume has to be written professionally and specifically personalized to the job. It must represent the capabilities of the applicants through a strong profile summary with a set of information sections like relevant skills and work experience.
Sample of Police Officer Resume Summary (and Full Resume)
To start the article, we provide you with a sample resume for a police officer that applies to anyone. This resume includes some experiences and relevant skills that can be your guidance.
Hendrik Max
Personal Info
Phone: (555) 123-456-789
Email: hendrikmax@email.com
Summary
A dedicated police officer with more than 3 years of experience in providing safety measurements within the ABC neighborhood area by decreasing the crime rates, saving lives, and handling law enforcement for the traffic regulations. Performing quick and effective responses to emergencies and leading 5 – 8 police officers during the job assigned from the department. Successfully reduced the crime rates in the neighborhood to 45% in 3 years. Seeking a career advancement to fill in the position of Airport Police Officer at XYZ International Airport.
Experience
Police Officer, North Carolina
2017 – present
Investigating criminal incidents that happened in the ABC neighborhood
Performing routine patrols around the neighborhood with a population of around 30 thousand along with 2-3 other police officers
Participated in community service in educating people around the neighborhood to prevent crimes and report to the police dials if there are emergencies
Performing law enforcement regarding traffic rule violation like running a red light, drunk driving, or accidents
Giving effective and quick responses towards emergency calls
Reducing time to arrive at the crime scene by 15 minutes
Successfully solved the criminal incidents that happened in a shorter time and reduced the crime rates by 45% in the last three years
Education 
Bachelor of Criminal Justice at Carolina University, 2012 – 2016
GPA: 3.80 (Excellence Awards for Student)
Relevant Coursework: Training on Law Enforcement Skills, Training on Building Interpersonal Skills for Police Officer
Graduation: 2016
Membership: Association of Police Officer at North Carolina, Gym Club, Public Police Officer Community
Key Skills
Excellent knowledge of law enforcement and regulations
Quick and effective decision making
Excellent community service
Good interpersonal skills
Excellent driving skills
Good physical condition
Organized in keeping records of the criminal cases
Negotiation skills
Achievements and Certifications
Certification of Interpersonal Skills for Police Officer Training
Certification of Law Enforcement Skills
Students Excellence Awards
Language
How to Write Police Officer Resume
After reading the sample resume for police officers, now we give you some tips on how to create a good resume. It is applicable for any job but we will focus on resumes for police officers in few points.
Read the job description carefully. There are a lot of divisions in a police office, so make sure you know which department you apply for and what requirements it has
Choose the best resume format, it will be different whether you're a beginner or professional
Use police-officer-related keywords on your resume. This is another reason why you need to read the job description carefully as you'll find the clue as to what dictions are used commonly for the job
Proofread to avoid making unprofessional mistakes
What to Write on Police Resume?
If you plan to write down your resume, this is the information that you need to include to create an appropriate police officer resume.
Personal identity
Persuasive profile summary or career objective for the beginners with no work experience
Professional experience – it can be training, an internship, or relevant activities if you don't have professional experience beforehand
Academic history
Relevant police officer skills
Achievement and certifications
Relevant Skills to Boost Your Police Officer Resumes
Not everyone can be a police officer. They have to possess the relevant important skills that each police officer has to own. So, what are those skills, and which are the best skills to represent you on the resume?
Excellent knowledge of law and regulations. Make it specific to the law that relates to the job you apply, for example, good knowledge of law within a hospital or campus environment
Excellent community service. This is crucial as police officers deal with people daily
Knowledge in using guns and weapons
Knowledge in conducting secretive operations and crime prevention
Excellent driving skills
Good communication skills
Leadership and teamwork skills
Good physical condition
Effective decision making and detailed-oriented
Kinds of Police Officer Resume Templates
There is a chance that you need the use of police officer resume templates to have a professional resume but at the same time to save your time. Below are several samples of resume templates for police officers that you can use as references.
Entry-Level Police Officer Resume
This resume template is designed for an entry-level position of a police officer. It gives the importance of certifications information and relevant skills that it becomes a consideration for the employers.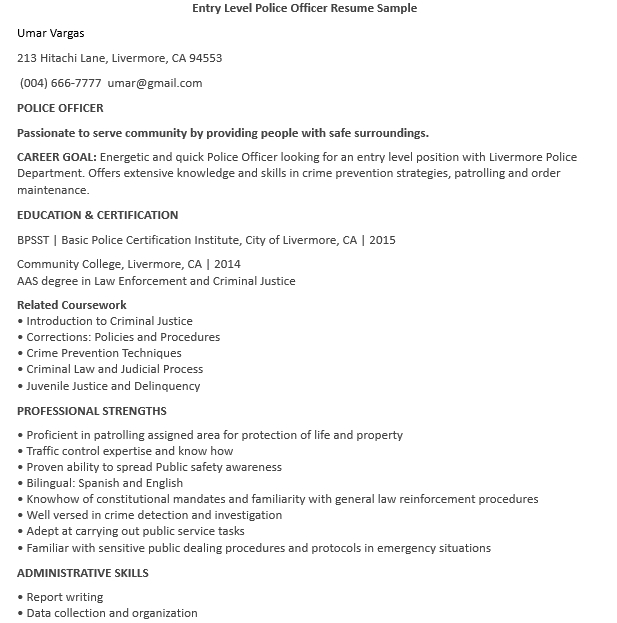 Sample Police Officer Resume Template
This resume template applies a basic resume format and a simple design. Yet, it is well-structured and it uses formal language that shows the professional side of the applicants.
Campus Police Officer Resume Template
If you want to work in the campus environment, this resume template will specify it for you by giving an outstanding profile summary and relevant work experience. It saves your time and can't be used for beginners or professionals.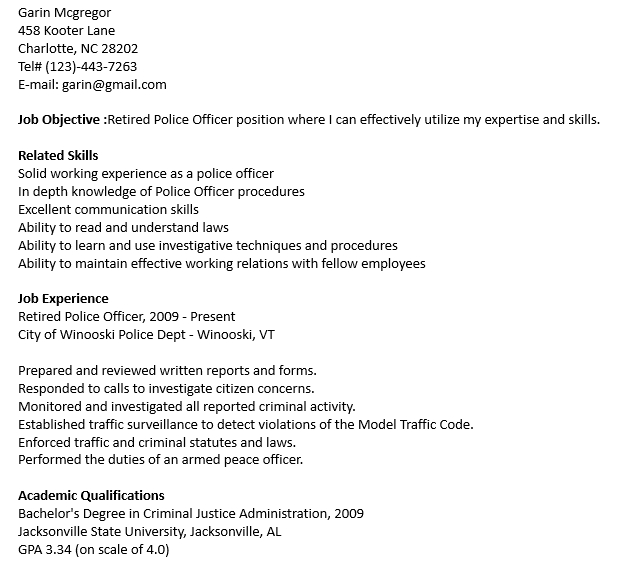 Chief Police Officer Resume Template
To expand a career as a chief police officer, someone must meet the qualifications and have enough professional experience and achievements. This resume facilitates all the important sections to promote the applicants to the employer.
Airport Police Officer Resume Template
When you want to be a police officer at the airport, this resume template can be your choice as it personalizes all the information to suit the job. It is written in Ms. Word format so it's easy to edit anytime you want.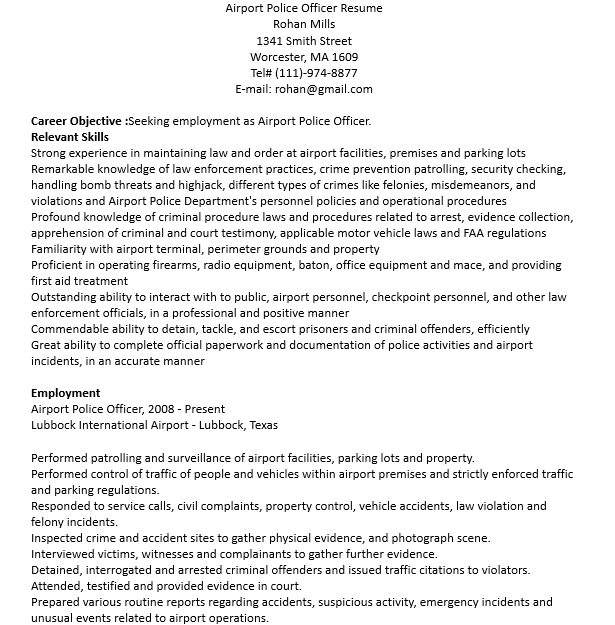 Professional Police Officer Resume Template
Professional police officers require any certifications and work experience to showcase their capabilities. This resume template structures all the information neatly so it's easy for the readers to find the information.
Best Police Officer Resume Template
This best resume for a police officer is written professionally with a neat structure and a simple design that prevents any misunderstanding caused by the information. It saves your time and helps you pass the resume screening.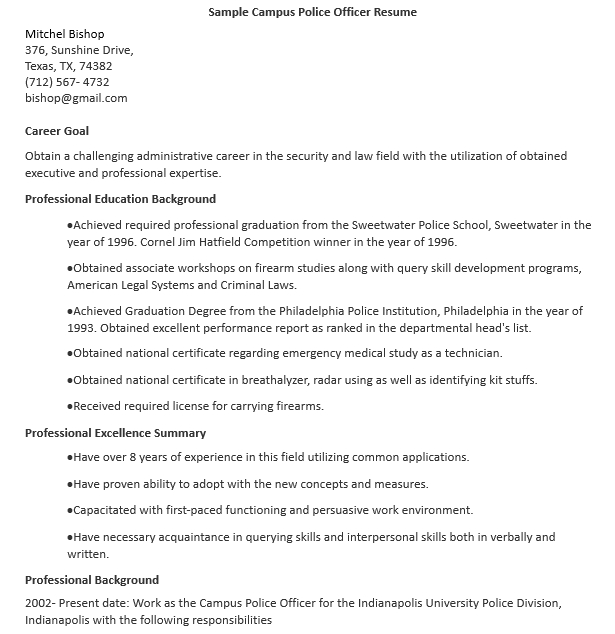 Experienced Police Officer Resume Template
The police officers who have been working for years can use this resume template as it gives a spacious section for the work experience and a perfect profile summary that shows the capabilities of the applicants in doing the job.
Junior Police Officer Resume Template
For those who just started a career or those who don't have much experience, this resume template can help them in getting the job as a junior police officer. It highlights the relevant skills and academic qualifications as a way to promoting the applicants.
Senior Police Officer Resume Template
Opposite of the previous resume template, this resume is designed for those who want to expand the career to the senior position as a police officer. Providing thorough needed information that persuades the employers in considering the application.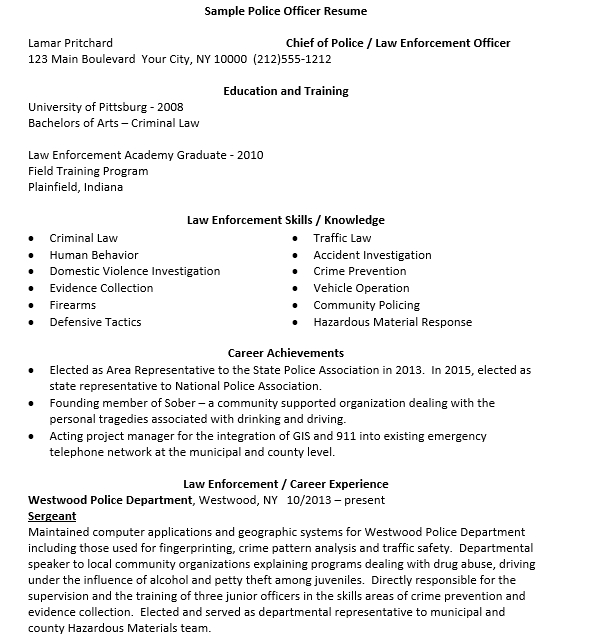 Similar Posts: